8 Daycare Rooms Setup Ideas: Modern, Easy & Stress Free
Hey there, fellow daycare owner!
Are you confused about where to start designing your daycare? You don't know how it should be organized?
I feel your pain and I have researched for over 20+ hours, to create a simple and easy-follow plan for you!
You can organize your small home or commercial retail space with feature-specific zones like entrance and exit spaces, playing spaces, and creative spaces if thought out carefully.
I have written about 8 awesome daycare room setup ideas, 10 tips, and a guide to making color selections to help create an environment full of fun, activity and exploration for children.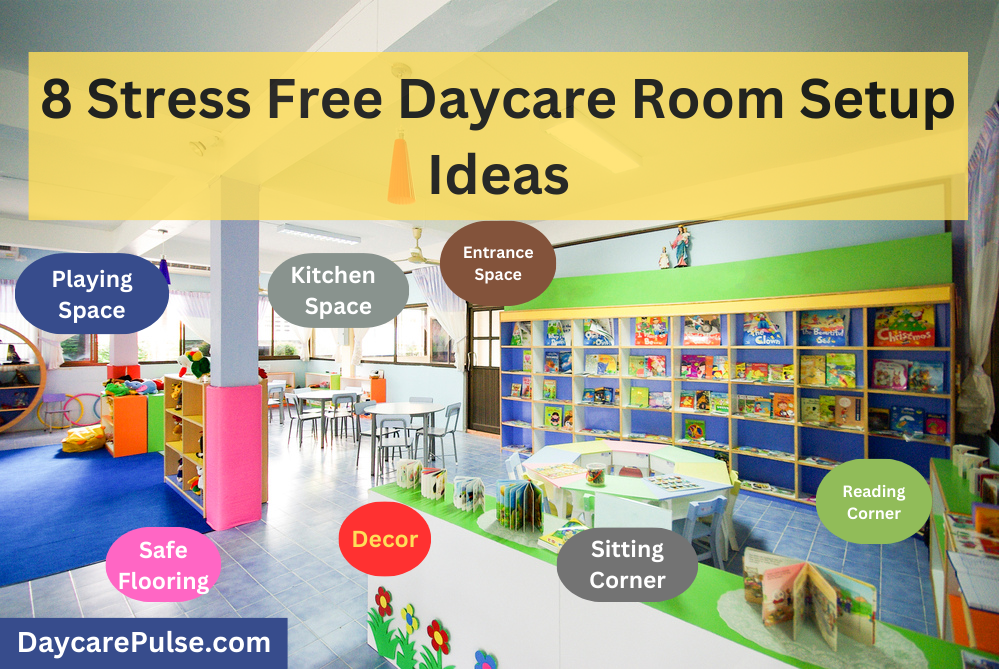 8 Daycare Room Setup Ideas: Daycare Room Design Ideas
Daycare providers find setting up a daycare environment a bit difficult. So, this guide will help you with daycare room setup.
We'll explore 8 daycare setup ideas that blend functionality with inspiration so that we can ensure a positive experience for both children and caregivers.
Idea #1 – Spaces or Zones
Consider setting up daycare centers from the entrance and exit to specialize in decorating spaces and zones.
1. Entrance and Exit Space
Do you want to take your daycare's entrance and exit space one step further? Incorporate artwork created by those in attendance or photos of the current class to make kids feel welcomed when they arrive!
Themed Entrance – Create a captivating entrance with a fun theme, such as a jungle or outer space. Use vibrant colors, murals, and decals to set the tone.
Interactive Elements – Install a puzzle floor mat that children can play with as they enter or exit. Consider a magnetic wall where kids can arrange shapes or objects, fostering creativity from the beginning.
To have more ideas about setting up the entrance of your daycare, please read: Daycare Entrance Ideas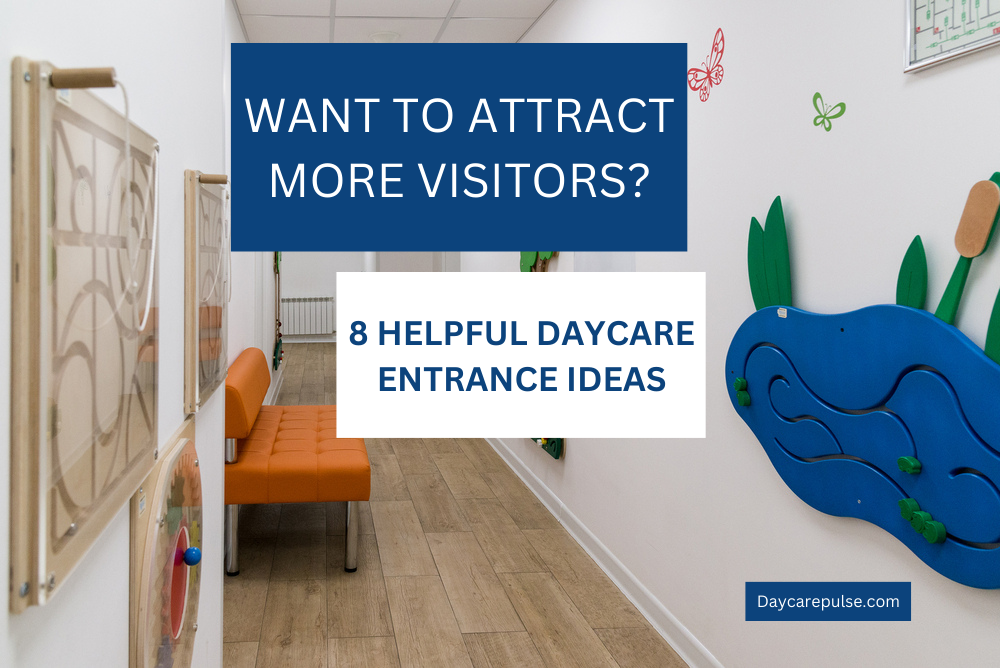 2. Living Space
Creating a living space or lounge area in your daycare is vital for children to relax and unwind.
Give them access to books, art supplies, puzzles and age-appropriate games within this designated area; adding beanbag chairs and cozy rugs can help, too!
Cozy Corners – Make the living space warm and inviting with soft rugs, bean bags, and cushions. These elements create a comfortable space for kids to relax and socialize.
Reading Nook – Design a reading nook with a bookshelf filled with age-appropriate books. Add a canopy or bean bag for a cozy reading experience.
3. Playing Space
Maximize your little ones' playtime by arranging the toys in labeled bins and shelves. With this, they can quickly find their desired items while keeping their environment clutter-free!
Dynamic Playroom – Equip the playroom with a ball pit, slide, and various age-appropriate toys. Consider including a designated area for building blocks and an art station for creative play.
Educational Decor – Use playful, educational wall art that includes shapes, colors, and numbers to encourage learning through play.
To set playing space, explore daycare playroom setup ideas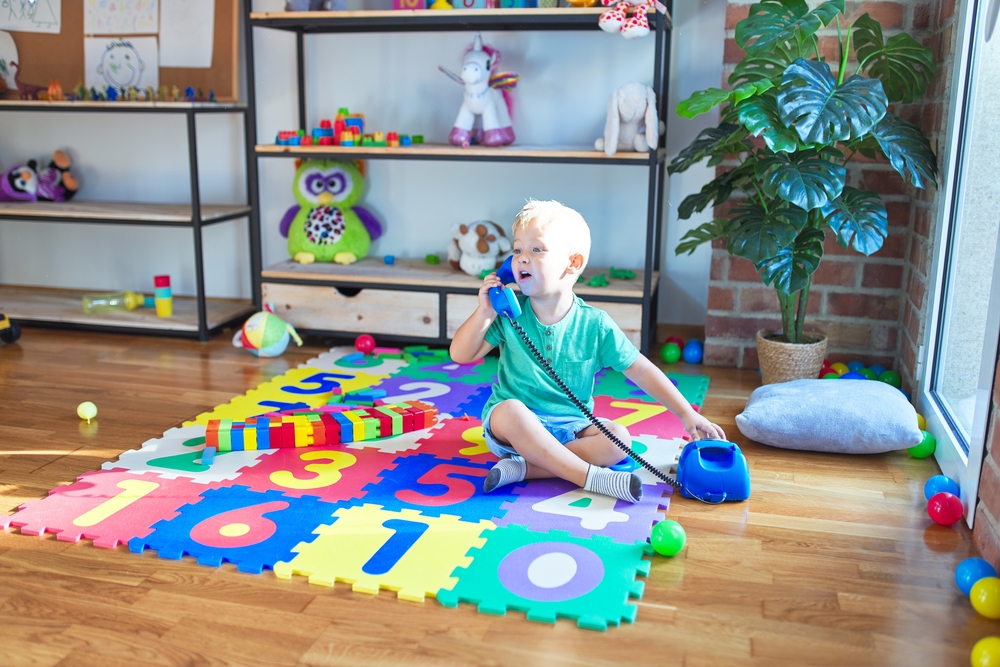 4. Creative Space
Offer your children a dedicated space to explore their creative side, from painting and drawing to more complex activities. Incorporate a wide table with comfy chairs into the designated area so they can have plenty of room for any projects and comfortable seating while working.
Arts and Crafts Corner – Dedicate a corner to arts and crafts with easels, paints, markers, and craft supplies. Consider using chalkboard paint to turn one wall into a giant drawing board.
Display Wall – Create a display wall to showcase children's artwork. This boosts their confidence and adds a vibrant, ever-changing element to the room.
To promote creativity at your daycare read on : Creative Ideas for daycare rooms
5. Open Activity Area
This area offers ample room to get active and have Fun, whether dancing or playing tag. Parents can ensure their children are safe as they move around freely.
Circle Time Space – Arrange a large, colorful carpet with shapes, numbers, and letters for circle time. This space can also double for group activities, music, and dancing.
Interactive Elements – Include interactive elements like a felt board for storytelling or a "weather station" where kids can learn about the weather.
6. Provide a Sanctuary
Have space to allow children to rest in absolute comfort. Hang curtains for privacy and provide comfy mattresses, pillows, and blankets they can relax on while taking a well-deserved break.
Calming Colors – Use soothing colors like soft blues and pastels for walls and furnishings. Consider wall decals with nature themes to create a calming atmosphere. –
Quiet Activities – Place puzzles, board games, and soft cushions in this area, where children can retreat from the more active sites when they need a break.
7. Kitchen Zone
Transform the mealtime experience for your little ones by dedicating a space just for them to enjoy snacks and meals!
A refrigerator, sink, microwave and extra appliances to prepare food are all crucial components. Ensure you also put high chairs or booster seats around the table so it's a pleasant time for everyone involved!
Child-Sized Appliances – Equip the kitchen with child-sized appliances like a play stove, microwave, and fridge. This encourages imaginative play.
Organized Storage – Use colorful storage bins for snacks and labeled containers with images to help children quickly identify and access their snacks and utensils.
Read about kitchen setup for daycare at : Daycare Kitchen Ideas
8. Learning, Education, and Library Space
Create a dedicated learning zone for the children in your daycare that is both exciting and educational. Incorporate books, puzzles, and board games to encourage literary skills while including blocks or art supplies to foster creativity.
Low Shelves – Invest in child-sized shelves with books and educational toys. Lower shelves make it easy for children to choose their own books.
Reading Corner – Create an inviting reading corner with a canopy or soft bean bags. A wall mural depicting a favorite storybook scene can be a real eye-catcher.
9. Diapering Space
It is essential to establish an area exclusively dedicated to diaper changing.
Sanitary and Organized – Clean and organize this area with easily cleaned surfaces and cheerful wall decals. Ensure all diapering supplies are readily accessible.
Changing Tables – This space should be ample enough for stashing diapers and wipes and having a changing table and receptacle for safely discarding employed articles.
10. Toilet Space
Give your children a private bathroom area that they can call their own.
Please provide all the essentials, such as a mini sink, running water, toilet paper, hand soap and other necessary supplies, to ensure they have everything at their fingertips during potty breaks!
Child-Friendly Bathrooms – Design kid-friendly bathrooms with low sinks, potty training seats, and step stools for independence.
Decorative Touches – Decorate the bathroom with fun and waterproof wall decals featuring friendly characters or animals.
I was hoping you could read my other blog post on effectively setting bathrooms for daycare.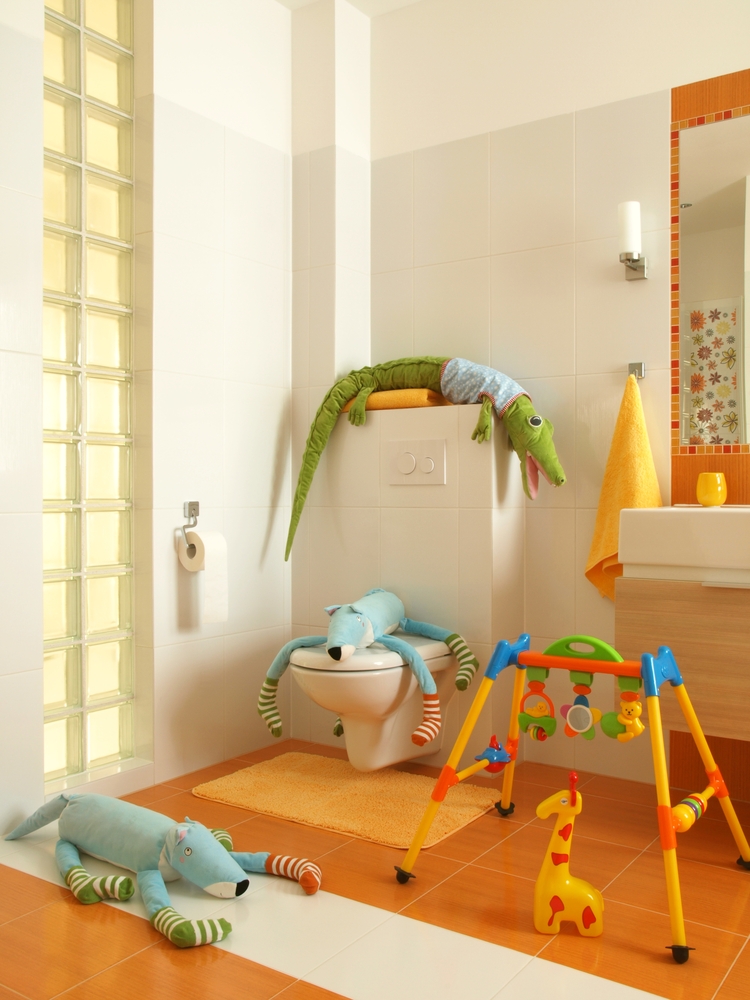 11. Sensory Space
Stimulate your children's imagination and foster a more profound experience with a multi-sensory corner to engage all five senses.
Provide aromatic candles, bubbly bubble machines, luminous light-up toys, musical instruments and plenty of seating for kids to explore their new environment comfortably!
Sensory Boards – Incorporate sensory boards with various textures, such as sandpaper, soft fur, and Velcro, to stimulate tactile exploration.
Calming Corner – Create a cozy corner with soft lighting and sensory items like a lava lamp or a bubble wall to soothe and engage children's senses.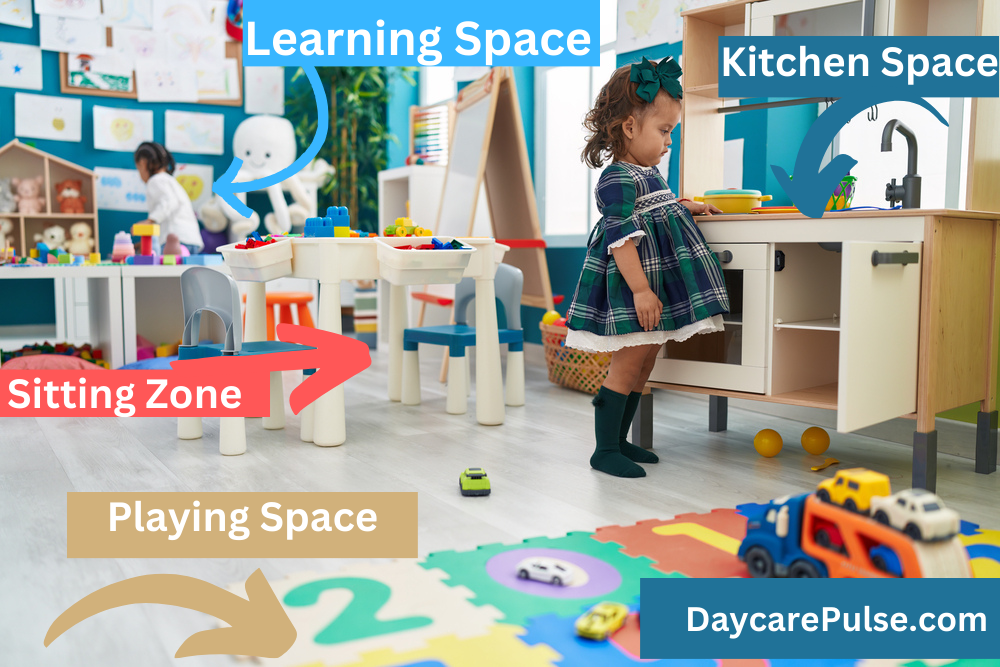 Idea #2 – Furniture & Storage Ideas
Create a cozy and stimulating daycare center by furnishing your space with plenty of storage. Install shelves or cubbies within reach and comfy seating like bean bags and play mats to promote relaxation.
Add in an eating space with a small table and chairs for mealtime!
You can explore local furniture stores, educational supply shops, or online retailers for daycare furniture.
Places like Ikea, Amazon, and specialty daycare furniture suppliers offer many options. For more tips and ideas, check out the blog post: Where Can I buy Daycare Furniture?
1. Toys & Activity Items
You can equip your daycare room with plentiful storage for games and activities. Make designated bins, racks or cubbies so kids can quickly come across the supplies they require for their projects.
Label each container distinctly with pictures or labels that toddlers can access autonomously. Keep your space neat and orderly with our storage solutions for daycare rooms! Furthermore, give each child a box to store personal items.
Best Toys for Daycare – Consider versatile, easy-to-clean toys that encourage imaginative play, like building blocks, art supplies, and age-appropriate puzzles. You can find detailed suggestions and recommendations reading blogpost on best toys for daycare.
2. Storage for Daycare Supplies
A well-stocked, organized daycare is critical to running a successful operation. Designate a shelf, cabinet or corner of the room for daily supplies such as cleaning products and paper towels.
Clearly label every container so it's easy for staff and children to find what they need; also consider rolling carts, which you can move around depending on activities planned each day.
Organized Storage – Opt for clear, stackable bins and shelves with labels to keep supplies like art materials, diapers, and spare clothes well-organized.
Hooks – Use wall-mounted storage for small items and clips for backpacks and jackets.
3. Eating or Dining Furniture & Storage
Proper furniture and storage solutions are critical components of a successful daycare. Devote an area for breakfast, lunch, and snacks with appropriately sized tables and chairs that children can easily access.
Breakfast, Lunch & Snacks – Set up child-sized tables and chairs in the dining area to make mealtime comfortable and engaging. Invest in easy-to-clean, durable tableware and utensils designed for kids. Consider shelving units to store snacks and meal-related supplies.
High Chairs – Consider including some high chairs or booster seats at mealtimes to provide additional comfort for small kids. Also, you can bring out the fun factor by incorporating bean bags and play mats – perfect for relaxing after a meal!
4. Little Table & Chairs
Make mealtime special for your little ones by gifting them a set of custom-made tables and chairs.
Child-Friendly Dining – Little tables and chairs create a cozy dining space for kids. Look for furniture made of safe, easy-to-clean materials. You can find various options at local furniture stores, Ikea, or online retailers.
5. Bean Bags
Transform any daycare into a cozy and inviting "home away from home" with Fun, colorful bean bag chairs! Whether you're looking for something in classic shapes or more whimsical designs, our soft seating options are perfect for kids of all ages.
Comfortable Seating – Bean bags offer a comfy and flexible seating option. They're perfect for storytime or relaxing. You can find bean bags in various sizes and colors to match your daycare's decor.
6. Play Mats
Give your daycare the perfect foundation with some of our vibrant, soft play mats! Offering a cushioned surface for children to explore and discover, these colorful mats will help add visual stimulation while keeping them safe.
Safe Play Surfaces – Play mats provide a soft and clean surface for playtime. Opt for easy-to-clean, non-toxic mats that can be arranged in different configurations to suit your space.
7. Cribs & Swings for Babies
Ensure your little one is safe and comfortable as they sleep in lightweight, adjustable cribs that are easy to move around the room.
Safe Sleep and Play – For babies, cribs provide a safe and comfortable place for naps. Swings can keep them entertained and soothed. Ensure that all baby furniture meets safety standards, and consider purchasing from well-known baby product retailers.
To know the perfect size to buy for daycare please read : What Size Crib Sheet for Daycare?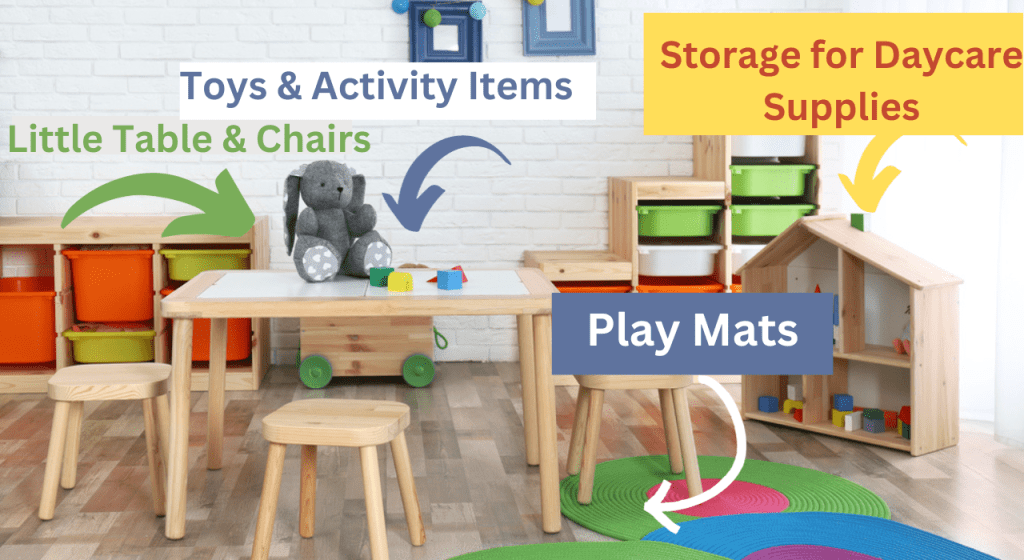 Idea #3 – Daycare Decor Ideas (Daycare Design Ideas)
Creating a stimulating and welcoming daycare environment is vital. Here are some key decoration ideas to achieve this:
1. Entrance Layout
Create an inviting entrance to your daycare room with child-sized furniture for seating and storage. Add a central rug for comfort and personalize the space with themed wall decorations or posters.
Daycare Sign Ideas – Make a memorable first impression with an inviting daycare entrance. Consider whimsical signage with colorful lettering and friendly characters to set the tone.
2. Walls Decorations
Transform the walls of your daycare into dynamic, interactive spaces for learning and play! Utilize wall decals to give a unique look or hang posters and artwork.
If possible, incorporate chalkboard paint on one of the walls, which children can use to express their creativity through art.
Daycare Wall Decoration Ideas – Transform your walls into educational canvases. Use alphabet and number decals, interactive wall art, and children's artwork to create an engaging and informative atmosphere.
3. Doors Decorations
Transform your daycare room entrance into a place where little ones can be excited to explore! You can decorate the door in many ways, from wreaths and wall decals to custom-made signs with the daycare's name.
Daycare Door Ideas – Decorate doors with playful themes, such as "Under the Sea," "Jungle Adventure," or a rotating seasonal door design that keeps the entrance exciting and ever-changing.
4. Bulletin Boards
Transform your daycare into a vibrant and orderly space with the addition of bulletin boards! Whether free-standing, wall-mounted or magnetic – there's something for everyone.
You can follow winter, summer and fall themes for decorating bulletin boards.
Post announcements, artwork from children's projects and memorable photos to present an inviting, stylish, and organized atmosphere.
Bulletin Board Ideas for Daycare – Utilize bulletin boards to showcase children's art, achievements, and educational content. Consider rotating themes like "Artist of the Month" and "Exploring Nature."
5. Art and Craft
Bring the creative spirit to your daycare by introducing art and craft projects! Hang themed paintings or posters to give children an idea of what they could create, then let their imaginative minds take over.
Chalkboard Paint – Install chalkboard paint on the wall so little ones can draw whatever comes to mind. Supplies such as crayons, markers and colors should be available with shelves for easy storage.
Creative Kids' Art Gallery – Dedicate a wall to display children's masterpieces. Encourage creativity with rotating art themes, such as "The Great Outdoors" or "Imagination Station."
Pro Tip : To make things even more exciting, add feathers, glitter or googly eyes that will further spark the inspiration behind each project!
6. Paintings
Inject creativity into your daycare room with beautiful paintings! Hang a striking landscape painting to enrich their visual senses, or let the kids have fun by providing them with mini canvas boards.
Alphabet Murals – Paint a colorful and educational alphabet mural on a prominent wall. This not only brightens up the space but also helps children learn their ABCs.
Posters – Also, hang posters of inspiring quotes and humorous jokes around the walls to ensure they are in good spirits throughout the session!
To have more daycare painting ideas, please explore my blogpost: Daycare Painting Ideas
7. Special Events Setup
Make your daycare a magical place for special occasions! You can hang balloons, banners and streamers around the room to celebrate birthdays, add chairs or bean bags so that kids have lots of choices regarding seating.
Daycare Event Ideas – Host special events to keep children excited. Ideas include "Pajama Day," "Science Fair Day," and "Cultural Appreciation Day," each with unique decor to match the theme.
8. Birthday
Give your daycare a birthday makeover with decorations! Create an enchanting atmosphere by hanging up balloons and streamers in bright colors.
Place the table at the center of the room, with snacks, drinks and cake for everyone to savor. Add chairs around it or bean bags so kids can sit comfortably on the floor.:
Daycare Birthday Wall Ideas – Design a dedicated birthday wall with colorful banners, balloons, and custom name displays for celebrating each child's special day.
9. Thanksgiving
Create an eye-catching decoration with paper turkeys or other seasonal adornments such as leaves and pumpkins. Place a table in the center of the room, with refreshments for everyone.
Provide seating options like chairs around the table or bean bags that kids can lounge on while they play fun activities such as arts & crafts projects and games!
Harvest and Thankfulness – Decorate with turkeys, autumn leaves, and "Thankful Tree" art projects. Involve children in creating Thanksgiving-themed decor to celebrate the season.
10. Holidays
Christmas and Hanukkah can genuinely be made extraordinary with some tasteful decorations. Search for unique ornaments, snowflakes, and stars to cultivate a wintry dreamscape in the daycare room.
Festive Holiday Decor – Get into the spirit of various holidays with themed decorations. Use window clings, garlands, and wall decals for Christmas, Hanukkah, Halloween, and other celebrations. Rotate the decor to keep the environment fresh and exciting.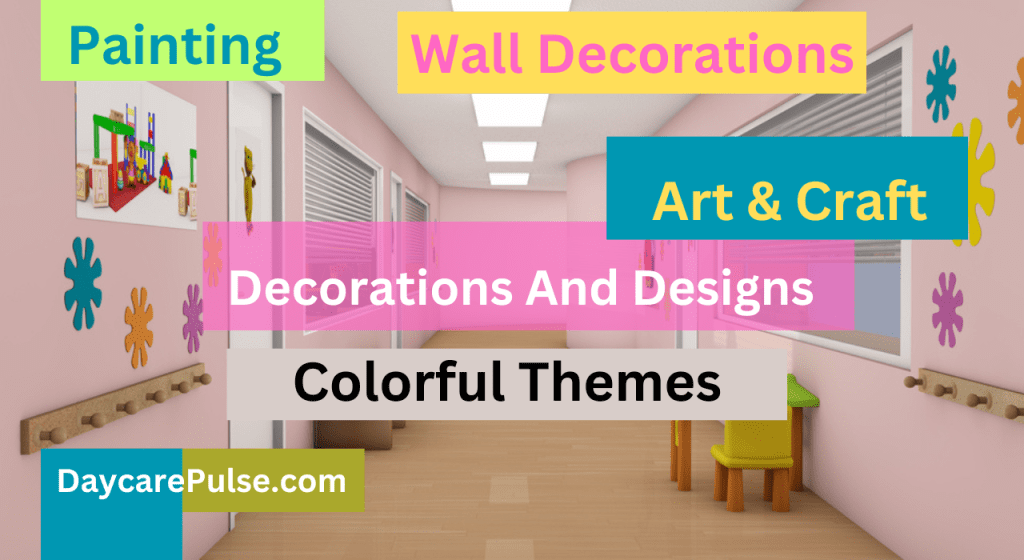 Idea #4 – Safety
Safety should always be the top priority when setting up a daycare room. It's essential to create a safe and secure environment for children, including adequately using furniture, materials, and equipment.
Put up guardrails and locks on doors to keep kids safe and secure. Place baby gates at the top and bottom of stairs so accidental harm or falls won't occur.
Get furniture made from sturdy material that's kid-friendly and long-lasting.
1. Guard Rails and Door Locks
Guarantee the safety of your daycare with guard rails and door locks! Our selection of protective measures is guaranteed to keep kids safe as they play.
Guard rails can be securely installed on walls, while door locks will ensure that only those inside can gain access.
Safety at the Core – Guard rails and door locks are the core of safety in your daycare. Guard rails can be securely installed on walls to prevent accidents, while door locks ensure that only authorized individuals can access the premises.
2. Child-Friendly Furniture
Make sure your daycare room feels cozy and welcoming for the little ones by opting for furniture constructed from durable materials made with children in mind.
Creating Comfort – Make the daycare room cozy and inviting for the little ones by choosing child-friendly furniture. Opt for pieces made from durable materials specially designed for children.
A Comfy Corner – Incorporate comfortable seating options like couches, chairs, tables, bean bags, or floor cushions to create a warm environment where kids can feel safe and relaxed.
3. Baby Gates for Stairs
Baby gates are a great way to keep kids safe when they play safe. These specialized devices are engineered to be mounted at the top and bottom of any staircase, so you can rest assured that kids will only access them with proper adult oversight
Secure Play Spaces – Baby gates are indispensable in keeping play areas safe. They can be placed at the top of stairways or around doorways to restrict access, ensuring the safety of young explorers.
4. Flooring
Consider safe flooring options. To read more about flooring check blogpost on : Daycare Flooring Ideas
Safe Surface – Choose slip-resistant flooring, easy to clean, and provides a soft landing in case of falls. Mats and carpets can add an extra layer of protection and comfort.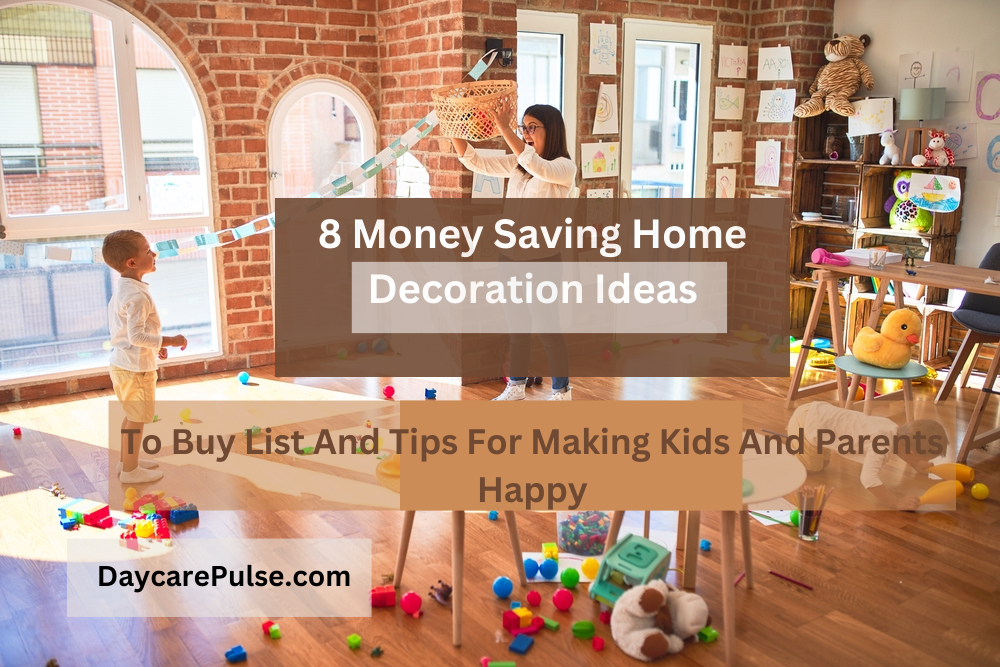 Idea #5 – Emergency Supplies Area
By keeping an Emergency Supplies Area stocked with items such as First Aid kits, flashlights and fire extinguishers, you will fully prepare your daycare in case of any emergency.
All staff members must know the exact location of this area so they can quickly access it if needed. A readily available Emergency Supplies Area will ensure the safety and security of children and personnel at all times.
Safety should always be a top priority in a daycare. An emergency supplies area is essential for preparedness. Here are some key components:
1. First Aid Kits
First Aid kits are an essential part of any daycare. They provide quick access to basic medical supplies and medications and also serve as an important reminder that safety always comes first in a childcare facility.
Best First Aid Kit for Daycare – A comprehensive kit is vital. Ensure it contains all necessary supplies for minor injuries. A quality First Aid kit should include various items such as bandages, gauze, and antiseptic wipes.
2. Flashlights
Don't get left in the dark!
Stock up on flashlights and ensure that their batteries are always functional. In an emergency, a dependable light source is vital for safe evacuation. Keep it at the top of your list when amassing supplies.
Light in Darkness – Flashlights are crucial in case of power outages or emergencies. Keep reliable flashlights with extra batteries in your emergency supplies area for immediate illumination.
3. Fire Extinguishers
If a worst-case scenario arises, such as a potential hazard resulting from fire, this device may be just what's needed to keep children and staff safe!
Fire Safety – Fire extinguishers are essential to have on hand in case of small fires. Regularly check and maintain them to ensure they are in good working condition.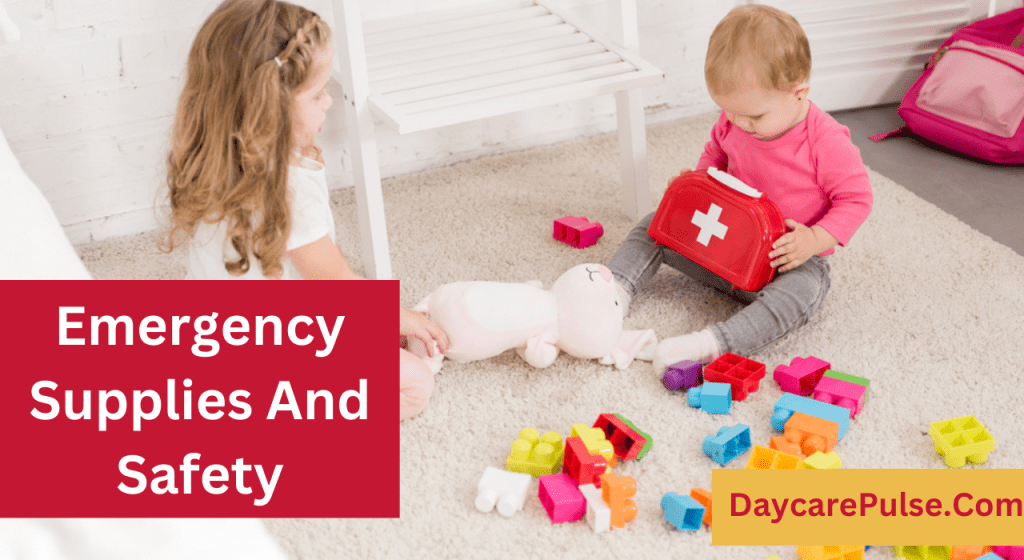 Idea # 6 – Childcare Infants Room Setup Ideas
Establish a safe and secure environment for your baby, complete with designated stations for diapering needs. Generously allocate space to crawl around and play on the floor while installing safety gates to divide sleeping areas from other parts of their room.
Remember ample storage where you can store necessary items like diapers, wipes, clothing pieces, toys and more!
Read on: Daycare Infant Room Ideas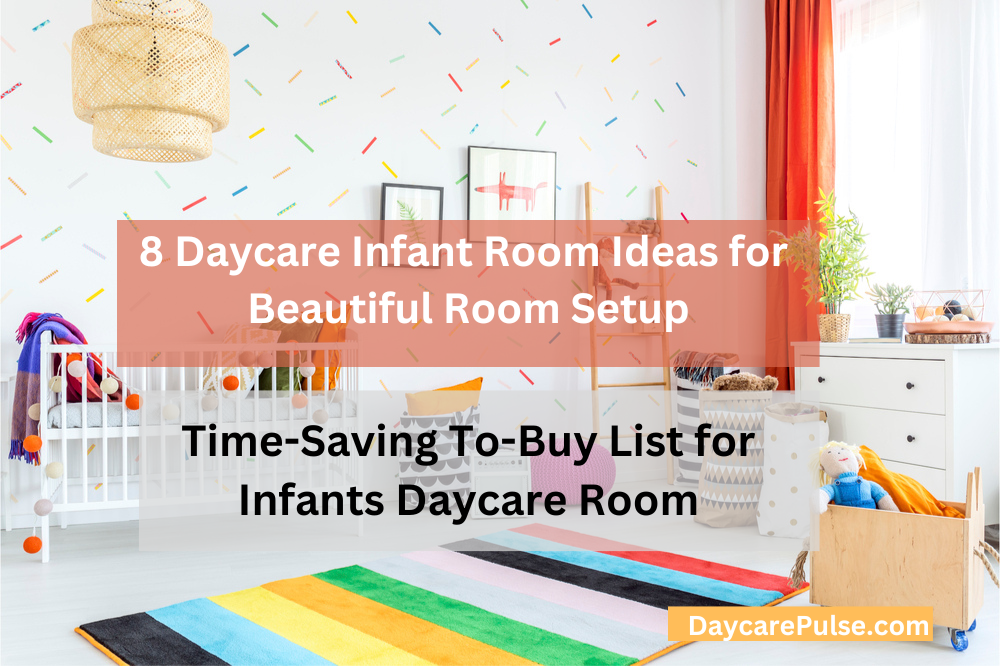 Storage Area – Invest in reliable cabinets and chests to store supplies securely to make the infant room a safe and organized environment for babies.
Additionally, prioritize storage solutions with two-step authentication, keyless entry and remote monitoring features for an extra layer of security.
Station for Changing Diapers – Create an area devoted exclusively to diaper changing, furnished with a cozy surface and stocked with the necessary items like diapers, wipes, powder and ointment.
Label all containers so they're easy to spot, and store them at the child-proof level. Illuminate the space sufficiently for convenience while utilizing it.
Crib Area – Create a dedicated area to establish the cribs and cots, designing it securely and comfortably for sound sleep.
Introducing added features like mosquito nets or blackout curtains will increase bedroom comfort. Ensure you leave sufficient spacing between each crib, so your little ones have adequate personal space.
Feeding Area – Designate an area specifically for mealtime with comfortable seating and easy-to-maintain countertops. Ensure all your utensils, dishes, and food are close by and organized so everyone can enjoy the meals safely.
Adequate Room for Crawling and Developmental Play – Set up a designated play area to give your infant ample space to crawl and explore. Please ensure the toys are safe for their age and provide cozy, protective surfaces for them to enjoy themselves.
Additionally, install safety gates around the perimeter of this remarkable place, protecting them from other parts of the room.
Idea # 7 – Childcare Toddlers Room Setup Ideas
To nurture your toddler, create a stimulating environment that enables them to explore. Ensure you have an area suitable for diaper changing and plenty of open space for physical development and playtime.
Install child-friendly toilets and sinks to encourage independent hygiene habits. Furthermore, provide a cozy eating area with accessible utensils and dinnerware so they can enjoy meals comfortably!
Station For Changing Diapers – Establish an easily accessible and adequately illuminated diaper-changing station for maximum convenience.
Make sure the area is comfortable, with a suitable changing surface and many diapers, wipes, ointment, and powder on hand.
Children's Toilets and Sinks – Promote your toddler's independent hygiene by installing child-safe toilets and sinks that are easy to reach.
To further aid in their access, provide step stools or other necessary items so they can easily access the equipment.
Eating Area – Create an inviting space to enjoy meals to ensure cozy seating and convenient surfaces that are effortless to wipe down.
Arrange all eating utensils, cookware, and food within reach safely and securely for your family's peace of mind.
Crib or Cot Area – Achieving quality rest for your toddlers requires proper bedding arrangement.
Placing the furniture in a secure, cozy and restful manner helps ensure nighttime comfort- especially with extras such as mosquito nets or blackout curtains. With this setup, you can be sure everyone will get their much-needed sleep!
Read on how to get toddlers nap at daycare.
Adequate Room for Activities – A stimulating play area is essential for your child's growth and development. Ensure they have plenty of room to explore while providing age-appropriate toys, activities, and soft surfaces.
Additionally, installing safety gates will keep this area securely separated from the rest of the space, keeping you and your little one at ease!
Idea # 8 – Pre Scholars Room Setup Ideas
For pre-scholars, create an environment that is conducive to learning and exploration. Set up a station for diaper changing and provide adequate room for developing motor skills and play.
Install child-safe toilets and sinks to promote independent hygiene.
Provide a designated eating area with comfortable seating and easy-to-access utensils and dishes. Set up a site for homework, studying, and lessons, including desks, chairs, bookshelves, and other necessary supplies.
Provide an open, unrestricted area for activities and tasks that are engaging and educational. Additionally, make sure all stores are easy to reach and clearly labeled. Ensure the area is well-lit and out of reach of children.
Children's Toilets and Sinks – Install child-safe toilets and sinks to promote independent hygiene. Set up the equipment in an area that is easy to reach for pre-scholars. Provide step stools and other items as necessary to make it easier for them to access the equipment.
Eating Area – Designate a separate area for eating. Provide comfortable seating and easy-to-clean surfaces. Make sure all utensils, dishes and food are easily accessible and stored in a way that is safe and secure.
Nap Area – Designate a separate area for naps. Provide comfortable beds or cots and easy-to-clean surfaces. Make sure blankets, pillows, and other items needed for sleep are easily accessible and stored safely and securely.
Read on daycare nap room ideas for daycare
Homework Area – Set up an area specifically for homework, studying, and lessons, including desks, chairs, bookshelves and other necessary supplies. Make sure all items are within easy access reach and clearly labeled. Ensure the area is well-lit and out of reach of children.
Open, Unrestricted Area for Activities and Lessons – Provide an open, unrestricted area for activities and lessons that are engaging and educational. Make sure all supplies are easy to reach and clearly labeled.
Ensure the area is well-lit and out of reach of children. Provide a variety of play items that encourage exploration, imagination, and development for pre-scholars. Install safety gates to separate this area from other parts of the room.
10 Tips For the Daycare Room Ideas Setup: Daycare Room And Daycare Ideas
Here are the 10 tips for daycare room setup.
Safety and Usability First – Prioritize safety and usability when creating a daycare room. Arrange comfortable seating and safe toys in an open floor plan to ensure both spaciousness and security. Place furniture strategically for optimal functionality.
Reliable Security – Install a reliable security system to ensure the safety of everyone who enters the daycare room.
Ample Storage Space – Ensure you have ample storage to keep the room organized and provide easy access to essential items.
Age-Appropriate Choices – Make age-appropriate design decisions, considering the children's ages and budget constraints to meet their specific needs.
Colorful Vibes – Use colors to set the atmosphere. Choose vibrant hues for a fun and engaging space or calming tones for moments of tranquility.
Interactive Elements – Incorporate interactive elements such as art projects on the walls and create a play area filled with color, texture, and displays to entertain and support children's development.
Acoustical Support – Implement acoustical support to reduce noise levels and maintain a quieter environment for an improved overall experience.
Emergency Plans – Develop evacuation plans for emergencies to ensure the safety of everyone in the daycare room.
Separate Play Area – Designate a separate play area stocked with safe toys and activities suitable for children of all ages, ensuring everyone remains engaged.
Comfortable Eating Area – Establish a designated eating area with comfortable seating and easily accessible utensils and dishes to make mealtimes enjoyable and hassle-free.
Read on 7 Creative Ideas For Kid's Daycare Rooms to entice up your imagination into reality.
How to Make Color Selection For Daycare? | Daycare Decorating Ideas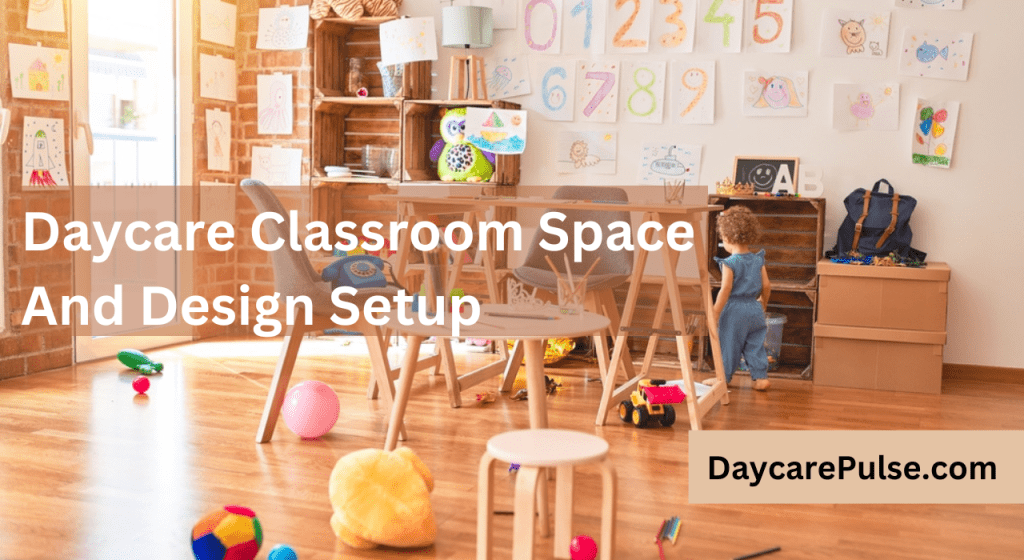 When deciding on the ideal hues for your daycare, consider various factors. These include lighting and themes or focal points within the space, age group of attending children and personal preferences.
High-Grade Paint – What's more, colors can be highly influential in producing an interactive atmosphere and encouraging exploration. Select high-grade paint and products capable of withstanding regular cleaning and wear and tear to guarantee that your color scheme remains intact over time.
Natural Light – When deciding on colors for a daycare setting, it is essential to consider lighting conditions. Opting for natural light sources can create an enjoyable and bright atmosphere.
Younger Kids – When picking colors for your daycare, think about the age of the children. Use bright and vivid shades to make the space fun and stimulating for younger kids.
Older Youngsters – For older youngsters, opt for more subdued tones such as blues or greens, this will help create a soothing atmosphere. You can also bring coherence by using hues that go well with any focal point in the area, making it even more captivating!
For quieter zones or areas where rest is essential, soft pastel colors or calming tones like blues and greens can create a tranquil ambiance.
Explore more tips on color selection and daycare decorating ideas in our blog post on Home Daycare Ideas for Budget-Friendly Decoration, and turn your daycare into a place that educates and inspires.
Daycare Classroom Ideas
When designing a safe and stimulating daycare room, use age-appropriate materials and colors to promote learning for little ones. Incorporate natural elements like plants, sand or rocks into the environment to make it interactive – an invitation for exploration!
Remember storage, too; utilize functional items such as baskets, bins, or cubbies.
Showcase artwork made by the children on display had added photos of them onto the walls – this will create a personalized space they can call their own.
With some creative touches here and there, you'll have created an inviting atmosphere that proactively encourages learning within your daycare facility!
Do you have a classroom setup in your daycare? Read on : Daycare Classroom Ideas
Age-Appropriate Materials – As you equip your daycare room, look for appropriate and secure materials. Select furniture pieces and toys with young children in mind – those that won't be a threat of harm or danger.
Additionally, ensure all items meet the necessary safety standards so you can trust their quality; sturdy products guarantee lasting comfort for kids as they examine their world!
Stimulating Colors – To nurture the curious minds of young children, incorporate bright and stimulating hues into your daycare layout.
Select bold shades that will grab their attention, such as vibrant blues, greens, pinks or oranges. Alternatively, you can opt for more toned-down natural tones to provide a calming atmosphere.
In either case, incorporating bright colors into your decor will create a stimulating and tranquil environment ideal for learning!
Neutral colors like beige, taupe, and shades of white and grey are also great options for your daycare facility. These colors offer a calming and soothing backdrop, making the environment feel safe and secure.
Educational Content – Add educational materials to transform your daycare into a stimulating and fun learning environment! Incorporate age-appropriate books, toys, games and puzzles that teach children essential skills while entertaining them.
Hang up lively posters on the walls to reinforce key concepts and create an inviting atmosphere. With only a few modifications, you can ensure your kids have an enjoyable yet informative experience on every visit to your daycare!
Get Creative with Storage – Maximize the daycare space with creative storage solutions that accommodate different items.
Utilizing shelves, bins, cubbies, and baskets to store books, toys and games – each labeled so kids can find what they need without hassle will ensure your daycare stays orderly and clutter-free!
Make Use of Art – Stimulate your daycare environment by displaying creative artwork made by the children. Hang framed art strategically or designate an area where they can manifest their artistic vision!
Art entertains children and encourages them to explore and engage with their innovative capabilities, fostering a sense of pride in what they have crafted. By including inspiring works of art in your space, you'll be sure to awaken the artists within each one of them!
Incorporate Natural Elements – Transform your daycare into an outdoor oasis! Surround the space with leafy greens and give the kids a chance to get creative by providing them access to rocks, shells, feathers and more.
Not only will these natural elements bring in texture and movement that is so important for the early development of motor skills, but they also provide a calm atmosphere that encourages children to explore safely.
FAQs
How Can You Make Your Daycare Room More Inviting? : Small Daycare Room Ideas
Maximize the attraction of your daycare space by spicing up its aesthetics with inviting colors, decorations that complement the interests of young children.
Plus, provide lighting conducive to learning and exploration while ensuring all materials are 100% safe for kids, guaranteeing a secure environment where they can discover new things!
Read on : Small Daycare Room Setup Ideas
What Are the Best Colors for Daycare? : Daycare Room Theme Ideas
When it comes to selecting hues for daycares, you should take age appropriateness and individual tastes into account. For example, older children will benefit from the calming atmosphere of softer shades such as blues and greens.
At the same time, younger kids may respond better to brighter colors like yellows or oranges. Moreover, including a fun theme or decorative point of focus can help add cohesion to the room and make it even more stimulating!
Read on : Theme Ideas For Daycare
What Materials Are Best For Daycare?: Childcare Room Setup Ideas
Choosing materials for a daycare facility requires extra consideration. Ensuring your select products are durable, easy to clean, and child-safe is paramount.
Look for high-quality paint, resilient furnishings that handle regular wear and tear, and frequent cleaning sessions. With these tips in mind, your space will be ready to provide children with an enjoyable learning experience!
What Are the Principles Of Daycare?: Daycare Space
Daycare settings prioritize developing a secure and supportive atmosphere for kids, ensuring quality care and education.
With this in mind, daycares should encourage exploration, physical activity, communication abilities, problem-solving skills and socialization. Additionally, qualified childcare workers must be present to assist while also promoting the overall health of all children attending.
How To Attract Parents to Daycare Center?
You must provide children with a safe and welcoming environment for your daycare to succeed. Additionally, have qualified caregivers with expertise in childcare who can offer high-quality care and education.
Furthermore, advertising content written by satisfied parents on both online platforms such as websites or social media pages; additionally, consider offering discounts or special packages that draw attention from aspiring customers.
Lastly, create a robust marketing plan to reach out to potential parents to grow your business successfully!
Read on : Open House Ideas For Daycare
What Are Home Daycare Setup Ideas?
Home daycare setup settings offer unique advantages such as a familiar environment, individual attention, and reduced exposure to illnesses. To set up an engaging home daycare ideas:
Safe Spaces: Ensure your home daycare is childproofed with safe spaces for play and learning. This includes removing hazardous items, locking cabinets, and using safety gates.
Educational Areas: Develop dedicated zones for activities like reading, arts and crafts, and science exploration. Use storage bins for easy cleanup and organization.
Outdoor Play: If available, use your backyard for outdoor play. Include a sandbox, a small slide, and other safe outdoor toys.
Quiet Zones: Create quiet zones for naptime and individual activities. These should be comfortably furnished and free from noise and distractions.
Homely Appeal: Maintain a homely appeal by blending the daycare spaces with your home daycare decor. This can make children feel more comfortable and relaxed.
Read on: Home Daycare Ideas For Decorating: 8 Budget-Friendly Decoration Ideas
Conclusion
Choosing the right colors for your daycare is paramount in providing a safe, fun place for children to learn and explore. With careful thought and consideration, you can create an atmosphere that encourages discovery and promotes security with durable, kid-friendly materials.
In the realm of in-home child care, a skilled Care Director plays a pivotal role in curating a nurturing atmosphere for children. Director Resources and carefully selected activities enhance the family-child dynamics, fostering growth and development.
Incorporating a variety of activity words, the Day Care saves no effort in ensuring that every child's day is filled with exploration and joy. Focusing on 0-1-year-olds, the Daycare Room Ideas provided by the Director Resources offers many creative ways to make learning fun and meaningful.
By following these tips, you'll bring parents flocking to your business, as they are sure to be impressed by the welcoming environment of your daycare!
Good luck and happy decorating!