7 Daycare Door Ideas Fall
Are you looking for an updated yet unique way to welcome the little ones this fall season? If so, it's time to get creative and create fun daycare door ideas!
Here are some 7 fantastic daycare door ideas for fall that will make your daycare inviting and festive.
Leaf Door Decorations
Halloween Door Decorations
Giving Tree Decorations
Thankful Tree
Decorate With Apples
Collect Leaves From Nature
Make Pumpkin Votives
From worry-free festive garlands, unique wreaths, silly signs and more, we have it all to transform drab doors into delightful ones! So check out these 7 daycare doors fall ideas and guide on engaging kids in decoration for this fall and tips to decorate daycare doors for fall to foster a sense of joy, creativity, and engagement for all.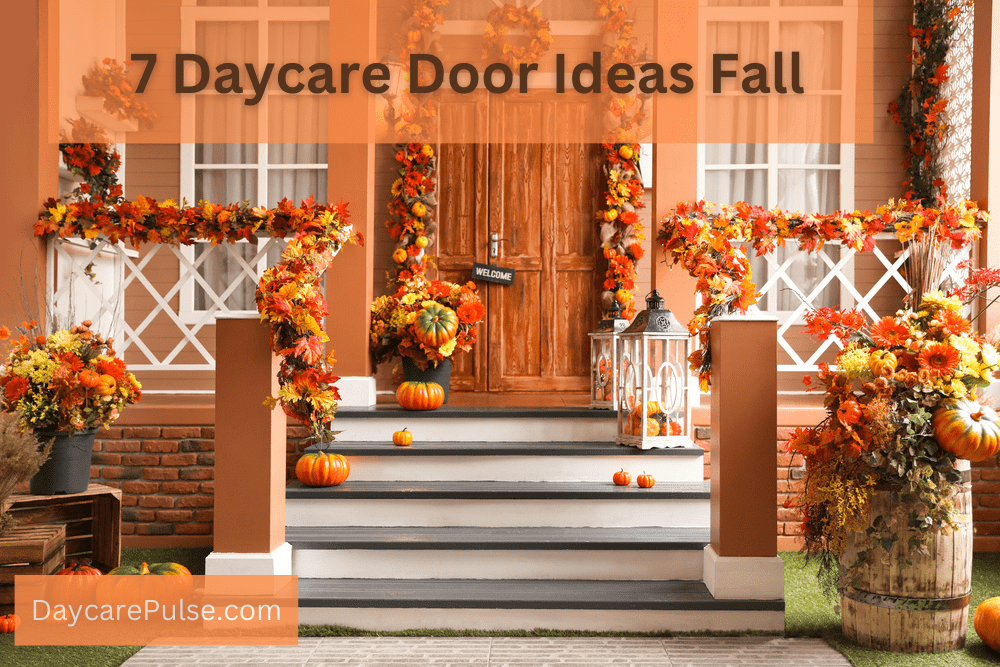 7 Daycare Door Ideas Fall
If you want to spruce up your daycare this Fall, we've just the list for you!
These creative ideas will make your daycare door more impactful and inviting, from leaf decorations and thankful trees to nature-inspired décor and tie-dye art projects.
Get inspired by the world outside, or bring it all indoors with our fun yet simple suggestions, go forth and make your space even more welcoming today!
Related: 5 Daycare Door Ideas
1. Leaf Door Decorations
Welcome in the autumn season with unique and vibrant leaf door decorations!
Craft these colorful pieces from natural leaves or cutout shapes from construction paper, then let your little ones put their spin on it by adding sequins, ribbons or other exciting adornments.
Let them join in on this fun project too and provide them with glue sticks and various leaves for creating their masterpieces. Hang up the finished products to give your daycare entrance a special touch of fall beauty!
2. Halloween Door Decorations
Give your daycare an added touch of Halloween cheer this season with some spooky decorations! Gather up the kids and have them craft paper bats, ghosts, or pumpkins to hang from the door.
To create an authentic haunted house atmosphere, you could add cobwebs and skulls for effect, just make sure it's age appropriate so everyone can enjoy themselves safely!
Why not drape curtains across your doorway too? It'll look eerie while reminding us why we love celebrating Halloween every year!
3. Giving Tree Decorations
Why not encourage everyone at the daycare to come together and give back during this holiday season?
They are introducing the Giving Tree a fun and creative way for people of all ages to get involved! Gather some paper or colorful ribbon and begin cutting out your leaves.
Write down the names of those you'd like to donate to, whether an individual or charity the possibilities are endless!
Securely attach each leaf onto a natural tree branch with string or ribbons, or hang it up in your desired location. It will bring joy throughout the daycare during this time of year.
4. Thankful Tree
Inspire your children to ponder their blessings by crafting a Thankful Tree! All you need is construction paper and markers.
Allow the kids to cut out leaves from the paper and jot down everything they are thankful for on each leaf. Hang these leaves on any door or wall in your daycare center, creating an eye-catching expression of gratitude reminding everyone just how much we have to be grateful for this holiday season!
5. Decorate With Apples
Make your daycare's door extra unique by decorating it with apples!
Create a unique wreath by stringing together some apples and adorning them with leaves or other festive decorations. You can even cut out apple shapes from construction paper and hang them on the door as an exciting addition to your entrance.
For an added touch of creativity, invite the kids to help you customize these beautiful paper-made apples using markers, glitter – whatever their imagination desires!
6. Collect Leaves From Nature
Grab your children and embark on an outdoor journey, allowing them to discover the beauty of nature! As they explore, have each gather a handful of brilliant autumn leaves.
Bring back these natural decorations to daycare – use glue to attach them onto some construction paper or string for unique door embellishments. If you don't have outdoor access, you can still do this project by using artificial leaves indoors.
7. Make Pumpkin Votives
Simple pumpkin votives transform your daycare into a magical place this autumn! All you need are small pumpkins, tea lights and other materials.
Start by cutting the top off each pumpkin and scooping out its innards, remember to add a bit of paint for an extra festive look.
Then insert every tea light in each one before lighting them up!
Have kids decorate the pumpkins with playful drawings or glittery accents for fun.
Now simply sit back and enjoy their beauty-filled warmth as they sparkle throughout your space!
This fall season, get creative and crafty with your daycare door! Invite the little ones to join the fun by helping you make decorations while learning about nature's beauty. Spend quality time together as a group decorating, and marvel at how inviting autumn can be!
You may be looking for bulletin board ideas to decorate for fall.
Check Fall Bulletin Board Ideas for Daycare.
How to Decorate for Fall with Kids?
There are a lot of ways to decorate for fall with kids. One of the most popular and fun activities is carving pumpkins.
Gather the kids up and have them pick out their favorite shapes and sizes, then set up a workstation with tools like carving knives and spoons.
Let the little ones get creative by using templates or their imagination when making intricate designs on the pumpkins. Here are 4 ways to decorate for fall with kids.
Related: 34 Easy and Quick Craft Ideas for Daycare
1. Tie and Dye Fall Themes
Elevate your kids' creative skills by having them tie-dye some white shirts with autumnal colors!
This enjoyable activity will be an excellent way for the children to express themselves and have a memorable keepsake to reminisce about their daycare's decorations.
2. Make Fall Posters
Make this a family affair, and have the children create autumn-themed posters!
Allow them to express their creativity by drawing pictures of leaves, pumpkins, apples or whatever other fall elements they can think of – use these masterpieces to spruce up your daycare.
3. Art and Craft
It's time to break out the glitter, markers and glue sticks!
Encourage your kids to craft some stunning art pieces for the daycare entrance. From leaf wreaths to paper cutouts, they can create anything their imaginations can conjure up. The possibilities are truly limitless!
4. Thankful Tree
Stir your children to think deeply about their blessings by creating a Thankful Tree.
You will only need construction paper and some markers; let the kids cut out leaves from them and write down what they are thankful for on each leaf.
Hang these beautiful displays of gratitude on tree branches or daycare walls – it's sure to be a spectacular demonstration of appreciation!
7 Tips to Decorate Door For Fall
Here are the 7 tips to decorate the daycare doors for fall.
1. Welcome Fall with Vibrant Orange
Embrace the festive spirit and give your daycare entrance a modern, energetic update. Gather the kids for a fun painting session to make their mark on this eye-catching transformation!
2. Unlock Unique Door Options
Investigate different door materials available that will fit perfectly in your daycare setting. From wood to metal, plenty of custom choices can help you create an unforgettable gateway!
3. Discussing Color Options
Now that you have located the supplies for your door, it's time to let the kids select hues!
Autumnal tones such as orange, yellow and brown will create a cozy ambiance. Encourage their creativity by allowing them to choose whichever color combinations they prefer.
4. Fall Colors for Kids
Transform your daycare with vivid primary colors like red, blue, and green to add a lively atmosphere. Kids will be delighted by your effort in sprucing up their environment!
Accentuating the space with these hues guarantees an enjoyable experience for all.
5. Consider Budget
If you're on a budget but seeking to add fabulous fall flair to your door, consider utilizing the natural elements around you.
Fallen leaves and dried grass are both easy to find in most outdoor areas – and using them will keep the bank intact while generating an attractive display.
6. Recycle Other Themes
Be bold and use your old decorations for a fresh theme! You can quickly reinvent them by adding cheerful drawings or shimmering accents to provide an autumn flair.
Now you can sit back and enjoy the delightful radiance of these lovely decorations as they glitter throughout your home!
7. Welcome Nature Inside
Invite the Outdoors by using nature's elements, such as dried grasses, florals and leaves to adorn your daycare door.
You can craft garlands or wreaths with these materials for a rustic touch – it'll be sure to draw attention and make a statement!
Furthermore, since these supplies are easily accessible, it will be an excellent deal to decorate. For an extra stylish look, you can add some pinecones or feathers.
Check out my blog, 5 Daycare Door Ideas, that will suit your daycare door for every season.
Frequently Asked Questions
How To Decorate The Front Door For Fall?
Welcome Fall with a creative touch by adding unique décor to your daycare entrance! Invite the kids outside for an inspiring gathering and search their backyard for dried grasses, flowers, leaves or other autumnal plants.
Have them create garlands, wreaths or art pieces that you can hang on the door it's a great way to involve everyone in celebrating this festive season.
Or why not use this to let your creativity fly and get inspired? Let the kids paint cheerful designs that will give your front door modern energy while welcoming guests into your home with warmth and joy!
What Do You Hang on a Door in the Fall?
Transform your entryway into an enchanting space by hanging vibrant garlands, festive wreaths or beautiful art pieces made of captivating flowers and foliage.
Furthermore, adding pinecones or feathers as accents will give a stylish touch to the door that is sure to impress! You can have your children explore their backyard for these materials, with this bonus being you'll entertain them before everyone arrives too.
How can I Decorate for Fall Cheaply?
If you're on a budget but seeking to add fabulous fall flair to your door, consider utilizing the natural elements around you.
Fallen leaves and dried grass are easy to find in most outdoor areas – using them will keep the bank intact while generating an attractive display!
Furthermore, recycling old decorations for a fresh theme is also a great way to save money.
Add cheerful drawings or shimmering accents to provide an autumnal flair – now you can sit back and enjoy the delightful radiance of these lovely decorations as they glitter throughout your home!
Conclusion
Make your daycare entryway come alive this Fall with a stunning display incorporating natural materials and other decorations.
If you want to get complete details on how to set up your daycare room, read this blog post: Daycare Room Setup Ideas
Not only will it attract family and friends of the children in your care, but you should also prioritize safety when selecting a door for any daycare environment.
Researching options available to you can help! You can even involve the kids by getting creative together have fun while celebrating the season!