Fall Bulletin Board Ideas for Daycare
Decorating bulletin boards can be a fun and creative activity for children, and it can help them develop their fine motor skills and help them learn about the world around them.
Here are three simple and creative ideas to get you started with your fall bulletin board:
Seasonal Stuff: Use leaves, pumpkins, or apples to create a colorful and festive display.
Activities: Highlight some of the fun activities that kids can do in the fall, such as apple picking, pumpkin carving, or going to the corn maze.
Festivals: Highlight some of the local festivals in your area, like Halloween or Thanksgiving.
No matter your skill level, you're sure to find an idea in this guide that you can easily create. This guide has 12 unique ideas to create a fall bulletin board that will be beautiful and engaging for toddlers and babies.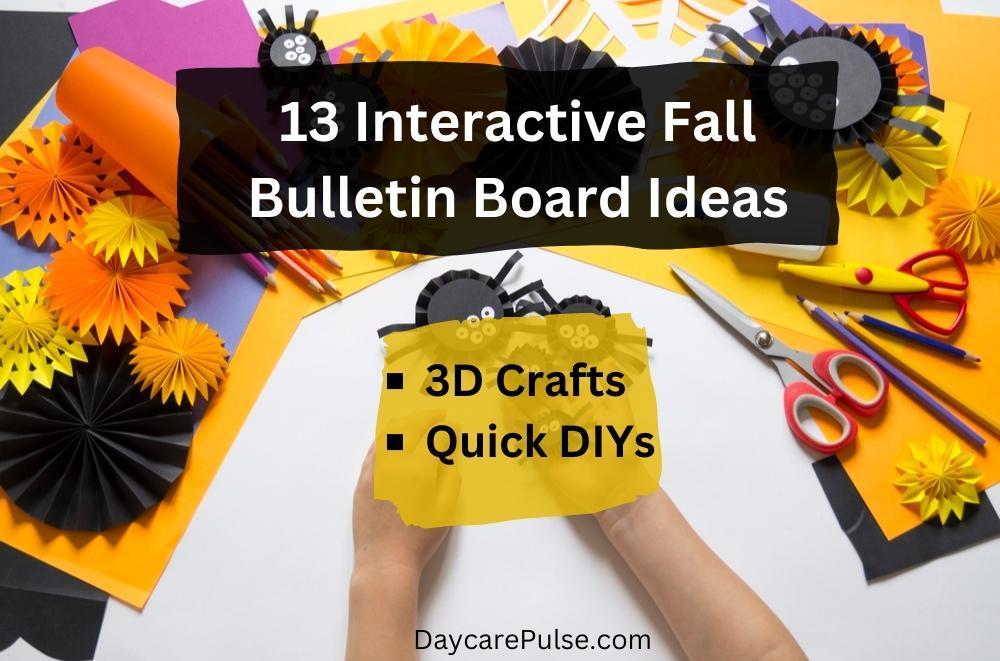 5 Design Ideas for Fall Bulletin Board
When kids see their bulletin board adorned for the season, they are excited that something fun and new will happen. Therefore, focus on season-relevant decorations for your bulletin board. Such as:
1. Wood Crafts
Make your daycare bulletin board pop this Fall season with a woodcraft project! Follow these easy steps to create the perfect Fall-themed masterpiece:
Gather twigs, leaves, and other natural elements from nearby parks or your favorite craft store.
Place the items in an aesthetically pleasing design on the bulletin board to create fall scenery.
If you want to add even more vibrancy, use acrylic paints or markers for extra flair!
You might also want to read: Winter Bulletin Board Ideas for Daycare
2. Fall Festivals
Fall is a remarkable season for family events and outdoor activities that daycare centers can embrace with creativity.
Let the bulletin boards fill up with interactive autumn festivities! From pumpkin carving competitions to apple scavenger hunts, numerous enjoyable ideas will enliven your daycare center's environment.
Using posters and cutouts, you can also display harvest-related festivals, Thanksgiving and Halloween on your bulletin board.
You might also want to read: Daycare Birthday Board Ideas
3. Farms and Orchids
Turn your bulletin board into a farm or an orchard to showcase the beauty of the Fall season! With this approach, you can bring nature right inside the daycare center.
This is a great way to teach Kids about the fruits and vegetables harvested in the fall. You can use pictures of fall orchids and farms. Or you could DIY your 3D fruits and vegetables.
You might also want to read: Summer Bulletin Board Ideas for Daycare
4. Outdoor Fall
A great way to celebrate Fall is to display outdoor activities that kids can experience around this time of year. For example, you can hang up posters, cutouts, and photographs of bike rides, marathons, carnival rides (for the older kids) and other fun activities they can do during the Fall season.
You might also like to read: 7 Daycare Door Ideas for Fall
In addition to providing visuals, you can also explain how these activities apply to teaching kids about health and safety, such as always wearing a helmet when riding a bicycle. This will help make your bulletin board more interactive and engaging for the kids.
5. Fall Delights
Fall is an excellent time of year to introduce some delicious treats into your daycare center. You can create a bulletin board celebrating tasty fall treats like pumpkin pies, apple crumble, and hot cider!
Use photographs or cutouts of these delicious dishes and a few kid-friendly recipes.
You might also want to read: Daycare Class Decoration Ideas
Quick & Easy Fall Bulletin Board Ideas
Here are a few quick-to-do fall bulletin board ideas:
A "Fall Tree" made from construction paper leaves.
A "Pumpkin Patch" made from balloon or ball pumpkins.
A "Fall Harvest" board with pictures of fruits and vegetables.
A "Fall Colors" board with bright and vibrant colors using seasonal foods, animals and plants
A "Fall Activities" board with pictures of fun things to do in the fall.
Online Shops for Fall Daycare Bulletin Board Ideas
Ideas From Amazon
Ideas From Etsy
4 Ways to Make Fall Bulletin Board
Fall Hunt: Interactive
Pumpkins and spiders have been associated with falls for quite a long time. You create amazing interactive bulletin boards using them both.
Pumpkin patch hunt:
Create a pumpkin patch using felt, paper and paints.
Place the pumpkins in an aesthetically pleasing manner on your bulletin board.
Make some pumpkins with hidden words, names and shapes inside them for kids to find.
Spider web hunt:
Create a spider web using yarn or string and attach it to the bulletin board.
Cut out several spiders from black construction paper and attach them to the web.
Hide some treats inside the spiderwebs occasionally, and let the kids hunt for them!
Fall Foliage: Aesthetic
Creating a lovely fall scenery is easier than you think!
Gather some twigs, leaves, and other natural elements from nearby parks. Include dummy animals like owls, turkeys and spiders as well.
Place the items in an aesthetically pleasing design on the bulletin board to create fall foliage.
To enhance the look even more, use spray paint to give a beautiful finish.
Add some strings of lights to complete the look, ensuring they are securely attached to the bulletin board.
You might also want to read: Daycare Wall Decoration Ideas
Halloween: Fun
Start by stocking up on construction paper in fun, spooky shades like black, orange, and purple.
Cut out festive shapes like ghosts, straw witches, or bats from the paper for your display.
If you want an extra sparkle and a touch of magic, incorporate glitter or beads into the design.
Utilize a mix of cotton, felt pieces, or other textiles to create a 3D effect.
Last but not least – add some catchy phrases like "Happy Halloween" or "Trick-or-Treat!" to add the finishing touches.
You might also want to read: Bulletin board ideas for daycare
Fall Facts: Educational
Fall Facts is a great way to educate toddlers and infants about the world around them.
Your bulletin board could include basic graphics to display simple facts. Such as the changing colors of trees, the temperature during Fall leaves falling off trees, seasonal crops and fruits.
Use tissue papers to create 3D effect tree.
Scatter cutouts of different leaves on the board to add colors
You can display fall food as fruit or vegetable skewers to promote a healthy diet among kids.
Use glitter or beads to add a sparkly touch and make the bulletin board more interactive.
You might also want to read: Spring Bulletin Board Ideas for Daycare
Conclusion
As the leaves start to change, so should your daycare's bulletin boards! Get creative and combine any of these ideas to make an entertainment-filled board that children will adore.
Make sure it is educational while still being interactive as well; you never want to learn to be dull or uninspiring. Have a blast with this seasonal activity!