Summer Bulletin Board Ideas for Daycare
Summer activities are mostly outdoorsy, but you can incorporate summer fun into your daily daycare routine via daycare décor.
And that's exactly where your summer bulletin board ideas lie.
For the summer bulletin board, go for outdoor themes like:
Summer Sports
Farmer's market
Beat-the-heat foods
Summer picnics.
I have sorted some inspiring 9 summer bulletin board design Ideas. Plus, there is a 3-step hack to make a summer bulletin board without putting in much time and effort.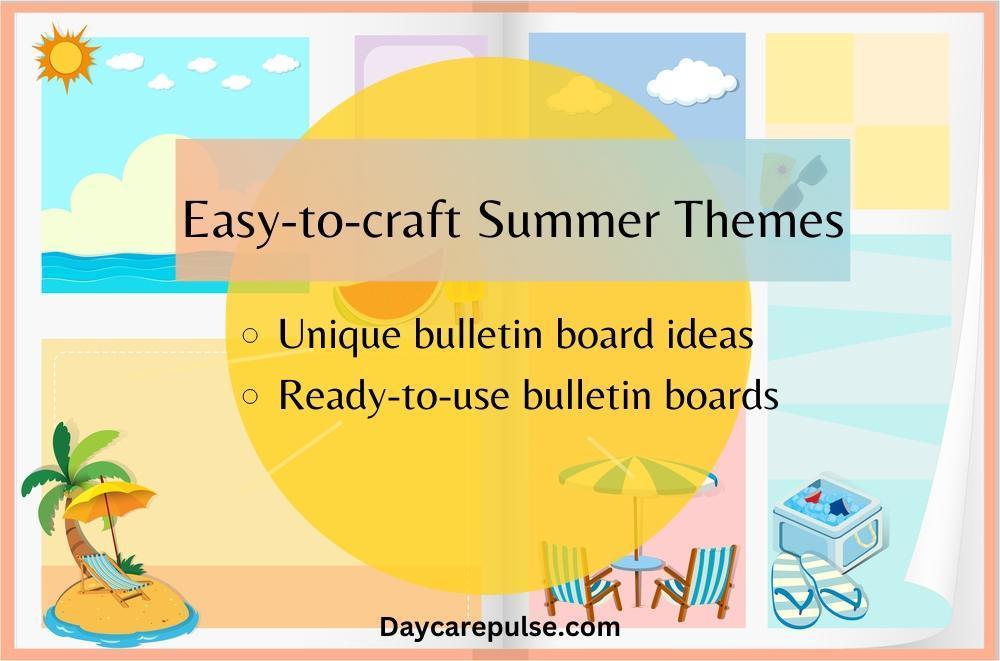 9 Design Ideas for Summer Daycare Bulletin Board
Another idea that could help your daycare become more vibrant for kids is by dividing the Bulletin board into sub-compartments.
Doing so would allow you to highlight different summer themes individually. And of course, the board will look more vibrant as well.
For instance, you can display food, clothes, sports and summer fun in each partition. This would also give kids a refreshing vibe of a whole season.
1. Summer Foods
For summer foods, go for:
Fresh Fruits
Healthy Drinks
Popsicles
Summer Fruits and Vegetables – Create a bulletin board about summer fruits and vegetables. Add pictures of fruits and vegetables and have the children draw pictures of their favorite summer fruits and vegetables.
For an extra oomph of creativity, make use of foam blocks to make fruits and drinks. They are easy to craft using a hot knife or solder and easy to paste as well.
You might also want to read: Fall Bulletin Board Ideas for Daycare
2. Summer Clothes
You can use the summer clothes theme along with UV protection guidelines. Often kids are reluctant to wear sunscreen, hats or other sun protection so this bulletin board could be a great source of learning and aid for parents.
Summer Safety – Create a bulletin board about summer safety. Add reminders about sunscreen, bug spray, and other safety tips, and include fun games and activities related to summer safety.
3. Summer Colors
The summer colors such as yellow. Infants love bright colors, there's no denying it.
The summer season has ample color options that would keep kids amazed and engaged. For instance, yellow for sunshine, blue for water and the list goes on.
You might also like to read: Spring Bulletin Board Ideas for Daycare
4. Summer Activity Photographs
Kids love exploring who they are, and how their face works. And how good they look. Probably that's why nowadays they are into taking selfies even at the age of 2.
Use their photographs on bulletin boards while doing summer activities with different photographs daily or weekly to grab their attention and keep them busy.
You might also want to read: Summer Daycare Program
5. Ocean or Beach Theme
Create a bulletin board with an ocean or beach theme. Use blue and white streamers to form waves and add sea creatures, shells, and other ocean-themed decorations.
6. Summer Birthday Bash
Create a bulletin board about the summer birthday bash. Use pictures of different celebrations and activities to decorate the board.
You might also want to read: Daycare Birthday Board Ideas
7. Children Playing in the Sunshine
Add pictures of children playing in the sunshine and enjoying their summer days.
You might also want to read: 10 Fun Summer Theme Ideas
8. Camping
Have a bulletin board about camping. Use pictures and descriptions of different camping locations to decorate the board, and add camping-themed games and activities.
You might also like to read: Summer Camp Ideas for Daycare
9. Sensory Bulletin Board Ideas
Sensory boards are one of the most effective methods of kids learning. Tangible objects help kids identify various textures and shapes aiding them in quick learning. You can easily craft your summer sensory board using the following items.
3D dummy fruits of the season
Summer Fabrics
Origami Animals
You might also like to read: Fall Bulletin Board Ideas for Daycare
Online Shops for Summer Daycare Bulletin Board Ideas
Ideas From Amazon
Online stationary stores have made bulletin board decoration easier. How?
You can get a variety of ready-to-use bulletin boards for daycare within a few clicks, and it's a task done!
At Amazon, you can find amazing cut-outs and board décor crafts for under $10.
Ideas From Etsy
How about I share my favorite ready-to-buy and use summer bulletin boards from Etsy? Here they are:
How to Make Summer Daycare Bulletin Board
Summer is all about fun!
And kids find fun mostly in physical activities.
The activities bulletin board as a whole could highlight all summer aspects to kids. From outings and picnics to everyday sports, there are a lot of décor options for the bulletin board.
Step 1: Pick an Activity Theme
Pick a set of 2 or 3 activities according to the kids' age in your class. For toddlers, I'd recommend some sort of summer sport like water games, skating and more.
For infants, picnics would do the job since such a theme would involve more colors and warming visuals.
You might also like to read: Winter Bulletin Board Ideas for Daycare
Step 2: Crafting the Bulletin Board
Craft summer-inspired board boundary that could remain constant throughout the season. Next, get started with board crafts made in an appropriate size. For kids, keep the size of your designs big and wide; not only would it save your time, but it would also appeal to kids more.
Timesaver Tip: Use common pin instead of glue to paste crafts on board. This would keep them reusable.
You might also want to read: Bulletin board ideas for daycare
Step 3: Protect the Bulletin Board
I would recommend covering your bulletin board with a plastic sheet protector or a thin plexiglass sheet. This last step would allow you to keep the bulletin board at eye level of kids safely.
Conclusion
That's it for our summer bulletin board ideas! I hope you already have found some inspiration for your daycare. The last advice is to keep the designs simple and season relevant, and update your board frequently to keep kids engaged.
Stay tuned for more ideas for different seasons!