Spring Bulletin Board Ideas for Daycare
Spring has sprung!
It's time to bring spring vibes to your daycare. Here are some ideas for Spring bulletin boards that will help you capture the spirit of the season:
Nature-themed Board: Introduce kids to the plants and animals that are common in spring. You can use pictures, drawings, or even real leaves and flowers.

Bright Colors: Include yellows, blues, greens, or any other color that makes you think of springtime.

Visual Scavenger Hunt: Hide different items related to spring throughout the board, and then challenge kids to find them all.

Spring Wishlist: Ask kids about the items they like about this season and paste their graphics on the board.

Children's Art: Help kids create their own art about spring, then display it on the bulletin board.
And that's not it. Keep reading to find out 7 more unique, fun, inspiring and easy-to-do spring daycare bulletin board ideas that kids and parents would absolutely love.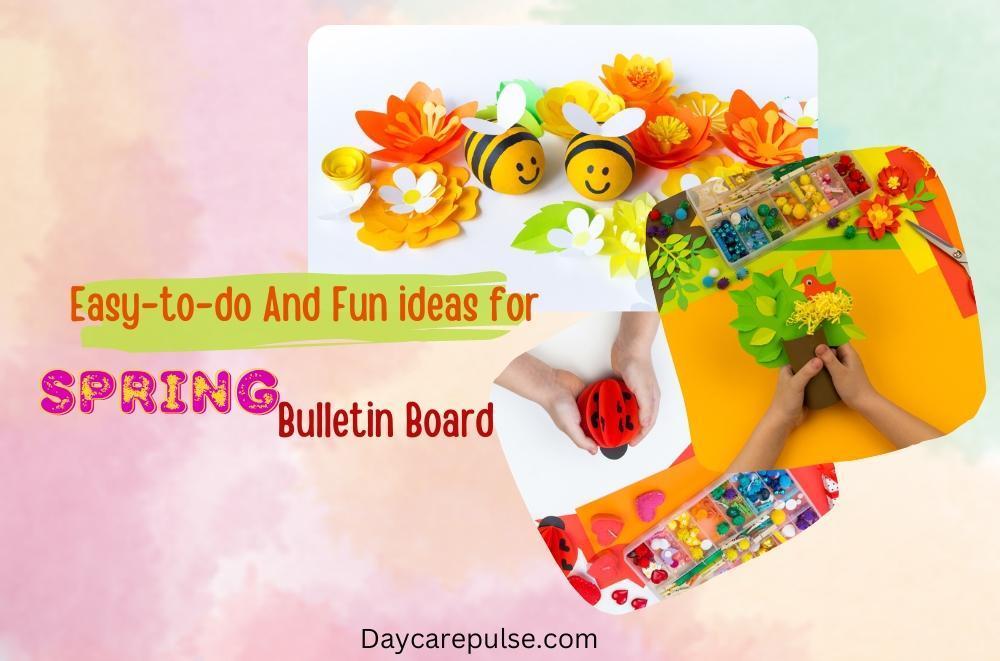 7 Design Ideas for Spring Daycare Bulletin Board
Here are some more fun and festive bulletin board ideas to get your daycare ready for this season:
1. Birds
Spring and birds are the most refreshing combo to undo stress. Enjoying bird watching with kids in real-time might not be possible for all.
But watching a bird-filled bulletin board would be a nice idea as well, wouldn't it? Let's begin with the easiest, most loving bird recipe for your daycare.
You might also want to read: Daycare Wall Decoration Ideas
Make a "Spring is in the air" board with cut-out paper birds. You can even add some real feathers for a 3D effect.
How to Make It: Have kids paint paper plates white and cut out the middle to form the shape of a bird's head. Glue a large pink construction paper heart in the middle of the plate to form the bird's beak.
Then, use a pipe cleaner or straw to attach the head to the body. And finish it up by hanging them on board via ribbons.
2. Floral Theme
Use brightly-colored construction paper to create a giant flower garden. Add some paper butterflies for a touch of whimsy.
You might also want to read: 6 Daycare Birthday Wall Ideas
3. Sun & Sky
Get the kids to help you make a giant sun out of construction paper to welcome the spring warmth. Decorate it with smiley faces, stars, clouds and other fun shapes.
You might also want to read: Winter Bulletin Board Ideas for Daycare
4. Outdoor Spring Photographs
Motivate kids to feel the true spirit of spring by participating in outdoor activities cycling, gardening, nature walks, and picnics. You can display these activities on bulletin boards using posters as well.
You might also want to read: Daycare Birthday Board Ideas
You can also use kids' photographs in a fun way to decorate the daycare bulletin board for the spring season!
Here is an interesting example:
Ask each kid about their favorite animal. Create cutouts of those animals and paste each favorite animal below the kid doing one of the spring activity pictures, along with the animal and the kid's name.
5. Digging into Nature
Gardening is another old, traditional and healthy spring activity to do with kids. But again time and resources constraints!
Here's how to be part of this spring tradition while being indoors. Use nature-inspired materials like flowers, leaves, and twigs to create some beautiful artwork for your bulletin board.
You might also want to read: Fall Bulletin Board Ideas for Daycare
How to Make It: Collect or ask kids to bring their share of pressed twigs, flowers, leaves or small plants. Now, take clear self-adhesive contact paper and cut two circles. Ask kids to place their choice of plants and flowers on one circle, then secure the art by placing another circle on top of it.
Poke a hole in them, and your bulletin board ornaments are ready to hang.
6. Colors & Craft
Spring is a month of colors and new beginnings. There's no denying it!
About toddlers, I say, "Give the right box of colors, and they can draw a whole world". They aren't professional artists, but you can't deny their ability to bring imagination onto paper.
You might also want to read: Summer Bulletin Board Ideas for Daycare
How to Make It: Simply hand over a pack of crayons or colors to toddlers and ask them to draw you or any of their classmates. Then, hang or pin those drawings on the bulletin board.
Not only is it fun, but the results might also leave you rolling on the floor laughing!
7. Nature's Sensory Board Ideas
Infants love colors; spring is a fresh, bright, and colorful start. But more than flat images, infants take more interest in 3D boards. You can use foam blocks to make these.
You might also want to read: Best Toys for Daycare Infants & Toddlers
Online Shops for Spring Daycare Bulletin Board Ideas
How to Make Spring Daycare Bulletin Board
Make a sensory garden with pots of different colors filled with sand, gravel, soil, grass and other ground objects. Make sure to cover these pots with a clean sheet.

Make a "jumble" sensory blanket using spring-relevant things like faux bugs, flowers, twigs, cotton clouds and a rainbow.

Make sensory stuffed animals. You could use construction paper or a large cardboard box to make the body. Make a cute face with eyes and a nose, or stick a small picture of a face on the body.
You might also want to read: Bulletin board ideas for daycare
Tip: When you're done with decoration, do laminate your bulletin board so it lasts all season long.
Conclusion
These are just a few ideas to get you started, the rest is up to your imagination. Oh, wait! Why not ask kids at your daycare about their concept of spring? Maybe they have better ideas than me.
Whatever you decide to do, your kids are sure to enjoy this springtime activities bulletin board. I can't wait to see what your bulletin board looks like when it's finished, so do share a snap with me!