6 Daycare Birthday Wall Ideas
Hello Daycare Owners!

Is there anything more exciting than planning your daycare's birthday wall? Every child loves to feel special on their birthdays, and what better way to make them feel valued than with a creative wall dedicated just to celebrating that particular day?
You can easily create a unique birthday wall using these 6 daycare birthday wall ideas. These daycare birthday wall ideas will assist you with decorating a birthday wall and make the daycare more inviting. Here are the best 6 choices I have made to help you with birthday decorations:
Photo and Artwork Collage
Birthday Tree with Individual Leaves
Memory Board
Banner With Each of the kids' Names and Photos
Birthday Bulletin Board
Large Photo Wall by the Entrance
By exploring the 6 creative ideas for daycare birthday walls and utilizing the shopping recommendations from Amazon, you can bring immense joy and happiness to children as they celebrate birthdays with delightful decorations.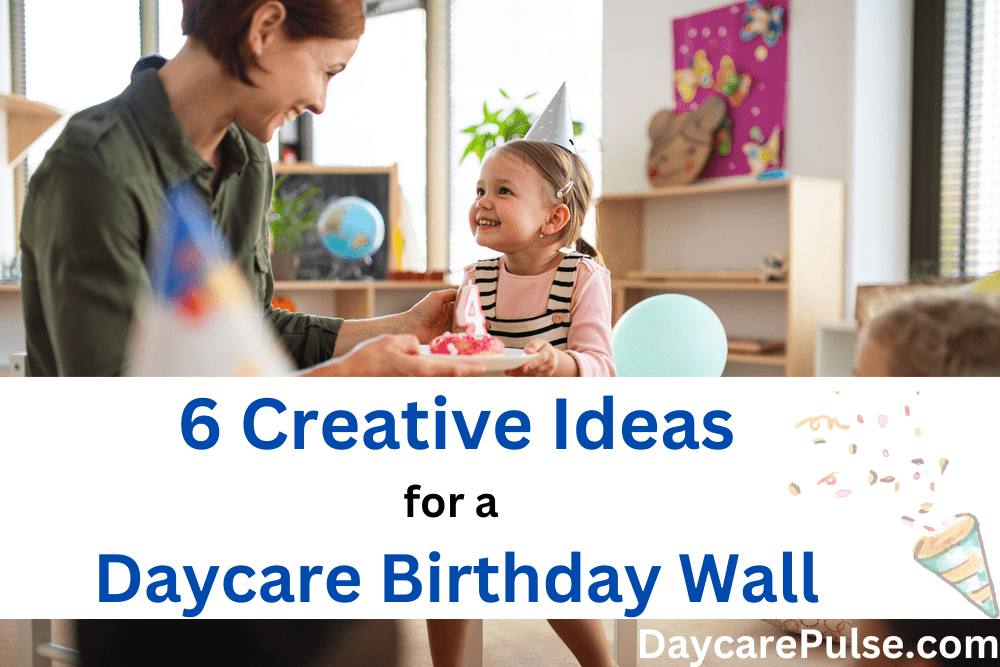 6 Creative Ideas for a Daycare Birthday Wall
Here are the 6 creative ideas for a daycare birthday wall that would create a long-lasting impression of happiness and excitement for your daycare kids.
1. Photos and Artwork Collage
It is easy to make a birthday wall that displays each child's special day by showcasing pictures or artwork on the wall. What alternating choices can you have to decorate daycare birthday walls staying in photos and artwork collages? Here you go with a pro tip.
Pro tip: You can even have them create handmade cards for the collage, bringing extra meaning to this fun project.
Here is a fantastic Picture Frames Collage Photo Hanging Display Picture board you can buy at Amazon to help you make an artwork collage.

Read more: Daycare Birthday Board Ideas | Birthday Themes for Each Month
2. Birthday Tree with Individual Leaves
It sounds exciting, isn't it? Creating a tree with individual leaves for each child's birthday is exciting, but how would we execute the plan?
You can buy tree cutouts with Green Leaves for Bulletin Boards, Chalkboards, Wall Décor, and Classroom Decorations at Amazon.
It would be good if you allowed each child to decorate their leaf with the artwork. It can save you time and effort. It's a great way to involve the entire daycare in the decorations and lets everyone express themselves uniquely and creatively.
You may be interested to read more about Daycare Wall Decoration Ideas.
3. Memory Board
Memory boards can showcase exciting, incredible photos, artwork, quotes, and more from each child's special day. It's a great way to create lasting memories and unite everyone for the celebration.
Consider buying Cork Board, Bulletin Board and Magnetic Board for walls for making a memory board.
4. Banner With kids' Names and Photos
Personalizing daycare walls can excite kids to feel like owning the space. Personalizing the birthday wall for each kid's big day is easy. You can create a banner for each kid with their name and photo, making everyone feel celebrated.
You can consider buying DIY Custom Banners to design banners with kids' names and photos
5. Birthday Bulletin Board
A birthday bulletin board is perfect for displaying birthday cards, artwork, photos, and more.
It's easy to keep the decorations organized and in one place. You can also use colored papers and pictures with funny quotes, balloons and streamers.
Color paper – You can use the colored form to create a backdrop for the birthday wall or hang it on each side of the wall as a festive decoration. Crayola Construction Paper
Pictures and Funny Quotes – Create a particular area for funny quotes and pictures celebrating each child's birthday. It will add some extra fun to your daycare and make everyone smile. Funny Colorful Cartoon Sea Life
Balloons and Streamers – You can also hang balloons and streamers for a special touch on the birthday wall. It is easy to add color and vibrancy to your daycare, which will help create a festive atmosphere for each child's big day. WinkyBoom 110 Balloons
Consider buying Teacher Created Resources Marquee Our Class Birthdays Mini Bulletin Board
6. Large Photo Wall by the Entrance
Another great idea is to create a large photo wall by the entrance of your daycare. It will serve as a reminder of all the special birthdays celebrated in your daycare, and it's an easy way to make each child feel important and appreciated.
Related: Daycare Birthday Ideas: Complete Activity, Shopping List & Gifts Guide
Conclusion
A daycare birthday wall is a great way to celebrate your children's special days and make them feel important. It can also create a warm and welcoming atmosphere for the entire daycare environment.
From photo collages to a birthday tree and more, you'll find plenty of ideas to adapt to your budget and needs.
Related: Daycare Birthday Treat Ideas | Birthday Food for Toddlers