Daycare Birthday Treat Ideas | Birthday Food for Toddlers
Are you looking for some fun and easy ways to celebrate your child's birthday at daycare?
Do you want to make the day special without breaking the bank or spending hours in the kitchen? If so, you've come to the right place!
Here are some amazing birthday treat ideas to impress your child and daycare staff:
Quick & Healthy(nut-free) snacks for teachers and kids like fruit kabobs, veggie straws, or yogurt parfaits.
Goodie Bags containing a variety of party favors like candies, mini chocolates, Stickers, Toy Vehicle etc.
Toddler-safe non-food treats bubbles maker, playdough, Art & Craft Kit, Sipper cups etc.
Less messy food treats for toddlers like crackers, dried fruits, pizza slice and cheese sticks.
Whether you're looking for something that's quick and easy to make, or you want to go with ready-to-wrap treats, I've got you covered. I've included ideas for both food and non-food treats to help you pick the most suitable option.
Let's dig into ideas and recipes!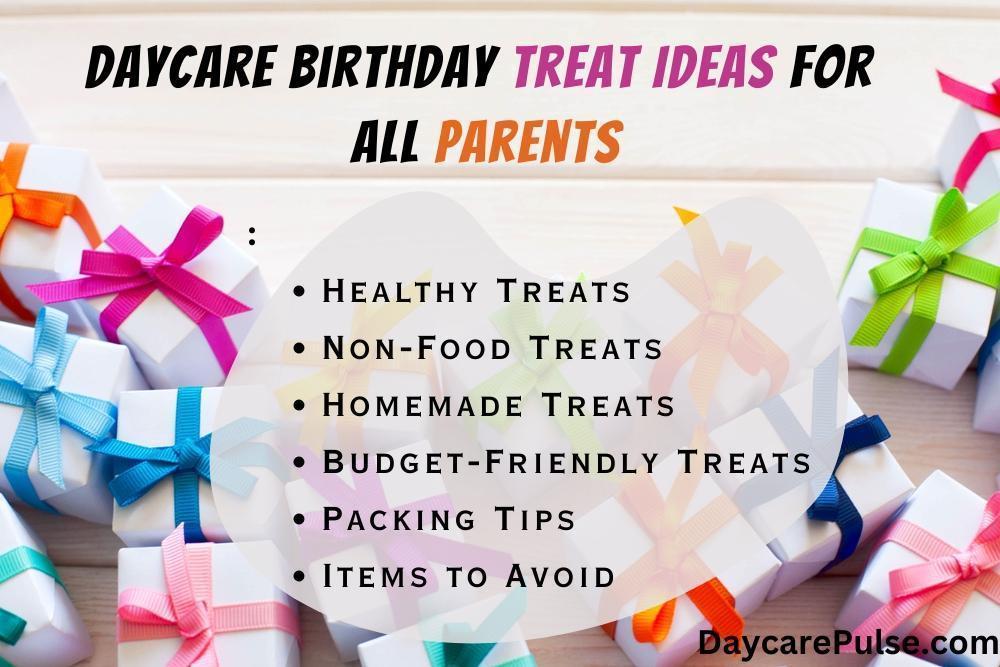 9 Creative & Budget-Friendly Birthday Treats for Daycare
For Classmates
When it comes to choosing birthday treats for your child's classmates, there are a few things to keep in mind:
Check with the daycare staff about any kids' food allergies or dietary restrictions.
Avoid foods that are messy, sticky, or hard to eat.
Choose foods that are easy to portion and serve.
Opt for nutritious foods, low in sugar and high in fun.
Here are some ideas for creative and budget-friendly birthday treats for classmates:
1. Fruit Pizza
An indulgent sugar cookie crust balanced with a colorful assortment of fresh fruit is everyone's favorite.
And, it couldn't get any easier to make: Use store-bought cookie dough as the crust and a package of cream cheese for the "sauce." Check out the Cooking Classy blog for the recipe.
2. Parfait Bar
This can be a fun treat if you have a little time to join in your child's daycare birthday party.
If the daycare party starts early in the morning, have your little guests prepare their own yogurt-berry parfait. Use fresh or frozen berries depending on the season, and swap in coconut yogurt for cow's milk for a dairy-free option for lactose-intolerant kids.
3. Chocolate-covered Pretzel Rods
Try these chocolate-covered pretzel rods from House of Nash Eats for a fun activity and an easy party treat.
These crunchy and sweet wands are easy to customize with your favorite colored sprinkles and white, dark or milk chocolate or candy melts. Swap in whole-wheat pretzels for a healthier twist.
You can easily find more recipes for it on YouTube.
4. Walking Tacos
This one again would require you to pay a short visit to daycare!
Elevate your taco game and make them transportable with walking tacos. You can use healthier baked chips instead of corn chips.
Kids can build their own bags, choosing exactly what toppings they like or would like to try for the first time.
5. Granola Bars
The perfect combination of sweet and salty, these trail mix granola bars from Well Plated are a no-bake treat, which makes it a breeze to prepare. Bonus: they are gluten-free, and you can swap out the peanut butter with other nuts (or non-nut) butter if you have any allergies to work around.
For Teachers
Don't forget to show your child's teachers some appreciation on their birthday. They work hard to care for and educate your little ones, so why not treat them with something special?
Nope, you won't have to do any extra work, just opt for these recipes below, and I am sure kids and teachers would equally savor these snacks.
1. Mini Corn Dogs
Impress your daycare staff (and please their tummies) with homemade mini corn dogs.
This recipe from Mom on Timeout is much healthier than what you can buy in the freezer section of your local grocery store, and no one has to know that they are actually super easy to make!
2. Hummus With Crudités
Kid-friendly hummus with crudités may sound fancy, but it's really just colorful, crunchy veggie sticks served with a dip. Ciara from My Fussy Eater offers a great kid-friendly recipe.
3. Chicken Fries
Somewhere between chicken nuggets and French fries are baked chicken fries.
Simply follow this yummiest yet easiest recipe by Taste of Home to finish your birthday treats task.
Crispy and perfectly dippable in your favorite sauce (I love ketchup, ranch or barbecue sauce), little hands will love these protein-packed snacks.
And teachers? Well, trust me, they just need something energetic to eat to deal with these toddler trolls (Pun intended).
4. Coffee Cake
Nothing goes better with coffee than a slice of moist and tender coffee cake. This recipe from Sally's Baking Addiction is easy to make ahead of and transport, and it has a delicious cinnamon streusel topping that will make your teachers' mouths water.
Daycare Birthday Treat Ideas for Busy Parents
If you're a busy parent with little time or energy to prepare birthday treats for daycare, don't worry!
Plenty of options are ready-made or require minimal effort on your part. Here are some ideas for daycare birthday treat ideas for busy parents:
Non-Food – Ready to Pack Treats
These treats are best if you're dealing with food allergies, daycare policies, or other issues regarding food. Make up little goodie bags that don't have food in them. Here are some ideas for what to include:
Crayons
Little coloring books
Stickers
Blocks
Slinkys
Glow sticks
Play-doh
Bubbles
Puzzles
Readymade Birthday Goodie Bags
If you don't have time to make your goodie bags, you can always buy some ready-made ones from online stores or local shops.
You can find goodie bags that match your child's favorite theme, such as superheroes, princesses, animals, etc. Just make sure to check the contents before buying them, as some may contain food items or small parts that are not suitable for young children.
Here are a few picks from my side that you can buy online to make your goodie bag in no time:
Add some healthy snack bars along, and it's done!
8 Easy Home-Made Daycare Birthday Treats for Toddlers
If you want to make your own birthday treats for daycare but don't want to spend too much time or money on them, here are some easy home-made daycare birthday treats for toddlers that you can whip up in no time:
1. Sliced Apples with Caramel Dipping Sauce:
This is a simple but delicious treat that kids will love. Just slice some apples (use an apple corer if you have one) and serve them with store-bought caramel sauce (or make your own if you're feeling adventurous). You can add some chopped nuts or mini chocolate chips if you like.
2. Goldfish Crackers (served in little plastic fish bowls):
This is a cute and fun way to serve goldfish crackers, a staple snack for many kids.
Just fill some small plastic fish bowls (you can find them at dollar stores or party supply stores) with goldfish crackers and add some blue food coloring to the water to make it look like aquarium water. You can also add some plastic fish toys or stickers to decorate the bowls.
3. Trail Mix (without nuts):
Trail mix is a great snack that kids can customize according to their preferences. Just mix some raisins, M&M's, goldfish crackers, cereal, pretzels, dried fruits, etc., and let the kids scoop their portions into small paper cups or zip-lock bags.
Avoid nuts if there are any allergies among the kids.
4. Rice Krispie Treats:
These classic treats are easy to make and are always a hit for kids.
You can use store-bought rice krispie bars or make your own by melting some butter and marshmallows in a large pot over low heat, then stirring in some rice krispies cereal until well coated. Press the mixture into a greased 9×13-inch pan and let it cool before cutting into squares.
5. Veggie Bouquets:
These are healthy and colorful ways to serve veggies to kids.
Cut carrot sticks, broccoli, and cauliflower florets into fanciful shapes and tie them with ribbons. You can also use cherry tomatoes, cucumber slices, celery sticks, etc., depending on what you have on hand. Serve them with some ranch dressing or hummus as a dip.
6. Juice Boxes with Special "Birthday" Label on Them:
This is an easy way to make juice boxes more festive and personalized for your child's birthday.
Just print out some labels with your child's name and age on them (you can use online templates or design your own) and stick them over the original labels on the juice boxes. You can add some stickers or glitter glue to make them fun.
7. Fruit Kabobs made on Pretzel Sticks:
This is another healthy and fun treat that kids can make themselves. Provide some fresh or canned fruit pieces (such as grapes, strawberries, pineapple chunks, etc.) and pretzel sticks (use the thin ones that won't break easily).
Let the kids skewer their fruit pieces onto the pretzel sticks and enjoy. You can also serve some yogurt or chocolate sauce as a dip if you like.
8. Mini Cupcakes:
Mini cupcakes are easier for kids to handle than regular-sized ones, and they are also easier to bake and decorate. You can use a store-bought cake mix and frosting or make your own from scratch if you prefer. You can also use different flavors and colors of cake batter and frosting to match your child's birthday theme at daycare.
You might also want to read: Daycare Birthday Ideas
Birthday Treats Packing Tips
When packing small toys and food snacks for a daycare birthday treat, it's important to make sure everything is properly contained and secure.
For example, if you are packing small toys like mini stuffed animals or figurines, wrap them in a way that is easily openable to a toddler. If you are sending food items like crackers or candy, make sure to separate them into individual servings and place them in a plastic container with a lid.
Including any necessary utensils, such as napkins, spoons, or straws is also important.
For convenience, you can use disposable containers like lunch boxes or Tupperware containers to keep everything together.
Tip: Use these creative cute goodie bags from Amazon to make your treat even more fun for kids.
Birthday Treats to Avoid Giving in Daycares
When it comes to daycare birthday treats, it is important to be aware of potential health and safety concerns.
Avoid sending items like nuts and seeds, which can pose a choking hazard for young children. Also, avoid sending sugary snacks or drinks that can get messy.
Consider avoiding treats with small parts or pieces that could be choking hazards for young children.
Avoid excessive use of plastic packing for treats.
Additionally, avoid sending food items that require refrigeration, as daycares usually do not have adequate cooling facilities to store these items safely.
You might also want to read: Gifts Ideas for Daycare Friends
Frequently Asked Questions
What should kids bring to preschool for their birthday?
For kids to bring to preschool for their birthday, the best option is usually something that can be shared among classmates. This can be something like cupcakes or other treats that can be cut into small individual portions.
If edible items are not allowed in the classroom, then bringing a toy or game for everyone to play with is usually the best option.
What is the best treat for a birthday?
It really depends on the person's preferences. Some popular birthday treats include cake, cupcakes, ice cream, cookies, and other sweet treats. But a wise choice is to opt for nonfood items or fruits as birthday treats.
How to make a birthday surprise for kids?
There are many ways to make a birthday surprise for kids. You can get creative with decorations, make a special themed cake, create personalized gifts or cards that incorporate your child's interests, and buy small tokens of appreciation like stickers or toys.
Conclusion
Celebrating your child's birthday at daycare doesn't have to be stressful or expensive. With these creative and budget-friendly birthday treats, you can make the day memorable and fun for everyone.
Remember to check for any food allergies, pack your treats safely and conveniently, and include a personal touch.
We hope you enjoyed this blog post and found some helpful ideas for your next daycare birthday party.
If you have any questions or comments, feel free to leave them below. And don't forget to share this post with your friends and family who might be looking for some inspiration too!