Daycare Birthday Ideas: Complete Activity, Shopping List & Gifts Guide
Do you want to make birthdays extra special for your daycare kiddos as a daycare worker? Making sure they feel celebrated and appreciated can be tricky, but with the right creativity and thoughtfulness, you can bring a smile to every birthday kid!
From simple DIY decorations to creative ways to give out presents, I know you are precisely looking at how you can make a daycare birthday party at daycare fun. I have curated a list of activities for all age groups to make the birthday party fun. Here are a few of them:
Crafty Creations
Cupcakes Celebration
Birthday Sensory Bin
Musical Madness
Treasure Hunt Adventure
Face Paint Fiesta
Dancing Delight
To know the details and read a lot more ideas. Cuddle up on the couch, and grab a pen and paper. It's time to brainstorm about listed 16 unique birthday activity ideas, a complete shopping list, and gift & treat ideas that will bring children joy and make parents happy.
Are you feeling excited right? Keep on reading!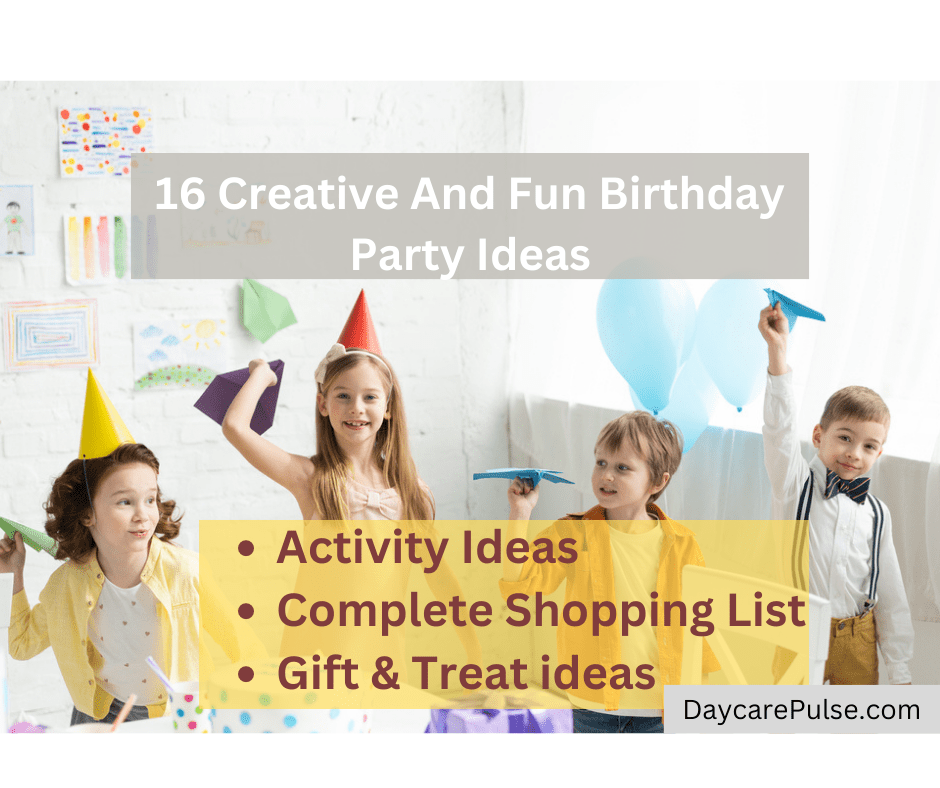 16 Daycare Birthday Activity Ideas
Here is the list of notable 16 birthday daycare ideas that would entice the kids and parents.
1. Crafty Creations
Provide a variety of craft supplies such as colored paper, glue, scissors, and stickers. Encourage children to create personalized birthday cards, paper crowns, or decorative banners. Display their creations around the daycare to add a festive touch.
2. Cupcakes Celebration
Set up a cupcake decorating station with plain cupcakes, frosting, sprinkles, and edible decorations. Show the children different techniques for piping frosting and let their imaginations run wild as they design their delicious creations.
3. Birthday Sensory Bin
Fill a large container with colorful materials like colored rice, shredded paper, or sensory balls. Hide small birthday-themed items such as mini party hats or tiny presents for the children to discover and explore using their senses.
4. Musical Madness
Play a variety of children's songs and encourage the children to dance, sing, and play musical instruments. Incorporate fun movement games like musical chairs or freeze dance to keep the energy and laughter flowing.
5. Treasure Hunt Adventure
Create a series of clues and hide tiny treasures around the daycare. Each clue leads to the following location until the final prize is found. Make it birthday-themed by incorporating elements like balloons or party hats in the hiding spots.
6. Face Paint Fiesta
Hire a professional face painter or provide non-toxic face paints for the children to adorn their faces with colorful designs. Let them choose from techniques such as animals, superheroes, or princesses to add a touch of magic to the celebration.
7. Dancing Delight
Clear a space for a dance floor and play children's dance songs. Encourage children to show off their moves and teach them simple dance routines that they can perform together. You can even have a mini dance competition or a dance-off for added excitement.
8. Outdoor Picnic Party
Take the celebration outdoors and set up a picnic area with blankets, cushions, and a variety of finger foods like sandwiches, fruit skewers, and snacks. Enjoy the fresh air and provide outdoor games like hula hoops or frisbee to entertain the children.
You may also like to read: Outdoor Daycare Ideas
9. Balloon Bonanza
Inflate many balloons and let the children enjoy playing with them. They can have balloon races, try to keep balloons in the air, or even create balloon animals with the help of an entertainer. It's a simple and fun activity that brings lots of joy.
10. Sports Spectacular
Set up different sports stations where children can try activities like mini golf, soccer dribbling, or basketball shooting. Organize friendly competitions or relay races to engage their competitive spirit and promote teamwork.
11 . Storytime Magic
Gather the children in a cozy area and read them engaging and interactive birthday-themed stories. Use props or puppets to make the stories come to life and encourage participation by asking questions or allowing the children to act out parts of the stories.
12. Science Exploration
Set up simple science experiments on birthdays, such as creating erupting volcano cakes or making homemade slime. Engage the children in hands-on activities, encouraging their curiosity and introducing them to basic scientific concepts.
13. Artistic Expressions
Provide a variety of art supplies like paint, brushes, markers, and colored pencils. Let the children express their creativity by painting, drawing, or sculpting their birthday-themed masterpieces. Display their artwork around the daycare for everyone to admire.
14. Pajama Party Palooza
Have a special day where children can wear their cozy pajamas to daycare. Set up a designated area with pillows, blankets, and stuffed animals for a comfortable and relaxed atmosphere.
Plan activities like a pillow fight, bedtime stories, or a movie screening to make it a memorable pajama party.
15. Water Play Wonders
Set up water play stations with buckets, tables, and toys. Let the children splash, pour, and experiment with water. You can also incorporate water games like water limbo or water balloon toss to excite the water play experience.
16. Teddy Bear Tea Party
Encourage children to bring their favorite teddy bears or stuffed animals to the daycare. Set up a mini tea party with child-sized tables, tea sets, and snacks. The children can enjoy pretending tea parties, serving their stuffed animals, and engaging in imaginative play.
Daycare Birthday Shopping Essentials
Before planning a birthday-themed activity, have all the necessary supplies and materials. Have craft items like construction paper, glue, paint, glitter and snacks like popcorn or cupcakes for when the activities begin. It's also important to stock up on all these birthday essentials.
Party Decorations
Plates, Cups, and Utensils
Napkins and Tableware
Party Hats and Accessories
Party Favors or Goody Bags
Cake or Cupcakes
Snacks and Refreshments
Craft Supplies
Entertainment or Activity Supplies
First Aid Kit
Camera or Recording Device
Gift Wrapping Supplies
Party Games and Prizes
Birthday Candles
Theme-related Decorations
Birthday Treat Ideas For Daycare
Kids love treats and snacks, so having special birthday treats on hand is essential. Ideas could include mini cupcakes with sprinkles, popcorn cones with fun fillings, shaped sandwiches, or colorful fruit skewers.
Here is the list of some of the birthday treat ideas for daycare.
Cupcake Decorating: Provide plain cupcakes and a variety of toppings such as frosting, sprinkles, and edible decorations. Let the children decorate their cupcakes and enjoy them as a special birthday treat.
Fruit Kebabs: Create colorful fruit kebabs by skewering a variety of bite-sized fruits such as strawberries, grapes, melon chunks, and pineapple. This healthy and refreshing treat is perfect for a daycare celebration.
Mini Sandwiches: Prepare mini sandwiches using kid-friendly fillings like peanut butter and jelly, cheese and ham, or cream cheese and cucumber. Cut them into fun shapes using cookie cutters for added appeal.
Yogurt Parfaits: Layer yogurt, granola, and fresh fruit in small cups or bowls to create tasty and nutritious parfaits. This treat can be customized by allowing children to choose their favorite fruits and toppings.
Popcorn Party: Set up a popcorn station with different flavors, such as butter, caramel, or cheese. Let the children scoop their preferred flavor into individual bags or cups for a delightful movie-themed birthday treat.
Rainbow Fruit Salad: Create a vibrant fruit salad by combining a variety of colorful fruits such as watermelon, blueberries, kiwi, oranges, and bananas. Serve the fruit salad in small cups or bowls for easy portioning.
Frozen Banana Pops: Insert popsicle sticks into peeled bananas and freeze them. Once set, dip the bananas into melted chocolate or yogurt and roll them in crushed nuts, sprinkles, or coconut flakes. This frozen treat is both delicious and fun to eat.
Smoothie Bar: Set up a smoothie bar with a selection of fruits, yogurt, and juice. Allow the children to choose their favorite ingredients and blend them to create personalized smoothies. You can also offer small cups or straws for easy sipping.
Mini Pizza Party: Provide mini pizza crusts or English muffins and let the children top them with sauce, cheese, and their favorite toppings. Bake the mini pizzas until the cheese is melted and bubbly for a savory birthday treat.
Fruit Popsicles: Blend fresh fruits with juice or yogurt, pour the mixture into popsicle molds, and freeze them. These homemade fruit popsicles are a healthy and refreshing option for celebrating birthdays in daycare.
You may also like to read: Daycare Snack Menu Ideas
Note: Remember to consider any dietary restrictions or allergies when planning the treats, and always supervise young children during food-related activities.
Gift Ideas For Daycare
Here are some daycare birthday gift ideas for goodie bags:
Mini Art Kits: Include small packs of crayons or colored pencils, mini coloring books, and stickers.
DIY Bracelet or Necklace Kits: Provide a variety of colorful beads, strings, and clasps for children to create jewelry.
Mini Playdough Sets: Place small containers in different colors in each bag for tactile fun.
Bubble Fun Kits: Include small bottles of bubbles, bubble wands, and bubble solution for outdoor play.
Miniature Puzzle Packs: Choose age-appropriate puzzles and divide them into more miniature packs for each child.
Healthy Snack Packs: Fill the bags with individually portioned snacks like granola bars, fruit pouches, or raisins.
Mini Board Books: Select small-sized board books with popular children's stories or interactive elements.
Miniature Stuffed Animals: Include small plush toys or keychain-sized stuffed animals for cuddly companions.
Personalized Water Bottles: Print each child's name on a water bottle or provide stickers to personalize their own.
Outdoor Exploration Kits: Fill the bags with magnifying glasses, binoculars, and bug catchers for nature adventures.
Remember to consider any dietary restrictions or allergies when selecting items for the goodie bags.
Daycare Age Appropriate Birthday Ideas
There is plenty of fun, and it provides a great way to celebrate special occasions with young children. With the right decorations, activities, treats, and gifts, you can make birthdays in daycare memorable.
Infants (0-12 months):
Decorations:
Soft and visually stimulating mobiles hanging above cribs or play areas.
Pastel-colored balloons and streamers for a gentle and calming ambiance.
Soft fabric wall hangings with simple patterns or shapes.
You may also like to read: Daycare Infant Room Ideas: Design for Infants and Babies Room
Activities:
Sensory play with safe and age-appropriate toys, such as textured balls or rattles.
Music and movement activities with soothing lullabies or gentle instrumental music.
Baby-friendly storytime with board books and interactive puppets.
Food:
Pureed fruits or vegetables are served in small portions.
Soft finger foods like small pieces of banana or avocado.
Baby-friendly cupcakes or muffins are made with nutritious ingredients like mashed sweet potato or applesauce.
Toddlers (1-3 years):
Decorations:
Colorful and interactive wall decals or stickers featuring animals, numbers, or shapes.
Playful and child-friendly tablecloths, napkins, and centerpieces.
Balloons in vibrant colors and sizes for added excitement.
Activities:
Sensory exploration activities with playdough, water play, or sand tables.
Simple crafts such as finger painting, sticker collages, or paper tearing and gluing.
Gross motor activities like dancing, parachute play, or an obstacle course.
Food:
Mini sandwiches or wraps cut into fun shapes.
Fruit skewers or fruit salad with bite-sized pieces.
Vegetable sticks with dips like hummus or yogurt-based dressings.
School-Age Kids (4-10 years):
Decorations:
Themed banners or posters related to their interests, such as superheroes, sports, or animals.
DIY photo booth area with props and costumes for memorable pictures.
Hang paper lanterns or string lights for a festive ambiance.
Activities:
Scavenger hunts or treasure hunts with age-appropriate clues and small prizes.
Arts and crafts stations where children can make personalized keychains, friendship bracelets, or paintings.
Outdoor games include relay races, tug of war, or mini sports tournaments.
Food:
Mini pizzas or sliders with various toppings for customization.
Build-your-own taco or sandwich station with a variety of fillings and condiments.
Fruit smoothies or fruit parfaits with layers of yogurt, granola, and fresh berries.
Consider individual dietary restrictions, allergies, and safety guidelines when planning activities and food for each age group.
Daycare Birthday Decoration Ideas
Here are some of the daycare birthday decoration ideas
1. Daycare Birthday Themes
Safari or jungle theme with animal decorations and activities.
Space or outer space theme with planets, stars, and astronaut props.
Princess or fairytale theme with tiaras, crowns, and royal-themed activities.
Sports theme with sports-related decorations and games.
2. Daycare Birthday Walls
They dedicated a birthday wall to display photos of each child on their birthday.
Interactive birthday calendar for children to add their names and birthdates.
Festive backdrop or photo booth area for birthday photos and celebrations.
Wall-mounted shelf or display area for small birthday gifts or cards.
You may also like to read 6 Daycare Birthday Wall Ideas
3. Daycare Room
Open and spacious layout with designated areas for different activities.
Bright and stimulating colors on walls, furniture, and decor.
Comfortable and cozy reading nooks with cushions and a variety of books.
Storage bins or baskets for organizing toys and materials.
4. Daycare Bulletin Board:
Monthly theme-based bulletin board with relevant artwork or educational content.
Showcase children's artwork, crafts, or achievements.
Include important announcements or upcoming events for parents.
Interactive elements like Velcro or pockets for children to contribute or engage with.
Daycare Party Ideas: Birthday Special
What Are Some Cool Party Ideas?
Some cool party ideas for a daycare birthday celebration include:
Themed Costume Party: Encourage children to dress up as their favorite characters or in a specific theme, such as superheroes, princesses, animals, or sports.
Outdoor Adventure Party: Plan activities like a scavenger hunt, nature walk, or obstacle course in a safe outdoor area, allowing children to explore and engage in physical play.
Science or Magic Party: Arrange for a science or magic-themed entertainer to perform interactive demonstrations or magic tricks that fascinate and engage the children.
Art and Craft Party: Set up various craft stations where children can create their masterpieces using paints, markers, beads, or clay.
Mini Olympics Party: Organize fun sports activities and games that promote friendly competition, such as relay races, sack races, or mini-basketball tournaments.
How Do You Throw a Good Kids Party?
To throw a good kids' party, consider the following tips:
Plan age-appropriate activities and games that match the children's interests and abilities.
Keep the party duration appropriate for the age group, typically 1-2 hours for younger children and up to 3 hours for older kids.
Ensure the venue or party space is safe, child-proofed, and provides enough room for play and activities.
Offer a variety of snacks and refreshments that cater to different dietary needs and preferences.
Create a festive atmosphere with colorful decorations, balloons, and themed tableware.
How Do You Entertain Guests at a Kid's Party?
To entertain guests at a kid's party:
Hire a professional entertainer, such as a magician, clown, or face painter, to engage and entertain the children with interactive performances.
Set up different activity stations, such as arts and crafts, a photo booth with props, or a mini dance floor with kid-friendly music.
Organize age-appropriate games and competitions, such as musical chairs, beanbag toss, or Simon Says.
Provide inflatable bounce houses, ball pits, or other interactive play equipment for the children to enjoy.
Plan interactive storytelling sessions, puppet shows, or interactive music sessions to keep the children engaged and entertained.
Do You Invite Daycare Friends to Birthday Parties?
Yes, inviting daycare friends to a birthday party is perfectly acceptable. It is essential to be aware of any allergies or dietary restrictions of the guests and parents' permission to attend the event.
Additionally, remember that not all children may want to attend a large gathering and respect those who decide not to join in on the fun.
Inviting daycare friends to birthday parties is an excellent way to foster meaningful relationships among peers and create long-lasting memories!
You may also like to read: Gift Ideas For Daycare Friends
Frequently Asked Questions
1. How Do I Celebrate My 2-Year-Old Child's Birthday?
To celebrate a 2-year-old's birthday, you can have a small family gathering or a playdate with age-appropriate activities such as a sensory play area, bubble play, simple games, and a special cake or treat. Keep the celebration short and engaging to match their attention span.
2. How Can You Make Your Kid's Birthday Party Unique?
To make a daycare party unique, consider incorporating personalized decorations or favors, organizing age-appropriate activities or games that align with their interests, inviting special guests like friendly animals or performers, or hosting the party at a unique location such as a local park or children's museum.
3. How Can I Make My Classroom Birthday Special?
Some ways to make classroom birthdays notable include allowing the birthday child to be the "helper" for the day, decorating their chair or desk, singing a personalized birthday song, or having a particular activity or game related to their interests.
4. What Do You Bring to a Preschool Birthday Child Treat?
When bringing treats to a preschool birthday, consider allergy-friendly and easy-to-handle options. Ideas include individually wrapped cupcakes, fruit skewers, mini muffins, or snack packs with various healthy options.
5. What Is a Unique Way to Celebrate Birthdays?
Some unique ways to celebrate birthdays include organizing a surprise party, planning a themed scavenger hunt, hosting a movie night under the stars, arranging a visit from a unique character or entertainer, or organizing a charitable activity where the birthday child gives back to the community.
Conclusion
Birthdays are special occasions and should be celebrated in age-appropriate ways.
Whether you hold a small gathering for your child and their daycare friends, decorate the classroom for a particular person, or plan a unique outdoor activity to honor the birthday child, these ideas will ensure everyone a memorable experience! With some planning and creativity.