What is a Montessori Daycare: Montessori Daycare Features
Are you a creative parent searching for innovative ways to educate your children outside school in a nurturing, supportive environment? Montessori daycare could be the perfect answer for you and your kiddos!
In a Montessori daycare, children are encouraged to learn at their own pace and are given the freedom to explore their environment and materials provided by the teacher. The atmosphere is carefully prepared with child-sized furniture and materials that are developmentally appropriate and meant to encourage exploration and discovery.
In this blog post, we'll explore what makes a Montessori Daycare unique, the 10 features of it, time-schedule for it and why it may offer excellent benefits compared to other childcare options.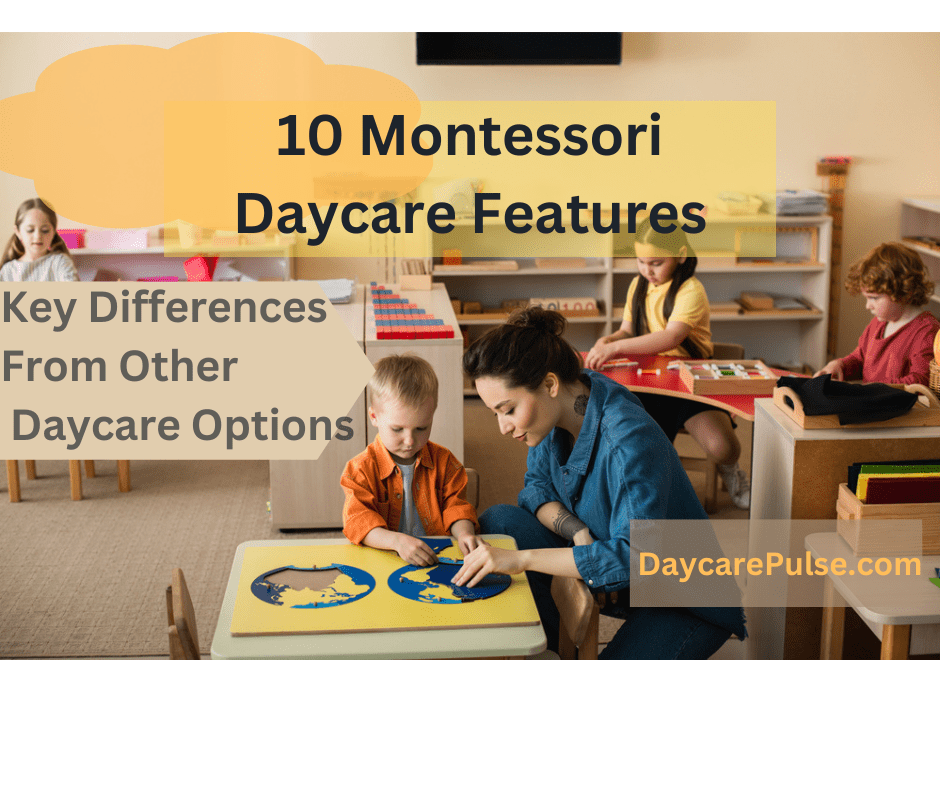 10 Features of Montessori Daycare
With its focus on hands-on learning and holistic education, this childcare solution has been gaining traction among those who want their kids to enjoy meaningful experiences during their developmental years. Here are 7 features of Montessori daycare.
Note: Montessori daycare is an alternative educational environment that focuses on hands-on learning, practical life skills, individualized learning plans and holistic development.
1. Child-Led Learning
Montessori daycare encourages children to take the initiative and explore their environment in a way that is meaningful to them.
2. Mixed Age Groups
By allowing children of different ages to interact, Montessori daycare offers the opportunity for peer learning and social development.
3. Prepared Environment
Educators carefully choose all materials used in Montessori daycare to help children learn through exploration and discovery.
4. Hands-on Learning Materials
Through hands-on activities, such as using puzzles or manipulatives, children can develop their cognitive skills while having fun simultaneously!
5. Emphasis on Practical Life Skills
Children are encouraged to develop practical life skills such as caring for themselves, cleaning up after playtime and preparing meals for themselves or others in the classroom.
6. Individualized Learning
Each child's needs are considered when creating an appropriate learning plan tailored specifically for them so they can reach their full potential!
7. Teacher as a Guide
The teacher acts as a guide rather than an authority figure, encouraging each child's creativity and curiosity through conversation and demonstration.
8. Emphasis on Community Building
In Montessori daycare, the community of children is celebrated and supported, which helps foster a sense of belonging and respect among peers.
9. Nature-Based Learning
At Montessori daycare, children are encouraged to get outside and explore nature. It helps them appreciate the environment and understand their place in it.
10. Holistic Development
Montessori daycare focuses on developing each child holistically, nurturing their cognitive, physical, emotional and spiritual growth through a variety of activities and experiences.
What Is the Difference Between Montessori Daycare And Montessori School?
Montessori daycare and school are based on the same principles of providing an individualized, child-led learning environment. However, there are some distinct differences between them.
Montessori daycare is a type of childcare that offers infants to 5-year-old a developmentally appropriate educational experience. On the other hand, Montessori schools are typically for children ages 3-18 and offer a more academically structured environment.
Both types of programs provide an enriching experience for children, but it is essential to consider the goals and plans you have for your child when deciding between them.
Time Schedule of Montessori Daycare
Montessori Daycare's schedule varies by center, but the program's overall goal is to provide a learning-focused environment for children of all ages.
Generally, Montessori daycare centers are open from 8:00 am – 5:30 pm, Monday through Friday. Some may offer extended hours for parents who need more flexible schedules.
You may also like to read How to Find Extended Hours Daycare | 24 hours Childcare
When Should You Go For Montessori Daycare?
Montessori daycare is an excellent choice for parents looking to provide their children with an alternative educational environment.
The earliest age that a child typically enrolls in Montessoricare is 18 months; however, some programs may accept children as young as 12 months.
How Would I Find Montessori Daycare?
Finding a quality Montessori daycare is easy! Start by looking online for local centers near you.
Read reviews and check out the center's website before making your decision. It's also helpful to schedule an appointment to tour the facility and meet with staff members to understand their program better.
After selecting a center, parents can complete an enrollment form to welcome their little one into the Montessori daycare family officially!
What Are Montessori Programs?
Montessori programs are educational systems that focus on each child's individual needs and interests, emphasizing developing self-motivation, independence, concentration, and creativity.
These programs offer a variety of activities, including practical life skills such as dressing oneself and tying shoelaces, science projects like caring for plants or cooking recipes, math concepts like counting and sorting, language development with reading and writing exercises, as well as art and music.
Montessori programs aim to foster a love of learning by nurturing natural curiosity and creativity in children.
Frequently Asked Questions
1. Why Does Montessori Daycare Exist?
Montessori daycare exists to provide an alternative educational environment that focuses on hands-on learning, practical life skills, individualized learning plans, and holistic development.
2. Is Montessori a Daycare?
Montessori is not a daycare but a name of the discipline of teaching.
Certain daycares can adopt this method of teaching kids, and it will be called Montessori Daycares.
3. Is Montessori Different From Daycare?
Yes, Montessori differs from traditional daycare in many ways, emphasizing hands-on learning and practical life skills.
4. What Are Montessori Schools Considered?
Montessori schools are typically considered private and may be subject to tuition fees.
Montessori daycare offers a unique and holistic learning approach tailored to each child. The environment encourages independence, concentration, and creativity as children explore their interests in a safe and nurturing setting.
With an emphasis on hands-on activities such as preparing meals, gardening, counting, and sorting objects, as well as reading and writing
5. What Type of Child Is Montessori Good For?
Montessori programs are well-suited for children who exhibit self-directed tendencies, can engage in extended independent work, and thrive in solo or small group settings.
Furthermore, these programs are particularly beneficial for children who may feel uneasy or distressed in the presence of excessive noise, disorder, or commotion.
6. What Is a Montessori Classroom Called?
A Montessori classroom is called an "Atelier." It's an environment that encourages exploration, creativity, and open-ended learning.
The Atelier is a place for children to develop naturally through guided discovery and hands-on activities.
7. Does My Child Need To Be Potty Trained Before Joining Montessori Classroom?
Most Montessori daycare centers do not require children to be potty trained before enrolling.
However, some centers may have additional guidelines for when a child should begin using the toilet independently. It's best to check with your local Montessori daycare center for more information.
Conclusion
Montessori daycare is an excellent option for parents who want to provide their children with an alternative educational environment.
Montessori centers can create an atmosphere of exploration and creativity that fosters holistic development in young minds by emphasizing hands-on learning, practical life skills, and individualized plans.
Its flexible schedule and variety of programs make it easy to find the perfect fit for your family's needs. Whether you're looking for full-time care or need extra help during the weekdays, Montessori can offer you a safe and nurturing environment.