24-Hour Extended Daycare Services: Parents' Peace of Mind
Struggling to find daycare that offer extended hours?
Let's save you time and make your search easier!
First and foremost, review online directories that list extended-hour daycare in your area. Most directories will feature a comprehensive list of extended-hours daycare centers with ratings and reviews from previous customers.
To get the most accurate results, take your search one step further and use targeted queries like "extended hours daycare + [your state]" on Google, Bing, or any other popular web browser.
Read on if you have already taken these steps and are looking for even more customized outcomes.
In this article, we'll explore websites to hunt extended-hour daycare providers, practical tips for selecting a facility that perfectly meets your budget and requirements, and several alternative solutions.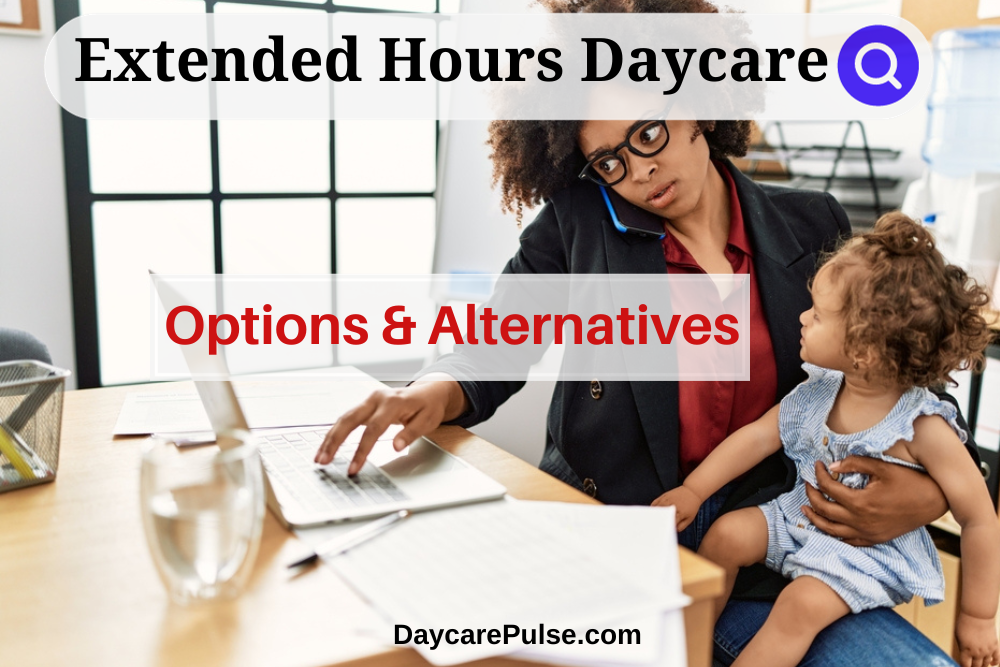 Need for Extended Hours Daycare
Setting up a list of best arrangements is the first step to identify quality childcare suitable to your family's requirements.
Consider exploring your local daycare centers, in-home childcare (licensed or unlicensed), private babysitting services, afterschool programs, and extended daycare centers for extended hours of care. All these options can provide the necessary support.
But before committing to an extended-hours daycare program, assess your needs and budget accordingly, as these services can be costly.
How to Find Extended Hours Daycare
1. Ask for Recommendations
Contacting friends and family for extended-hours daycare recommendations is a great way to find trustworthy providers.
Chances are, someone in your extended network has personally used or knows of After-hours daycares that meet your needs.
This will save you time, effort, and stress.
2. Search Online
Since the availability of odd-hours daycare compared to traditional ones is pretty low, it's a no-brainer that it's hard to locate one nearby.
However, I couldn't sort it for all, but I know a few handy sites that could help a few, if not many:
This website is an amazing source for discovering a plethora of daycare options, such as traditional, In-home, and 24-hour care.
All you have to do is insert your child's age and area code – it really couldn't be any simpler! Voila – childcare service for your little ones awaits.
Here is your stress-free solution for weekend daycare!
With countless customer reviews and the convenience of finding a nanny and daycare in one spot, you can now breathe an enormous sigh of relief.
Easily seek out daycare providers that meet your needs by simply inputting a zip code!
You can also narrow down selections based on days of service, urgency and area limit.
Weecare is one of the top childcare solutions in the United States, bringing together parents and trustworthy daycare providers offering safe, cost-effective, high-quality services.
With thousands of families already matched with nannies, babysitters, and preschools through their platform – you're guaranteed to find a service that suits your needs!
Check Online Reviews
Always check online reviews before enrolling your child at extended-hours daycare. More often than not, you will find detailed feedback from parents who have used the service.
This is extremely helpful in assessing the quality of extended-hours daycare and making an informed decision about whether it's a good fit for your family.
3. Look for Alternatives
If you're still unable to find childcare tailored to your requirements, why not consider these budget-friendly and dependable alternatives?
Shared Nanny
Why not cut down the overall cost of childcare by sharing it with your friends or co-workers?
If you opt for a nanny cooperatively, you'll benefit from dependable childcare and the opportunity to have more freedom with your day-to-day schedule.
You could savor life with the assurance that reliable help is caring for kids in the comfort of your home, but without breaking the bank.
Family & Friends
Request your loved ones to provide nighttime childcare services for a fee.
Chances are, they won't ask for an outrageous amount of money, and this option is the best choice if you want your young one to be in a comfortable environment with familiar faces caring for them.
Or do you have a friend that's in the same situation?
Take turns caring for each other's children when one of you has to work odd hours.
It's a great way to ensure your little ones are always looked after while allowing both parents some much-needed time off!
Part-Time Student Nanny
Here's another suggestion. If your budget won't allow for a nanny and you only need a few hours of supervision per day, then hiring an affordable student to look after your preschooler might be the best option.
Hiring a student nanny guarantees you top-notch care for your children at an affordable cost.
Offering them incentives to bring their homework or remotely done tasks could help both of you. It's worth giving them a chance!
Also, always go for some official service providers that do extensive background checks to find a dependable child sitter, for instance, Care.com.
Afterschool Evening Programs
One great option for a longer period of childcare is after-school evening programs.
Schools often design these evening programs to offer an extended learning environment while allowing parents to work late hours.
Afterschool evening programs generally include educational activities, games, and supervised homework help.
It's usually cheaper than other extended-hour daycare options, and you'll have peace of mind knowing that your children are cared for until you come back to pick them up.
4.Tour the Facility
Getting a feel for the place is always a good idea if you've decided on extended-hours daycare.
Take your time to tour the facility and ask questions. Observe how the staff interacts with other children there.
Always check for accreditation and licensing to guarantee quality care and safety standards.
Review the policies and procedures of a childcare provider to better understand their rules regarding fees or late pick-ups so that you can avoid unforeseen surprises in the future.
When selecting child care, evaluating the staff's qualifications, training, and certification is essential.
You should also inquire about health and safety protocols such as emergency procedures, staffing ratios for children, food quality standards, and special subsidies offered.
By doing some research, you should be able to find extended-hours daycare that meets your needs in no time.
Understand How 24 Hours Daycares Work
Child care centers that are open 24/7 typically staff three separate shifts of attendants to ensure continuous supervision.
The first shift starts early in the morning and works until late evening.
The second shift begins late at night and works until the morning.
The third shift is backup, typically shorter than the other two shifts.
Odd-hours daycare typically follows a "drop-in" system, offering parents the opportunity to avail of childcare services after normal working hours and on weekends. However, some extended-hours centers have established schedules as well.
Similar to traditional daycares, 24-hour ones also focus on daytime activities and cozy sleeping arrangements for your child.
Best Extended Hours Childcare Option
In-home Evening Childcare
In-home evening childcare is greatly appreciated by many working families for its convenience and has become the ideal extended-hour childcare option due to its many advantages.
Firstly the home environment allows kids to be comfortable and relaxed, which can help create better learning outcomes.
In-home evening childcare also offers greater flexibility than extended-hours daycare centers.
With in-home evening childcare, you can save money as it is charged by the hour unlike extended-hours daycare centers that charge fix rate.
Evening childcare providers who offer their services in the home are renowned for providing flexible payment plans, plus discounts for extended stays or multiple children.
Moreover, with fewer distractions in a calm setting of home, your child will receive the best possible care and undivided attention.
If you are looking to hire an in-home evening caregiver, you must conduct a comprehensive screening process. This should incorporate evaluating the background and expertise of the individual applicant, noting any sensitivities or sicknesses they may have, and gauging their familiarity with children and infants if applicable.
Be sure to check that they possess valid first aid training certification as well as CPR credentials; additionally request references from prior employers before making your final decision.
4 Different After-Hours Childcare Options
Nowadays, it's nearly a requirement to have high-quality childcare for long hours. However, finding one is often difficult. This might be due to the low enrollment rate at extended-hours daycare compared to regular ones.
Nevertheless, let's take our time and search for the perfect fit among the options we can access!
1. Drop-In Childcare
Drop-In daycares are ideal for those seeking an affordable, temporary, and reliable care service, as they offer a cost-effective hourly rate while providing around-the-clock care.
Some extended-hours daycare centers also provide drop-in services in addition to long-term care.
They are usually more affordable than traditional extended-hour daycares and can offer flexible scheduling options for those who need last-minute childcare services.
For More Details, Read: What is Drop-In Daycare And How it Works
2. Weekend Daycare
Offering flexibility and accessibility, weekend extended-hour daycare centers are ideal for busy parents.
Additionally, these centers have an advantage in staff recruitment and retention compared to week long establishments that offer expanded hours.
Not only are weekend daycare an optimal way of giving parents a break, but they can also be incredibly enjoyable for kids.
The inviting atmosphere is further augmented when you serve the children their favorite meals and have them interact with friends; it's almost like going to a picnic!
3. Extended Hour Childcare
Such childcare typically provides services from morning to late night hours. In short, a traditional daycare with extended hours facility with a set schedule thus could be pricier as well.
4. Overnight Childcare
For working parents stuck on late-night shifts, overnight extended-hour daycare centers offer a convenient and reliable solution for their childcare needs.
Such facilities provide care for children from night till early morning, with additional staff on call 24/7 in case of emergencies.
You Might Also Want to Read: 11 Unique Daycare Options
Frequently Asked Questions
How long is too long in daycare?
While daycares typically allow children to stay up to 12 hours a day, parents should strive for no more than 10 hours of childcare daily. Exceeding this limit may cause undesirable behaviors and hinder developmental progress.
What time do most daycares open and close?
On weekdays, a regular daycare center is usually accessible from 6 or 7 in the morning to 6 p.m.
Best Of Luck!
Ultimately, extended-hour daycare centers offer parents and children invaluable stability and ease. Therefore, taking the time to carefully evaluate all your options is vital to guarantee that you find the optimal extended-hour daycare center for your family's requirements.
Good luck with your search, and stay strong!
Don't forget to share your queries with us so we can provide clear and helpful insights.