What Is Drop In Daycare: The Ins and Outs
Ever found yourself in a bit of a pickle when your child's daycare has to shut down out of the blue or your babysitter simply can't make it at the last moment? It's certainly a tricky situation, isn't it?
But don't worry! Here comes the drop-in child care, a handy solution for such unexpected circumstances. It allows you to leave your child there whenever you want, providing peace of mind and flexibility.
By the end of this post, you'll be knowledgeable in drop-in child care, and ready to handle unexpected childcare hiccups. Gain confidence in balancing work and parenting, knowing your little ones are in safe hands.
Let's explore together how this option can make your life easier!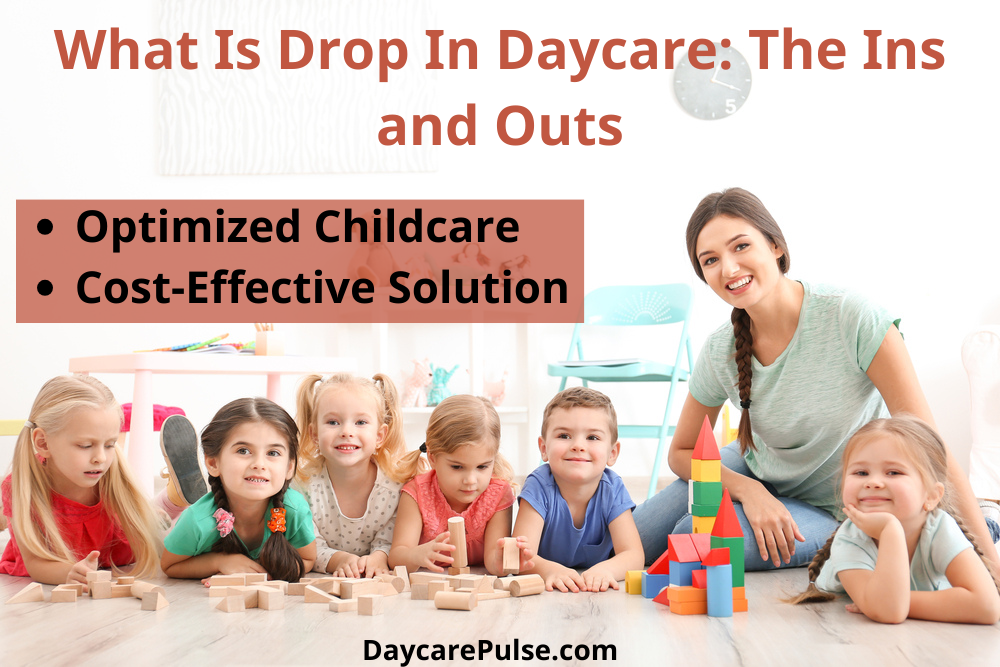 What is Drop In Daycare?
Drop-in daycare is a flexible and convenient childcare service for parents. Unlike traditional daycare, it offers on-demand utilization. It's perfect for occasional commitments or when you need a few hours to yourself.
Drop-in daycare supports parents by providing a safe and engaging environment for kids to play, learn, and socialize. Parents can enjoy free time, tend to work, or run errands worry-free while their kids have fun.
Drop-in daycare is a lifesaver for busy families, offering flexible and reliable childcare that meets the dynamic needs of modern families.
It's great for kids too, providing learning and socialization opportunities. It's a win-win solution for parents and children.
How Does Drop-In Daycare Function?
So, how does drop-in daycare actually function? It's a wonderful system that adapts to your needs and makes sure your child is taken care of while you attend to other tasks.
Registration: To use a drop-in daycare, parents must register their child in advance. This ensures that all necessary information, such as medical history, emergency contacts, and specific care needs, is on file.
Availability: Drop-in child care facilities are accommodating, but space can be limited. Keep in mind that spots may not always be available, especially during peak times like school breaks.
Credentials and Licensing: Before choosing a daycare, it's crucial to check for credentials and licensing. Accredited daycare facilities meet strict safety and quality standards. Parents should verify the licenses of the facilities and the qualifications of staff members.
Accessibility: Drop-in daycare offers easy accessibility, often situated in health clubs or near workplaces, providing convenience for parents to drop off and pick up their children.
Participation: Certain daycares promote parental involvement through activities, fostering community and enhancing parental engagement in their child's care.
Remember, drop-in daycare is there to support families. The purpose of these facilities is to make life more manageable for parents and more enjoyable for kids.
So be sure to use them as a resource when you need one!
Pros and Cons of Drop In Daycare
Pros
Provides reliable childcare when you urgently need it.
Offers flexible timings to fit your schedule.
Transparent per day charges.
Experienced and trained caregivers.
Safe and secure environment for children.
Cons
Your child might not enjoy it.
It could be crowded when you need it.
It may require additional fees.
It could be difficult to find parking.
It might have limited operating hours.
Why Do You Need a Drop-in Daycare?
What to Look For in a Drop-In Daycare?
Drop-in daycare is an amazing solution for families juggling multiple commitments. It offers accessible and flexible child care services to support parents' work-life balance.
When seeking a quality drop-in daycare, there are several key factors to consider to ensure it's a good fit for your child and your family:
License
Is the daycare licensed or not? This is the first thing to ask because if they're licensed, it means they're following all the rules and regulations and will take good care of your child.
The regulatory authorities who license the traditional daycares also certify drop-in childcare centers.
Staff and Teacher's Training
This is necessary to ask as you should know whether the people caring for your child are trained well. It is essential for the safety and well-being of your child that the caregivers possess the necessary skills and knowledge to provide proper care.
By ensuring that they are well-trained, you can have peace of mind knowing that your child is in good hands.
Facilities and Activities Available
Ask about the facilities the drop-in childcare is offering and what activities they have for the children.
Almost all drop-in centers provide food and snacks to the kids. You should also inquire about what food they offer.
Kids and Staff Ratio
You should also know how many kids will be with your child and how many teachers will be there to handle them.
A lower kid-to-staff ratio is usually preferable as it ensures more individualized attention for your child. This ratio is also an excellent indicator of the quality of care at the center.
Too many children and not enough staff can lead to a chaotic atmosphere, something not conducive to a child's development.
Therefore, it's important to consider this aspect when choosing a suitable drop-in daycare for your child.
Charges
Lastly, the most obvious one is the rates. What does the daycare charge per day? You can't move ahead without knowing this, right?
The charges will depend on how many children you drop and their ages.
When Is Drop-in Daycare the Best Option for You?
Drop-in daycare can be a perfect choice for you when you're in need of flexible and reliable human services to take care of your little ones.
Plus, with easily accessible locations, it's always there when you need a helping hand.
In an Emergency
The drop-in childcare center is your backup option when your babysitter cancels the agreement suddenly or your daycare center doesn't open for a day or 2 due to any reason.
Or if you urgently have to go to a meeting and have no one to take care of your children, you can leave them in drop-in daycare for that day.
If You Work Part-Time
Drop-in childcare centers are providing parents flexibility. Most traditional daycares don't offer part-time childcare.
However, many parents work part-time and need someone to take care of their child for only a few hours. In such cases, drop-in centers are perfect.
If You Work Remotely
Another similar case where drop-in daycares can be the best option for you is if you work remotely and have more than 1 child.
It gets difficult to work with children. You constantly get distracted and can't focus on your work.
If you're someone who needs a few hours of peace to work from home, then you can leave your children at a drop-in childcare center.
Comparison with Regular Daycare
Now, let's take a closer look and compare drop-in daycare with regular daycare to help you decide which one is the best fit for your family's needs!
👥 Social Interaction
Regular daycares provide social interaction for your child. They get to play, learn and grow with other children of their age group.
Drop-in childcare also offers your child the opportunity to mingle with other children. The difference is that these other kids may vary each time they visit.
⏰ Hours of Operation
Regular daycares have specific hours of operation, often aligned with a standard workday. Typically, they do not offer flexibility in terms of timing.
Drop-in childcare shines here! It offers flexibility in hours, catering to your varying needs – whether it's for late-night work, emergencies, or just some alone time.
🍎 Health and Safety
Regular daycares have strict health and safety guidelines, ensuring your child's well-being. They often require immunization records and perform regular health check-ups.
Drop-in childcare also maintains health and safety protocols. However, due to the nature of drop-ins, they are always prepared for unexpected situations and have protocols in place to ensure every child's safety.
💰 Cost
Regular daycares often require a monthly fee, which means you pay for the full month even if your child doesn't attend every day.
Drop-in childcare typically charges per hour or day. You only pay for the time your child spends at the facility, making it cost-effective for sporadic usage.
🎯 Routine
Regular daycares follow a structured routine, providing consistency in a child's day.
In a drop-in childcare, the daily routine might be less structured due to the varying crowd and timing. However, they ensure every child gets their time for play, learning, and rest.
What is Back-Up Care and How Does It Differ?
Back-up care is essentially a safety net for those unpredictable times when your regular childcare arrangements fall through.
It's the superhero of childcare, swooping in to save the day when your babysitter falls ill, your regular daycare is closed, or you suddenly need to work overtime.
The key difference between back-up care and other forms of childcare like drop-in daycare or regular daycare is its reactive nature. It's not meant for everyday use, but rather for those unforeseen circumstances.
So, while your regular daycare might be like your steady, reliable everyday vehicle, think of back-up care as your trusty spare tire – not in daily use, but invaluable when you hit that unexpected bump in the road!
Frequently Asked Questions
Is Day In Daycare Expensive?
The cost of drop-in daycare can vary widely depending on factors like location, services offered, and the age of your child.
However, it's generally more cost-effective than regular daycare for parents who only need occasional childcare, as you only pay for the hours your child spends at the center.
As drop-in daycares provide occasional childcare, they charge per day.
The charges vary depending upon the following factors.
The area and location
How many children do you have
Their age
How long they'll be staying in daycare
What are Drop In Daycare requirements?
Drop-in daycare typically requires basic information about your child such as age, allergies, and emergency contact details.
It also requires a brief health history of your child. Some establishments may require proof of immunization.
The specific requirements may vary depending on the center's policies and local regulations.
It's always best to reach out to the facility directly to understand their specific enrollment process and requirements.
Conclusion
And there you have it – the ins and outs of drop-in daycare!
Remember, every family's needs are different, and it's all about finding the solution that fits your lifestyle best.
So here's to less stress, more flexibility, and plenty of happy, well-cared-for kiddos!