When Is Daycare Appreciation Day? 6 Timeless Gift Ideas
Daycare appreciation day, national provider appreciation day, childcare provider day, and nanny appreciation day are all the same day. A day to thank and celebrate the caregivers of teh society. Daycare appreciation day is celebrated in May on the Friday before Mother's Day.
But the question is, how will you celebrate this day? Is nothing planned yet? No worries, we're sharing 6 timeless and affordable gift ideas for daycare appreciation day. Take whatever you like and say a big thank you with it to make your caregiver feel special.
Providerappreciationday.org is an official website for daycare appreciation day set up by Child Care Aware of America.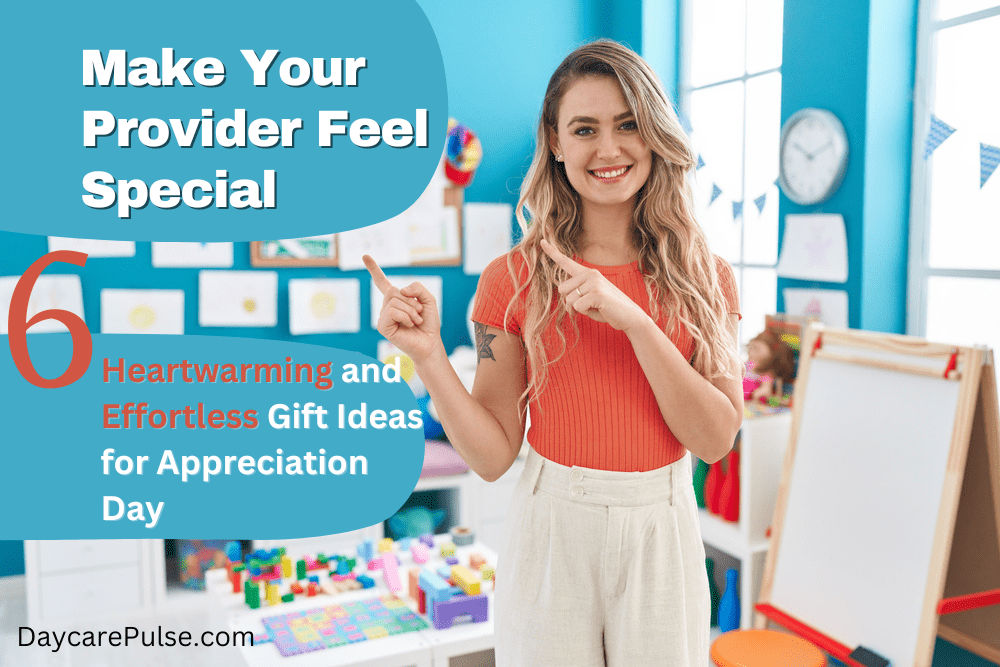 Daycare Appreciation Day 2023
This year the provider appreciation day was on May 12, Friday.
Daycare Appreciation Day 2024
In 2024, the daycare appreciation day will be on May 10, Friday.
Daycare, Childcare or Nanny Appreciation Day Dates
Here's a chart of dates of national provider appreciation day till 2030.
| | | |
| --- | --- | --- |
| Year | Date | Weekday |
| Daycare appreciation day 2023 | May 12 | Friday |
| Daycare appreciation day 2024 | May 10 | Friday |
| Daycare appreciation day 2025 | May 9 | Friday |
| Daycare appreciation day 2026 | May 8 | Friday |
| Daycare appreciation day 2027 | May 7 | Friday |
| Daycare appreciation day 2028 | May 12 | Friday |
| Daycare appreciation day 2029 | May 11 | Friday |
| Daycare appreciation day 2030 | May 10 | Friday |
6 Gift Ideas for Child Care Provider Appreciation Day
The least you can do is to say thank you. And believe me, if you show gratitude to a provider, they'll be more than happy. It means a lot to them.
But the people who care for your little one deserve a little more.
Here are 6 ways to make your caregiver feel special this provider appreciation day. And don't worry; these are all affordable and quick ideas. They'll neither cost you time nor money.
1. Give a Card
The first and most common is to give a gift card, often with a chocolate bar. Nothing fancy in a card. But teachers keep them for a lifetime. You know what makes them special? The priceless words you write on the card.
So make things personalized by adding a few lines of acknowledgment and gratitude. You can write about how difficult your life would be without their help, and you're grateful for their services from the bottom of your heart.
Tip: Instead of writing generic quotes, write something heartfelt. Keep it real and personalized.
2. Present a Small Gift
A few gift options to consider
A bouquet
Gift cards (Amazon, Starbucks, spa or a salon)
A small plant
Donuts
Brownies
Fruits
Cake
Treat boxes
Make sure you know the teacher's taste before presenting any food item. People have different preferences, some are on a diet, and some are just picky. Only give food items if you're sure. And if you're not, there's nothing wrong in asking.
A meal with them: If you have a babysitter or a nanny, you and your child can have a meal with them.
Tip: Don't give mugs or the best teacher in the world frames. They are the worst gift you can give. A card with a note is much better than this.
3. Social Media Shoutouts
People are pretty active on social media on the daycare appreciation day. Give a shoutout to your childcare providers and put up an appreciation post for them.
Providerappreciationday.org (official website) allows you to record a small thank you video for your childcare providers.
4. Let Your Kid Make Them Feel Special
Get your kids involved as well, and you can prepare a handmade card or a small DIY craft for daycare teachers. Even a simple thing like a drawing by your kid can be a heartwarming gift. 
DIYs always make heart-touching gifts because someone has put effort into making something special for you.
5. Classroom Items
If your child goes to a commercial or home daycare center, you can present the daycare with toys, stickers or some stuff for their classrooms.
You can prepare a basket or box of classroom supplies. Add stickers, a notebook, pens, pencils and a bunch of other stuff.
6. Offer Paid Time Off
This might not suit everyone. But if you have a babysitter or a nanny, then this can be a good option.
A paid day off or a few hours off can also be a great way to celebrate daycare appreciation day.
How Much Should You Spend on a Daycare Teacher's Gift
You don't have to spend a lot on the daycare appreciation day. $25 to $50 per teacher is enough, based on your budget and the number of providers you have. 
But don't spend over 100$, as most daycare teachers aren't allowed to accept expensive gifts. This isn't the case with all providers. Mostly teachers at daycare centers or who are associated with an agency have this restriction.
A Brief History of National Provider Appreciation Day
Officially in records, no person or organization is responsible for starting daycare appreciation day. It's a general belief that in 1996, a group of volunteer childcare providers realized how demanding this job is. To honor the care providers and to show gratitude, they started to celebrate the day.
However, an organization NAFCC, on their site, claims to be the pioneer of starting appreciation day.
Whoever started it, the goal was to showcase the importance of childcare providers and to make people aware of the impact they're creating in society. A small act has now turned into a National Day observed not only in the US but in many other countries as well.
Frequently Asked Questions
1. How do you show appreciation to daycare?
When we talk about daycare, we mean daycare teachers. More specifically, the one teacher who cares for your kid. 
You can send them gift cards, notes, treat boxes, flowers or a DIY from your kid.
2. What do you write on a daycare teacher appreciation card?
Write a gratitude message from your heart. Tell them how thankful you're to them for taking care of your kid. How big of a role they play in your life. You can look up to Google for some inspiration to get the creative juices flowing. 
Conclusion
This was all about when is daycare appreciation day and how you can celebrate it.
A simple act of kindness can go a long way. And the person who cares for your little one deserves it. So let's be a little creative, and with those 6 gift ideas, make the childcare providers special.