How Do People Afford Daycare: Budgeting Brilliance
Parenting, oh what a journey! It's filled with so much love and joy, but let's be real, it also comes with its fair share of challenges. One big concern that keeps parents up at night is the crazy cost of daycare.
I mean, have you ever felt the weight of this burden? Trust me, you're not alone!
Don't worry, there is a way forward. If you can be flexible with your hours and also exploring unique options like babysitting swaps and non profit organization you can end saving money to help you afford daycare.
Understanding 9 essential daycare requirements, exploring affordable options, and mastering budgeting tips can make a difference. With the right knowledge and strategies, you can confidently make informed decisions about your child's daycare, ensuring their safety and well-being.
Embark on a worry-free journey towards satisfying and content daycare solutions with the help of this blog, offering financial stability and peace of mind. Save time, money, and enjoy a smoother daycare experience! 👶💰👨‍👩‍👧‍👦💸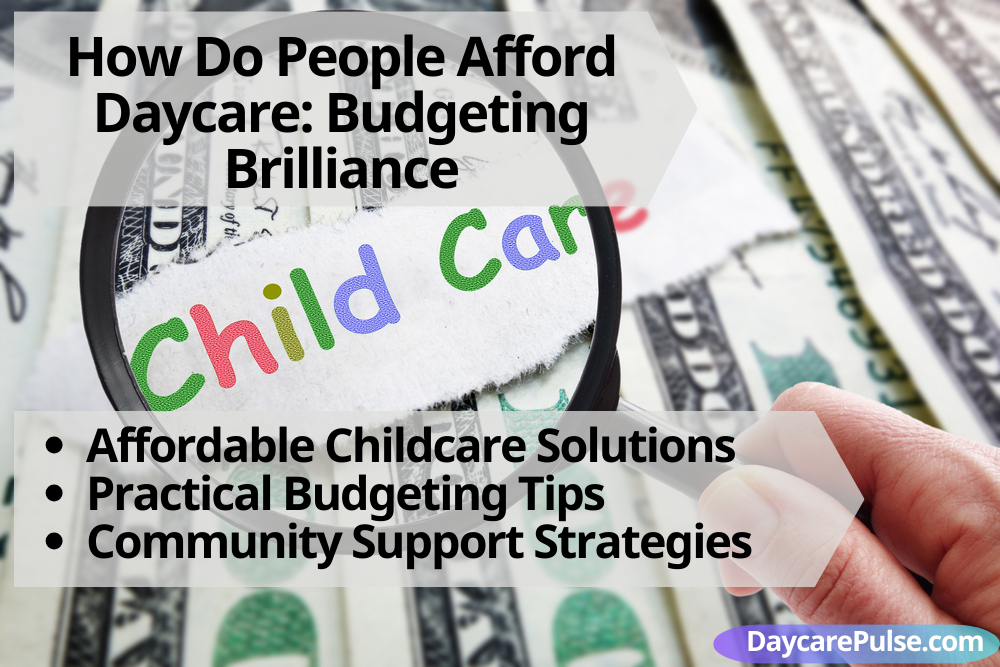 Cracking the Code: How Do People Afford Daycare
Hey there, parents! If you're reading this, chances are you're grappling with child care expenses and wondering, "How on earth do people manage the cost of daycare?" You're not alone, and believe me, I understand.
Childcare costs can seem sky high, especially if you're juggling more than one child or if you're a low-income family. But guess what? There are numerous ways families are making it work, from nanny shares and in-home daycares to tax credits and flexible spending accounts. So, grab a cup of coffee and let's unravel this mystery together.
Essential Must-Haves When Choosing Your Child's Daycare
The essential must-haves for choosing your child's daycare are not only crucial for providing a nurturing environment but also assist in managing daycare costs effectively. Let's explore how these factors contribute to affordability:
Safety and Security: Prioritizing safety and following protocols in daycare can prevent accidents and incidents, saving you from additional expenses for medical care or legal matters.
Flexible Hours: Daycares with flexible schedules allow parents to optimize their work hours or personal time, reducing the need for additional childcare services and associated costs.
Reasonable Child-to-Care Ratio: A lower ratio can result in more personalized attention for your child, enhancing development and potentially reducing the need for expensive extra support or specialized services.
Qualified and Caring Staff: Daycares with qualified and caring staff prioritize your child's well-being. Their expertise can help detect developmental concerns early, enabling timely interventions and potentially reducing future therapy or educational expenses.
Regular Communication: Keeping parents informed about their child's progress, behavior, and concerns is crucial for early identification of any issues. This proactive approach helps parents address challenges promptly and avoid potential costs of delayed interventions.
Parental Involvement: Daycares that encourage parental involvement allow parents to actively participate in their child's growth. This helps parents better understand their child's needs and strengths, potentially reducing the need for external services and related costs.
Affordability and Financial Assistance: While quality matters, affordability is crucial. Daycares providing income-based financial assistance can ease the burden of childcare expenses and make quality care more accessible.
Positive Reviews and Recommendations: Choosing daycares with positive reviews and seeking recommendations from other parents can provide valuable insights into their quality and value. Opting for a reputable daycare is crucial to ensure a good fit for your child's needs and avoid costly mistakes.
Convenient Location: Choosing a daycare close to your home or work can save on transportation expenses and commuting time, making childcare more affordable and convenient.
By considering these must-haves, you can make informed decisions that not only prioritize their child's well-being but also contribute to the affordability of childcare in the long run.
Affordable Daycare Options
The world of child care is diverse and offers a spectrum of services each with its own unique benefits. When choosing the best type of daycare service, it's important to consider factors such as your family's schedule, your child's needs, and of course, your budget.
In this section, we'll help you explore some of the most Affordable daycare options that people often opt for.
In-Home Daycares
These are run by qualified caregivers in their own homes. In-home daycares can offer a more personal touch, smaller groups, and often, more flexible hours. They're an excellent option if you prefer a home-like setting for your child.
Nanny Share
This is a cost-effective solution where two or more families employ a nanny and share the costs. Nanny share provides personalized care and offers flexibility.
Co-op Daycares
Parent cooperative preschools or co-ops are managed and maintained by parents. Parents actively participate in their child's care and education, making co-ops a great way to be involved in your child's early learning.
Family, Friend, and Neighbor Care
This type of care involves entrusting your child to someone you already trust and often, it's the most affordable option. Keep in mind, though, this type of care may lack the structure and learning environment offered by more formal options.
Flex Care Programs
Flex care programs offer a novel solution to parents who might not need 5-day-a-week care. Operating on a prepaid system, these programs allow parents to drop off their kids only when required.
It could be a great option if you're a stay-at-home parent looking for occasional child care or if you're juggling unpredictable work hours.
Employer-Sponsored Child Care
Many companies these days offer child care benefits, including onsite daycare facilities or subsidies for child care costs. It's worth checking with your employer to see if they can help you manage your child care expenses.
Subsidized Child Care Programs
For low income families, subsidized child care programs can be a lifesaver. These are government-funded programs designed to help families afford child care. Each state has its own eligibility criteria, so it's worth looking into what's available in your area.
Tax Benefits
Don't forget about potential tax benefits! The Child and Dependent Care Credit, for example, could help you save a considerable amount on your child care expenses. Also, a Flexible Spending Account (FSA) allows you to set aside pre-tax dollars for child care, leading to significant savings.
Online Babysitting and Nanny Services
Online services can connect you with reliable and reviewed babysitters and nannies in your area. While the costs vary, these platforms can provide greater flexibility and choice.
Budgeting and Financial Planning
Managing child care costs becomes easier when you embrace budgeting and financial planning. Let's explore some helpful tips to create a budget and plan for your family's child care expenses and to save money:
Assess Your Finances
Take a look at your income and expenses: Start by evaluating how much you earn each month and make a list of all your regular expenses like rent/mortgage, utilities, groceries, transportation, insurance, and any debts you have. This will help you get a clear picture of your financial situation.
Find areas where you can cut back: Identify any non-essential spending that you can reduce or eliminate to free up more money for child care.
Research Child Care Options:
Explore Different Types of Child Care: Take some time to learn about different child care options like daycare centers, home-based daycares, and nanny services. Each option has its own costs, so it's important to understand what choices are available to you.
Compare Prices: Get quotes from multiple child care providers in your area and compare what they offer, where they're located, their reputation, and of course, the cost.
Create a Dedicated Child Care Fund:
Establish a Separate Savings Account: Consider opening a dedicated savings account specifically for child care expenses. Having a designated fund can help you track your progress and prevent you from dipping into other savings.
Automate Contributions: Set up automatic transfers to this account each month, treating it as a fixed expense.
Explore Subsidies and Tax Benefits:
Government Subsidies: Research local, state, or national subsidies or assistance programs that aim to help families afford child care. Eligibility criteria may vary, so make sure to explore your options.
Tax Credits: Look into tax credits available for child care expenses. These credits can significantly reduce your tax liability and provide additional financial relief.
Create a Realistic Child Care Budget:
Consider Additional Costs: Take into account additional expenses, such as meals, transportation, and extracurricular activities that your child may participate in at the child care facility.
Plan for Annual Increases: Child care costs often increase annually. Factor in these increments when creating your budget to avoid financial surprises.
Consider Flexible Work Arrangements:
Remote Work Options: If possible, explore opportunities for remote work. This can save commuting costs and allow for more flexible child care arrangements.
Flexible Hours: Negotiate flexible working hours with your employer, enabling you to adjust your work schedule to accommodate child care needs.
Emergency Fund and Contingency Planning:
Build an Emergency Fund: Having an emergency fund can provide a safety net if unexpected expenses arise, ensuring that child care costs do not jeopardize your financial stability.
Regularly Review and Adjust: Regularly review your budget and make necessary adjustments. Life circumstances change, and your financial plan should adapt accordingly.
Network and Community Support:
Family and Friends: Explore the possibility of sharing child care responsibilities with family or friends. This informal arrangement can significantly reduce costs.
Community Resources: Look into community programs, churches, or local organizations that offer affordable or subsidized child care services.
Parental Strategies and Community Resources
Affording daycare can be a bit challenging, but don't worry! With some strategic planning and by tapping into community resources, parents can make it more manageable. Here are some effective parental strategies and community resources to consider:
Parent Cooperatives: Consider forming or joining a parent cooperative, where parents take turns watching each other's children. It's an affordable way to build a community and access childcare.
Babysitting Swaps: Organize trusted babysitting swaps with parents in your network. Take turns watching each other's children to save on paid childcare.
Online Parenting Forums: Join online parenting forums and social media groups! They're great for finding info on affordable daycare options, subsidies, and community resources.
Local Parenting Groups: Participate in local parenting groups or playdates to meet other parents and share childcare tips and resources.
Community Centers: Volunteer at community centers or local libraries with childcare services. Some offer free or subsidized daycare for volunteers, combining community involvement with affordable childcare.
Non-Profit Organizations: Explore non-profit organizations focused on early childhood education and family support. They often offer sliding-scale fees based on income, making quality childcare more accessible.
Community Events: Attend community events and workshops on parenting and childcare. Learn about organizations offering financial assistance or subsidies for daycare services. Connect with resources for more affordable quality childcare.
Frequently Asked Questions
How do people afford daycare in the US?
Affording daycare in the US often involves a mix of careful budgeting, community support, and strategic planning. Many families explore government subsidies and assistance programs tailored to income levels.
Networking with other parents for babysitting swaps or forming cooperatives helps cut costs. Additionally, some employers offer benefits like Flexible Spending Accounts (FSAs) to ease the financial burden. It's all about being resourceful, connecting with your community, and exploring available resources.
How much does the average American spend on daycare?
The cost of daycare in the US varies widely based on location, type of care, and age of the child. On average, American parents spend between $9,000 to $9,600 annually per child.
However, these figures fluctuate significantly based on the state and whether it's in-home care, daycare centers, or preschool. It's essential to research local options and consider factors like subsidies and tax benefits to manage costs effectively.
Why is childcare in America so expensive?
Childcare in America is expensive due to various factors. The high operational costs for facilities, including rent, utilities, and staff wages, contribute significantly. Stricter regulations and requirements for child safety and caregiver qualifications also impact costs.
Additionally, the demand often outweighs the supply, allowing daycare centers to set higher prices. Limited government funding for subsidies and assistance programs further amplifies the burden on parents.
How to afford daycare for two?
Affording daycare for two kids requires careful financial planning. Look into family discounts offered by daycare centers for multiple children. Explore government assistance programs and tax credits designed for families with multiple children in childcare.
Consider sharing childcare responsibilities with trusted friends or relatives through babysitting swaps. Additionally, reassess your budget, cut unnecessary expenses, and explore flexible work arrangements if possible. Being proactive, researching available resources, and seeking community support can help make quality childcare for two children more financially manageable.
Conclusion
Affording high-quality daycare center can be a challenge, but it doesn't have to be impossible. By using effective parenting strategies and community resources, parents can make childcare more affordable.
Networking with other parents, exploring subsidies and assistance programs, and proactive budgeting for unexpected expenses are crucial steps to reduce the financial burden of childcare costs.
Let's collaborate to make childcare more manageable! Stay informed about available resources and track your financial plan to adapt to changing circumstances.
With strategic planning and community support, you can provide excellent child care without breaking the bank. Don't let the cost hold you back – explore all the options!