What Do Infants Do at Daycare | Childcare Routine
Sending your child to daycare at an early age can be an anxious experience. You may wonder if your infant will be safe and happy and what they will do all day.
The specific infant daycare routine will vary depending on the daycare.
However, most daycares offer a variety of activities that are designed to stimulate and engage infants. These activities might include playing with toys, singing songs, taking walks outside, and eating snacks.
In this article, I'll share some insights into typical infant's daycare routine and activities.
Read on to learn about the specifics of proper infant care and the potential risks of underdevelopment at daycare facilities and how to avoid them.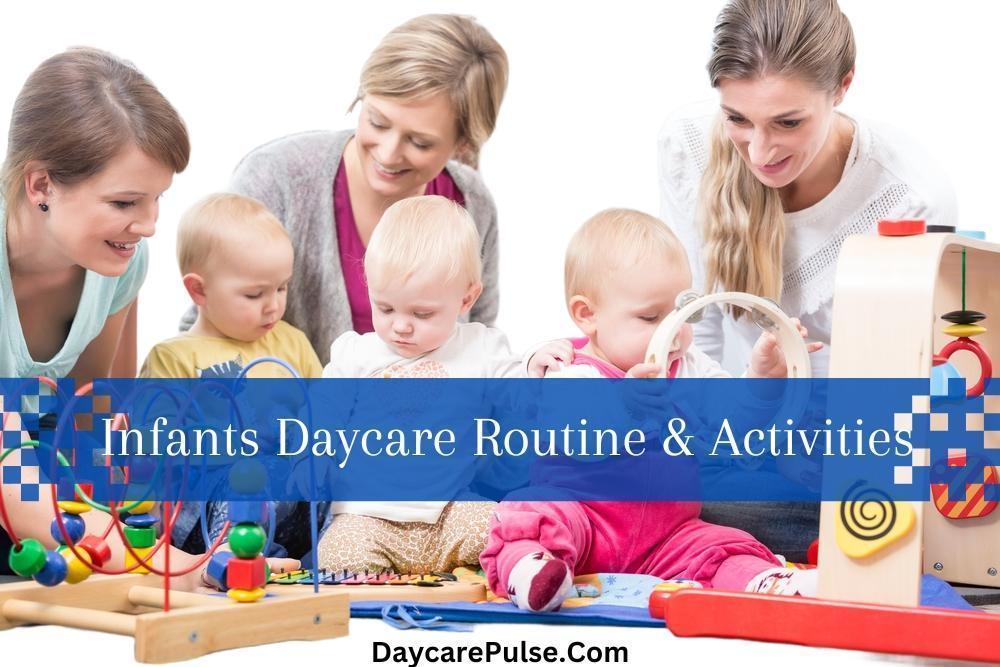 4 Definite Things Infants Do in Childcare
Almost all childcare facilities follow a daily schedule to maintain a healthy daycare routine for a child's development.
Yet, no strict restrictions could be imposed on infants because these small creatures should be allowed to explore and learn throughout the day without being subjected to complex quick regulations.
Nevertheless, caregiver generally adhere to the following daily schedule for infants:
1. Eating
A typical day at infant daycare typically commences with breakfast or morning snacks, followed by additional snacks provided every three hours. Snacking is a fundamental activity for infants in daycare that supports their well-being and development.
Regular nutritious snacks are essential to prevent Mal-nourishment because of the physical exertion and stimulation associated with play and other activities. So, daycare pay special attention to feeding your child.
2. Napping
Per United States law, for quality child care, the caregiver must allow the child to nap during their stay.
Nap time is typically scheduled during the afternoon and is intended to promote the children's physical and emotional well-being.
Research has shown that adequate sleep is crucial at a young age for cognitive and behavioral development in children.
Therefore, providing a nap period in daycare helps support these important developmental milestones. It also allows your infant to recharge and return to activities with renewed energy and focus.
3. Play & Learn
Children are naturally curious and eager to explore their surroundings, and free play at childcare allows them to do this on their terms.
They can touch, manipulate, and experiment with objects and materials, which helps to develop their fine motor skills and hand-eye coordination. Free play promotes socialization and communication skills in your infant when he engages with other children and adults through gestures, vocalizations, and facial expressions.
Also, free play time at daycare allows infants to regulate their emotions and develop
self-awareness. Through play, they learn to express themselves, manage stress, and learn coping strategies.
4. Get Changed/ Cleaned-Up
Infants are typically changed and cleaned up as needed in daycare.
Caregivers are responsible for ensuring that babies are kept clean, dry, and comfortable throughout the day, which may involve changing diapers, wiping faces, and cleaning hands and other body parts.
The frequency with which infants are changed and cleaned up varies depending on their individual needs and schedules, as well as the policies and procedures of the daycare.
So don't worry; your baby's fussiness, discomfort, and all special needs are promptly addressed at childcare centers!
5 Significant Skills Infants Develop in an Infant Daycare
Infants in daycare constantly learn and grow, no matter how small they seem. With the help of dedicated caregivers, infants develop physical, cognitive, social-emotional, and language skills in an infant care setting.
1. Cognitive Skills
Older Infants are presented with various objects in childcare centers, encouraging them to explore and experiment. Infants learn about cause-and-effect relationships through problem-solving activities during their playtime, such as stacking blocks or manipulating shapes.
2. Fine Motor Skills
Active play stimulates infants to move their body parts, such as hands and legs. Motor activities also help to strengthen the muscles, bolster coordination and control of movements, and promote overall physical health.
Infants are taught to use spoons, open boxes, and hold colored pencils to develop and improve their fine motor skills.
3. Linguistics Development
Caregivers foster a constructive language environment by talking and singing to infants.
Constant exposure to language encourages infants to babble and imitate while also helping them learn new words. This helps set the groundwork for later speech development.
4. Social Development
Infants in daycare benefit from positive interactions with others as they learn to express their feelings, develop an understanding of rules, and establish relationships with other children and adults.
Caregivers also help infants learn to communicate their needs positively, such as through gestures or vocalizations. This helps them form healthy attachments and build self-esteem.
5. Emotional Development
Caregivers provide a secure and nurturing environment that allows infants to learn how to regulate their emotions. Infants build trust and develop self-confidence as they interact with other children and adults.
In addition, caregivers provide loving care, which helps infants feel safe and secure in their surroundings. This promotes positive emotional development in infancy.
6 Educational Daycare Activities of Infants
1. Reading
Reading stories to infants helps them learn new words and understand language. Caregivers read and talk to the children in a soothing voice, which helps them relax and feel calm.
2. Messy Play
Caregivers often engage in messy play activities with infants. This involves introducing tactile materials such as finger paints, water, and sand to stimulate the senses.
This helps them learn about colors, shapes, and textures while developing fine motor skills. It also promotes creativity and imagination development.
3. Art
Infants explore their creativity through art activities such as painting or coloring. Infants practice their fine motor skills and hand-eye coordination using crayons or paintbrushes in daycare.
They also get to sing and play instruments to learn about sounds and rhythm. Music also helps them develop their memory skills as they learn and remember songs.
Caregivers often dance with babies, which helps them build motor skills while having fun.
4. Sign language
Caregivers teach babies simple sign language, which helps them communicate their needs before they can talk. It also jump starts their understanding of the importance of communication.
You might also want to read: Nanny Vs Daycare
5. Exploration of Everyday Objects
When infants in daycare explore and interact with everyday objects, such as toys or furniture, they can experience the world around them.
Caregivers guide to help babies understand how things work, helping them develop their cognitive skills.
6. Outdoor Discovery.
Many commercial childcare facilities help infants explore the outdoors and experience nature. Infants can feel the grass on their skin, smell different flowers, or listen to birds chirping. This helps them understand their environment while developing sensory skills.
You might also like to read: Activities to Do with Infants in Daycare
Impact of Childcare Quality on Infants Activity
The quality of childcare can make all the difference in determining what kind of activities your infants will have access to while in daycare.
Research has shown that high-quality child care facilities are more successful in achieving future educational and social milestones. High-quality daycare centers also provide optimal environments for infants to learn, interact, and explore. They are designed to stimulate.
In home care, however, often lack resources found in commercial childcare facilities. While still providing a beneficial environment for infants, it may not be able to offer as many activities or experiences that help foster development.
You Might Also Want to Read: How to Choose Right Infant Daycare for Your Babies
Frequently Asked Questions
What do you teach infants in daycare?
Daycare centers provide educational and social activities for infants that help them grow and develop. Some activities include reading, art, sign language, exploration of everyday objects, and outdoor discovery.
How do daycare handle infants?
Childcare staff is trained to handle children's behavioral and emotional needs.
Childcare provider typically provides a secure and nurturing environment for infants. Caregivers help babies express their feelings, learn new words, develop relationships, and build self-esteem.
What do babies do in infant care?
Infant care includes activities that stimulate babies' physical, emotional, and cognitive development. Caregivers provide safe environments for infants to explore their creativity through art or music activities, learn sign language, or explore the outdoors.
Is daycare hard on infants?
No daycare does not have to be hard on infants. Quality childcare centers provide an atmosphere of love and security that helps babies feel safe and secure.
Final Thoughts
Alleviate your worries as a parent by staying involved with your infant's life in daycare! Staying aware of how much they are growing and developing will give you peace of mind during those hours away from them.
But how can you do that while having a busy routine? May be give shot to any of the option given below.
You can request the attending teacher to record your baby's everyday milestones, so you can proudly observe their progress.
You could also opt for daycare centers offering a baby tracker App, like "Hi Mama". You could see images, videos, and daily plans and take advantage of real-time photo sharing via daycare apps throughout the day.
Additionally, you can ask your infant daycare providers about any extra paid services for parents to sneak into their child's daycare life.
Doing so will help ease any concerns and make you feel more connected.
Also, share your tips to get more involved in a child's daily life in daycare centers.