Nanny vs. Daycare: A Comprehensive Comparison
Hello there, new parents!
You are full of excitement and choices for your newborn. But you are unsure what's the best option for your precious child. Is daycare better financially? OR Is Nanny better for your schedule?
I have researched and compared both options for you so you can choose the best of these for your kid. The main differences between daycare and nanny will be, age-group considerations, finances, and family work schedule.
I have 8 important considerations for daycare vs nanny, a handy comparison of the pros and cons and a straightforward guide to make your decision easier.
So, let's explore this together, with your child's happiness and well-being in mind.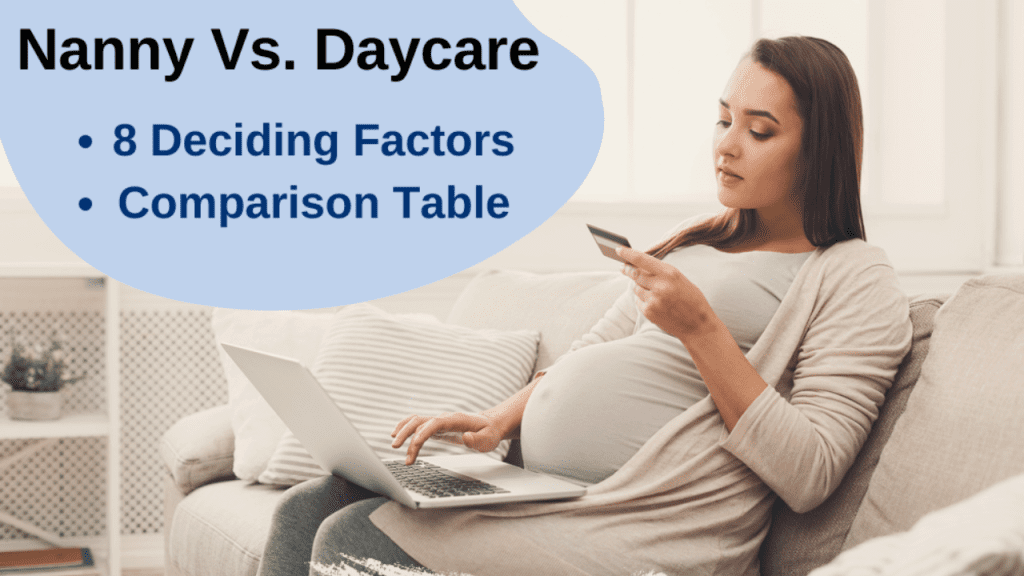 Which One to Choose Daycare or Nanny: Comparison & Considerations
In the daycare vs. nanny decision, your child's age, their individual needs, your work schedule, and personal preferences come into play.
Each family's situation is unique, and your choice should reflect what works best for you and your child.
1. Age-Group Considerations
Your child's age is critical when deciding between daycare and a nanny. Each stage of childhood comes with unique needs and challenges.
Here's a breakdown of what to consider for each age group:
Infant Care (0-12 months) – The tender age of 0-12 months requires gentle and constant care. Daycare centers often provide qualified infant care specialists who are well-trained to attend to the unique needs of infants. They offer a structured environment with a schedule miming what you might provide at home.
If you are curious about How to Choose the Right Infant Daycare for Your Baby, read this blog post.
On the other hand, a nanny can provide one-on-one care, creating a personalized routine for your baby. A nanny might be the right choice if you prefer a more intimate setting and personalized care.
Toddler Care (1-3 years) – Toddlers are bundles of energy and curiosity. Daycare centers often offer structured programs encouraging social interaction and learning through play. Your child gets a chance to socialize and develop early cognitive and social skills.
A nanny can be great for toddler care, offering individualized attention. If your toddler has specific needs or you prefer more flexibility in the daily routine, a nanny can be a strong contender.
Preschoolers (3-5 years) – Daycare centers can provide a structured educational environment, fostering cognitive and social development. They can also benefit from interaction with peers, preparing them for school.
A nanny can provide personalized educational activities and adapt the care to your child's interests and needs. If you value individualized learning and a flexible schedule, a nanny might be the right choice for your preschooler.
School-Age Children (5+ years) – School-age children are more independent but still require supervision. After-school daycare programs offer a balance between structured activities and free time. They provide children with a safe and supervised environment while parents work.
A nanny can also be an excellent choice for school-age children, ensuring they receive focused care after school hours. If you need someone to pick them up from school, assist with homework, and engage in educational activities, a nanny can provide this tailored care.
Related : Daycare vs. Child Care: What's the Difference?
2. Financial & Scheduling Considerations
Financial factors are crucial in your decision-making when choosing between daycare and a nanny.
Here, we'll explore the various financial considerations to help you make the right choice for your family:
Financial Considerations
Tuition Fees – Daycare often involves regular tuition fees, while you must negotiate a salary with a nanny. Consider which option aligns with your budget.
Additional Expenses – Daycare may include extra must costs for extracurricular activities or supplies, while a nanny's expenses typically cover their salary and benefits.
Tax Implications – Both daycare and nanny expenses can have tax implications. Ensure you understand and consider the tax implications for your choice.
Hidden Costs – Be aware of any hidden costs associated with either option, such as late fees for daycare or additional household expenses for a live-in nanny.
Transportation – Consider transportation costs, especially if you need to drop off and pick up your child from daycare. A nanny may reduce transportation costs.
Meal Costs – Daycare often includes meal plans, while with a nanny, you must account for meal costs separately.
Enrollment Fees – Some daycares charge enrollment fees. Nannies typically don't come with such fees.
Flexibility
Scheduling – Daycare centers have set operating hours, while a nanny's schedule can be more flexible, catering to your specific needs.
Operating Hours – Consider whether the daycare's operating hours align with your work hours or if a nanny's flexibility fits your schedule better.
Weekend Availability – Determine whether you require weekend care, as daycares may not offer weekend services. A nanny could provide this flexibility.
Emergency Situations – A nanny may offer more immediate availability for unexpected events or emergencies than a daycare with set hours.
Sick Child Care – Consider how each option handles ill child care, as daycares may have specific policies, and nannies might be more accommodating.
Last-Minute Coverage – Evaluate which choice is better equipped to provide last-minute coverage if your plans change suddenly.
When deciding between daycare and a nanny, it's essential to consider various aspects that can significantly impact your child's well-being and your family's daily life:
| Factor | Daycare | Nanny |
| --- | --- | --- |
| Average Cost | $1,200-$1,500 per month | $2,000-$3,000 per month |
| Flexibility | Less flexible, typically 9-5 hours | More flexible, can accommodate irregular working hours |
| Personalized Care | Less personalized care | More personalized care |
| Socialization | More social interaction with other children | Less social interaction with other children |
| Insurance | Typically covered by daycare | Not typically covered by nanny |
| Taxes | Typically paid by daycare | Not typically paid by nanny |
3. Location and Convenience
Daycare Centers – The proximity of a daycare center to your home or workplace can significantly affect your daily routine. If you find a daycare center that's conveniently located, it can simplify drop-offs and pickups, making it a popular choice for parents who need accessible childcare.
Nanny Services – Nannies bring the care right to your doorstep. In-home care eliminates the need for commuting, which can be particularly advantageous for families with busy work schedules, frequent travel, or children who may struggle with transitions.
4. Child's Comfort and Personality
Daycare Centers – These environments are designed for social interaction.
Children have the opportunity to engage with peers and develop crucial social skills. Some children thrive in the structured social setting, benefiting from the exposure to different personalities and temperaments.
Nanny Services- Nannies offer one-on-one care tailored to your child's comfort and personality.
This personalized approach can be highly beneficial, especially if your child is introverted or has specific requirements. Nannies provide a nurturing environment that respects your child's unique needs.
5. Family Work Schedule
Daycare Centers – Daycare centers have set operating hours that you must align with your work schedule.
This alignment can be convenient for parents with regular 9-to-5 jobs, as it matches typical work hours.
Nanny Services – Nannies provide a high level of flexibility regarding scheduling. They can adapt to your work hours, including irregular or long shifts.
This adaptability is particularly appealing to parents with non-traditional or demanding work schedules.
Read on : Daycare vs Grandma Care
6. State Regulations and Licensing
Daycare Centers – These facilities are subject to stringent state regulations and undergo regular inspections to ensure they comply with safety and health standards.
The strict oversight provides extra assurance for parents regarding their child's well-being.
Nanny Services – While not governed by the same level of regulation as daycare centers, vetting potential nannies is crucial.
Background checks, thorough interviews, and certification in CPR and first-aid are essential to ensure the caregiver is qualified and trustworthy.
7. Health and Safety Measures
Daycare Centers – Daycare centers typically have structured safety measures, such as secure entry systems, surveillance cameras, and staff trained in emergency procedures.
These precautions provide parents with peace of mind regarding their child's safety.
Nanny Services – Ensuring a safe environment at home is of utmost importance with nannies.
Implementing safety measures like child-proofing the home, outlet covers, and secure cabinet locks is vital. Confirming that the nanny is certified in CPR and first aid is essential to handle potential emergencies effectively.
8. Qualifications
When selecting between daycare and a nanny, it's essential to assess the qualifications and experience of caregivers.
Here's a comprehensive look at these qualifications:
Certifications
Daycare Centers – Many daycare staff have certifications in early childhood education or relevant fields, ensuring they are equipped to provide quality care and education to children.
Nanny Services – Nannies may or may not hold formal certifications, so evaluating their qualifications is crucial, which can vary widely.
CPR and First Aid
Daycare Centers – Most daycare staff are trained in CPR and first aid, ensuring they can respond effectively in emergencies.
Nanny Services – Nannies should also be CPR and first aid certified, providing a safe environment for your child.
Early Childhood Education
Daycare Centers – Many daycare staff hold degrees or certifications in early childhood education, demonstrating their expertise in child development.
Nanny Services – Nannies with a background in early childhood education can offer valuable insights into your child's growth and development.
Experience
Years of Service – Consider how many years a daycare or nanny has provided childcare services. More experience often correlates with a better understanding of child care.
Specialization – Some daycare centers specialize in certain age groups or developmental stages, while nannies may have expertise in specific areas.
References
Background Checks – Conduct thorough background checks on daycare staff or potential nannies to ensure their reliability and trustworthiness.
Criminal Record Checks – Verify criminal records to guarantee a safe environment for your child.
Reference Verification: Contact and speak with references provided by daycare centers or nannies to gain insight into their past performance.
Socialization
Interaction with Peers – Evaluate how well your child interacts with peers. Daycare centers foster socialization by providing opportunities for children to interact and play together.
Playgroups – Nannies can arrange playgroups or playdates for children to socialize with their peers.
Social Development
Peer Relationships – Consider how your child develops relationships with peers. Daycare centers promote social development by encouraging children to interact and form friendships.
Social Skills – Nannies can focus on teaching social skills through one-on-one interactions.
Communication Skills
Behavior in Groups – Observe your child's behavior when interacting with groups of children. Daycare centers help children learn to adapt to group dynamics.
Child Development – When selecting childcare, consider early learning, emotional growth, cognitive skills, educational activities, play-based learning, and structured curricula to ensure your child's holistic development.
Read on : Daycare vs. Preschool: Best Child Care Selection Guide
Comparison Table of Pros and Cons of Daycare Vs. Nanny
Here's a simple comparison table outlining the pros and cons of daycare versus a nanny:
| Category | Daycare | Nanny |
| --- | --- | --- |
| Socialization | Pros: Opportunities for social interaction and peer relationships. Cons: Exposure to illness and less individualized care. | Pros: One-on-one attention and personalized care. Cons: Limited social interaction compared to daycare. |
| Scheduling | Pros: Fixed operating hours that match typical work schedules. Cons: Less flexibility for parents with irregular work hours. | Pros: High flexibility in scheduling, adaptable to parents' work hours. Cons: May require overtime pay for extended hours. |
| Location | Pros: Conveniently located daycare centers for easy drop-offs and pickups. Cons: Potential for long commutes. | Pros: Care provided at home eliminates commuting. Cons: Limited exposure to external activities and environments. |
| Regulations | Pros: Stringent state regulations and regular inspections ensure safety. Cons: Less control over individual caregiver qualifications. | Pros: Full control over nanny qualifications, but fewer standardized regulations. Cons: May require extra vetting and background checks. |
| Educational Activities | Pros: Structured educational activities and curricula. Cons: Potential for less individualized learning. | Pros: Tailored learning experiences and one-on-one educational opportunities. Cons: Depends on nanny's qualifications and experience. |
| Cost | Pros: Generally more affordable than a nanny. Cons: May still incur significant costs, and additional fees. | Pros: More personalized care but often comes with a higher cost. Cons: Cost can vary widely based on location and nanny's qualifications. |
Which Option is Best Daycare or Nanny: Simple Child Care Guide
Choosing between daycare and a nanny depends on various factors, and understanding your child's unique needs and your family's lifestyle is critical.
Pro Tip : If you want to see your state's resources for daycare you may check : Childcare.gov
Daycare is the Best Choice if:
Your child benefits from socialization and interacting with peers.
It would help if you had regular, fixed hours of care that align with your work schedule.
You prefer a structured and regulated environment for your child's development.
Read on : Is daycare good for kids? | Learn 5 Good & Bad Factors to Consider
A Nanny is the Best Choice if:
Your child requires one-on-one attention and personalized care.
Your work hours are irregular, demanding flexibility in childcare.
You prefer the comfort and convenience of in-home care.
Are Babysitters and Nanny the Same? : Babysitter Vs Nanny
No, a babysitter and a nanny are not the same. A babysitter provides occasional or part-time childcare for shorter periods, while a nanny offers more consistent, often long-term care with broader responsibilities.
The choice depends on your specific childcare needs and circumstances.
Supervision and Hours – A babysitter typically provides care for a few hours on an irregular or occasional basis.
A nanny offers more consistent, often full-time or part-time care, which may include live-in arrangements.
Responsibilities – A babysitter's primary responsibility is to ensure the child's safety and well-being during their time together.
A nanny takes on a broader range of responsibilities, including meal preparation, educational activities, and assisting with daily routines.
Experience and Training – Babysitters are often younger and may need formal training in childcare.
Nannies tend to be more experienced and may have training in early childhood education.
Duration of Employment – Babysitting jobs are typically short-term or one-time arrangements.
Nanny positions often involve longer-term commitments, sometimes spanning several years.
Child-Related Household Tasks – Babysitters generally focus on childcare and do not perform household chores.
Nannies may take on child-related household tasks, such as laundry and cleaning up after them.
Engagement – Babysitters generally supervise and engage in activities with the child during their care.
Nannies often play a more active role in a child's upbringing, including educational and developmental activities.
If you are wondering about Daycare vs. Babysitting Differences, read another blog post.
Frequently Asked Questions
What Are the Psychological Effects of Having a Nanny? : Other Kids & Family Members
The psychological effects of having a nanny can vary depending on the child's age, qualifications, and the quality of care.
Generally, a nurturing and consistent relationship with a nanny can have positive effects, including emotional stability and social development.
However, choosing a nanny who aligns with your child's needs is essential.
What Is the Difference Between a Nanny and a Nursery?
The critical difference between a nanny and a nursery lies in the setting and level of individualized care. A nanny offers one-on-one care in the child's home, providing personalized attention.
In contrast, a nursery is a group childcare facility where multiple children are cared for by a staff team. The choice between the two depends on your child's age and your family's preferences.
What Age Does a Nanny Look After? : Working Parents
Nannies can care for children of various ages, from infants to school-age kids.
Their qualifications and experience make them versatile caregivers. If you're interested in age-specific considerations, check our related blogpost for guidance.
Conclusion
Choosing between a nanny and other childcare options is a significant decision. It depends on your child's age, family's needs, and preferences.
Careful consideration of these factors will help you make the best choice for your child's well-being and development.