Daycare Infant Room Ideas: 7 Design Ideas for Infants and Babies Room
Hey daycare owners! Are you feeling stuck when designing or updating your infant room? It can be tough to figure out what design elements to include that are engaging and practical for little ones.
We both know how important it is to create a safe and stimulating environment that encourages imaginative play and early learning. But don't worry; I have got your back!
Check out my 7 awesome infant daycare room setup ideas and 5 tips for decorating that perfectly balances fun and functionality. Let's make your infant room where your little ones can thrive and grow!
Cribs or bassinets
Changing tables
High chairs or feeding chairs
Playmats or activity gyms
Soft toys
Feeding supplies
Simple games
I have listed 5 quick tips and 6 important considerations. Plus, 5 easy tips for decorating infants' daycare rooms creating a secure and positive environment with the perfect layout, color scheme, toys, and activities to provide your children with the best care.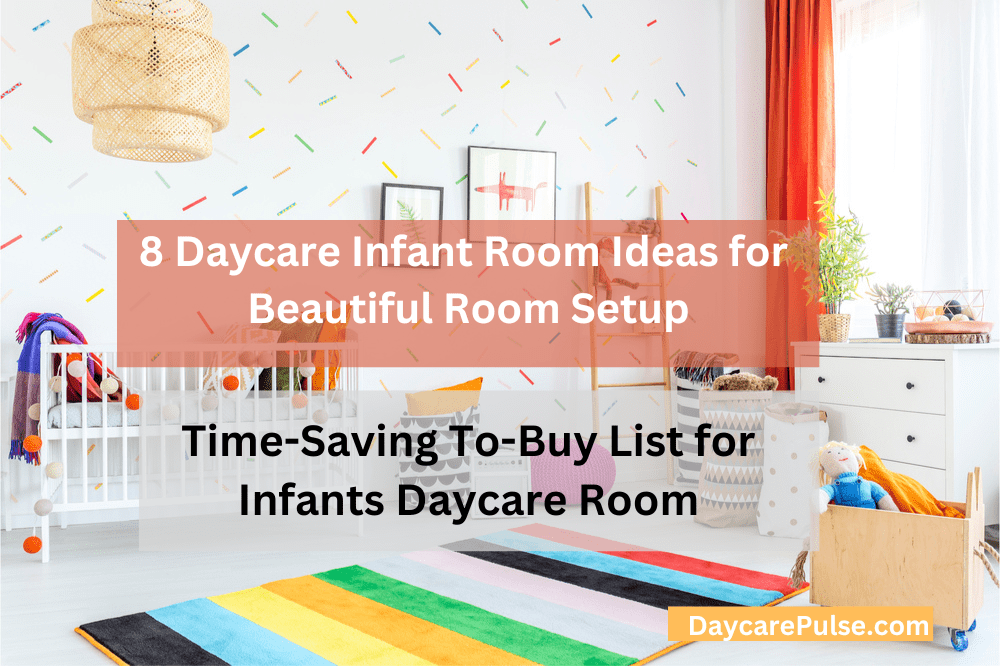 8 Daycare Room Setup Ideas for Infants
It's crucial to generate innovative room arrangement ideas to provide a secure and stimulating environment for infants in daycare centers. An adequately structured room can promote play and curiosity while maintaining a safe atmosphere.
Here are the 8 elements that would help you to set up an infant's daycare room efficiently.
1. Cribs or Bassinets
It's essential to have cribs or bassinets in an infant daycare room. They provide a safe sleeping area and help create a soothing atmosphere. You can choose a crib that fits your daycare's size, but follow local safety regulations when selecting one.
Recommended: Check this Delta Children Essex 4-in-1 Convertible Baby Crib, Bianca White with Natural Legs crib, on Amazon. You can invest in it to decorate your infant daycare room.
You may also like to read What Size Crib Sheet For Daycare?
2. Changing Tables
In an infant daycare room, it's essential to have to change tables.
These tables offer a secure and cozy spot for changing diapers, and they aid in organizing the room by providing space to store diapers, wipes, and other necessary items.
When selecting a changing table, ensure it's simple to clean, includes ample storage, and complies with all safety guidelines.
Recommended: Check this Delta Children Infant Changing Table with Pad, White for the infant daycare room.
3. High Chairs or Feeding Chairs
Providing high or feeding chairs for infants in daycare is advisable to make their feeding experience more comfortable.
Such chairs offer babies a safe and comfy space to sit during mealtime.
Additionally, high chairs promote self-reliance and encourage older infants and toddlers to feed themselves.
Recommended: Consider buying Primo PopUp Folding High Chair for infants' daycare room. It is foldable and would not take up much space.
4. Play Mats or Activity Gyms
A play mat or activity gym can be a helpful addition to any infant daycare room setup as they keep infants engaged during playtime.
These mats offer a safe spot for babies to explore their surroundings. At the same time, activity gyms keep them occupied by delivering a mind-stimulating setting with plenty of fun toys and activities.
Recommended: Check it out Fisher-Price Extra Big Adventures Play Mat, 60-inch Long Activity mat with Toys
5. Soft Toys
When you choose soft toys for your daycare's infant room, make sure to choose safe toys for infant rooms. Safe toys will help older infants to explore without losing any choking hazards.
Soft toys promote imaginative play, develop fine motor skills, and encourage exploration.
Recommended: Check this budget-friendly soft toy Taggies Embroidered Soft Ring Rattle, Flora Fawn
6. Feeding Supplies
Keep your feeding supplies in the feeding area readily available to set up an infant daycare room correctly. These supplies may include,
Bibs
Bottles
Spoons
Sippy cups
Add other items that can assist in making mealtime less of a hassle.
Recommended: Check this 10-piece set Munchkin Love-a-Bowls 10 Piece Polypropylene Feeding Set, Multicolor.
7. Simple Games
To enhance babies' creativity, problem-solving skills, and engagement, including uncomplicated games in the infant room setup of your daycare.
Puzzles, stacking blocks, and shape sorters are excellent choices for babies at the initial stage of their development who enjoy exploring and learning by playing.
Recommended: Check it out Fisher-Price Stacking Toy Baby'S First Blocks Set Of 10 Shapes For Sorting Play For Infants Ages 6+ Months.
To provide top-notch care for infants in daycare, you can use these 8 elements to create an inviting and stimulating environment that prioritizes security. Here are some more exciting 7 Creative Ideas For Kid's Daycare Rooms .
You can create a setup that encourages exploration and learning with careful planning and clever design. Your little ones will surely love it!
6 Important Things to Consider for the Best Infant Daycare Room Setup
Planning the daycare room's setup is essential to create a safe, stimulating, and comfortable environment for infant rooms.
Here are 6 critical factors to consider when doing so:
1. Safety
Safety should always be a top priority when setting up an infant daycare room.
Install safety guards on windows and doors, use safety gates to block off stairs, and ensure that all furniture is secure.
Also, check your local daycare regulations for any safety guidelines you must follow to remain compliant.
2. Room Layout
Choose one that encourages exploration and independence while maximizing space.
Consider adding separate areas for play, rest, and meals, and arrange furniture so the room is easy to navigate.
3. Furniture and Equipment
Choose furniture and equipment that is safe, easy to clean, and age-appropriate for infants.
Invest in high-quality items that will help throughout your child's early years of development.
Choose high-quality furniture that meets safety standards and is easy to clean. Invest in age-appropriate toys such as play mats and activity gyms to stimulate older infants during playtime. Consider adding a changing table for diaper changes.
4. Wall Colors and Themes
You can choose these ideas for wall colors and themes such as:
Choose wall colors that are soft and soothing, such as pastel shades.
If desired, add a mural or wall decal to create an interesting visual backdrop.
It's best to use soft and calming colors like pastels to create a comfortable environment for an infant room.
You can also draw inspiration from nature and include features like a mural of a peaceful forest or gentle ocean waves.
Creative murals can also be a fun way to introduce letters, numbers, and shapes to infants.
Read these Daycare Wall Decoration Ideas that instill imagination and excitement in children's hearts and whisk them into a magical land of wonder.
5. Staff Training
Invest in staff training, so caregivers know safety guidelines, developmental milestones, and strategies for providing a stimulating environment for infants.
It is crucial to provide staff training to create a safe and engaging environment for infants in the daycare.
Offer continuous opportunities for professional development to educate caregivers on safety standards, developmental stages, and ways to provide a stimulating atmosphere for infants.
Encourage team-building activities regularly to promote a harmonious and cooperative team.
6. Learning and Development: Safe and Nurturing Environment
Arrange the room to encourage learning and development by including fun and educational items like exciting books and toys to spark exploration, curiosity and sensory materials like play mats, activity gyms, and blocks.
Provide age-appropriate activities such as puzzles, shape sorters, and coloring pages that promote cognitive growth.
With the right combination of aesthetics and practicality, you can create an infant room that will make all your little visitors feel comfortable and encouraged to learn.
Read on 7 Important Daycare Room Setup Ideas that are perfect for personalizing your daycare room with functionality.
5 Tips for Decorating Infants Daycare Room
Decorating an infant daycare room can be a fun and creative process.
Here are five tips for creating a stimulating and secure environment:
1. Use Reusable Decor:
Instead of purchasing costly decorations that will only be used once, invest in reusable materials such as wall decals or fabric banners that may be used for years.
2. Shop From Thrift:
Thrift stores and online markets such as Facebook Marketplace may be fantastic locations to discover gently used furniture and décor for a fraction of the price of new things.
3. Involve Parents:
Ask parents if they have any unwanted baby goods or decorations they would be willing to donate or lend to the daycare.
4. DIY Decorations:
Use inexpensive items like construction paper, twine, and glue to build your decorations.
5. Focus on Function:
When choosing furniture and design, prioritize valuable objects that may serve several uses, such as additional storage space bins that can also be utilized as chairs or tables.
With these tips, you can create an infant daycare room that is both inviting and secure.
Follow these guidelines to ensure your space is suitable for infants as they explore and learn during their early years of development.
Frequently Asked Questions
1. Why Is Designing a Playful Learning Space for Babies and Toddlers' Gross Motor Skills So Important?
Designing a playful learning space for babies and toddlers is essential for their development and gross motor skills.
It allows them to explore and interact with their environment, build relationships with caregivers, practice problem-solving skills, learn cause and effect, and more.
A stimulating environment encourages curiosity and creativity, which can have lasting benefits into adulthood.
2. How Do I Set up an Infant Daycare Room?
Safety and development are essential when setting up an infant daycare room.
Choose soft, soothing colors for walls and add wall decals or murals for visual interest.
Invest in age-appropriate furniture and equipment, such as a comfortable changing table. Incorporate learning activities, such as toys and sensory materials, into the room setup. Utilize defined areas for rest, play, and meals, and provide staff training to ensure safety guidelines are followed.
3. How Do I Make My Infant Comfortable in Daycare Center?
Creating an inviting environment is essential to make your Infant feel comfortable in daycare. Ensure their daycare room is well-lit, with comfortable furniture and age-appropriate toys and activities.
Introduce new caregivers to your Infant a few days before they start daycare so they can get to know one another. Provide familiar objects from home to make them feel secure in their new environment.
4. What Are the 4 Basic Needs of an Infant?
The four basic needs of an infant are love and nurturing, nutrition, sleep and rest, and stimulation. Infants need a safe and secure environment to learn, explore, and form meaningful relationships with caregivers.
They require regular meals and adequate sleep to develop physically and mentally. Stimulation is essential for infants, as this encourages learning and cognitive development.
Conclusion
Creating a fun, educational space for them at the daycare center is essential to give babies and infants the best possible start in life. It means making sure the room is safe, cozy, and full of exciting things to explore.
Use these guidelines to ensure that your Infant's needs are met and that they feel comfortable in their new surroundings. You can help your Infant develop and learn in a secure, stimulating environment by setting things up correctly.
I would appreciate your suggestions and feedback on my blog post about infant daycare setups.