Home Daycare Schedule Ideas: List of Important Things to Consider and Sample Schedules
Are you anxious about creating the ideal home daycare schedule? Find out the easy-to-follow home daycare ideas and schedules.
A home daycare schedule includes three things:
Time Frame for Napping
Time Frame for Feeding
Time Frame for Activities
Keep reading to get your hands on a ready-to-implement, age-appropriate, and healthy daily schedule for kids at home daycare.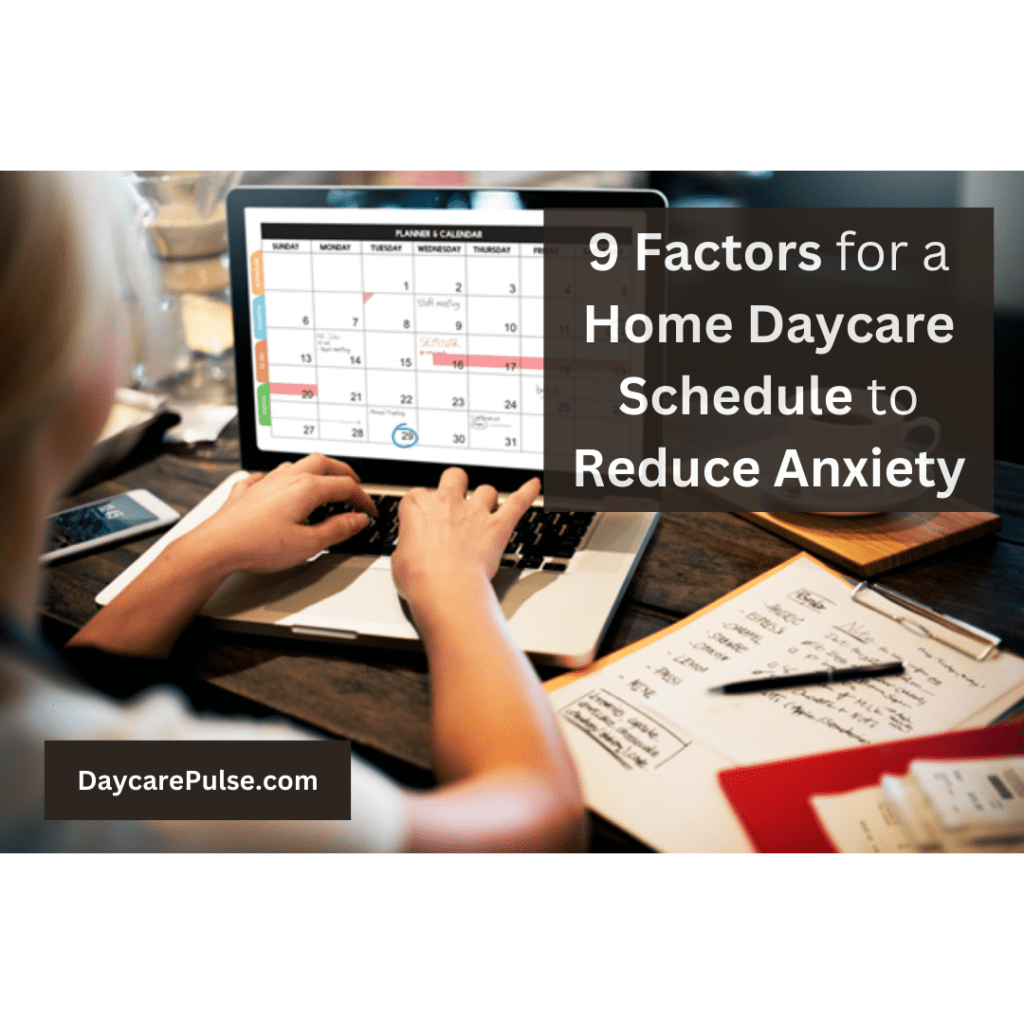 9 Things to Consider for Home Daycare Ideas and Schedules
A daily home daycare schedule is your ideal companion when it comes to running a home daycare. This shows that setting a plan can keep your work organized.
1. Arrival and departure
In order to make your daycare more organized, set a fixed schedule for the arrival and departure of children.
Moreover, kids and parents are greeted when they arrive so that they know they are welcome, letting parents feel that their children are in safe hands. Then, at the departure time, the children are neat and ready to go at the specified time.
2. Meals and Snacks
Kids will get healthy snacks and meals on time, depending on their age and interests.
Different types of healthy snacks at daycare
Yogurt is one of the healthy snacks offered to children at a daycare. It is rich in protein and should be provided in the morning.
There are cheese, grain crackers, and veggie sticks for a healthy protein that suits all kids.
Children are provided with various types of fruits, like bananas, berries, raisins, apples, and oranges, as a snack in the evening.
The Deli Meat Roll is suitable for kids and is free of nitrate. It is offered with crackers as an evening snack.
Read more about daycare menu snack ideas here: http://www.daycarepulse.com/daycare-snack-menu-ideas/.
Indeed, there are daycare menu ideas for breakfast, lunch, and snacks.
3. Appropriate Time for Snacks
By managing the time of providing snacks to children at the daycare, lets them get a healthy lifestyle. As daycare providers, there is a need to set a daily routine for offering snacks. For example, there is a snack between breakfast and lunch, another one between lunch and dinner, and an optional one at night. In this way, children can preserve their energy levels and be supplied with nutrients.
4. Diapering and Dressing
You have to check the diapers of children every hour. Indeed, make sure they are changed when they are wet. Therefore, kids will be uncomfortable. Indeed, cleanliness and neatness are important here while dressing as well.
5. Napping Time
In order to ensure that kids feel relaxed and safe during their napping time, dim the lights and create a calm environment.
6. Time for Free Play
Let children feel as if they are at their own home when they are at the daycare by providing them with free time to do whatever they want.
7. Developmental Activities
Children's abilities need to be improved. That's why the main mission of the daycare provider is to develop some important activities, like playing, movement, music, painting, and reading.
8. Indoor Activities
Jumping activities
Yoga for kids
Pattern blocks
Coloring
Arts and crafts
Blowing up balloons
9. Outdoor Activities
Ball play
Bike rides
Obstacle course
Freeze dance
3 Samples of a Home Daycare Schedule for Infants
Setting a daily home daycare schedule for infants aged between 6 weeks and 18 months is important. This assures a balanced lifestyle for kids. Taking children's needs into account also aids in planning a successful schedule. The best schedule includes diapering, feeding, and napping.
1. Sample Schedule for Infants
Arrival Time in the Morning
The time is set by the parents and home daycare providers. Also, parents need to be cooperative with the daycare provider by telling her some things about the child.
Schedules according to the age of the child
This is why it is important to set daily activities for each age group. The schedule includes a mix of playing activities and the learning process.
Napping – It should be directly related to the napping routine of the child at home. In this case, the schedule must include one or more naps per day. Indeed, there should be naps in the morning and in the afternoon.
Diapering – In order to maintain neatness, the diaper is changed every 2 hours.
Mealtime – Each infant has a certain time to be fed. That's why you need to ask parents about suitable times for feeding it in the morning, during the day, and in the afternoon. For example, start with a breakfast meal that is full of calcium and then give them snacks.
Read this blog for lunch ideas for daycare: http://www.daycarepulse.com/lunch-ideas-for-daycare/
Also, you can read about the things that infants do at daycare at http://www.daycarepulse.com/what-do-infants-do-at-daycare-inside-scoops/.
The following table includes an example of the ideal schedule for infants.
Morning Schedule (a.m.)
Arrival and breakfast
Diaper change after half an hour
Playing in groups includes singing songs, telling stories, playing with puppets, and engaging in solo play.
Preparing for a nap includes a morning snack and a diaper change.
Afternoon Schedule (p.m.)
Nap time
Lunch and then outdoor time for 1 hour according to weather conditions in the state
Another nap for an hour and a half
Communication, cognitive, social, and emotional activities
Free play, snacks, and checkouts
2. Sample Home Daycare Schedule for Toddlers
There is a consistent home daycare schedule for toddlers to maintain a well-organized atmosphere throughout the day.
Read about cold lunch ideas for toddlers here: http://www.daycarepulse.com/cold-lunch-ideas-for-toddlers-at-daycare/
The age of toddlers ranges from 1 to 3 years old. With the following schedule, home daycare providers and toddlers will feel relaxed. Have a look at the following well-planned table that includes an amazing schedule for toddlers.
Morning Schedule (a.m.)
Arrival at the daycare and checking with parents
Breakfast and cleaning up after 1 hour from arrival
Playing games in groups after one hour
Learning new things
Outdoor activities, including gross motor activities, for half an hour
Afternoon activities schedule (p.m.)
Lunch and then, after an hour, include arts and crafts
Outdoor activities depend on the weather.
After that, plan on taking a one-hour nap.
Then, nap for 1 hour.
Snack
Fine motor skill activities
Music and signing time
Freetime, and then prepare for pickup.
Report for parents
3. Sample Home Daycare Schedule for Preschoolers
The age of preschool children ranges between 3 and 5 years old. When you understand the preschoolers' interests, you will have a clear idea about the activities that they like. This will help you set an interesting and convenient schedule. The table below is a great example of the schedule for preschoolers.
Morning Schedule (a.m.)
Arrival
Breakfast and cleaning after 1 hour
Group activities for 1 hour
Individual activities for half an hour
Outdoor activities for half an hour
Afternoon Schedule (p.m.)
Lunch time
Handwriting and coloring activities for 1 hour
Free activities and nap time preparation
Naptime for 1 hour
Snack time
Arts and crafts time
Watching interactive videos and listening to music
Pickup preparation
Departure
Daily Licensing Requirements
If you are planning to open your own home daycare center, you need to take the following points into consideration.
Keep in mind the laws and regulations for running this business on your own in your country.
Make sure that you have a healthy and safe place for children to do things like handwashing, routine cleaning, sanitation, diapering, napping, and rest.
Provide a high-quality diet and three meals per day with high nutrition standards.
Read this blog for more information: https://childcare.gov/consumer-education/child-care-licensing-and-regulations
Frequently Asked Questions
What hours are most daycares?
The typical daycare hours are from 7 a.m. to 6 p.m.
How do I set a routine in childcare?
You can set the following easy routine: arrival time, cleaning time, activity time, nap time, and departure time.
What should infants do at daycare?
Infants need to be provided with suitable care to enhance their development. For example, there is art, reading, doing outdoor activities, discovering the surrounding environment, and learning languages.
What is a typical day at daycare?
A typical day at the daycare includes all activities and routines, from breakfast to playing, napping, diapering, outdoor activities, and arts and crafts. All these activities are done from arrival to departure.
Conclusion
Having a home daycare schedule is necessary for home daycare mothers to facilitate work. By following the above schedule and steps, you can manage your time, relax, and enjoy your work.
Have an inspirational day during the daily routine of daycare!