An exciting new way to provide nutritious snacks for the children of your daycare! By selecting easy and delicious snacks, you can be sure that each child will get the necessary nourishment.
Look no further if you're running a daycare and need some exciting snack ideas that kids and adults will love! This blog is full of delicious recipes & healthy snacks to make eating time enjoyable for everyone.
Offer a variety of fruits, vegetables and whole-grain options.
Provide protein-rich snacks.
Consider offering healthy snacks and avoiding sugary drinks or snacks.
Make sure all the snacks you offer accommodate allergies.
Pack the snacks in easy-to-open containers or bags for little hands.
Create a rotating schedule so kids can enjoy the same snacks daily.
Need some inspiration for healthy and yummy snacks that you can pre-pack for your kid's daycare? We've got the perfect solution to get your creative mode on. From simple, nutritious recipes to tasty alternatives, these snack ideas will make it easier than ever before to nourish young minds!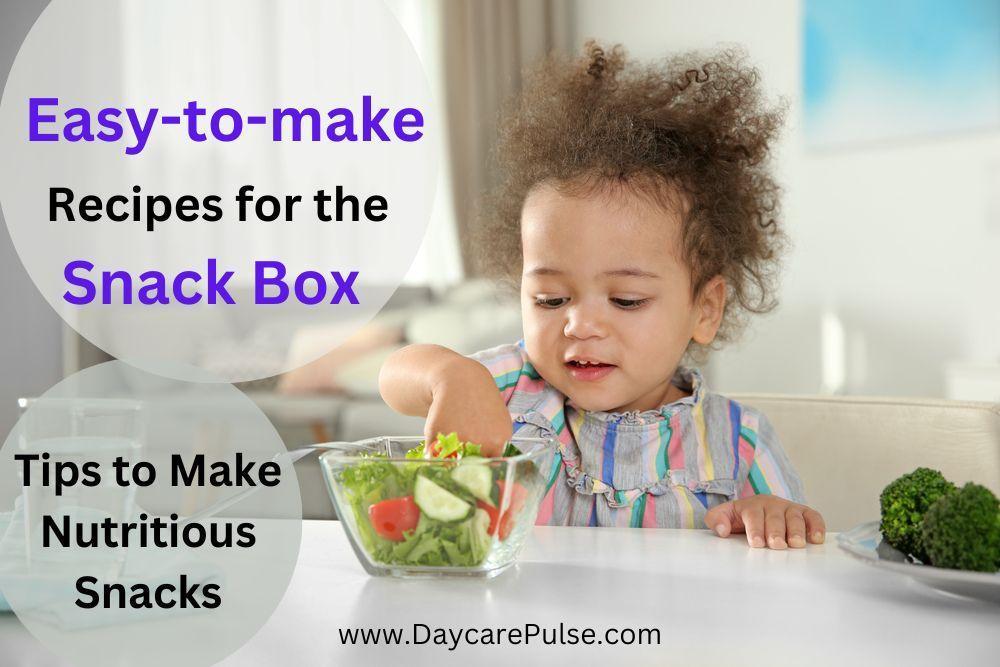 Easy and Healthy Snack Menu Ideas
When it comes to daycare, parents want the best for their children. However, finding easy and healthy snacks for the kids can be challenging. It doesn't need to be that way, though!
Tasty snack-time options like:
Apples and peanut butter.
Sliced vegetables with hummus.
Granola bars.
Yogurt.
Toast with avocado.
Trail mix with dried fruits, nuts and seeds.
Veggie sticks with hummus.
Whole grain crackers with cheese slices or peanut butter.
Yogurt parfait with granola, fruit, and honey.
Fruitsicles (fruit popsicles).
Veggie omelet muffins.
Smoothie bowls made with yogurt, fruit, and granola.
Banana and nut butter sandwiches.
Popcorn with melted dark chocolate.
Rice cakes with avocado slices or peanut butter.
Baked oatmeal squares with dried fruit and nuts.
Mini pizzas made with whole wheat tortillas.
Zucchini bread slices.
Get creative and have fun with it – try cutting fruit into shapes or constructing simple sandwiches from whole-grain bread and your kid's favorite ingredients. By packing these nourishing snacks in their daycare lunchboxes, you'll give them a power-up for the day ahead and establish healthy eating habits that will last!
Easy Recipes for Snack Box
If daycare kids and their adult supervisors are looking for a quick snack they can all enjoy, look no further. Here are two tasty – and budget-friendly – recipes that everyone will love!
Start with Mama's Chocolate Peanut Butter Fudge:
Simply melt 2 cups of semi-sweet chocolate chips and ¼ cup butter in a saucepan over low heat.
Add 1 cup of peanut butter and stir until your mixture is creamy.
Pour the fudge into a greased 8×8 inch pan, and cool it in the fridge or freezer.
Then cut it into squares.
Or if you're looking for something that perhaps packs a more nutritional punch.
Try the Apple Sandwiches:
Spread a smear of peanut butter onto thinly sliced apple slices and place them together like sandwiches. Both recipes are easy to make ahead at home or pre-assembled at daycare, leaving plenty of time for cookies and play!
Daycare Snack Ideas Related to Age Groups
Daycare snacks should be tailored to the age groups of the children in care. For young children, finger foods are ideal as they help develop fine motor skills and encourage self-feeding.
| | |
| --- | --- |
| Daycare Snack Ideas for Infants | Daycare Snack Ideas for Toddlers |
| Vegetable sticks with hummus or yogurt dip. | Whole grain crackers with cheese or nut butter. |
| Fruit and yogurt smoothies. | Trail mix with dried fruits, nuts and seeds. |
| Cheese cubes, boiled eggs. | Soft-boiled eggs. |
| Oatmeal bars made with rolled oats. | Banana muffins. |
| Shredded apples, banana, and nut butter. | Rice cakes topped with peanut butter or avocado slices. |
Tips to Make Nutritious Snacks
If you're looking for healthy snacks to provide daycare kids, the key is ensuring they're both nutritious and filling.
Use healthy ingredients like whole grains, fruits, and vegetables whenever possible.
Look for recipes that are low in added sugars and trans fats and high in essential vitamins and minerals that keep kids energized throughout the day.
Create fun shapes or characters from items like fruit slices or cucumbers to make the snacks look more appealing to your little daycare students!
It's also important to pay attention to portion sizes – when snack time comes around.
Ensure there's enough on the plate but not too much so that kids can discover their appetite and learn when they're full.
Special Occasion Snacks
Even when their parents cannot be present, it is crucial for children attending daycare to feel valued. Sending special treats during momentous occasions can be an enjoyable and memorable way of helping your child.
Think of all the occasions you could send something extra special – birthdays, holidays, the first day of school, and more!
Thanksgiving Themed Daycare Snacks
Make the most of Thanksgiving by providing daycare kids with delicious and enjoyable snacks! To make it more fun, why not prepare apple-cinnamon muffins, bite-sized turkey sandwiches, mini pumpkin pies, sweet potato fries or roasted acorn squash?
Further, spark their creativity by cutting out shapes from nutritious ingredients such as carrots and celery. Get imaginative and craft snacks into an art form with a Fall theme.
For instance, you are transforming apples or cheese slices into pumpkin shapes, crafting sandwiches in the form of turkeys and even creating a cornucopia filled with fresh fruit! Above all else – enjoy yourself! Incorporating healthy Thanksgiving treats into your daycare will undoubtedly bring joyous smiles from the little ones.
Halloween Themed Daycare Snacks
Halloween is the perfect time to get creative with snacks for daycare! Instead of providing sugary treats, you can make healthy and festive snacks that are just as fun.
For example, carve an orange into a jack-o'-lantern shape, stuff it with yogurt or hummus, and add some eyes, nose and mouth with colorful fruits and veggies. Or try making a simple ghost snack with banana slices, mini chocolate chips, and some marshmallow fluff for the eyes!
For something even simpler, use cookie cutters to make spooky shapes out of sandwiches or cheese slices.
Importance of Snacks in Daycare
Daycares are an essential part of many families, giving a safe and educational atmosphere for kids to form relationships and learn. Therefore, daycare snacks should be nourishing and healthy.
Incorporating vegetables into the snack offering helps children foster sound dietary habits by introducing them to wholesome food choices from a young age.
This early exposure also helps build a positive relationship with vegetables that have been shown to carry into adulthood.
Frequently Asked Questions
What food should I send to daycare?
To ensure that your little ones receive a healthy and balanced meal while at daycare, incorporate foods from all the major food groups – fruits, vegetables, grains, proteins and dairy.
Aim for variety, too; don't just send one type of food item, as this will not provide them with adequate nutrition. Additionally, select easy items for kids to eat so they can enjoy their meals!
What is a sensible snack?
4 Best options for healthy snacking are:
Fruits and vegetables.
Whole grains.
Nuts and seeds.
Low-fat dairy products.
Do daycares provide snacks?
Whether or not daycares provide food depends on the individual center. Some daycares offer meals and snacks to their students, while others only offer snacks. You could inform the daycare about your child's allergies to avoid accidents.
Sometimes, the parents are responsible for providing their children with meals and snacks because of the daycare's policies. Before you enroll your child in a daycare program, you can contact the center and find out what food and snacks are provided.
Which snack is not allowed?
In daycare, it's important to ensure that the snacks provided are healthy and safe for all children. Since kids can be picky eaters, some snacks may not be allowed due to potential food allergies or dietary restrictions. Some of the most common snack items that are not allowed in daycare include:
Candy or sugary treats.
Peanut Butter or other nut butter and products containing nuts.
Unpasteurized juices or dairy products.
Processed meats such as hot dogs and lunch meat.
Certain fruits and vegetables, such as whole grapes or sliced apples, may pose choking hazards.
How do you pack snacks?
Packing snacks carefully to avoid any spillage, you can follow these guidelines:
Cut the food into smaller bites.
Arrange food to make it look more attractive.
Get a tight-lock lunchbox.
Use a lunchbox with several compartments.
Send hot or cold food items in a thermos. Put ice packs for cold food like yogurt.
Carefully mark your child's name and possible allergies on the top of the box.
Conclusion
Daycare snacks are an important part of a child's day, providing them with the energy and nutrients they need to power through their activities. With a little planning, it's easy to pack healthy and delicious snacks that will satisfy your kids – and you!
Keep these tips in mind when choosing snacks for daycare: go for nutrient-rich foods, ensure they're filling, and simple is often best. And remember to include a few treats now and then!
Happy snacking!