Lunch Ideas for 10 Month Old in a Daycare
Daycare center offers an array of nutritious vegetables to fuel young growing minds, including sweet potatoes, carrots, squash, broccoli, cauliflower and spinach.
They offer them in various forms–baked or mashed veggies, cooked and served with sauces, even pureed for a smoother texture, easier to eat by the youngest children! Every meal includes a protein-rich food such as yogurt or beans and grains like pasta, bread and rice.
10 tips to make sure your child is getting enough nourishment at daycare. Take a look below at foods that your 10-month-old can eat.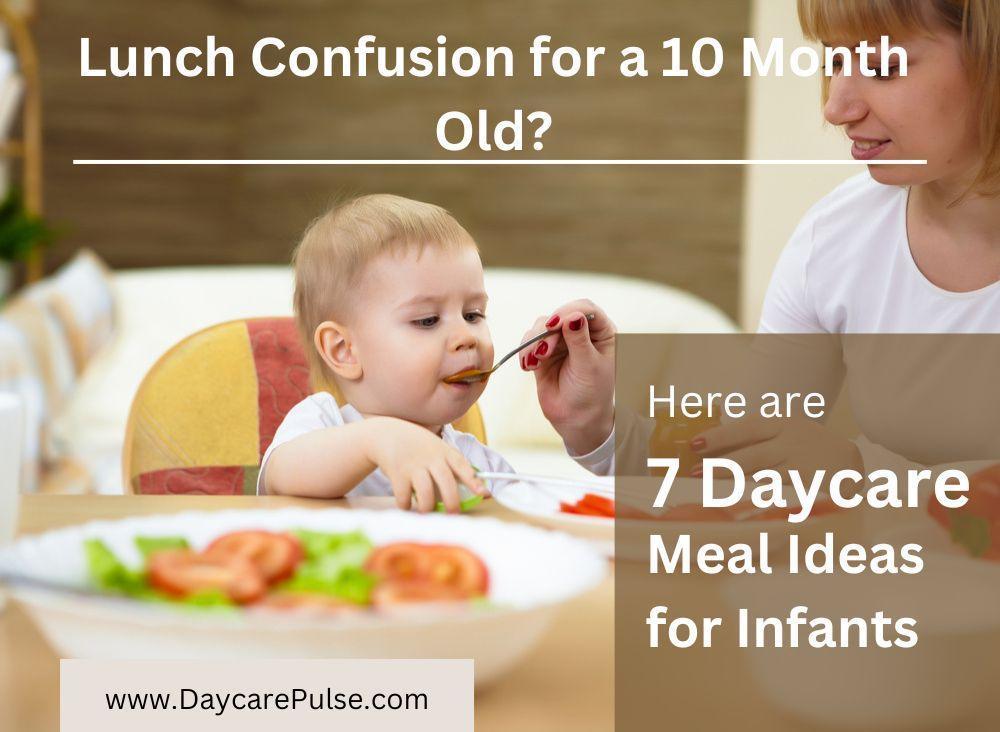 7 Daycare Meal Ideas for Infants
We understand your worry regarding the lunch provided at daycare. Either it's consumable by a 10-month-old or not. Don't stress that registered daycares are authorized to provide food according to the age group.
Vegetable Rice Bowl: Cook a mixture of vegetables such as peppers, onions, and mushrooms with cooked rice. Add in some shredded cheese for extra flavor.
Mac and Cheese: Make your own healthier version of mac and cheese by adding cooked vegetables such as broccoli or peas.
Vegetable Soup: Use fresh or frozen vegetables like carrots, celery, and zucchini in a delicious soup with some broth.
Baked Potato: Bake a potato in the oven, then top it with steamed vegetables, cheese, and Greek yogurt.
Smoothies: Blend frozen fruits with Greek yogurt for a delicious and nutritious drink.
Egg Muffins: Mix cooked eggs with vegetables and cheese for a yummy lunch.
Fruit and Yogurt Parfait: Layer plain Greek yogurt with fresh or frozen fruit, then top it off with some granola for a nutritious snack.
What Can a 10-Month-Old Baby Eat?
Daycare centers are responsible for your child's nutritious and healthy meals. They are also held responsible for feeding the right kind of food to the right age. Let's discuss the food items that a 10-month-old can and can't eat.
A 10-month-old child needs around 920 kcal for boys and around 865 kcal for girls.
Meals of a 10-month-old consists of 3 meals and 2 healthy snacks per day with 2-3 nursing sessions or bottle feeding. American academy of pediatrics has recommended avoiding feeding the infant low-iron milk or cow's milk.
Here is a table of food to feed your child:
| Food Items a 10-Month-Old Can Eat | Food Items a 10-Month-Old Can't Eat |
| --- | --- |
| Purees: Vegetable purees like sweet potato, squash, carrots and green beans. | Honey or unpasteurized dairy products. |
| Soft fruits: Banana, avocado, peaches, soft pears or plums. | Food with large chunks (e.g., nuts, popcorn, hard candy). |
| Soft-cooked: vegetables such as zucchini, spinach and broccoli. | Food with added sugars or sweeteners. |
| Grains: Cooked oatmeal, quinoa and couscous. | Raw eggs, fish, shellfish or meat. |
| Dairy: Soft cheese, plain yogurt and cottage cheese. | Beverages that contain caffeine (e.g., coffee, tea). |
| Meat: Well-cooked chicken, beef or fish. | Processed meats (e.g., hot dogs, sausages). |
| Legumes: Cooked lentils, beans and chickpeas. | Egg whites. |
| Eggs: Soft-boiled egg yolks for 10-month-olds (avoid uncooked eggs). | Overly salty foods (e.g., chips, pretzels). |
| Starch food: Pastas, bread. | Sugary desserts and snacks (e.g., cakes and cookies). |
By avoiding these foods for a 10-month-old, parents can be sure their child is getting the nutrients they need without exposing them to potential dangers.
Easy to Make Recipes At Daycare
At daycare, it's important to provide meals for your little one that is both healthy and delicious. Fortunately, many easy recipes can be made for a 10-month-old that will satisfy and nourish!
Getting vegetables into their lunch is especially important, and it's so much easier; roasting makes them delicious. Try adding roasted vegetables like zucchini, peppers and sweet potatoes with some cooked beans or lentils for a protein boost.
Another tasty meal includes cooked quinoa with vegetables, shredded cheese, cream and an egg – this is sure to keep any 10-month-old full of energy!
With just a bit of preparation, you can ensure your daycare lunch ideas are filled with fresh ingredients and healthy goodness.
Tips to Ensure Infants are Getting Enough Nutrition
Ensuring your 10-month-old has a healthy and nutritious lunch is essential for optimal growth and development.
Offer variety by introducing new foods or flavors each week.
Check the nutrition label on packaged food to ensure it is low in sodium and sugar.
Limit processed carbohydrates such as white bread and pasta.
Offer finger foods such as cut-up vegetables or fruits to help them gain independence with eating.
Ensure your child is hydrated by packing water or unsweetened drinks in their lunchbox.
Discuss with daycare staff about food allergies to ensure that meals are tailored for your little one's safety.
Adding vegetables like puréed squash or peas to rice and pasta dishes is a great way to work vegetables into lunch.
You can also pack an extra snack if your child likes something other than what is served on any particular day.
Ask about vegetables, protein sources, and other nutrient-rich foods so you can be sure your little one will get plenty of wholesome nutrition during their lunch hour at daycare.
A great way to ensure that your child is provided with a healthy balanced meal from the daycare center. Meet with them beforehand and go over a menu ahead of time.
Importance of Healthy Eating at Daycare
It's no secret that nutrition is one of the most important aspects of a child's growth and development. Eating healthy meals at daycare helps ensure that your 10-month-old is receiving all the nutrients they need to grow up strong and healthy.
Children are still developing their taste palates at this age, so it's important to provide them with various foods.
Benefits of Healthy Eating at Daycare
Eating a healthy, nutritious meal is an important part of any child's day, especially during their first year. The daycare center at which your 10-month-old attends understands the importance of providing a balanced diet and delivers it right to your little one.
Not only does it give you peace of mind knowing your child is eating nourishing meals, but it also gets them exposed to different flavors that may not be available at home. And with meals tailored specifically for this age group, rest assured your 10-month-old will have plenty of energy for the rest of their day!
Encourage Parents to Consult a Dietician
Parents should talk to their child's doctor about any dietary concerns before beginning to adhere to the meal plan provided by the daycare center. This will allow them to feel more confident that their infant is getting the right foods in the right amounts and ensure they grow up healthy and strong!
Frequently Asked Questions
How much solids should a 10-month-old eat?
As parents, it is essential to ensure that your 10-month-old child is receiving an adequate amount of solids for growth and development. The number of solid foods a 10-month-old should consume daily depends on their age, appetite and size; usually, an average estimation would be 6 – 8 ounces per day.
What can I give my 10-month-old for lunch?
Lunch is an excellent opportunity for your little one to get the nutrition they need throughout the day. At this age, you can introduce soft, cooked or pureed foods such as chopped vegetables, pieces of cheese, mashed potatoes, and cooked grains like quinoa and oats.
Soups with pureed vegetables are also a great option for lunch. You can try beans, lentils, fish, eggs or tofu for proteins. Additionally, remember to offer them dairy products at least once daily.
Which food is good for a baby's weight gain?
In general, foods that are high in healthy fats and proteins are the best for helping your 10-month-old baby gain weight. Avocado, peanut butter, yogurt, cheese, eggs, fish, nuts and seeds are all foods that are great for this purpose.
How do I know if my 10-month-old is eating enough?
A good way to gauge if your child is eating enough is to monitor their weight, as a steady increase over time suggests they are receiving the right amount of nutrients. You can also observe their energy levels; a tired infant usually means they are not eating enough.
If you notice any changes in your appetite, or if your 10-month-old has trouble gaining weight, seek advice from your pediatrician as soon as possible.
Conclusion
We hope this blog post is helpful to you. Introducing your child to various healthy foods at the daycare center is a great way to ensure they get the nutrition they need. Talk to their doctor if you have concerns about your child's diet. And finally, remember to try out some of our nutrient-packed lunch recipes!