Daycare Menus Breakfast Lunch and Snack Ideas
Looking for inspiration for what to serve your little one for breakfast at daycare? Here are some great ideas to get you started! From easy and healthy options to fun and festive treats, there's something here for everyone. And with these recipes, you can be sure that your kids will start their day off right!
Start your kids' day off right with a nutritious and delicious breakfast! Breakfast burritos, sandwiches, oatmeal and smoothies offer an array of simple options to prepare and keep your children satiated throughout the morning.
They'll be energized for whatever adventures the day holds! Many Ideas to add in your daycare menu also easy to prepare at home. A variety of nutritious meals to select from veg and non veg options for your child.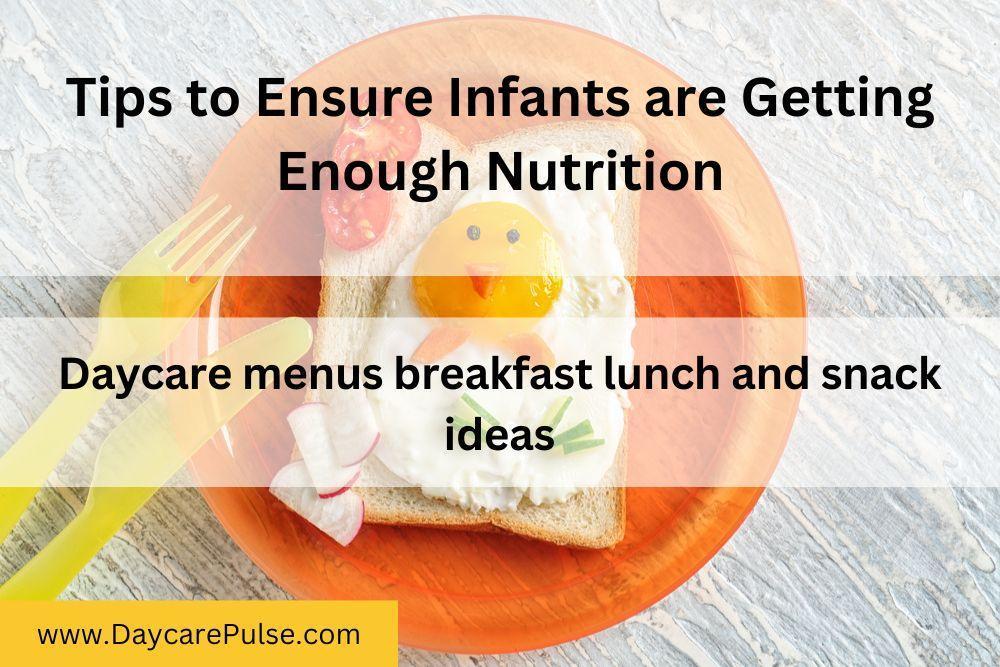 Vegetarian Breakfast Ideas
1. Oatmeal With Fruit and Honey
A healthy and enjoyable start to the morning is important for children, especially when attending daycare. Oatmeal with fruit and honey offers a delicious solution that can give kids the nutrition they need for energy throughout their day!
Daycare providers can provide all of these ingredients to make this classic breakfast easily accessible so each child can begin their day feeling satisfied and energized.
2. Pancakes With Syrup
Start the morning with an irresistibly delectable and nutritious stack of pancakes for all little ones in daycare! Put some extra pep into them by introducing vegetables to the batter before cooking.
Or, top these warm treats off with fresh fruit instead of syrup. This delicious combination provides a much healthier breakfast option everyone can enjoy!
3. French Toast With Berries
French toast with berries is an all-time favorite for daycare centers, providing a great way to fuse nutrition and flavor. Daycare staff can get creative in the kitchen by adding different fruits that kids love, creating a balanced meal filled with energy and nutrients to start their day off right!
To take this classic dish up another notch, various vegetables can be incorporated into French toast creations to cater to toddlers and teens.
4. Cereal With Milk
Let's kick-start your daycare with a wholesome yet flavorful breakfast! By providing vegetables like carrots and celery alongside cereal and dairy, everyone can enjoy the perfect balance of sugar and nutrients.
Not only is this delicious start sure to please all ages at the daycare, but it will also ensure that every person can have an amazing day full of energy!
5. Yogurt With Granola and Fruit
What better way to kickstart your day than with a nutrient-packed breakfast? Daycare centers need healthy meals to fuel young minds and bodies – yogurt, granola and fruit are ideal!
Yogurt offers protein, whole grains, and fruits that deliver essential vitamins, minerals and antioxidants. Kids especially love the rainbow of colors from blueberries & strawberries mixed in their morning meal; it's sure to be a hit at daycare!
Non-Veg Breakfast Ideas
For those looking for non-vegetarian breakfast ideas for daycare, here are some great options to choose from:
6. Scrambled Eggs With Toast
Daycare breakfast got easier with the wholesome, delicious power of scrambled eggs and toast! Not to mention it's easy to customize this classic combination with nutrient-rich veggies like peppers and kale. Kids love eggs, so you can count on hearty smiles in the morning – every time!
7. Egg Sandwich
An iconic breakfast of eggs is a delicious meal that both kids and adults will adore. It has an irresistible crunchy texture and salty flavor, and it's also brimming with protein – providing your little ones the energy they'll need to power through their day!
8. Cheese on Toast
A cheese sandwich makes a delightful meal that children will adore – plus, you can easily boost the health benefits of this dish by including some vegetables! The added nutrients are sure to be appreciated by both young ones and their caregivers alike.
9. Breakfast Burritos
Making a delicious and filling breakfast for your family has never been simpler. With just a few ingredients (eggs, cheese and vegetables), you can make personalized burritos that everyone in the house will love! Make each one unique to satisfy all of your children's tastes.
10. Breakfast Pizza
Transform your classic pizza into a delicious breakfast treat! Whether you opt for gluten-free or whole wheat crust, top it with sauteed eggs, then sprinkle cheese – to give kids (and the adults!) an enjoyable morning meal.
11. Scrambled Eggs
Create a delectable and nutritious meal with ease! Add vegetables such as mushrooms or spinach to the scramble for extra flavor and vitamins for an even more nourishing feast.
Vegetarian Snack Menu Ideas
Daycare centers now provide vegetarian snack options to meet the needs of all parents and children. Here are a few ideas that not only taste great but are also healthy and easy to prepare:
Fresh Fruit and Vegetables With Hummus Dip
The classic combination of fruits and vegetables pairs perfectly with the rich, creamy hummus. Apples, oranges and bananas are excellent options for dipping, while carrots, celery and cucumbers also make delectable accompaniments.
Trail Mix
A delightful snack can be made with wholesome ingredients like nuts, seeds, dried fruit and whole-grain cereals.
Smoothies
Create a healthy smoothie with nutritious and flavorful ingredients to keep your kids sipping throughout the day! Select from an array of fruits, vegetables, and fortified plant milk such as soy or almond milk. Remember to add some ice cubes to complete it!
Popcorn
Kids can't help but love air-popped popcorn sprinkled with a delectable combination of oil, salt and buttery spread or vegan Parmesan cheese.
Crackers and Peanut Butter
Incorporate whole grain crackers with nutritious nut butter such as almond, cashew or sunflower seed butter for a fulfilling snack.
Baked Beans
Canned baked beans low in salt and fat are great for packing into lunch boxes or as an afternoon snack.
For more Daycare Snack Menu Ideas.
Non-Vegetarian Snack Menu Ideas
Daycare children can have a healthy and enjoyable time while snacking on exciting non-vegetarian options. Chicken nuggets, hot dogs, cold cuts, and fish sticks are some of the finger food choices that they can devour.
To add more nutrition to their meal, serve them with fruits or veggies as sides. For something filling yet nutritious – make sure sandwiches containing protein-rich sources like cheese and cold cuts are included in the menu! All these meals should be served alongside whole wheat bread for added health benefits!
Here are some options to check for snack ideas:
Taco pinwheels.
Turkey and cheese rollups.
Mini chicken pot pies.
Stuffed peppers with ground beef, rice, and cheese.
Mini hotdogs in buns.
Cheese quesadillas with beef.
Pita pockets filled with turkey, lettuce, and cheese.
Mini hamburgers with ketchup and mustard.
Mini pizza slices made with turkey pepperoni.
Chicken tenders with various dipping sauces.
Meatballs served with barbecue sauce.
Fried fish sticks served with tartar sauce.
Hard-boiled eggs with a side of ketchup or mustard.
Fried mozzarella sticks served with marinara sauce.
Corn dogs served with honey mustard dip.
Baked chicken nuggets served with ranch dressing.
Read for more snack recipes.
Lunch Menu Ideas
Crafting delicious and nutritious lunch menus for daycare can be difficult. After all, finding something that appeals to a diverse range of palates takes work! However, don't despair—plenty of yummy dishes out there will please even the pickiest eaters. So why not give them a try?
Here you'll find a wide variety of quick and easy sandwich recipes and more complex meals that will offer kids an enjoyable yet healthy option at lunchtime. So please take a look at our top picks and prepare delicious food they can savor during their break!
Veg Lunch Menu Ideas
Veggie Pizza with a whole-grain crust.
Quesadillas filled with black beans, corn, and cheese.
Vegetable Wrap filled with roasted vegetables and hummus.
Grilled Cheese Sandwich with tomato slices.
Rice Bowls topped with steamed broccoli and carrots.
Fruit Kabobs with a side of yogurt dip.
Veggie Burgers served on whole wheat buns.
Stuffed Peppers filled with brown rice and vegetables.
Portobello Mushroom Sandwiches with pesto sauce.
Vegetable Stir Fry served over brown rice or quinoa.
Chickpea Salad Sandwich with lettuce and tomato.
Veggie Wraps with hummus, roasted vegetables, and spinach leaves.
Mixed Green Salad topped with a variety of chopped veggies.
Pasta Primavera is made with whole wheat noodles and fresh vegetables.
Non-veg Lunch Menu Ideas
Non-veg Lunch Menu Ideas for toddlers can be an easy and nutritious way to ensure they get the vitamins and minerals they need to stay healthy. Here are some delicious non-veg lunch ideas that your little one will love:
Grilled chicken tenders with roasted vegetables – Enjoy a delicious meal of tender, succulent chicken tenders and roasted vegetables like carrots, broccoli and sweet potatoes. This delectable dish is easy to prepare in advance and can be kept frozen for up to several weeks!
Cheesy tuna casserole – Kids will be delighted by this classic and comforting dish! Simply combine canned tuna, melted cheese, cooked noodles, creamy sauce, and crunchy breadcrumbs for an irresistible flavor.
Fish and chips – Treat your kids to delicious homemade fish sticks or go the conventional route with a frozen bag and side it up with french fries, tartar sauce, and coleslaw for an unbeatable combination.
Quesadillas – Turn dinner into a fiesta with this kid-friendly Mexican meal! Simply brown your ground beef, mix some shredded cheese and diced tomatoes, and stuff it inside a tortilla before tossing it on the grill. Once that cheese starts melting, get ready for smiles across the table!
Fried rice – Fried rice is a favorite for children of all ages! To make this delicious dish, cook brown or white rice with eggs, diced vegetables and any type of meat you'd like. Then add some soy sauce to give it an extra kick of flavor. You'll have the perfect meal in no time!
Sandwich sliders – Make mini sandwiches using whole wheat bread and lean meats like turkey or ham. Add cheese, lettuce, tomatoes and your favorite condiments. Serve with a side salad or steamed veggies.
Egg Salad Sandwiches – Kids love this classic lunch option – egg salad! To make it, simply scramble a couple of eggs and add them to a bowl with diced celery, pickles, onions, mayonnaise, Dijon mustard and seasonings. Put the delicious mixture on whole-grain bread slices or croissants for an unforgettable meal.
Beef and Bean Burritos – This nutritious and delicious meal will bring your little ones back for seconds! Begin by stirring together cooked ground beef (or turkey) with black beans, corn, chopped tomatoes, diced bell peppers, and a mixture of Mexican spices.
Then wrap the combination in whole-wheat tortillas and serve with salsa, sour cream, and shredded cheese to boost the flavor. Your kids are sure to love it!
Read for more Lunch Ideas for 10 Month Old in a Daycare.
Tips to Ensure Infants are Getting Enough Nutrition
Gradually add solid foods to your infant's diet as they reach their milestones.
To ensure your meal plan is wholesome and nutritious, provide a variety of vitamins, minerals, carbohydrates and other nutrients in the food you serve.
Explore the possible advantages of introducing probiotics into your infant's daily routine and discover a new way to optimize their health.
Introduce your children to iron-fortified cereals, meats, poultry, beans and dark leafy greens for nutrient-dense meals high in iron!
To reap optimal nutritional benefits, incorporate many nutritious fat sources into your kid's diet, including avocados, nuts, seeds and fish.
Ensure your child's diet is properly nourished with enough calcium from dietary sources such as dairy products and fortified foods.
Steer away from providing your infant with unhealthy or "junk" foods that could disrupt their balanced nourishment.
If you are worried about your baby's nutrition or observe any signs of lack, seek medical advice immediately.
Ensuring that your baby is sufficiently hydrated is essential to maintain their health. Give them adequate amounts of water every day, and watch out for signs of dehydration!
Frequently Asked Questions
What Snacks to Bring to Daycare?
Parents searching for snacks to provide their children at daycare should consider healthy, convenient options. Fruits and vegetables such as:
Apples, oranges, carrots, celery sticks, grapes, yogurt, cheese cubes, nuts, seeds and whole grain crackers.
What Are the Light Things to Eat for Breakfast?
Kids don't enjoy a heavy breakfast, so here are some options for a light breakfast:
Toast with jam and honey, pancakes with warm peach sauce, scrambled eggs with toast, Fruit smoothie, and ready-to-eat cereals with warm or cold milk.
For more information Daycare Breakfast Menu Ideas.
Is Yogurt Enough Breakfast for a Toddler?
Whole milk yogurt is a nutritious and calorie-rich choice for babies and toddlers, providing them with essential nutrients such as calcium.
A 2-4 oz serving at mealtimes or snack times can be beneficial! Furthermore, yogurt is an excellent source of protein – especially since most infants and young children tend not to eat much meat.
Conclusion
We hope these meal concepts have inspired you to craft healthy menus for your daycare center. Remember, balanced nutrition is paramount in ensuring children receive the nourishment they need to reach their full potential!
Explore and invent new dishes that will delight your little ones' taste buds.