Daycare Essentials: Mastering Bottle Labels – Types and Tips
Are you searching for the perfect bottle labels to help keep your daycare organized? Look no further! We understand how vital it is to label and identify children's bottles, so we have rounded up our top selections.
Our recommendations include waterproof labels, silicone tags, printed bottle names and more – all crafted with durability.
Keep reading to learn about 6 types of labels, easy ways to select a label that suits your needs and two methods for ensuring that your chosen identification stays intact on each container.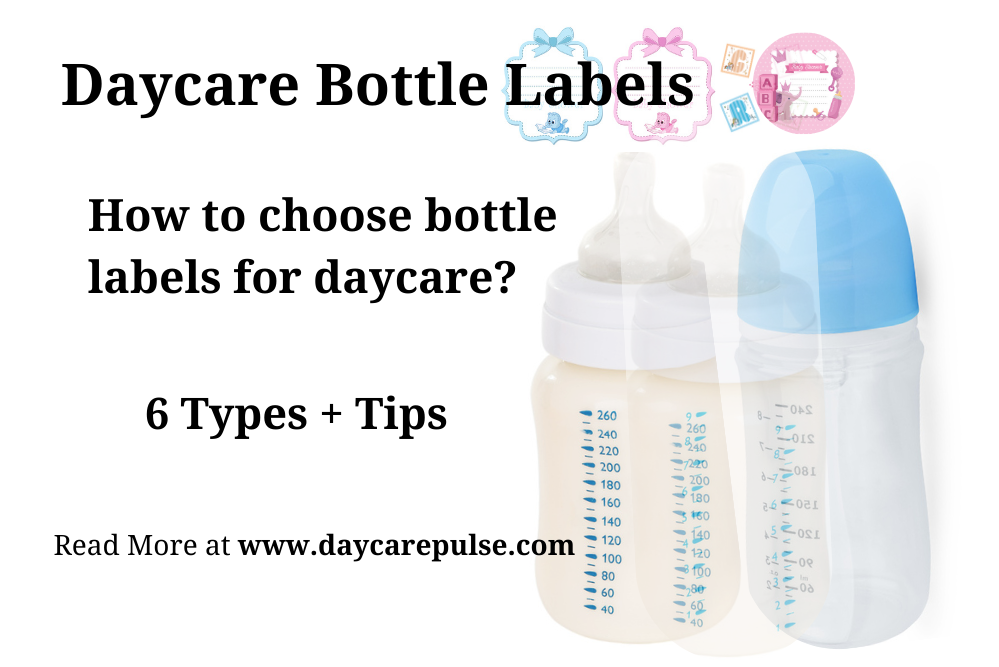 6 Types of bottle labels
1. Waterproof Bottle Labels
Waterproof bottle labels are ideal for any daycare setting. These easy-to-apply stickers can withstand everything, from dishwashers to sterilizers and more! Plus, they come in various designs that you can use to personalize each label with your child's name or special message.
Waterproof labels adhere securely on the bottles, easily withstanding wear and tear. Even after multiple uses, they won't fade or peel, allowing you to use them repeatedly. Plus, they can be wiped clean with a damp cloth in no time!
Pros:
Ideal for any daycare setting.
Withstand dishwashers, sterilizers, and more.
Various designs for personalization.
Cons:
Limited to specific designs.
Tips:
Ensure proper application for longevity.
These labels are an ideal asset for daycare centers since they make it effortless to keep bottles labeled and organized without having any concerns about them becoming discolored or soiled.
2. Silicone Bottle Labels
Durable silicone bottle labels are the perfect solution for childcare centers looking to keep their children's bottles labeled and organized. These labels won't easily wear down; they're dishwasher-safe, so you can quickly clean them when needed.
Choosing the perfect label for your child's bottle or container is made easy with these labels, available in various sizes and colors. Not to mention, they are waterproof and feature adhesive backing so that you can attach them securely.
Pros:
Durable and dishwasher-safe.
Available in various sizes and colors.
Waterproof with adhesive backing.
Cons:
May not adhere well to some surfaces.
Tips:
Check compatibility with bottle materials.
3. Reusable Bottle Labels
Reusable Bottle Labels for Daycare are essential to organizing and keeping your child's bottles identified. Constructed of strong materials, they can endure many uses over time. These are:
Dishwasher-safe
Waterproof
Available in various colors and designs
No worries about the labels fading or coming off
Reusable bottle labels can be extremely beneficial for customizing your child's water bottles, juice containers and more. These stickers come complete with a writeable surface, so you could add any additional details of choice to help ensure that the container remains identifiable.
Pros:
Dishwasher-safe and waterproof.
Available in various colors and designs.
Writable surface for customization.
Cons:
May lose adhesiveness over time.
Tips:
Regularly assess and replace for effectiveness.
4. Sticker Bottle Labels
Sticker bottle labels are an ideal solution for daycare centers. With their waterproof design and vibrant colors and designs, they make labeling simple and cost-effective.
Labels can last up to six months – so your child's bottles will be easily recognizable without the risk of being confused with another student's container. And if that's not enough, you can customize them with your kid's name and other relevant details!
Pros:
Waterproof and cost-effective.
Vibrant colors and designs.
Customizable with child's name.
Cons:
Tips:
Customize with essential information.
5. Printed Bottle Labels
If you want something a bit more durable, why not opt for printed bottle labels? You can design your own that won't cost an arm and a leg. Plus, since they're waterproof, there's no need to fret about them peeling off or losing their vibrancy over time.
Pros:
Durable and customizable.
Cost-effective DIY option.
Waterproof for long-lasting use.
Cons:
Initial setup time may be required.
Tips:
Design labels with essential information.
6. Personalized Labels for Bottles
Not only do personalized bottle labels keep daycare bottles organized and clearly labeled, but they also add a special touch that can help your child's friends become more familiar with them. These labels are the perfect way to make sure everyone knows who your little one is!
Make your child stand out with personalized bottle labels! From whimsical animal designs to vibrant and colorful choices, you can customize the perfect label for their bottles. A bonus? Include your little one's name or a fun message so they'll be quickly recognizable in daycare.
Pros:
Organize and personalize daycare bottles.
Various designs and customization options.
Waterproof and dishwasher-safe.
Cons:
The cost may be higher than other options.
Tips:
Include the child's name for quick identification.
Make your bottles stand out from the crowd with personalized labels crafted from resilient materials like vinyl and plastic. Plus, they're waterproof and dishwasher-safe, so you won't have to worry about them getting damaged or losing their vivid colors over time!
How to choose bottle labels for daycare?
Deciding which bottle labels to use can be a challenging task. But no need to worry – here are some helpful tips that will make your choice easier! Quality should remain top of mind regardless of the type of milk you're sending off with your child, whether it's formula milk, breast milk or fresh cow's milk.
Durability
To avoid time-consuming and costly hassles, choose labels made from superior-quality materials with an adhesive that can withstand multiple items of washing. Kids often make a mess, so seek long-lasting labels designed for daycare items.
Remember to check the instructions and determine if they meet your exact requirements!
Size of the Label
For identification purposes, get a label with enough space for all your child's information. You will have peace of mind knowing that the label on their belongings is secure and easy to read at daycare.
Select labels that contain enough space for basic information, such as,
Name
Date of birth
Allergies
Other medical information.
Please ensure your child is protected from medical issues by using a labeled item large enough to include all pertinent details. This will enable accurate identification if they ever require care while in the daycare center and also ensures that there's one thing you can always have with you for your stay!
Easy-To-Spot Labels
In an overcrowded daycare center, it is essential to have a labeling system that stands out. Selecting labels with vibrant colors ensures the bottle can be easily located in bustling environments. Utilizing these labels will help you quickly identify any item at daycare!
Bright colors for your labels can help ensure that daycare items are easy to spot!
Glow-in-the-dark label for a fun surprise or brightly colored stickers for easy identification.
Introducing a spectrum of vibrant colors to daycare items adds an extra cheery style and makes it easier for childcare workers to identify and locate materials quickly. No more searching around or misplacing valuable supplies: with bright labels, the daycare center will always be well-equipped!
Kids Friendly Labels
When selecting a label, ensure that it is safe for your child to use and contains no harmful chemicals or harsh adhesives. Please carefully review the labels before purchasing them to ensure that children are kept as secure as they can be while playing with their daycare items.
Selecting the ideal label for your daycare items is an indispensable choice. You seek a product that won't wear away easily and distinctly identifies where it came from and something safe enough to use around kids.
Easy to Track Labeling System
Finding an efficient way to label your child's items for daycare can give you peace of mind when packing them up and prevent accidental losses. But how do you determine which labeling system best suits your needs?
Start by assessing the frequency at which you pack things away before leaving for daycare each morning.
Something simple like clothing tags may do the trick if it's just a few days a week.
If daycare is every day of the week, more advanced methods such as printed labels might be best.
Finding the perfect labeling system can be tricky, yet with some experimentation and preparation; you'll discover one that fits your family's needs. Remember to replace your stickers regularly!
Best Materials for Daycare Bottle Labels:
1. BPA-Free Materials:
When selecting bottle labels for daycare, opting for BPA-free materials is paramount.
BPA, or Bisphenol A, is a chemical found in some plastics that can potentially leach into liquids and food, posing health risks.
BPA-free materials ensure that the labels are safe for use on bottles that come into direct contact with liquids, especially crucial for items used in daycare settings where child safety is a top priority.
Look for labels explicitly labeled as BPA-free to provide peace of mind regarding the safety of your child's belongings.
2. Non-toxic Inks:
The inks used in the printing of bottle labels play a crucial role in ensuring the safety of your child.
Choosing labels with non-toxic inks is essential as it minimizes the risk of harmful substances coming into contact with the bottle or its contents.
Non-toxic inks are typically water-based and free from harmful chemicals, making them a safe choice for items that children may handle regularly.
Prioritize labels that explicitly state the use of non-toxic inks to guarantee the well-being of your child while using labeled items.
3. Durable Adhesives:
Durable adhesives are a key factor in the longevity and effectiveness of daycare bottle labels.
Labels that use strong, long-lasting adhesives ensure that they stay securely attached to bottles, even through multiple washes and uses.
This is particularly important in daycare settings where items are frequently handled, washed, and sanitized.
Labels with durable adhesives provide the assurance that the label will remain affixed to the bottle, preventing mix-ups and ensuring the proper identification of your child's belongings.
4. UV-resistant Coating:
Daycare bottle labels are often exposed to various environmental conditions, including sunlight.
To maintain the integrity of the labels and prevent them from fading or deteriorating over time, choosing labels with a UV-resistant coating is advisable.
UV-resistant coatings protect the labels from the harmful effects of ultraviolet (UV) rays, ensuring that the colors stay vibrant and the information remains legible.
This feature is especially beneficial for labels that may be used on outdoor excursions or activities where prolonged sun exposure is likely.
How Can I Label My Baby Bottles for Daycare?
As we have discussed the above types of labels and ways to select the right bottle labels for daycare, let us take a quick look at easy ways to label bottles.
Stick label perfectly: No matter which label type you favor for your bottles, ensure that it is attached correctly. For instance, if you're using a sticker label, carefully peel off the backing paper and attach the center of the label to the bottle while firmly grasping its corners.
Add the right information: Making sure that the details on your child's label are up-to-date will guarantee it is quickly reunited with them in case of separation. Only include essential information such as their Name, Age, Address and any Allergies they have.
Frequently Asked Questions
Do I Need to Label bottles for daycare?
Yes, it would help if you labeled bottles at daycare. Labeling your bottles is essential to prevent potential health risks and ensure that each child has the correct bottle.
Choose from a wide range of options – printed labels, water-proof stickers, or personalized ones – to ensure each bottle can be identified easily and securely. The right labeling system will meet your needs for short-term or long-term use. Make sure you mark which one belongs to your kid, so everyone stays safe!
How Do I Put My Child's Name on the Water Bottle?
Tagging a water bottle with your child's name is an easy way to avoid the hassle of misplaced items at daycare. Please choose from one of the many high-quality labeling tags available, and make sure it stays securely fastened for long-lasting results.
Write their full name, age, address, and any allergies so that everything is clear in identification should everything ever go missing.
Do I Need to Label Clothes for Daycare?
Absolutely, labeling your kid's clothes for daycare makes all the difference in advancing their safety and security.
We know how chaotic it can become when many children are present; items can easily get mixed up or misplaced between them. Labeling will ensure that every piece of your child's clothing arrives back to you exactly as they left it with the center.
You can label clothes for daycare using iron-on labels, stick-on labels, or cloth labels. Be sure to include your child's name, age, and any allergies they may have on the label to ensure that their clothing is returned safely.
Read more Best Way to Label Clothes for Daycare.
How many bottles should you have for daycare?
Remember to include the necessary bottles when preparing your child's daycare bag. As a rule of thumb, you should have three containers on hand – one for each feed and an extra in case unforeseen problems arise or there are delays.
Moreover, it is crucial to properly clean and disinfect the bottles after each use and frequently examine them for any indications of wear or destruction. When you pack your child's bottles for daycare, be sure they are labeled correctly so there is the clarity with other children's belongings.
Read for more insight on How Many Bottles to Bring to Daycare?
Conclusion
Now that you know the factors to consider when selecting a labeling system for daycare, it's time to begin looking. Please keep these suggestions in mind as you explore different labels and find the one that is right for your family.
With proper preparation, you can conveniently label all your child's items and ensure they always return home safely. We thank you for taking out this valuable time!