Best Way to Label Clothes for Daycare
An exciting moment in a mother's life is when her little one finally starts to go to the daycare center; as you prepare for everything from lunchbox to clothes and even diapers, just before stepping out of the house, you dread the thought of losing your child's belongings.
We know it is hard to keep track of things you are sending with your toddler, but more than a few problems arise, such as germy mix-ups with feeder bottles or misplaced clothes.
Some of the best ways to label clothes for daycare are Sticker Labels, Iron Labels, and Cloth tags.
It can be challenging for a daycare worker to remember which item belongs to which kid accidents like forgetting are expected in a new initiative. Find 12 interesting ways to label your child's daycare clothes with products that will save you time and money.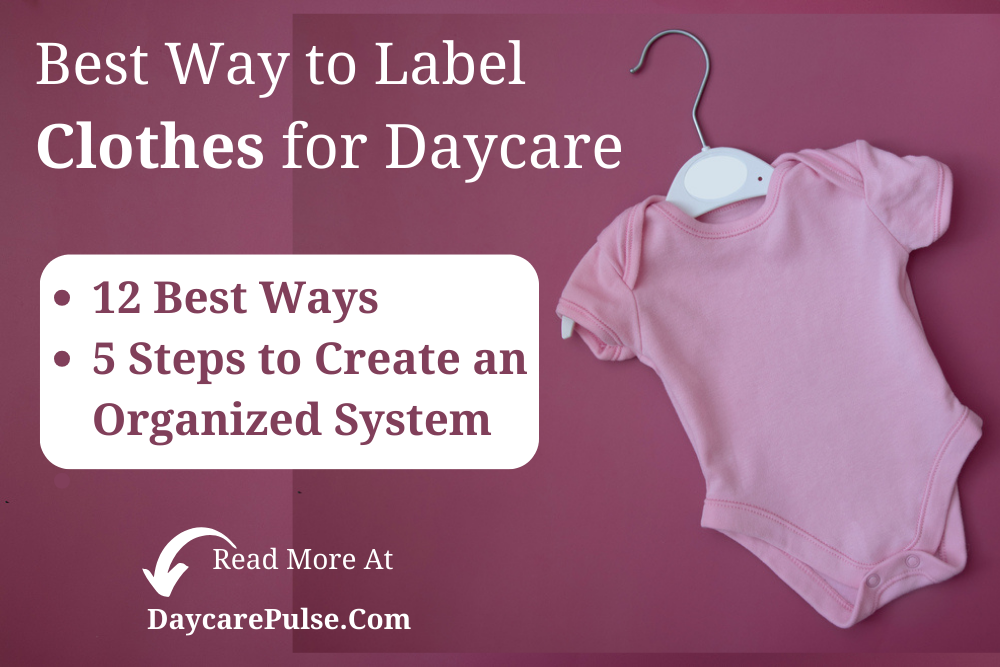 12 Ways to Label Clothes
1. Sticker Label
If you want a fancy and pretty option, go with a sticker label. Labels are customized, and you can get the child's name printed on them.
How to Use It:
Peel the sticker off the sheet like you would and press it on wherever you want to put the label.
Stickers are easy to use and come off very quickly when pulled.
You can use a Sharpie or any laundry pen to write the name on it.
2. Iron Label
The iron-on label is more long-lasting than the sticker ones. They can also be uncomfortable because they get stiff on the backside and might also cause itching on the body.
How to Use It:
Iron-on is easy, but you will have to cut a small strip, place it wherever you want, and press it with a steam iron on top of it.
The heat will make it stick to the cloth nicely.
3. Stamp Label
A stamping label is a customized stamp with permanent ink in it. The best thing about the stamp label is that it does not add any extra paper or stiff cloth to the shirt.
How to Use It:
It would be best if you held a stamp and then pressed it firmly onto the cloth to use it.
The ink inside the stamp takes time to dry, so you must wait for it to dry completely.
The manufacturers usually advise letting it dry for about 24 hours before using the garment.
4. Cloth Tags
Cloth tags, typically found inside clothing, offer a convenient space for labeling. A cost-effective approach involves using a permanent marker to write your child's name on this fabric, effectively repurposing this area.
How to Use It?
Retrieve the clothing item with the existing cloth tag.
Take a permanent marker and write your child's name clearly on the fabric tag.
Ensure the ink is dry before using the garment to prevent smudging.
Tip: Write on the handwashing instructions section with a permanent marker for an alternative spot to label your child's name.
5. Sew-on Tag
Sew-on tags provide a personalized labeling option by sewing them onto the garment. Whether purchased or created from recycled cloth, these tags are comfortable, durable, and withstand frequent trips to the laundry.
How to Use It:
Select a sew-on tag that suits your preference and style.
Position the tag on the desired spot on the garment.
Sew the tag securely onto the fabric, ensuring it is tightly affixed.
Allow time for the thread and fabric to set.
Tip: For a long-lasting solution, consider sew-on tags that don't wash off, providing reliability for extended use.
6. Plastic Tags
A practical choice for labeling is using plastic tags, which can be easily looped through existing clothing tags or hangers. However, it's essential to note that without existing tags, this method may pose challenges and potentially damage the clothes.
How to Use It:
Choose a plastic tag suitable for your needs.
Insert the tag through the existing clothing tag or the hanger loop.
Ensure the tag is secure but be cautious if the garment lacks tags to prevent unintended damage.
Caution: Be mindful of potential confusion and damage if the garment lacks tags, as inserting a plastic tag may result in unintended holes.
7. Embroidered Labels:
A classy option involves personalized embroidered labels featuring your child's name or initials. Seamlessly sew these labels onto clothing for a distinctive and stylish identification solution.
How to Use It:
Choose an embroidered label with the desired design and information.
Sew the label securely onto the fabric, ensuring it's visible and well-attached.
Enjoy a sophisticated and enduring labeling method.
8. Fabric Markers:
Opt for a hands-on approach by using fabric markers to directly inscribe clothing items. This do-it-yourself method allows for artistic expression and adaptability, especially on fabrics that may not accommodate other label types.
How to Use It:
Select a fabric marker with your preferred color.
Write your child's name or initials directly onto the clothing item.
Let the ink dry completely before using or washing the garment.
9. Velcro Labels:
For a reusable and adjustable labeling option, consider Velcro labels. Attach one side of the Velcro to the clothing and the corresponding side on a label featuring your child's name.
How to Use It:
Choose Velcro labels that match your preferences.
Affix one side of the Velcro to the clothing and the other to the label.
Enjoy a flexible and adaptable labeling solution.
10. Printed Ribbon Labels:
Craft custom labels using printed ribbons, offering a decorative touch when sewn onto clothing or attached with fabric-friendly adhesive.
How to Use It:
Select printed ribbons with your preferred designs and information.
Sew the ribbon onto the fabric or use fabric-friendly adhesive to attach it securely.
Embrace a creative and visually appealing labeling method.
11. Heat Transfer Labels:
Utilize heat transfer labels for a professional and durable solution. Applied using heat, often with a household iron, these labels bond directly to the fabric.
How to Use It:
Choose a heat transfer label with the desired information.
Apply heat using a household iron according to the product instructions.
Experience a long-lasting and polished labeling outcome.
12. Braille Labels:
For inclusivity or a visually impaired child, consider labeling clothes with Braille. This can be achieved using Braille stickers or fabric markers.
How to Use It:
Choose Braille stickers or fabric markers suitable for the fabric.
Apply the Braille labels directly to the clothing or use fabric markers to inscribe Braille characters.
Ensure the labels are secure and legible for effective identification.
Popular Brands Offering Daycare Labels
Label Land – Iron On Labels, Sticker Labels ,Clothing Stamp | Label Land A trusted brand for iron-on labels, Label Land offers durable and personalized solutions for labeling clothes.
Stuck on You – Stuck On You: Name Labels for Kids, Name Stickers, Clothing Labels is recognized for its high-quality personalized labels, including stickers, iron-ons, and clothing labels. They provide durable options with various designs.
Name Bubbles – Name Bubbles is known for its durable and waterproof labels. They offer a variety of options, including sticker labels that adhere well to clothing.
Kiddo Tags – KiddoTags — Never Lose Another Item!! provides customizable labels for children's belongings, including clothing labels. They offer both sticker and iron-on options.
Applied Labels – Kids Labels – Name Labels – Personalized Labels – Baby Labels specializes in durable labels for clothing and personal items. They offer both iron-on and stick-on labels with various design choices.
Mabel's Labels – https://mabelslabels.com/en-US Known for their high-quality sticker labels, Mabel's Labels provides a variety of designs and customization options.
Reviews and Ratings
Before making a decision, it's essential to consider the experiences of other parents. Check online reviews and ratings for the selected labeling products to ensure their effectiveness and durability. Look for feedback on ease of use, resistance to washing, and overall satisfaction.
Pricing and Value for Money
While quality is paramount, it's also crucial to consider the pricing and overall value for money. Some brands may offer budget-friendly options without compromising on durability. Compare the pricing of different labeling products and assess the overall value they provide in terms of longevity and ease of use. Always prioritize a solution that aligns with your budget while meeting your labeling needs effectively.
5 Steps to Create an Organized System
Simplify the long and messy labeling routine that may take several days if you were to put all the stuff together. Here are some guidelines to help you sort out the mess in your child's wardrobe.
When you select clothing items to send with your child to the daycare center, make sure you pull out everything according to the weather conditions, let's say you are packing in the winter season. The garments you will take are gloves, socks, boots, coats, beanie caps, etc.
Now label everything at once. If you leave the process in the middle, you may forget to tag it. Or, for convenience, just mark the clothes as you purchase them.
It is now making sure that you have labeled everything to be packed. You can place the label on the rear tag or seam; that is where it is out of reach.
Please keep checking the clothes when they are done in the laundry to ensure the tags remain intact.
Label the tags with full names or initials.
Best Practices to Label Clothes
Incorporating these best practices ensures that the labeled clothes not only meet practical needs but also align with factors such as durability, ease of use, and customization, contributing to an effective and personalized labeling solution.
Durability of Labels
Opt for labels that are durable and can withstand regular wear, tear, and washing. Choose materials that won't fade or peel easily, ensuring longevity.
Ease of Application
Select labeling methods that are easy to apply, especially for busy parents. User-friendly options contribute to a hassle-free and quick labeling process.
Resistance to Washing and Sunlight
Prioritize labels that resist washing and sunlight exposure. This ensures that the labels remain intact and readable even after repeated laundering and exposure to sunlight.
Allergy-Friendly Options
Consider allergy-friendly labeling materials to ensure the safety of all children at the daycare. Choose materials that are hypoallergenic and safe for sensitive skin.
Customization and Personalization
Look for labeling solutions that offer customization and personalization. This allows parents to add a personal touch, such as the child's name or a unique design, making the labeling process more meaningful.
Why do I need to label the stuff I send to daycare?
Labeling the items you send to daycare is crucial for several reasons:
Identification
Labels help identify your child's belongings among those of other children, preventing mix-ups and ensuring that your child receives the correct items.
Organization
Daycare centers handle multiple children's belongings. Labels contribute to the overall organization, making it easier for caregivers to locate and manage each child's items.
Prevention of Loss
Labeled items are less likely to get lost. Clear identification reduces the chances of someone accidentally taking your child's belongings or them getting misplaced within the daycare facility.
Hygiene and Health
Particularly relevant for personal items like bottles and pacifiers, labels help maintain hygiene by ensuring that each child uses their own items, minimizing the risk of germs and infections.
Efficiency for Caregivers
Caregivers at daycare can efficiently manage and distribute items when they are clearly labeled. This saves time and ensures that your child has all the necessary items during their time at the daycare center.
Communication
Labels can serve as a form of communication between parents and caregivers. For example, specific instructions or allergy information can be communicated through labeled items.
Teaching Responsibility
Teaching children to recognize their labeled items fosters a sense of responsibility. They become more aware of their belongings and learn to take care of them.
Peace of Mind
Knowing that your child's belongings are labeled provides peace of mind. It reduces the stress of potential mix-ups or lost items, allowing you to focus on your child's daycare experience.
FAQs
Decide on What You Want to Write on the Label
You can label the garments with your child's first name or just the full name initials. If so, ensure there aren't other children with similar names or initials.
So if you are planning to pass the garment to another kid, you can label it with your last name or a nickname.
Should I Label My Child's Clothes?
Labeling your child's clothes will prevent them from entering someone else's possession. Unlabeled clothing items can easily be lost among all the children and staff at daycare. Everything that goes to a daycare center has to be labeled.
Can I Use a Sharpie to Label Clothing?
Sharpies or permanent laundry markers perform in the same way. The ink stays on the clothes, but eventually, it will fade if you frequently do laundry.
How Do You Label Baby Socks for Daycare?
The easy and low on budget way to label socks is to place them in a Ziplock bag and label the bag with their name on it.
How to Label Common Daycare Items?
Labeling common daycare items is essential to ensure they are easily identifiable and that your child receives their own belongings. Here's a guide on how to label common daycare items:
Clothes
Use iron-on labels, sticker labels, or sew-on tags. Include your child's name and, if necessary, contact information. Place labels on the inside of clothes, where they are visible but not irritating. Explore in detail: The best way to label clothes for Daycare & For Specifically Socks: How to label socks for daycare?
Bottles and Sippy Cups
Use waterproof labels or stickers. Include your child's name and any specific instructions or allergy information. Place the label on the bottom or near the base of the bottle. Explore in detail: Best Bottle Labels for Daycare
Pacifiers
Use small, adhesive labels or stickers designed for small items. Label the pacifier's handle with your child's name. Ensure the label does not interfere with the pacifier's function. Explore in detail: How to label pacifiers for daycare?
Conclusion
Daycares are crowded places you also don't want your child to go without proper gear and some extra clothes. Labeling items will ensure safety, and none of the stuff will go missing.
This blog is concisely packed with all the steps and products you may require while marking your child's belongings. Tell us about your experience with lost items at daycare and some tips you might want to share in the comments.