What to Look for in a Daycare? – Confusion to Confidence
Hey, Dear Parents!
We totally understand; picking the right daycare can be a big deal. It's a bit like hunting for that perfect pair of sneakers, isn't it? They need to fit just right and make you feel comfy.
Well, no worries, because we're here to be your friendly guide on this informative adventure!
In this guide, we discussed the various factors to consider when choosing a daycare for your child: Licensing and Accreditation, Reputation and References and Qualified Staff…
In the end, you'll gain invaluable insights to guarantee your child's safety, foster their development, and discover a daycare that perfectly aligns with your schedule and budget.
Don't miss out. Empower yourself with the knowledge you need for this important journey.
Keep scrolling – your path to empowered decision-making begins here!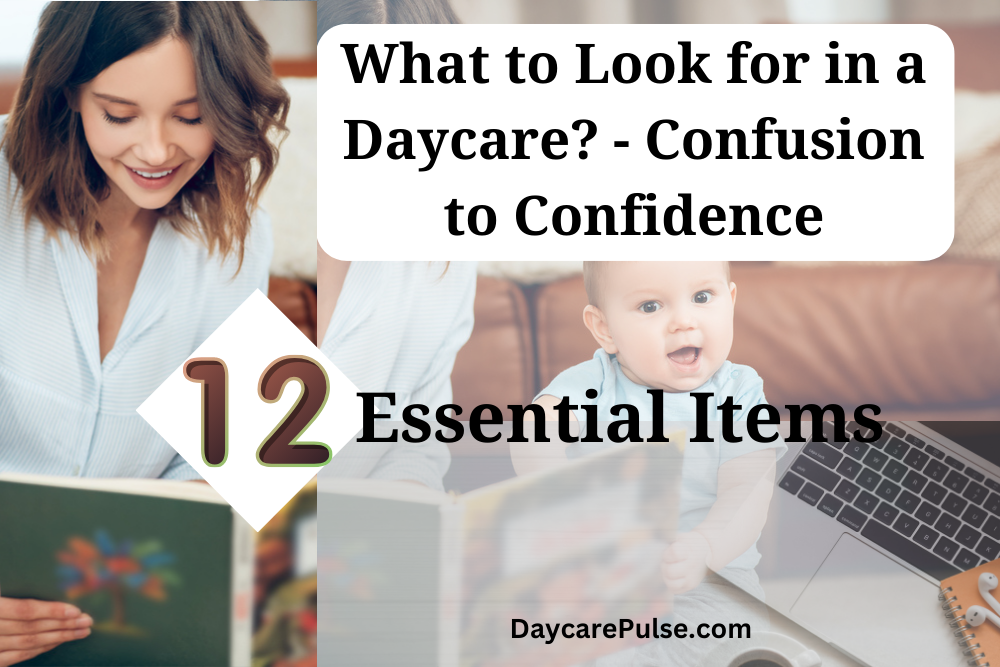 12 Main Items to Look For in a Daycare
When it comes to choosing the perfect daycare for your child, there are some key things you should consider. Let's break down the essential factors to help you make an informed decision.
1. Licensing and Accreditation: Ensuring Safety and Quality
Licensing and accreditation are critical aspects of this evaluation process. Let's delve deeper into what each of these components entails:
Compliance with State Regulations | Before considering a daycare center, it's imperative to confirm that it complies with the regulations and guidelines established by your state's regulatory authority or childcare licensing agency.
These regulations are designed to safeguard children's health, safety, and overall quality of care. Here are some steps to ensure compliance:
Check with Your State Authority: Contact your state's childcare licensing agency to inquire about the daycare's licensing status. They should be able to provide you with information on whether the daycare has a valid license.

Review Inspection Reports: Request access to the daycare's inspection reports, which typically detail any violations or issues found during inspections. This information can help you gauge the daycare's adherence to state regulations.

Inquire About Violations: Ask the daycare staff about any past violations and what steps have been taken to address them. It's essential to understand how the daycare has responded to any shortcomings in the past.

Visit the Facility: Schedule a visit to the daycare to observe whether it meets the safety and cleanliness standards specified in state regulations.
Look for Accreditation | Ask the daycare if they have sought accreditation.
Inquire About Accreditation: Ask the daycare staff whether they have sought accreditation from reputable organizations such as the National Association for the Education of Young Children (NAEYC), the National Early Childhood Program Accreditation (NECPA), or others.

Research the Accrediting Body: Familiarize yourself with the accreditation organization's criteria and standards. Learn about the specific requirements they set for childcare providers.

Verify Accreditation Status: Visit the accrediting organization's website or contact them to verify the daycare's accreditation status. Accredited daycares should be listed as part of the organization's network.
2. Reputation and References: Insights from Other Parents
Consider the daycare's reputation and collect references from other parents.
Positive Reviews and Testimonials | Search for online reviews on websites like Yelp and Google. Here's how to go about it:
Online Research: Start by searching for the daycare center online. Many parents today share their experiences on review websites, social media, or parenting forums. Look for reviews and comments related to the daycare.

Review Websites: Utilize popular review websites such as Yelp, Google Reviews, or specialized childcare review platforms to find comments and ratings from parents. Pay attention to both positive and negative feedback to get a well-rounded perspective.

Ask for References: When you visit the daycare or interview the staff, don't hesitate to request references from current or former parents who have used the daycare's services. Contacting these references can provide valuable firsthand information about their experiences.

Consider Consistency: Assess the consistency of positive feedback. If multiple parents consistently report positive experiences, it's a good sign that the daycare provides quality care.
Recommendations from Friends and Family | Reach out to people in your network who have used daycare services.
Reach Out to Your Network: Speak to friends, family, neighbors, and colleagues who have children and inquire about their daycare experiences. They can provide insights into the quality of care, staff, and the overall environment.

Ask for Specifics: When seeking recommendations, ask about specific aspects that matter most to you, such as the daycare's approach to early childhood education, staff interactions, safety measures, and convenience.

Consider Personal Compatibility: Remember that a daycare that works well for one family may not be the perfect fit for another. Consider your parenting style, your child's personality, and specific needs when evaluating recommendations.

Visit Recommended Daycares: Even when receiving recommendations, it's essential to visit the suggested daycares in person and assess whether they align with your preferences and requirements.
3. Qualified Staff: Ensuring Quality Care
Evaluate the qualifications and characteristics of the staff.
Trained and Experienced Caregivers | Look for caregivers with degrees or certifications in early childhood education. Here are some aspects to consider when evaluating the qualifications of the daycare's staff:
Educational Background: Inquire about the educational backgrounds of the caregivers. Look for staff members with degrees or certifications in early childhood education, child development, or a related field. Such qualifications demonstrate a commitment to understanding and supporting child development.

Certifications and Training: Ask about any additional certifications and training the staff has received, such as CPR and first-aid training. These are crucial skills in ensuring your child's safety.

Years of Experience: Assess the overall years of experience the caregivers have in working with children. A team with a mix of seasoned professionals and newer staff can provide a balanced approach to child care.

Passion and Compassion: Beyond qualifications, observe the staff's passion for working with children and their ability to connect with and understand the needs of each child in their care.
Low Staff-to-Child Ratio | A lower ratio means more individual attention. Check specific staff-to-child ratios and observe staff attentiveness during your visit.
Check the Ratios: Find out the specific staff-to-child ratios at the daycare. Different age groups may have varying ratios, with younger children often requiring more individualized attention.

Assess Interactions: During your visit to the daycare, observe how caregivers interact with the children. Are they attentive, engaged, and responsive to the needs of each child? A lower ratio should enable more one-on-one interaction.
Consistent Caregivers | Consistency in caregiving is vital for your child's well-being.
Ask About Staff Turnover: Inquire about staff turnover rates at the daycare. High turnover can disrupt the sense of stability for your child.

Consistent Assignments: Check if the daycare assigns consistent caregivers to each child or group. Consistency in caregiving relationships can help children build trust and feel secure.

Staff Communication: Understand how the staff communicates and shares information about your child's daily activities, progress, and any concerns. Consistent caregivers are better positioned to provide insightful updates.
4. Fees and Financial Considerations: Budgeting for Quality Care
Understand the financial aspects of daycare.
Transparent Fee Structure | Ensure the daycare provides a clear breakdown of costs, fee schedules, and policies for late payments. When evaluating daycare options, pay close attention to how the facility outlines and communicates its fees:
Itemized Costs: Request a breakdown of the costs associated with daycare services. This breakdown should include tuition, additional fees (such as registration or materials fees), and any optional or extra services, like extended hours or field trips.

Fee Schedules: Ask for a detailed fee schedule that outlines how and when payments are due. This can include information on weekly, bi-weekly, or monthly payment options. Understanding the payment schedule is crucial for budgeting.

Fee Changes: Inquire about the daycare's policy on fee increases. Are there annual or occasional adjustments? Understanding the potential for fee changes will help you plan for the long term.

Late Payment Policies: Understand the daycare's policies regarding late payments, including any associated penalties or fees. Knowing these policies in advance will help you avoid unnecessary financial stress.
Financial Assistance or Subsidies | Inquire about scholarships, grants, government subsidies, or sliding scale fees.
Scholarships or Grants: Some daycares may offer scholarships or grants based on financial need, academic achievement, or other criteria. Inquire about the availability of such financial aid.

Government Subsidies: Depending on your location, government programs may provide financial assistance for childcare. Investigate whether the daycare can accept such subsidies and how the application process works.

Sliding Scale Fees: Some daycares may offer sliding scale fees that adjust based on your income level. These can make high-quality childcare more affordable for families with varying financial resources.
Payment Policies and Options | Understand the daycare's payment methods, auto-pay options, and withdrawal policies.
Accepted Payment Methods: Clarify the payment methods accepted by the daycare. Standard methods include cash, checks, credit cards, and online payments. Choose the one that aligns with your preferences and budgeting needs.

Auto-Pay Options: Inquire about whether the daycare offers an auto-pay option, which can simplify the payment process and ensure you never miss a payment deadline.

Withdrawal Policies: Be aware of the daycare's policies regarding withdrawing your child from their services. Understand notice periods and any associated financial implications.

Financial Counseling: Some daycares offer financial counseling or guidance to help parents navigate the costs and explore potential subsidies or aid. If available, take advantage of these resources.
5. Structured Learning Programs
Assess the daycare's learning programs.
Age-Appropriate Curriculum | Ensure the curriculum aligns with your child's age, covers cognitive, social, and physical development, and reflects your educational philosophy.
Curriculum Goals: Understand the overarching goals and objectives of the curriculum. What does the daycare aim to achieve regarding your child's educational and developmental milestones?

Age Segmentation: Ensure that the curriculum is segmented into age-appropriate groups or classes, allowing children to learn and grow alongside their peers at a similar developmental level.

Educational Philosophy: Inquire about the daycare's educational philosophy. Does it align with your own values and goals for your child's early education?
Look for activities supporting cognitive, social, and physical development and regular progress updates for parents.
Cognitive Development: Explore how the daycare supports cognitive development through activities such as reading, problem-solving exercises, and hands-on learning. Ask about their approach to language development, early math skills, and critical thinking.

Social Development: Inquire about the daycare's efforts to foster social development through group activities, peer interactions, and emotional intelligence building. Social skills are crucial for a child's overall well-being.

Physical Development: Assess the opportunities for physical development, which may include outdoor play, fine and gross motor skill activities, and exercise. Physical play is vital for a child's health and well-rounded development.
6. Parent Communication:
Foster open and transparent communication with the daycare.
Open and Transparent Communication | Establish an open line of communication with the daycare.
Attend regular parent-teacher meetings and receive updates on your child's progress. Access information about your child's daily activities to stay involved in their development.
Accessibility: Ensure that the daycare staff is accessible and approachable. You should feel comfortable contacting them with any concerns, questions, or feedback.

Two-Way Communication: Encourage and engage in two-way communication. It's not just about receiving information from the daycare; it's also about actively sharing your insights, expectations, and any relevant information about your child's well-being.

Honesty and Clarity: Both parents and daycare staff should be honest and transparent in their communication. If there are any issues or concerns, they should be addressed promptly and transparently.
7. Flexibility and Hours:
Consider the daycare's operating hours and flexibility.
Convenient Operating Hours | Ensure the daycare's hours align with your schedule.
Check for flexibility with early drop-off or late pick-up if needed. Discuss flexible drop-off and pick-up policies.
Comparison to Your Schedule: Align the daycare's operating hours with your work schedule or daily routines. Ensure they can accommodate the hours you need for child care.

Early Drop-Off and Late Pick-Up: You may need flexibility regarding early drop-off or late pick-up. Confirm whether the daycare offers these options if needed.

Weekend and Holiday Hours: If your work schedule includes weekends or holidays, inquire about the daycare's policies regarding weekend and holiday care. Some facilities may offer special hours during these times.
8. Clean and Stimulating Environment:
Assess the cleanliness and learning environment.
A Clean, Hygienic Facility | Ensure the daycare maintains a clean and hygienic environment.
Check for age-appropriate toys, learning materials, books, and safe play equipment.
Visual Inspection: During your visit, observe the overall cleanliness of the facility. Ensure that common areas, playrooms, restrooms, and dining areas are well-maintained and tidy.

Sanitization Practices: Inquire about the daycare's sanitization practices. This includes how often and thoroughly they clean toys, surfaces, and equipment. Ask about their policies on disinfecting during flu seasons or health crises.

Health and Safety Protocols: Understand the daycare's protocols for handling illness and maintaining a healthy environment. This includes isolation practices for sick children and caregivers and immunization requirements.
9. Nutritious Meals and Snacks:
Evaluate the daycare's meal plans and food options.
Healthy and Balanced Meal Plans | Prioritize nutritious meal plans with various foods.
Ensure accommodations for dietary restrictions or preferences. Establish consistent meal and snack times.
Meal Variety: Inquire about the variety of foods offered in the meal plans. A diverse menu ensures that your child receives a wide range of nutrients.

Portion Sizes: Assess whether the portion sizes are appropriate for your child's age and dietary requirements. Portion control is essential to prevent overeating.

Incorporating Fruits and Vegetables: Ensure that fruits and vegetables are a consistent part of the menu. They are rich in vitamins, minerals, and fiber.

Avoiding Processed Foods: Ask about the use of processed and high-sugar foods. The emphasis should be on whole, unprocessed, and nutritious options.
10. Safety Measures:
Check safety protocols and equipment.
Secure Entry and Exit Points | Ensure secure entry and exit points with controlled access and monitoring.
Verify childproofing and safety equipment. Confirm the daycare has well-defined emergency plans and staff trained in first aid.
Controlled Access: Inquire about the daycare's policies for controlling access to the building. This can include using key cards, security codes, or monitored entrances.

Visitor Policies: Understand the daycare's visitor policies, including how they verify the identity of anyone entering the facility and their protocol for allowing access to parents and authorized individuals.

Monitoring Systems: Check whether the facility has surveillance cameras or other monitoring systems in place to ensure a secure environment.

Childproofing Standards: Assess the daycare's childproofing standards, including measures to secure cabinets, cover electrical outlets, and prevent access to hazardous materials or areas.

Safe Equipment and Playgrounds: Ensure that all play equipment and playgrounds meet safety standards and are regularly inspected for any potential hazards or maintenance issues.

Safety Measures for Infants: If the daycare caters to infants, check that cribs, changing tables, and other infant-specific equipment are adequately secured and meet safety guidelines.

Emergency Plans: Inquire about the daycare's emergency plans for situations such as fires, natural disasters, medical emergencies, or security threats. Understand how they communicate these plans to staff and children.

First-Aid Training: Ensure that staff members are trained in first aid and CPR. Ask about their certifications and how frequently they undergo refresher courses to stay updated on the latest safety protocols.

Communication with Parents: Understand the daycare's procedures for communicating emergencies with parents, including how they notify parents in case of an incident and how they provide updates and follow-up information.
11. Location and Accessibility:
Consider the daycare's location.
Convenient Location for Drop-off and Pick-up | Evaluate the distance from your home or workplace.
Check for adequate parking and transportation options.
Distance from Home or Work: Evaluate the distance between the daycare and your home or workplace. A location that's reasonably close can reduce travel time and simplify your daily schedule.

Commute Routes: Assess the routes you would typically take to drop off and pick up your child. Consider traffic patterns and potential congestion during your commute.

Synchronization with Your Schedule: Ensure that the daycare's operating hours align with your work schedule. A location that allows for timely drop-off and pick-up is crucial.
12. Trial Period and Gut Feeling:
Assess compatibility and trust your instincts.
The Option for a Trial Period | Many daycares offer trial periods.
Getting Acquainted: Many daycares offer trial periods that allow you and your child to become acquainted with the facility, staff, and daily routines. This can be an invaluable opportunity to assess compatibility.

Your Gut Feeling Matters: Trust your instincts as a parent. Your gut feeling about the daycare often accurately indicates whether it fits your child correctly. Pay attention to how you feel when you visit and interact with the staff.

Observe Interactions: Observe how the staff interacts with the children and how the children interact with each other. A positive and nurturing atmosphere should be apparent.

Ask Questions: Don't hesitate to ask questions and express any concerns or preferences you have. A daycare that is receptive and responsive to your inquiries can indicate a commitment to open communication.

Consider the Vibes: Think about the overall vibes and atmosphere of the daycare. Does it feel like a place where your child can thrive, learn, and be happy?
Frequently Asked Questions
What Are the Red Flags in Daycare?
Some red flags to watch out for when choosing a daycare include: How to Look Up Daycare Violations? – DaycarePulse.com
Lack of safety measures: If the daycare does not have proper proofing and safety equipment, or if the staff is not well-trained in emergency procedures, it can be a significant cause for concern.
Poor communication: It can be a red flag if the daycare is unresponsive or does not communicate effectively. Good communication between parents and daycare staff is essential for ensuring your child's well-being.
Negative reviews or complaints: Note any negative reviews or complaints from other parents. While every daycare may have some negative feedback, a pattern of consistent issues should be a warning sign.
Unorganized or chaotic environment: A daycare should feel organized, clean, and structured. If the environment seems chaotic or disorganized, it may indicate inadequate management.
High staff turnover: Frequent staff changes can indicate management issues, which can affect your child's care and stability at the daycare.
What Questions Should You Ask a Daycare?
Can you provide references from current or past parents?
What is the staff-to-child ratio?
What qualifications and experience do the caregivers have?
How often are the facilities and toys cleaned and sanitized?
What is the daily routine for children?
Do you have a specific curriculum or approach to child development?
How do you handle behavioral issues?
What are your policies on discipline and conflict resolution?
What to Look For in an Infant Daycare?
Trained and experienced caregivers: Infants require specialized care, so it is crucial to ensure that the daycare staff have proper training and experience in caring for infants.
Clean and safe environment – Look for a daycare with a clean and well-maintained facility, especially when it comes to areas where infants will be spending time. Safety measures such as proofing and secure sleep spaces should also be in place.
Age-appropriate activities – Infants engage and learn through sensory experiences, so choosing a daycare that offers age-appropriate activities such as tummy time, music, and exploration is essential. Activities to do with infants in daycare
Adequate communication with parents – Good communication between caregivers and parents is crucial when caring for infants. Look for a daycare that values open and frequent communication with parents about their child's development, routines, and needs.
How Do I Get a Good Daycare?
To find a good daycare! Explore Choose the Right Daycare for your infant blog post: How to Choose the Right Infant Daycare for Your Baby : Choosing Childcare or Daycare – DaycarePulse.com
Research and visit multiple facilities.
Check for licensing, safety, and cleanliness.
Ask about staff qualifications and child-to-staff ratios.
Consider curriculum, communication, and flexibility.
Trust your instincts and your child's comfort.
Conclusion
When considering what to look for in a daycare, exploring various aspects of the child care setting is essential.
Whether you opt for a family child care environment or a child care center, early childhood education and child care training should be prioritized.
Assess the child care program and ensure it aligns with up-to-date early childhood development practices, focusing on safe sleep practices for infants.
Additionally, evaluate the environment for opportunities for active play and interaction with other children, and inquire about the parent board's involvement in decision-making.
The parent board plays a vital role in shaping the policies and direction of the daycare center, ensuring that the needs of both children and their families are met.
Thank you for reading and embarking on a journey to choose the ideal daycare, where safety, education, and nurturing care unite for your child's bright future!