How to Look Up Daycare Violations: Investigating Daycare Safety
If you're enrolling your child in daycare, you might be worried about their safety. The best way to find out if a daycare is safe is to check for violations. But how do you do that?
Don't worry, you're not alone in this concern, and there's a solution. This blog post will guide you through investigating daycare violations, putting your worries to rest. I'll help you look up any violations associated with a daycare facility.
Read this blog post to gain the knowledge and tools for safety checks on daycare facilities. Choose a daycare with confidence, knowing it adheres to high safety standards.
Navigate investigating daycare violations and alleviate stress. Ensure your child's safety and enjoy their early years worry-free!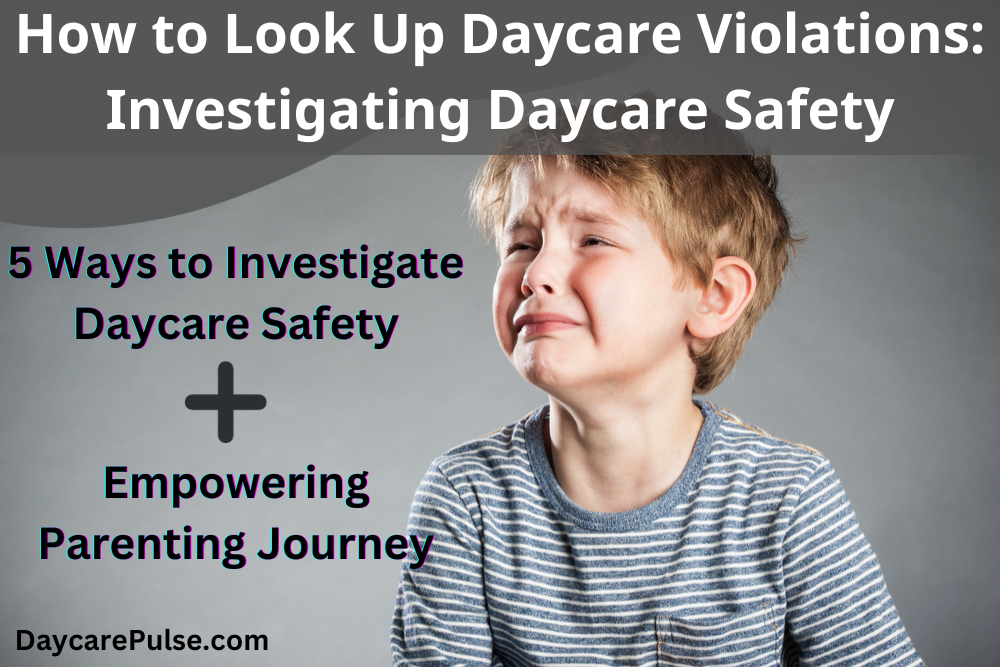 5 Ways to Look Up Daycare Violations
Daycares don't openly tell anybody about the incidents and violations. You'll have to search for it yourself.
Here's how to know if a daycare has violations.
Look Up Your State's Site
Each state in the United States maintains its own website with information about licensed childcare providers, including any violations they might have incurred.
Simply search for your state's department of child and family services website, navigate to the daycare services section, and locate the search feature for licensed daycare providers.
Enter the name of the daycare you're interested in, and any violation details should be readily accessible.
Ask Parents
Try to talk to parents whose kids are already in that daycare. They'll give you honest reviews and insights about their services and staff.
Ask them about incidents and violations, if any happened in the past.
Ask Daycare Owners
If you ask the daycare staff, they might tell you about the violations they've made. But not everyone is open to discussing that.
So after doing these 2 steps, talk to the daycare staff if you find any violations. They'll have to talk about it when you directly bring it up.
Ask them what they did to correct their mistakes and to fix issues. Plus, inquire about how they make sure it won't happen again.
Visit the Daycare
Visit the daycare in person and have a look around. Talk to staff members, observe their interactions with kids and see if they are following safety protocols or not. Make sure that their resources are up-to-date and safe for the kids. Ask them questions about different topics like nap times, meals, activities and more.
Check Online Reviews
To get a clear idea about a daycare, you can check online reviews from other parents. This will provide insights into the daycare's operations, safety protocols, and any violations.
Additionally, consider looking up their social media profiles and connecting with other parents.
To check Yelp reviews, visit their website or app, search for the daycare, and read through the reviews.
Similarly, for Google reviews, use the search engine or Google Maps app to find the daycare and read the reviews. Reading these reviews is crucial in assessing the daycare's quality and any potential issues.
Different Types of Daycare Violations
In this next section, we will delve into the various types of daycare violations that can occur in a child care provider or child care center.
Understanding these classifications will empower you to better evaluate the safety and quality of childcare providers.
Operational Violations
Operational violations are breaches that occur in connection with the management and running of the daycare.
For instance, if the daycare is operating beyond the stipulated hours without authorization, it counts as an operational violation.
Other examples could include failing to maintain proper records or exceeding the maximum number of children permitted per staff member.
Health and Safety Violations
These are violations that can directly affect the physical well-being of children.
Possible issues in child care facilities: unsafe environment, insufficient supervision, lack of emergency procedures, and outdated medical records for children.
Staffing and Training Violations
As a parent, it is crucial to ensure that the daycare staff are qualified and trained properly.
Staffing violations can include hiring unqualified employees, inadequate supervision of children by staff members, or not having enough staff members to properly care for all the children in attendance.
Program Violations
Program violations refer to issues with the daily activities and curriculum at the daycare.
This may include not offering suitable activities for children of different ages, not following the state's required educational curriculum, or not following proper disciplinary procedures.
Licensing Violations
These are violations regarding the daycare's license and certification.
These can range from operating without a valid license to not following specific state regulations, such as keeping records incorrectly or not having proper emergency plans.
These violations can greatly affect the quality and safety of a daycare, so it is important for parents to stay informed and aware.
How do Authorities find out about violations?
Authorities usually find out about daycare violations through several methods.
They might receive complaints or reports from families or staff members about concerning behaviors or conditions at the daycare.
Regular inspections of the daycare facilities are also carried out by the authorities, using the license number for identification.
These inspections assess health and safety measures, operational protocols, staffing adequacy, and the execution of programmed activities.
In some cases, child care providers themselves may report violations to the authorities as part of their ethical responsibilities.
By maintaining a vigilant eye on these aspects, authorities are able to identify and address violations to ensure the safety and well-being of children in daycare settings.
What should you do if the daycare has violations?
You should not panic when you see violations on their daycare's portal.
Not all violations indicate poor treatment of children. It's important to differentiate between non-concerning and concerning violations.
Non-concerning violations, such as paperwork errors, are management-related and do not directly impact children.
However, violations related to children should be taken seriously, such as complaints about other kids or irresponsible staff.
When assessing concerning violations, consider the number, frequency, severity, steps taken to address them, and the daycare's overall reputation.
By analyzing these factors, you can determine if it was a one-time incident or a pattern of behavior. Corrected violations and a good daycare reputation suggest a one-time mistake.
Importance of Daycare Violation Awareness in Operating a Daycare Business
Running a daycare business requires understanding regulations and ensuring child safety.
By knowing how to look up daycare violations, daycare providers can proactively address any issues and maintain a high standard of care.
In this section, we'll explore the importance of knowing daycare violations and guide you on searching for and understanding inspection histories, safety violations, and complaint investigations.
licensing requirements
Avoid Legal Issues
To Avoid Legal Issues it is important to understand Daycare Violations.
Awareness of daycare violations is crucial for operating a daycare business to ensure safety, protect reputation, retain trust, and provide quality care.
Ensure Children's Safety and Well-being
Ensuring the safety and well-being of children is the utmost priority in operating a daycare business.
Awareness of daycare violations is crucial to maintain a safe and nurturing environment for children and to adhere to regulations.
Maintain Credibility and Reputation
Maintaining credibility and reputation is essential for a daycare center, as it affects parents' trust and enrollment decisions.
This can be achieved by ensuring a clean inspection history, minimal violations, and compliance with regulations, which in turn attracts new clients and builds lasting relationships.
Active Parenting for Daycare Safety: Beyond Violation Checks
Active Parenting for Daycare Safety: Beyond Violation Checks emphasizes the role of parents in ensuring the safety and quality of their children's daycare.
Parents should establish specific search criteria that go beyond checking for violations. Consider staff qualifications, facility cleanliness, and the nature of daily activities at the daycare.
Safety Culture Assessment
Investigate the daycare's safety culture. Does it prioritize continuous improvement and proactive safety measures?
Inquire about safety training programs for staff and how frequently they are updated.
Staff Training Programs
Understand the training programs in place for daycare staff. Are they well-versed in child development, emergency response, and conflict resolution?
Inquire about ongoing professional development opportunities for staff members.
Community Involvement
Actively participate in the daycare community. Attend parent-teacher meetings, join parenting groups associated with the daycare, and engage in open communication.
Create a supportive network with other parents to share insights and experiences.
Regular Check-ins
Establish a routine of regular check-ins with daycare staff. This can be as simple as brief conversations during drop-offs or pickups.
Open communication channels to discuss any concerns or observations promptly.
Volunteer Opportunities
Explore volunteer opportunities within the daycare. This allows parents to witness firsthand the daily operations and interactions.
Participate in events or activities organized by the daycare to foster a sense of community.
Frequently Asked Questions
What to Do if a Daycare Isn't Following the Regulations?
If a daycare isn't following the regulations or you've any complaints, communicate with the staff first. They should resolve the issue. If that doesn't work, you can complain to the state authorities.
Where to Report a Daycare?
You can report a daycare to the state's authorities. These are the departments that license childcare centers. They inspect the center if anybody complains about the registered daycares.
FILING A COMPLAINT AGAINST A FACILITY
Filing a complaint against a child care facility is important for ensuring children's safety.
To file a complaint, gather your contact information, the facility's name and location, and its license number. Submit the complaint online or contact the relevant agency.
The agency will investigate, conduct interviews, review records, and inspect the facility.
You will be informed of the findings and any actions taken. Your active participation is crucial for maintaining quality and safety in child care.
How Do You Know If Something Is Wrong at Daycare?
The best way to know about daycare is to ask parents whose kids are enrolled there. Plus, you can look at your state's official site to know the daycare's violations.
How to Report a Daycare Anonymously?
The best way to know about daycare is to ask parents whose kids are enrolled there. Plus, you can look at your state's official site to know the daycare's violations.
Conclusion
I hope you now realize how essential it is to stay informed and active in ensuring the safety and quality of your child's daycare experience.
After all, our little ones deserve nothing but the best!
Keep asking questions, stay curious, and never hesitate to voice your concerns. Your active involvement can make a world of difference in your child's daycare experience.