How to Start a Daycare at Home in California
Where To Begin?
Starting a home daycare business can be a daunting task, especially if you're new to the industry and don't know the ins and outs of state regulations.
Despite high cost of living and competition, California is a great region to establish a home childcare business due to its dense working population.
Starting a home daycare in California requires 8 basic steps, and It's, Done!
Startup Cost
State requirements
Liability Insurance
Inspections
Daycare Business Subsidies
Daycare Setup
Marketing
Staff and training requirements
Keep on reading to know if you or your home setting meets daycare requirements. This detailed and easy to understand guide covers all of the key elements for beginning home childcare business anywhere in California.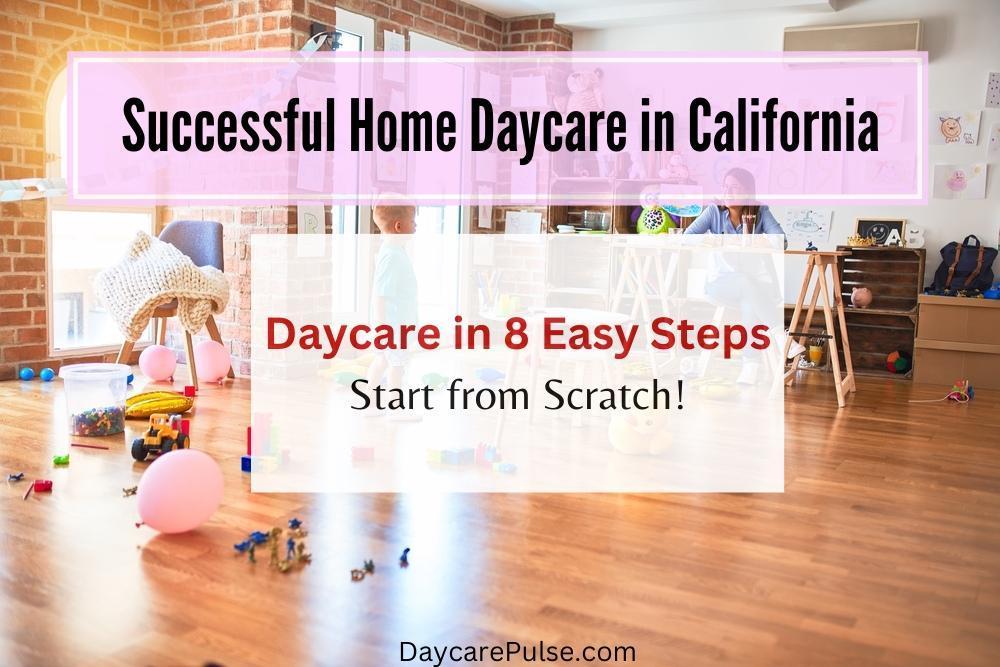 1. Startup Cost
Certain metropolitan areas in California are more expensive than others, resulting in higher workforce, renovation, repair, and maintenance costs for home daycare, which will eventually assist you in deciding your home daycare service charges.
Parents in urban areas are also particularly interested in various facilities given by in-home daycare, so you must spend smartly to fulfill the state's current expectations.
You might also want to read: How much does it cost to open a daycare?
So, where should the money be invested? What should be your Priority? When should you spend? All of these concerns should be addressed right away. First and foremost, you must establish a budget for the following requirements:
Necessary Supplies
These necessary supplies would include furniture, toys, safety supplies, food and nap-time supplies, kids' everyday essentials, cleaning supplies etc.

Licensing & Certifications Cost
In California, you'd have to get a family home daycare license if you plan to provide childcare services to non-relative children from more than one family. Typically a family home daycare license cost $200 in California.

Also, to obtain a "Home family daycare" license, you'd need to get a few paid certifications that we'd discuss shortly.

Salary-If hiring help
The staff salary cost would depend entirely on your California locality and local pay rates. Furthermore, hiring a professional and qualified daycare assistant will cost you more. However, the costs would be different if you want to engage someone only for short-term monitoring and assistance.
2. California State Requirements
a. Orientation
To obtain a home daycare license in California, you just need to attend orientation, which outlines the whole pre- and post-licensing procedure. Depending on your preferences, you can attend an online, live virtual, or in-person orientation. It is important to note that the orientation is compulsory, and its cost is non-refundable.
For More Information: Family Child Care Home Online Orientation
Action Item:
To register for orientation in California please use this link: – California Department of Social Services – California Department of Social Services
b. Licensing Information for California
There are fewer regulated home daycare in California, but they are in higher demand. So if you plan to take on more than 6 kids, you'd require a home daycare license.
Also, you can supervise up to 8 kids with no more than 3 infants and at least 2 minimum 6 years old kids included in care without any additional adult by law.
You Might Also Want to Read: Adult to Child Ratio Comparison Chart for California
To get more details for licensing in the state of California, follow this link: How to Become Licensed
License Requisites:
Consent of the property owner if the home is not owned by you.
No business license, tax or fee for small home childcare.
License-Exempt in California for single-family or related kids up to 6 for less than 24 hours of supervision.
One year of daycare experience would be required to exceed the number of kids in care.
Fines of up to 200$ could be charged per day in case of no license.
For further detail regarding daycare licensing steps and its total cost in California, you can refer to this detailed guide: 14 steps to get a daycare license in California
Action Item:
To apply online for daycare licensing, follow this link: Application Forms for Family Childcare
c. Background Checks
Every applicant for a childcare license must pass an extensive background check as per state laws. Additionally, the California Health and Safety Code necessitates that anyone you hire or engage in volunteer services for your family daycare needs to be screened with a background check.
Action Item:
Go through this link to get your background checks completed: Caregiver Background Check
d. Abuse and Neglect Class
Abuse and neglect class training in not compulsory for home daycare in California. However, expanded background checks are done for family childcare homes according to Adam Walsh Child Protection and Safety Act of 2006.
You Would Like to Read: For more information regarding this law and its implementation, follow this link: Adam Walsh Child Protection Act
Action Item:
For training information and courses regarding child abuse and neglect, follow this link: Child Abuse & Neglect Training
f. First Aid and CPR
At least 16 hours of mandatory first aid and CPR training is required to open a home daycare in California.
Action Item:
To register for classes in California: American Red Cross Training Services
g. Eligibility Criteria
You are eligible to open family daycare in California, If:
You have child safe space.
Providing care to maximum 2-8 children
Have followed background checks for volunteers/ staff.
Have pediatric CPR and first aid training.
You are ready for schedule and surprise inspections.
Here is the link from official website to get more details: Family Childcare Eligibility Evaluation
3. Insurance
As a home childcare provider in California, you can get a $300,000 liability insurance or bond. You might also seek an affidavit signed by your parents absolving you of any responsibility in the event of incidental harm. However, an affidavit alone could be disputed in court under grave negligence conditions.
It is always a good idea to purchase insurance in California to protect yourself against theft, accident, and other unforeseen situations. Parents also place more faith in insured daycare.
4. Inspections
Before Licensing
To ensure kids' security under your supervision, home daycare analysts from CCLP would come for an inspection to confirm that you have made your surroundings secure for children. This would include fire safety, surrounding supplies and kids' access.
California background check process is also included in safety codes for licensed childcare (Adam Walsh Child protection act of 2006). you would be inquired about any previous criminal records of serious nature.
Health & Comfort
Daycare analysts monitor California's carbon detectors, heat and ventilation systems before providing permits to at-home daycare. So ensure the childcare space is clean, well ventilated and equipped with all necessities required beforehand.
After Licensing
Unannounced inspections would be made after granting you a license to ensure that you abide by state regulations and monitor children under proper supervision.
For More Information: Daycare Inspection Reports
This could include complaints follow-ups as well. So make sure to hire staff with proper background checks to avoid child abuse and follow up with monthly maintenance of your daycare and its supplies like broken furniture, sharp edges, expired food & medicines, upgraded carbon monitors, fire extinguishers, locks, cleanliness etc.
You Might Also Like to Read: California Background Check Process for Daycare
5. The Subsidy Provided to Daycare Businesses
California's Department of Social Services (CDSS) and the California Department of Education (CDE) distributes ARPA funds to childcare providers, contractors, and developmental programs in accordance with federal regulations.
Stipends are put in place to support providers who have faced financial hardship due to the global pandemic, like decreased enrollment numbers, increased teacher-to-child ratios, additional cleaning requirements and other expenses.
Authorities also collect data regarding how these funds were utilized for reporting purpose.
For More Information: Subsidized Childcare California
6. Daycare Setup
Most of the necessary home daycare setup would already be completed during a per-inspection home renovation. However, you might still be left with extra furniture and décor stuff.
You might also want to read: 7 Important Daycare Room Setup Ideas
Indoor
For indoor setup, you'd mainly need toys for different age groups, bookshelves, storage compartments, a dining area, nap-time setup, stack-able cribs, bed sheets, blankets, an indoor play area, enticing wall paints etc. For more detailed ideas, you can skimp over our "In-home daycare setup guide."

Outdoor
The best advice we could give you regarding outdoor set up is "security first". Keep your swimming pool covered so no kid can breach or trespass that cover. A well-trimmed and maintained garden would keep bugs at bay. Opt for kids-friendly outdoor swings and rides.

Childcare Policy
Maintaining a child roster is as essential in California daycare as it is important anywhere else. Even for at-home daycare in California, it is crucial to obtain a copy of immunization records and the birth certificate or SNN number of the child to have proof of child identity and age.

You might also want to read: How to become a daycare provider?

However, childcare policy includes many more things, such as authorized pickup forms, invoices, employment agreements, childcare terms and conditions, emergency contact details etc.
You might also want to read: Daycare Policies Handbook Examples
7. Marketing
Marketing a home daycare in a busy, fast-paced state could be difficult since parents want rapid approaches to locate their perfect daycare. So it would be ideal for getting your home daycare listed on California's designated listing sites to market licensed daycare.
Busy lifestyle, yet parents are ready to pay extra for daycare that meet their demands; therefore, focus on providing quality care and market your strengths using equally fast pace online platforms.
Check out these excellent childcare marketing tactics: "4 steps to instantly get your daycare in the spotlight"
8. Staff and Training
Hiring Staff
You might want to employ a person or two to watch over your children when you are not present. Because, after all, What would you do if you needed to use the restroom? Also, headaches can strike without notice, so it's always a good idea to have a helping hand on board.
You might also want to read: What is the ratio of child to staff in daycare?
You might even hire on a commission basis to minimize undue financial stress at the start.
Training Staff
Either you or one of your staff would compulsory require to take first Aid & CPR training certification in California for a legal home daycare business. However, it is illegal for any daycare provider in California to offer medical supervision services.
Tips for Starting a Home Daycare in California
Here are some additional tips for starting a home daycare business in California:
Network with other providers: Networking with other providers can be a great way to get advice and support.

Get involved in your community: Getting involved in your community is a great way to attract new clients and build relationships with families. You can volunteer at local schools or community centers, or attend neighborhood events.
You might also want to read: How to Advertise your daycare?
Frequently Asked Questions
Common challenges in California
Securing proper licensing and obtaining necessary permits.
Finding qualified and dedicated staff who are able to provide safe and reliable care can be difficult.
Managing the daycare budget to remain profitable.
Staying organized and keeping up with records and paperwork.
Ensuring the safety of children in their care.
Keeping up with educational requirements
Benefits of Operating Daycare In California
The benefits of operating a daycare in California are numerous. First and foremost, the state is hugely populated, making it an ideal place to open a business that serves young children. With its diverse culture, there are plenty of opportunities for networking and expanding your client base.
Furthermore, there are many laws in place to protect the rights of both daycare providers and the children in their care, ensuring that operations run smoothly and efficiently.
Additionally, there are numerous funds available to help cover expenses associated with running a daycare, making it an attractive option for those looking for a business opportunity.
Conclusion
To get home childcare accreditation in California, the applicant must adhere to various rules and regulations.
The entire licensing procedure could be lengthy, but it will aid you in providing a safe, secure, and pleasant environment in which children will flourish, earning you a strong reputation among parents.
Remember, home daycare regulations are subject to change depending on the circumstances, so there's nothing to be concerned about. All critical phases would remain unchanged. So buckle up without any hesitation to start your very own daycare!