How to Promote Your Daycare Business
Love. Care. Responsibility. That's what daycare is all about. But it's also a business. And in business, you have to compete. That's why marketing is so important for daycares.
So how to promote your daycare business? Here are a few ideas:
Create a strong online presence. Create informative and easy to navigate website. Also stay active on social media.
Network with other businesses. Partner with other businesses that cater to parents and cross-promote your services.
Host events and open houses. Give potential customers a chance to see your daycare and meet your staff.
Offer referral bonuses. Encourage your current customers to spread the word about your daycare.
Get involved in your community. Volunteer at local schools or community events.
I understand your time constraint and stress while working in such an attention-seeking profession. Therefore I've designed a quick and simple 4-step marketing approach that will let parents know why your daycare is the best choice for their child.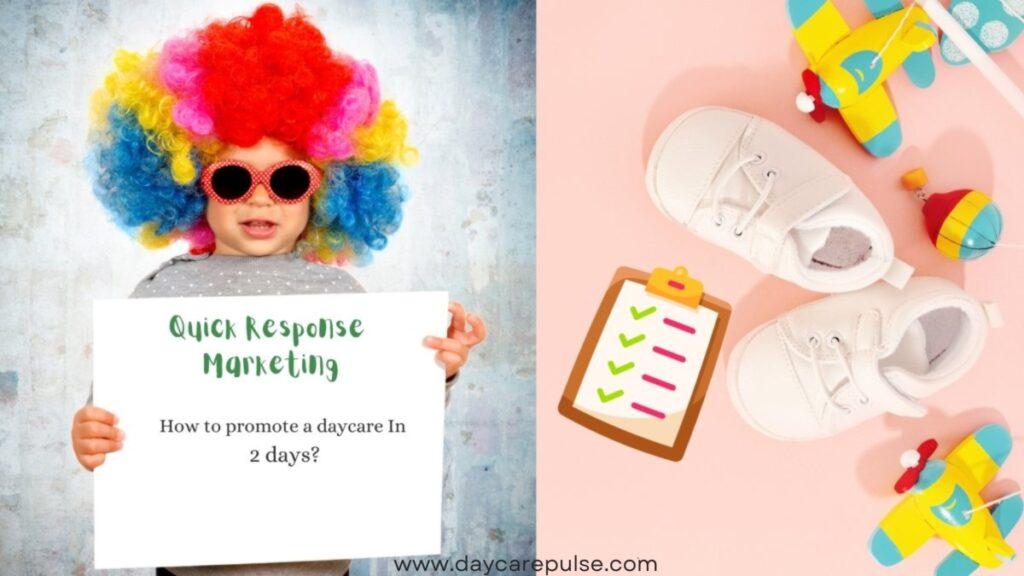 1. Competitor Analysis
Competitive research is the first and most crucial stage in marketing. Begin by looking for daycares that are similar to yours. Please spend some time examining how they work, what services they offer, and how they market their company.
Conduct a brief SWOT analysis of your main competitors, along with an analysis of parental needs regarding childcare in your neighborhood. Once you've discovered your upsides and drawbacks in contrast to those daycares, you can design a flawless plan for advertising your daycare.
2. Marketing Goals
After doing a SWOT analysis, you will be aware of the gaps left by your peers and how you can highlight your strong points to fill those gaps. It is now essential to clearly define your goals; If you want to get clients, advertise a new service, or just seek growth and brand authority.
Once you've determined your aim and plan of action, the following stage is to explore mediums to emphasize the benefits parents should be aware of and take advantage of for their child's better care.
3. Effective Ways of Marketing
1. Google
Google should undoubtedly be at the top of your marketing list while establishing a business in 2022. With over 80% of the search market share, you cannot afford to skip out on using Google. It would be best to leverage it to advertise your daycare to parents or clients seeking someone like you on Google daily.
But how to make google bring you, customers?
Google Ads
Google Ads would allow you to target customers specifically looking for your services. This implies that your Ads would only be shown to customers interested in acquiring your services, and that's not even the best part!

The best and most convenient aspect of Google Ads is that it gives you total control over your spending. Yes, you will only be charged if someone clicks on your advertisement. Plus, the whole Ad running process is as simple as stealing candy from a baby (Which I do not endorse).

Local Business Listing
"92% of parents use Google to find daycare, and 46% of all Google searches are for local information." By advertising your daycare in local business directories and Google My Business, you will be shown by Google for free to local user searches since your listing will provide a more direct, specific, and legitimate answer to user search intent.
You might also want to read: 12 Creative Daycare Name Ideas
2. Website
Yup! pretty obvious but rather crucial step. Having a Google website is akin to having a reserved stall at Walmart. You could market your services to potential consumers on your own. Google will bring in people, and your website will entice those people to use your services even more.
You might also want to read: 10 Creative Daycare Logo Ideas
Furthermore, your website would serve as a primary hub to which all parents should be routed from various online and offline sources. A decent, clean, and well-maintained website would aim to answer questions rather than leave the audience in doubt.
3. Social Media
Social media marketing in today's era is inevitable and for all the right reasons. "Millennials made up 90% of all new parents." And according to one report, about 94% of millennials have internet and social media access.
The data presented above indicate how using popular social networks such as Facebook, Instagram, and LinkedIn may help spread awareness about your childcare services directly to your potential customers.
Facebook
You can also use the advertising options offered by many social media networks. More than 80% of moms use Facebook. Therefore Facebook Ads are regarded as highly effective for small daycares. They can drive enough traffic to daycare websites while being less expensive than Google Ads.

Let me also reveal another secret. You can make a Facebook poll post in which you question parents about their preferred daycare services while providing them with specific options. The benefit of doing so is that individuals are more at ease and candid when discussing difficulties with other parents rather than a service provider.

Community Forums
Quora is another valuable networking platform to use. A lot of organic questions are posed directly by parents in such community forums. On Quora, you may provide solutions and answers to parents' childcare concerns while indirectly promoting your experience and daycare.
4. Email Marketing
I prefer to market my services to an audience who visited my website or engaged with my Ad post via email marketing. Why? Because it saves me money while being just as effective as advertisements. Here's how it's done.
Email your audience about the following:
Openings for enrollment
Community event news
Seasonal or promotional discounts
Request feedback and complaints
Your daycare's new programs
5. Traditional/ Conventional Marketing
Traditional marketing basically includes mediums like:
Billboards
TV Ads
Newspaper
Though old school marketing is losing its hype day by day as it's far more expensive than digital marketing. TV Ads have been replaced by Netflix and YouTube. Newspaper reading habit is getting reduced day by day among millennial parents.
You might also like to read: How to Advertise your Daycare
Despite these drawbacks, the plus point of conventional marketing is its ability to build the credibility of your business among local audiences. According to one report, almost 71% of US drivers observe billboards. I wouldn't recommend small childcare businesses make such hefty investments but suggest other traditional marketing alternatives.
Traditional Alternatives
Some excellent old-school marketing tools, if used properly:
1. Flyers
2. Newsletters
3. PTA (Parents Teachers Association) Letters.

Placing flyers and newsletters at pediatrician clinics, school waiting rooms, and parents' community centers would assist your daycare in getting a good share of attention.
You might also want to read: Sign Board Ideas for Daycare
4. Quick Response Marketing Ideas
Now it's time for some hidden bonus tricks that would help you big time, especially for new daycare owners.
1. Sponsor a social gathering
Parents' biggest worry while looking for childcare services is the safety and security of their children. To allay their fears, having a childcare open house event might be beneficial. You may easily organize a little high-tea workshop addressing parents' seasonal child concerns.
You would be networking, advertising, and enhancing the legitimacy of your daycare service by doing so.
And it won't cost you much, believe me.
Just a few invitation leaflets dropped in the neighborhood, some nice warm tea and cookies, and, most importantly, organize your event on a holiday or the night before a holiday when people are more likely to find time to come.
You might also want to read: Unique Open House Ideas for Daycare
2. Join Parental Forums
Apart from Quora, many designated online parental forums are available specifically for childcare services concerns. Or you could find many parent groups on Facebook made to discuss daycare concerns.
Get active on such platforms, participate in their everyday conversations and problems and Tada! You'd soon be receiving queries regarding your daycare service availability.
3. Discounts on Referrals
Who doesn't love a discount? And parents never let go of any good deal, trust me. Nothing builds credibility better than word of mouth, so offer discounts to parents who'd bring you more customers and a discount to parents who came via reference.
You might also want to read: Fundraising Ideas for Daycare
Even a small discount can work wonders when paired with a time limitation; therefore, provide referral discounts for a limited period so you can get a prompt reaction in word-of-mouth marketing due to fear of losing out on the discount.
You might also want to read: How to Get Daycare Vouchers in 4 Simple Steps
Conclusion
I understand that marketing a daycare can be chaotic initially, and you may want to avoid committing time to it. However, although you are excited about your new business and setup, keep in mind that promoting your daycare is also part of that basic setup.
Even though I have done my best to provide you with an all-in-one guide, if you have any questions such as "how to implement," "this is not working," or "I am stuck," please leave a comment, and I will do my best to assist you.