Daycare Sign Ideas | Child Care Signage
If you are looking for daycare signs ideas to attract attention and communicate important information to parents, your problem is solved!
Here are some creative ideas for daycare signs:
Use a child's drawing or painting to add personal touch to your signs and make them more appealing to parents.
Place your signs in high-traffic areas to ensure that they're seen by as many people as possible.
Use a QR code to provide additional information about your daycare, such as your website or social media pages.
Learn how to promote your daycare, provide directions, and share important safety information using simple sign boards. I've also listed some creative ideas and design tips to make the process effortless and stress-free for you.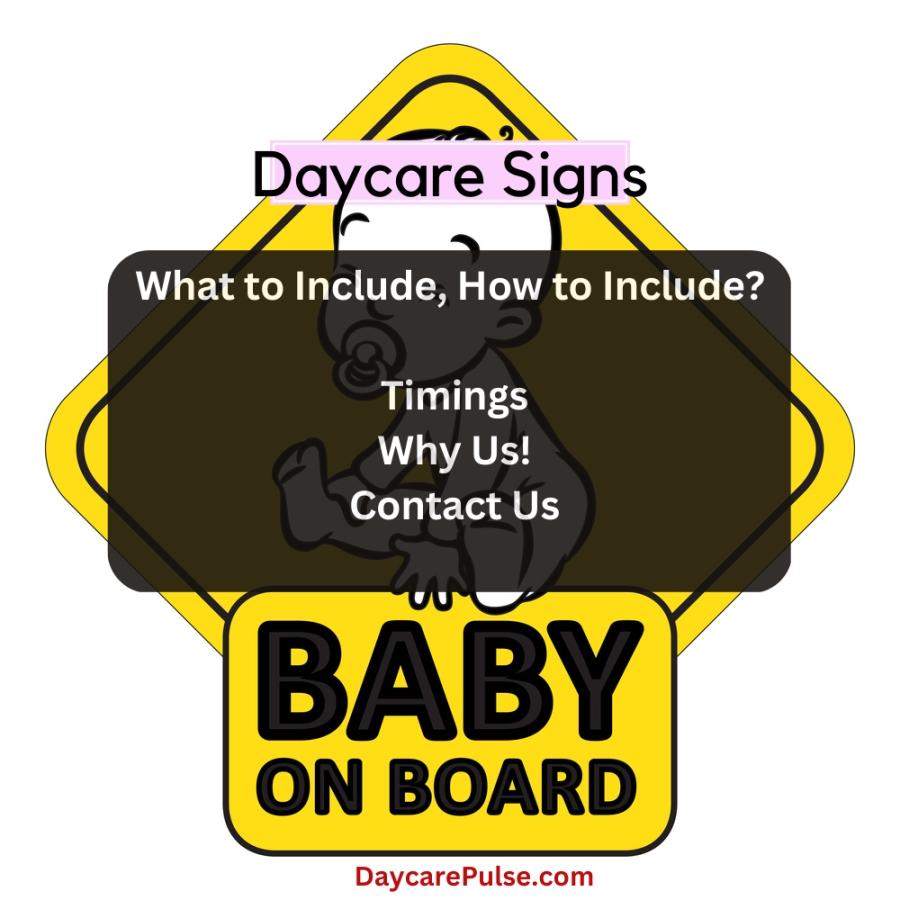 Unique Daycare Sign Ideas
Getting creative signage/ sign boards for your daycare is easier than you think in an era of internet shopping.
Unleash your creativity and let it run wild with daycare sign ideas. Incorporate interesting textures, shapes, and materials – you name it – to communicate your message in a stunningly attractive way.
One way to make your signage unique is to add a unique offer in clear and bold text. For instance, significant discounts, extra hours, free child snacks, easy pick-up & drop-off policies, special activities for neighborhood kids, open house events, etc.
For design examples, consider:
Adding 3D elements like silhouettes or images of children playing for visible depth
Choose bright colors to make your message stand out
Use fun shapes, like stars or circles, for directional signs
Incorporate creative illustrations in signs to attract attention
Make use of fun posters on your boards for easy decor
Whether 3D elements or stick-on shapes, custom sign boards, and ready-to-use cut-outs, all are just a few clicks away with Etsy and Amazon. So it's easy to get creative, right?
Tip: For daycare sign design ideas, try using Pinterest to take inspiration from different childcare, kindergarten, and pre-school signboards.
5 Types of Daycare Sign Boards
Physical signs are essential to any successful daycare as they help create a positive image and showcase your services.
Whether home childcare or a freestanding center, a signboard can significantly improve your daycare's aesthetics and management. So here's a list of daycare sign ideas that could add a professional and fun touch to your childcare center in no time.
1. Daycare Information Board
Daycare centers can provide essential updates to both parents and teachers through the use of information boards. Parents can access your facility's schedules, policies, and contact details via banners and boards in the waiting or drop-off areas.
Placing bulletin boards within your classroom, hallways, or entrance is also an excellent way to keep pertinent daycare info accessible.
2. Open House Sign Board
Advertise your daycare with eye-catching open house flags outside – hang them near the entrance or the yard for maximum visibility and effect!
To save money and time, be sure to have a reusable yard sign ready with an area you can customize for each event's date and information on how visitors can register.
You might also want to read: Open House Ideas for Daycare
3. Directional Signs
Ensure children and adults don't get lost on your daycare facility's premises by placing directional signs throughout the driveway entrance or parking lot area. Placing signs throughout the center allows visitors to easily find their way around, providing them with simple navigation.
Directional signage is especially important for larger childcare centers with multiple buildings within a single premise – making it much easier to find exactly where they need to go.
4. Daycare Yard Signs
Marking the pick-up and drop-off areas with a visible sign in yard, can help make the process much smoother and more organized. You can also include details like pick-up and drop-off times, parking rules or regulations, and safety tips to help keep everyone safe.
Adding bright colors and friendly illustrations can make pick-up/ drop-off signs even more fun.
You might also want to read: 10 Daycare Entrance Ideas
5. Childcare Advertisement Signage
You can advertise new classes, activities, and events with creative advertisement boards!
These boards are usually placed indoors or outdoors in a prominent area to draw attention and create an inviting atmosphere.
You might also want to read: How to Advertise Daycare?
Besides flyers and posters, you should place standees with banners with personalized messages – these are great for highlighting special offers and discounts.
Info: Ensure that your daycare is equipped with clearly visible signs indicating the location of fire extinguishers and first aid kits.
To start immediately, you can look at these online print posters or pre-made signboards. Here are a few examples that I found interesting:
Design for Daycare Sign
Investing in the right physical signs can make your daycare business flourish more by being more accessible.
There are many types of physical signs for daycare, including banners, flags, bulletin boards, window clings, sidewalk stencils, and outdoor signs.
Having physical signs can be an advantage for your daycare. However, too many ill-designed and unorganized signs may confuse.
You might also want to read: Creative Logo Design Ideas for Daycare
To ensure a clean and professional look in your space, adhere to the following design principles to avoid unnecessary clutter!
1. Colors
Stand out with bold and eye-catching colors for your daycare identity signage. Ensure to include neat graphics/ designs and a clear font that is easily readable from afar. This would attract more clients passing by while imprinting your message within mere seconds of their glance!
2. Messaging
Have a message which will attract users and make them take action. The great idea is to have a catchy phrase or memorable slogan that will stick in their minds. Ensure it reflects the core values of your daycare – one which captures its spirit and vision for all to see.
3. Text Size
The text on your signage must be visible from a distance for maximum readability. It should be large enough for people passing by in cars to understand it quickly.
Additionally, use a balanced combination of images and words to create an uncluttered, aesthetically pleasing, and informative display.
4. Size of Daycare Sign Board
When picking the size of your daycare signboard, you'll want to consider its location and purpose.
If it's placed outdoors, look for a larger size visible from far away.
Aim for something between 3-10 feet in height or width – this can vary depending on your available space and distance from the ground.
Similarly, for directional signs, you'd want to keep them smaller but at an appropriate height (Adding arrows at ground level could make navigation trickier and dizzier).
5. Position of Daycare Signs
Make sure to choose the ideal location for your daycare signs.
This way, you can ensure everyone sees it and its purpose is served.
If placing a directional sign, consider putting them at intersections or pathways within your facility.
For advertisement, boards should be placed in highly visible areas.
For the information board, choose waiting areas and pick-up locations.
Position your open house signs in high-traffic areas such as the entrance, exits, hallways, and sidewalks.
You should also consider placing daycare signs in places easily visible to parents, such as a drop-off and pick-up spot or near the playground area.
Ensure they're all placed strategically so they don't interfere with other signage.
What to Advertise
Providing details of your daycare facility is essential to increase visibility and attract potential customers.
Include information like the opening hours, age groups accepted, services provided, fun activities & events organized throughout the year.
Promote special offers and discounts via sign boards in your daycare.
Ensure that your daycare's name, logo, contact number, and address are prominently displayed on signboards.
Don't forget to include additional information like email address and website URL that could benefit visitors in your sign designs.
To ensure visitors can find their way around the daycare facility, include images of the building or a detailed and colorful map.
Provide an updated calendar to inform families of upcoming activities and events they may wish to participate in.
Also, for rules and warnings, physical signs are essential for maximum visibility.
Frequently Asked Questions
How do daycare attract clients?
Offer discounts or deals – this will ensure more customers come back again and again.
Offer incentives to new clients, such as free care for the initial week or two.
Focus on maintaining positive online reviews from previous clients.
Regularly update daycare inspection reports available online to ensure quality service.
For more details, follow this link: Daycare Inspection Reports
How do I design bulletin boards for daycare?
Choose what information you want to share if you're seeking ways to inform and entertain your audience. Art projects, upcoming events, nutrition facts, and more are all viable options!
Use vibrant images paired with intriguing captions to ensure it's eye-catching while staying organized.
Ensure it is in a visible spot where everyone can take advantage of the bulletin board – then admire the neat design that will surely attract attention!
To explore further design options for the bulletin board, click this link now!
Bulletin Board Ideas for Daycare
How do I set up my daycare room?
Start by creating a safe and comfortable environment. Place soft mats in the center of the room, giving little ones an area to crawl and explore.
Set up tables and chairs according to age groups and ensure they're child-sized so children can easily access them.
Fill shelves with toys related to their age group and interests.
Include colorful wall displays of the alphabet, fun shapes, and numbers for educational purposes.
Finally, establish a designated nap area to guarantee each child gets adequate rest.
Daycare rooms should be designed to foster learning and development while providing a safe space for children to explore their creativity.
You might also want to read: Daycare Room Setup Ideas
How can I make my daycare unique?
Devise a curriculum promoting child development.
Healthy and secure environment
Regular meet-ups
The strong and right advertisement
Discounts or easy policies
Arrange open house events
Provide some educational activities
What should be included in a daycare flyer?
Logo
Attractive childcare photos
Daycare location
Contact details
Tuition fee/ care charges
Age limit for admission
Services & Facilities
Conclusion
Remember, daycare signs are essential to your business's marketing strategy and should be thoughtfully designed and strategically placed for maximum exposure.
With the above-mentioned tips, you can easily create an aesthetically pleasing, organized daycare sign to draw more attention to your facility and leave a lasting impression on potential visitors.
So don't hesitate – to get creative with your signage.