Daycare Teacher Duties | Childcare Teacher Job Description
Are you a daycare teacher? And do you ever feel overwhelmed by all the daycare teacher duties requirements piled up on your plate? If so, you're in the right place to learn more about the duties and responsibilities associated with this rewarding and meaningful job.
Many rewards come from working with and nurturing young minds; it is essential to understand your role and its long list of duties. As a Daycare Teacher, you are entrusted with some of the following essential duties and responsibilities:
Early Childhood Education
Developing Curriculum and Schedules
Establishing Positive Relationships
Creating a Safe and Supportive Environment
Maintaining Records of Progress and Attendance
Assist with Meal Time, Snack Time
Engage in Storytelling, Music, Arts & Crafts
Facilitate Social Interaction
Track and Document the Developmental Progress
Develop Positive Relationships
If you want to become a top-tier Daycare Teacher, here are 16 essential job duties and responsibilities I've put together with helpful tips and resources. From knowing your daily tasks to more efficiently managing them, this is your go-to guide for becoming an outstanding daycare teacher! Read on – it's time to get started!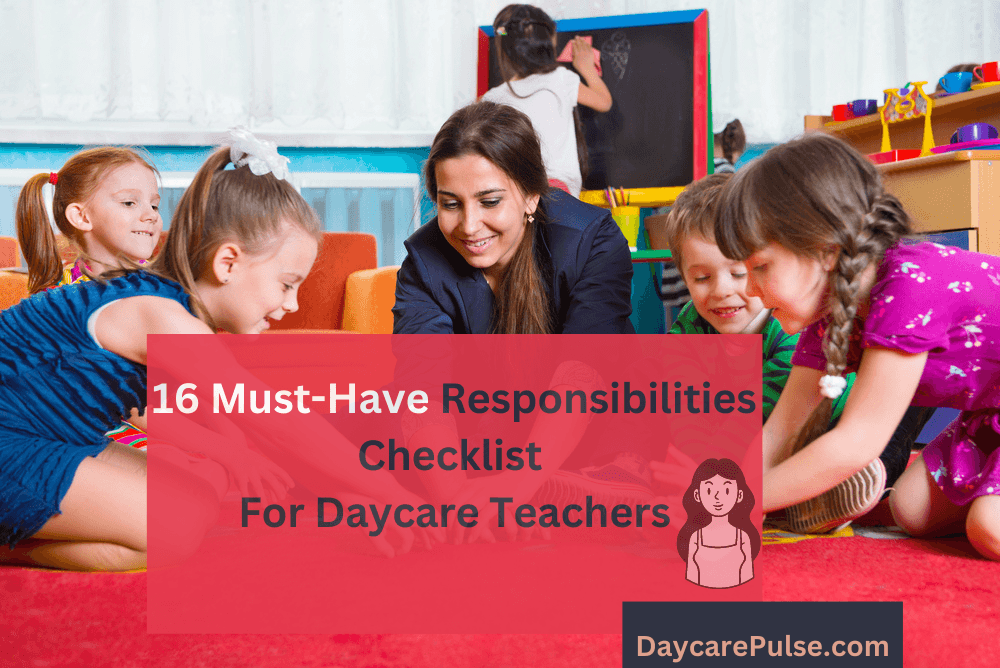 List of 16 Daycare Teacher's Duties and Responsibilities
A daycare teacher must ensure that every child feels content and secure. Moreover, you should strive to cultivate a lively environment with plenty of chances for them to learn new things, be creative, and hone their social skills.
1. Early Childhood Education
Daycare teachers are critical in fostering young children's positive growth and development. As such, they are responsible for creating an environment for learning, exploration, and creativity.
To ensure the successful education of these little ones, daycare educators must:
Set up effective lesson plans for each age group
Utilize various teaching methods to encourage learning
Assign tasks and activities tailored to each child's individual needs
Encourage students to explore materials, ask questions, and express themselves
Introduce basic concepts such as numbers, shapes, colors etc.
2. Developing Curriculum and Schedules
Daycare teachers must be knowledgeable in creating lesson plans, activities and programs according to the needs of their students. To ensure a successful daycare program, they must:
Create age-appropriate curriculum and creative activities for different age groups
Strong organizational skills
Develop lesson plans that meet state guidelines
Plan and develop daily, weekly and seasonal activities
Design various schedules to support the diverse needs of children
Update lesson plans to ensure children get the most out of their daycare experience.
3. Establishing Positive Relationships
The relationships that daycare teachers build with their students are critical for providing children with the guidance and security they need to thrive.
Therefore, educators must take the necessary steps to ensure healthy relationships between themselves and their young students. To effectively achieve this goal, they must:
Show respect and care for each student
Establish clear expectations and boundaries
Use appropriate language and behavior
Create a safe space for students to express themselves
Offer praise, encouragement, and positive reinforcement.
4. Creating a Safe and Supportive Environment
Daycare teachers must strive to create an environment where children feel safe and supported. To ensure the safety of their students, they must:
To ensure that all students are respected and treated fairly, implement regulations and discipline policies to monitor student behavior while creating a trusting atmosphere of acceptance and support.
Additionally, provide emergency plans for children's safety and maintain an inviting learning environment with cleanliness, organization, and stimulating activities.
5. Maintaining Records of Progress and Attendance
Daycare teachers must keep accurate records of their student's development and attendance. To do so, they must:
Document and track each student's progress
Monitor attendance, tardiness, and absences
Track student achievements and awards
Prepare monthly or quarterly reports for parents
Participate in parent-teacher meetings.
6. Assist with Meal Time, Snack Time
Daycare teachers also ensure their students eat healthy meals and snacks throughout the day. To do this, they must:
As a childcare supervisor, it is essential to promote healthy eating habits while overseeing children during mealtimes and snack times.
Furthermore, nutritionally balanced meals must adhere to state regulations to be prepared safely for students.
Additionally, food allergies should constantly be monitored as part of this process.
7. Engage in Storytelling, Music, Arts & Crafts
Daycare teachers play an integral role in helping students explore their creative side. To do this successfully, they must:
Read stories to the class that capture their imagination
Stimulate self-expression through music, art and crafts activities
Lead engaging exercises such as singing and dancing with role-playing games
Utilize age-appropriate materials like art supplies and other resources
Employ positive reinforcement strategies to motivate students.
8. Facilitate Social Interaction
Daycare teachers must also foster social development among their students. To do this, they must:
Cultivate positive communication between students
Encourage activities that develop collaboration and cooperation among peers
Aid children in discovering the importance of sharing, taking turns, and following directions
Create a sense of unity through regular group activities and suitable teaching material in daily lesson plans.
Demonstrate appropriate behavior for all students to emulate.
9. Track and Document the Developmental Progress
Daycare teachers must track and document their students' developmental progress. To do this, they must:
Observe each student to determine strengths and weaknesses
Monitor changes in behavior or development over time
Create individual learning plans to help students reach their developmental goals
Keep detailed records of each student's progress
Discuss findings with parents and other caregivers.
10. Develop Positive Relationships
Daycare teachers must build strong, positive relationships with their students. To do this, they must:
To effectively foster positive relationships with your students, take the time to get acquainted with each of them.
Demonstrate sincere interest in their lives and use supportive words when providing feedback or advice.
Make a conscious effort to listen attentively and respond appropriately.
Finally, ensure you devote quality one-on-one time for meaningful connections – this will help boost student morale, trust and respect!
11. Monitor and Document Health
Daycare teachers must also monitor the health and safety of their students. To do this, they must:
To keep our little ones healthy and safe, it is essential to:
Keep their vaccinations up-to-date;
Monitor for any health issues or injuries;
Record all medical problems and treatments administered;
Abide by safety protocols at all times;
Supply the necessary medication if needed.
12. Manage Student Behavior
Daycare teachers must also be able to manage student behavior. To do this, they must:
Creating and setting clear classroom behavior expectations ensures a positive learning environment.
In addition, teachers should guide their students in developing appropriate social skills and addressing any issues that arise with fairness.
It is also essential to recognize the efforts of those who adhere to the rules by providing rewards or incentives where possible.
All behaviors must be monitored regularly so that proactive steps can be taken if needed.
12. Clean and Maintain Classroom
Daycare teachers must also keep the classroom clean and orderly. To do this, they must:
Pick up toys, books, and materials at the end of each day
Ensure that all surfaces are correctly sanitized
Check for any damaged furniture or equipment
Replace supplies and materials as needed
Report any issues to the administration.
13. Communicate with Parents
Daycare teachers must also communicate regularly with parents and guardians. To do this, they must:
Invite parents into the classroom for meetings and parent-teacher conferences
Keep them informed about their child's progress and behavior
Offer constructive feedback regarding the student's growth
Respond quickly to all emails or phone calls from parents
Create positive relationships with guardians.
14. Plan and Implement Activities
Daycare teachers must also plan and implement a variety of activities. To do this, they must:
Design educational programs for their students
Create age-appropriate learning materials
Set up activities that allow students to explore and learn
Lead group projects and games
Use technology to aid in student learning.
15. Participate in Professional Development
Daycare teachers must also be open to continuing education. To do this, they must:
Attend seminars and workshops on early childhood education to stay informed of the latest trends for suitable teaching material for teaching assistants, best practices, and developments in daycare teaching.
Engage with fellow educators and encourage children by participating in stimulating discussions while incorporating feedback from parents and administrators into your practice.
By doing so, you can ensure that your teachings are up-to-date, which will benefit both students and parents alike!
16. Follow All State, Local, and Federal Guidelines
Daycare teachers must also adhere to all state, local, and federal regulations. To do this, they must:
Ensure that licensure mandates are followed to the letter.
Guarantee a safe learning environment for students by adhering to established safety standards.
File all necessary documents with the relevant authorities in time.
Abide by existing policies and regulations without fail.
Remain abreast of any new laws or requirements.
Teacher Job Description Template
Sample Example Template
We are seeking a passionate and enthusiastic Daycare Teacher to join our team. You will provide high-quality educational care and supervision to children of all ages in a secure and comforting environment. Moreover, you must ensure compliance with applicable state, local, and federal laws/regulations.
Key duties
Provide excellent care for children in the daycare setting by monitoring their health, safety, development, behavior and socialization.
Plan activities based on the age group of the students, such as creating engaging educational materials with age-appropriate topics while taking into account individual needs
Manage student behavior according to classroom expectations while providing rewards or incentives when warranted.
Maintain cleanliness in the classroom by picking up toys and materials at the end of each day and regularly sanitizing surfaces.
Communicate effectively with parents/guardians regarding their child's progress, including offering constructive feedback.
Stay abreast of current laws/requirements related to daycare teaching practice and ensure that all mandated documents are filed promptly.
Skills Requirement for Daycare Teacher
At least two years of experience working as a daycare teacher or a similar role
Strong leadership skills and communication skills with the ability to build strong relationships with students, parents/guardians, and staff members
Strong organizational and time management skills to create efficient and effective learning plans
The ability to stay calm in stressful situations while being willing to take the initiative when needed
A commitment to continuous learning and professional development
If you think you are an excellent fit for this position, we invite you to submit your application today. We look forward to hearing from you!
What Qualifications And Experiences Are Required for Daycare Teachers?
The qualifications for a daycare teacher vary depending on the state, but in general, they include the following:
To be considered for a position as a daycare teacher, applicants must have at least an Associate's Degree in Early Childhood Education or equivalent.
Additionally, experience working with children ages 0-5 is required, and necessary certifications/licenses are preferred.
Exceptional organizational skills and interpersonal capabilities are essential.
Furthermore, knowledge of applicable state health and safety regulations and CPR certification are beneficial qualifications that may increase one's chances of success in this role!
The proper educational credentials are undoubtedly essential for a successful daycare teacher.
But alongside this foundation, enthusiasm and dedication are just as necessary to make an impactful difference in your student's development. With experience, communication aptitude, and passion, you can help them grow like never before!
What is the Job Description For a Daycare Teacher Job?
As a daycare teacher, you design stimulating and educational programs to engage the students.
Additionally, crafting age-appropriate learning tools is essential to maximize their potential. Guiding group projects and games help develop social skills and individual academic abilities.
Participating in seminars or training workshops furthers your development by keeping up with trends or changes within the industry while staying compliant with local state laws and regulations must not be overlooked.
As always, additional duties may arise occasionally – be prepared!
Becoming a successful daycare teacher involves more than just an Associate's Degree or its equivalent in Early Childhood Education; it also necessitates hands-on experience taking care of young kids and the necessary certification/licensure to do so.
On top of that, knowledge of child development and behavior is imperative for excelling in such a prestigious role!
You can get more details on How to Get a Job at Daycare? – DaycarePulse.com.
Frequently Asked Questions
What Qualifications Do I Need to Become a Daycare Teacher?
To become a daycare teacher, you must have an Associate's Degree in Early Childhood Education or equivalent experience and proven expertise with young children.
You'll need certification and licensure for teaching in daycares, solid organizational capabilities and interpersonal skills. Additionally, you must understand the development of children's behaviors and be knowledgeable about state health regulations while having current CPR certification.
Are There Any Benefits of Becoming a Daycare Teacher?
Absolutely! As a daycare teacher, you have the remarkable opportunity to shape and influence young children's futures. You will be accountable for providing them with an excellent foundation at the start of their educational journey while promoting healthy physical, emotional, and social growth.
What Resources Are Available to Help Me Become a Daycare Teacher?
Use the National Association for Child Care Professionals website to ensure that your journey towards becoming a child care professional is supported. You can find information on education requirements, licensure and certifications, career guidance and more.
But don't stop there! Utilize services such as webinars and workshops made available by local organizations in your area or state education departments. As someone pursuing this career path, you have access to valuable resources at every step – so use them!
You may also want to read How to Be a Daycare Teacher?
Preschool Teacher vs. Daycare Teacher. What is the difference?
Preschool and daycare teachers have different educational roles with similar goals, but some key distinctions exist. Preschool teachers typically require more extensive qualifications, including a college or university degree in Early Childhood Education (ECE).
On the other hand, daycare teachers may need a high school diploma or an Associate's Degree in ECE but may not necessarily require a degree.
The primary focus of preschool teachers is to prepare children for kindergarten by teaching them the basics such as counting, letters and colors. On the other hand, daycare teachers more closely resemble nannies or babysitters, providing direct care and supervision of the children throughout the day.
What are the Duties of a Toddler Teacher?
A toddler teacher's primary responsibility is supervising, guiding and nurturing children from 12 months to 36 months.
This includes providing a safe and nurturing environment, helping children develop through play, fostering physical and emotional development, planning age-appropriate activities and providing guidance when needed.
It also involves developing lesson plans tailored to the child's needs, communicating with parents and keeping accurate records of activities. Furthermore, a toddler teacher is responsible for providing educational experiences that stimulate their growth and development.
How Would You Describe a Daycare Teacher on a Professional Resume?
A highly motivated and energetic daycare teacher with a passion for helping children, excellent communication and interpersonal skills, and an Associate's Degree in Early Childhood Education.
Experienced in creating and implementing age-appropriate activities to engage children while monitoring their safety and development. Possesses current certifications, including CPR certification, First Aid training, and a clear understanding of state health regulations.
What are the Excellent Qualities of a Daycare Teacher?
A good daycare teacher is patient, nurturing, and organized. They should have a passion for working with children, excellent communication and interpersonal skills, creativity, a positive attitude and the ability to think fast on their feet.
Additionally, they must demonstrate knowledge of child development and current health regulations and possess CPR certification. A daycare teacher should also be able to multitask and handle various tasks, such as planning activities, cleaning up after children, and communicating with parents.
Above all, a daycare teacher must be caring and have the drive to create an enjoyable learning experience for their students.
Conclusion
Pursuing a career as a daycare teacher is both mentally stimulating and gratifying. It demands hard work, tenacity, and an eagerness to go the extra mile for your students. With proper certifications, enthusiasm, and dedication, you can permanently impact children's lives by nurturing their development!