How to Get a Job at Daycare?
Are you considering working at daycare but feeling confused about how you can win a job at daycare?
Follow these 3 simple steps, and you'll be working at a daycare quickly!
Fulfill all Requirements for Daycare Job.
Apply with an Outstanding Resume.
Nail the Interview.
Are you yearning to land that dream job in a daycare? I have a curated checklist for getting a daycare job, 4 questions to ask during job offer.
So that you can easily win a potentially rewarding job at daycare.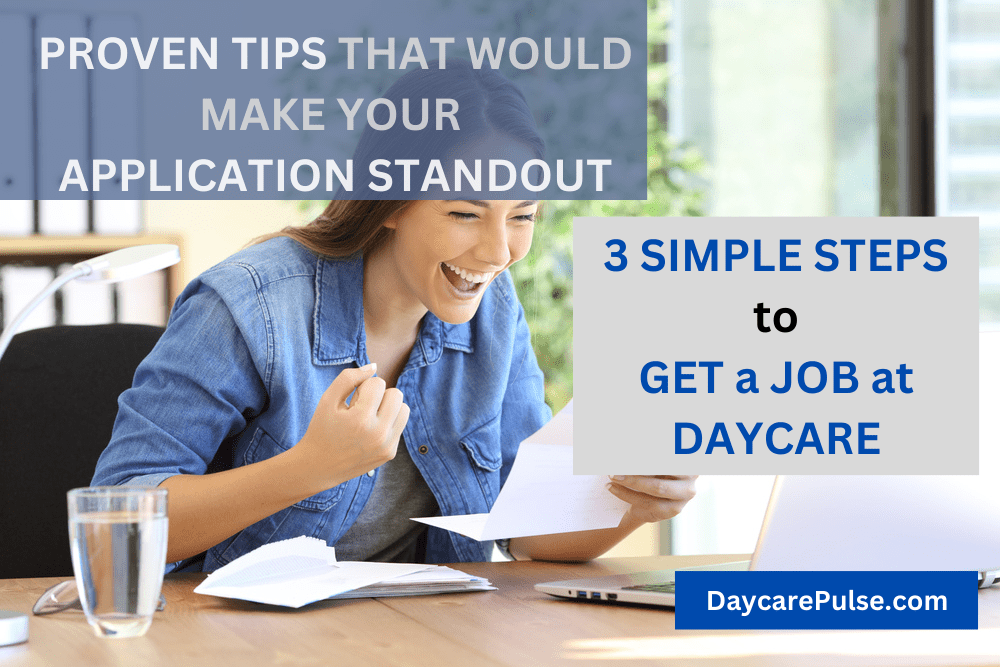 Checklist for Getting a Job at Daycare
Securing a childcare role begins with all the necessary qualifications and certifications. It means having all prerequisites, such as a high school diploma, CPR certification, and First Aid training, before moving forward in your job search journey.
It's essential to consider these requirements when becoming an ideal candidate for employment, one that employers would be eager to feel!
Creating a captivating resume is an integral part of the application process. With our step-by-step guide, you can make a compelling summary tailored to your desired childcare job. Read on for more information about putting together an impressive resume to help secure the perfect daycare position!
You must be thoroughly prepared for your interview to make the right impression.
From refreshing yourself with common questions and researching the daycare extensively to dressing professionally, multiple measures will help you ace your upcoming meeting!
To provide additional guidance on this process, I've included more information below outlining the best approaches for readying yourself beforehand.
Step 1: Requirements To Work at a Daycare
You will need to possess specific qualifications and certifications to obtain a job in the childcare industry. These requirements vary depending on the center, so it's important to know what your desired daycare is looking for before applying.
The most common criteria that employers often require are:
A high school diploma.
Experience in a related field, such as preschool or teaching.
CPR and First Aid certified.
Child abuse prevention training.
A criminal background check.
TB test.
Suppose you are planning to volunteer at a daycare to gain experience to work at a daycare. You may like to read How Old Do You Have To Volunteer at Daycare?
Step 2: How to Write a Resume for Daycare Job?
Now that you know the qualifications and certifications necessary for childcare jobs, it's time to formulate your resume. An impressive CV is vital in creating an impression on prospective employers. So let's dive into how to make yours unique!
Start by including your professional background and list your most relevant qualifications. Highlight any accomplishments worth noting and demonstrate your enthusiasm for the childcare industry.
Be sure to provide accurate details of previous experience in similar roles and a list of references that can vouch for your ability to excel in the Job. Also, make sure to highlight any additional certifications or training that you possess.
You may wonder if you need to gain the experience to mention working in daycare. What should you do in that case? Don't worry!

You can still apply for the position by reading my detailed blog on How To Get A Job At A Daycare Without Experience?
How to Make Your Application Standout for Childcare Workers?
You must take specific steps to stand out amongst the competition of job applications. Follow these 4 tips to ensure a successful outcome:
Pay Attention to Detail- Carefully proofread your resume and cover letter before submitting them to ensure no spelling or grammar mistakes.
Tailor Your Application to Job – Research daycare and customize your resume according to the position you're applying for.
Highlight Any Transferable Skills- Showcase any relevant experience that applies to the role, such as previous positions caring for children.
Be Creative- Showcase your personality and enthusiasm for the Job by adding a unique feature to your application, such as a video or infographic.
Note: Make sure to read the job description carefully.
Step 3: How to Prepare For an Interview at a Daycare?
Your interview for a daycare position is essential, so ensure you prepare it well. The following advice can help ensure that your meeting goes smoothly:
Be Meticulously Dressed: Your appearance creates an initial impression, which should work in your favor during the interview process! Do you know what daycare workers wear at daycare?
Read on What Do Daycare Workers Wear?
Do Comprehensive Research: Before heading into the center, become familiar with its background information, including its history, mission statement and values; this will assist you when responding to questions regarding the facility.
Research Common Interview Questions: Prepare to answer frequently asked queries, such as, "What inspired you to pursue a career in childcare?" or even, "How would you go about settling disciplinary problems?"
Believe in Your Abilities: Radiate your confidence and demonstrate your passion for the opportunity. The interviewer wants to get acquainted with who you are as a person, so be sure to showcase yourself!
4 Questions to Ask During the Job Offer
So you've made a lasting impression on your interviewer, and now they're offering you the Job but remember to ask some essential questions!
Here are 4 primary topics that need addressing:
When am I expected to work?
What kind of resources, support, and training can I count on?
How will my performance be measured?
What type of benefits do you think I should anticipate with this role?
Which Daycare Careers Should You Opt?
If you're exploring potential daycare careers, there are a variety of roles to consider, from assistant and supervisor to teacher or administrator.
When mapping out your ideal job path in this field, you must research current trends and reflect on the environment in which you would like to work in home-based settings or traditional centers.
Once identified, ensure you have the qualifications and skillset for each role before entering into contracts with employers! Please review any extra credentials or training you have, and figure out how these can enhance your daycare career.
After considering all of the above, you should be able to confidently choose a job that is well-suited for you! I wish you success in this endeavor!
Job Description Requirements for Assistant Job at Daycare
An assistant at a daycare may have certain responsibilities that vary depending on the specific facility and role. Generally, they are responsible for directing children's activities, maintaining order in their environment, and aiding with daily administrative duties.
6 Specific duties may include:
Supervising children while they eat, play or complete their homework.
Assist teachers with daily activities such as arts and crafts, storytime, and outdoor activities.
You can help to maintain a clean and organized environment in the daycare center.
They are following safety procedures and ensuring that children are safe.
You can assist with basic administrative tasks such as meal preparation and diaper changing.
You may support the teachers with developing lesson plans and recording attendance.

Read on: Daycare Teacher Duties | Childcare Teacher Job Description
Does Childhood Education Count Plus Point in Getting a Daycare Job?
A degree or childhood education certification is highly beneficial when applying for daycare positions. It demonstrates that the candidate has an understanding of early childhood development, as well as the ability to provide appropriate learning activities and guidance.
Furthermore, having experience with young children also is a plus point, so include this on your resume!
Frequently Asked Questions
1. What are the Positions at a Daycare?
Plenty of opportunities are available if you're looking to carve out a career in childcare. Each position requires special qualifications and skill sets, from Assistant and Teacher roles to Supervisors or Administrators.
Before applying for any job, you must look into the specific duties associated with their part to make an informed decision about whether this is right for your future!
2. What Should I Wear to a Job Interview at a Daycare?
Dressing professionally and comfortably is essential when appearing for a daycare job interview. Khakis or slacks with a collared shirt are perfect options to consider!
Also, avoid excessive jewelry, and make sure your hair looks neat and put together. You want to give the best impression possible at this critical meeting!
3. How Do I Get a Child Care Experience?
If you are considering a career in daycare, gaining experience working with children is the perfect way to start.
Volunteer or temporary positions can be at local daycares, community centers, and churches that may require an extra set of hands. For added expertise and education on child psychology and early childhood development, courses could also benefit your career aspirations.

Read on : How to Be a Daycare Teacher?
Conclusion
After you accept the job offer, it's time to make a great first impression on your coworkers. Please show up on time and look professional; these qualities will demonstrate that you're trustworthy and dependable in their eyes.
Being polite is also essential, as this can ensure lasting relationships with colleagues over the years. Becoming familiar with the facility's culture and regulations is necessary to gain a feel for your future workplace.
Additionally, stay organized and get acquainted with the kids. Doing this will create a favorable impression at your new Job! I Wish you all the best on your journey as a daycare professional!
With the right knowledge, mindset and preparation, you are certain to thrive in this rewarding profession. All the best on your journey! 🙂