6 Daycare Positions: Insider's Handbook
Hey there, ready to kickstart your journey into the wonderful world of daycare? Feeling a bit lost about where to begin? No worries, I've got your back!
You know what makes a daycare job application shine? Having some previous experience with kids and getting certified in CPR and first aid. It's like your golden ticket to this rewarding industry!
Absolutely, no need to stress! I've got your back with a list of daycare roles, some great job search and networking tips, and answers to those nagging questions.
I'm here to save you time and clear up any confusion, so you can confidently step into this enriching career and secure your financial stability. Get ready for an exciting journey ahead, my friend! 😊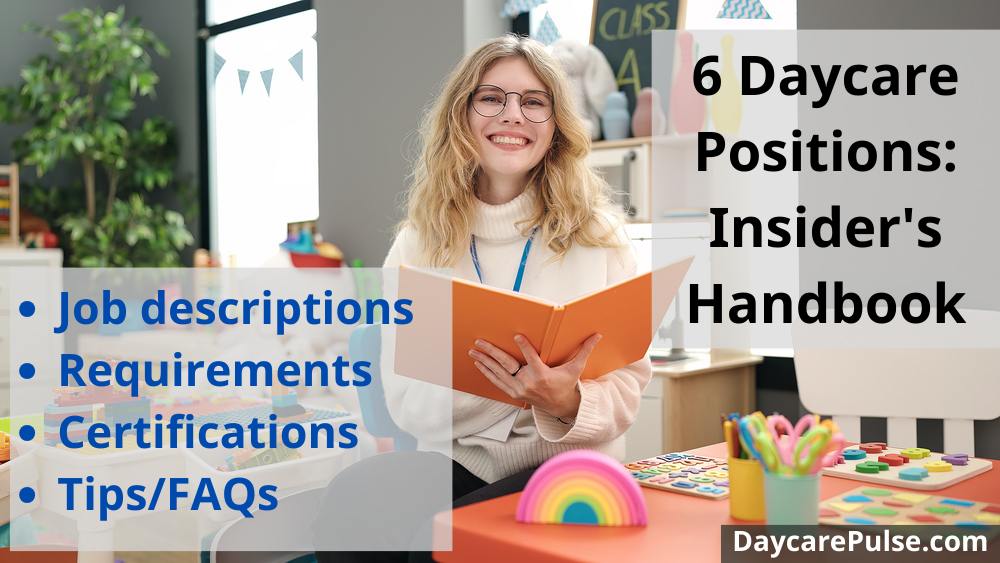 6 Daycare Position Titles and Their Requirements
These roles work together to craft a warm, learning-focused, and secure atmosphere, all thanks to the enthusiasm of our fantastic early childhood educators, who truly love igniting a curiosity for learning in little ones.
Whether you're just stepping out of college or you're a seasoned early childhood educator, rest assured, there's a spot for you in a childcare centre.
So, if you're aiming to be a preschool teacher or you're already rocking it as a childcare worker, these daycare roles open up amazing chances to truly impact the lives of little ones.
Let's embark on a journey to explore five key positions in daycare settings, delving into their requirements and responsibilities in detail, including the vital role of daycare workers. Ready to dive in?
Daycare Assistant/Teacher's Assistant
Description
The daycare assistant or teacher's assistant is a vital member of a childcare facility, supporting lead teachers in facilitating daily activities to promote children's development and learning.
Responsibilities
Develop and implement age-appropriate lesson plans that support children's development.
Maintain a safe and clean environment, oversee meals and naps, and document children's progress.
Engage with parents during pick-up and drop-off, providing updates on their child's day.
Why are these positions important?
Daycare assistants are crucial in creating a safe and nurturing environment for young children. They are dedicated and caring individuals who have a lasting impact on both the children they care for and the community.
Requirements/Qualification/Certifications
Did you know that most daycare positions require a high school diploma? According to labor statistics, the demand for qualified daycare workers is on the rise, making it an excellent career choice.
Previous experience working with children, preferably in a daycare.
Ability to work well in a team.
CPR and first aid certification.
Daycare Teacher
Description
A daycare teacher takes a step up from an assistant and plays a crucial role in the daycare setting. Unlike the assistant, the daycare teacher is mainly responsible for designing and implementing a curriculum that fosters child development.
Responsibilities
Design and execute a full-fledged curriculum.
Keep a close eye on the children's progress.
Ensure effective and transparent communication with kids and parents.
Why are these positions important?
Daycare teachers shape young minds, fostering educational, emotional, and social development. With dedication and passion, they leave a lasting impact on future generations.
Requirements/Qualifications/Certifications
Bachelor's degree in early childhood education or related field.
Excellent communication skills.
Ability to plan, organize, and implement age-appropriate activities.
First aid and CPR certified.
Child Care Supervisor
Description
A child care supervisor brings organizational savvy and leadership skills to the daycare environment. This role involves overseeing the daily operations of the facility and ensuring a high standard of care and education for all children.
Responsibilities
Coordinate with teaching staff to provide high-quality, developmentally appropriate activities.
Ensure all licensing regulations for childcare facilities are adhered to.
Communicate effectively with parents regarding their child's progress and any necessary information.
Why are these positions important?
In the bustling environment of a daycare, the child care supervisor serves as a vital linchpin, ensuring everything runs smoothly. From coordinating schedules to maintaining safety standards, they truly help shape a positive, nurturing environment for our precious little learners.
Requirements/qualification/Certifications
Experience supervising staff and overseeing operations.
Knowledge of licensing regulations and compliance standards for childcare centers.
Strong communication/leadership skills.
Daycare Administrator
Description
A daycare administrator is vital for running and managing the facility. They handle daily operations, budgeting, and ensuring compliance with regulations.
Responsibilities
Taking care of the budget, including payroll, expenses, and supplies.
Making sure we follow state regulations for safety, health, and curriculum standards.
Helping with enrollment for new children, handling paperwork and payments.
Why are these positions important?
Daycare administrators ensure that the daycare runs efficiently, with proper resources, and in compliance with regulations.
Requirements/Qualification/Certifications
Bachelor's degree in business administration or related field preferred.
Knowledge of state and local regulations for daycare facilities.
Strong organizational, financial, and communication skills.
Behavioral Therapist
Description
A behavioural therapist is a person that helps children with behavioral issues, fostering positive behaviors and social skills.
Responsibilities
Create personalized behavior plans for each child.
Utilize positive reinforcement techniques to promote desired behaviors.
Collaborate with parents, teachers, and professionals to support child development.
Why are these positions important?
Behavioral therapists play a really important role in helping kids overcome behavioral challenges and develop healthy social skills. Their work has a big impact on a child's overall well-being and success.
Requirements/Qualification/Certifications
Bachelor's degree in Psychology, Social Work, or a related field.
Specialized training in behavioral therapy techniques.
Previous experience working with children with behavioral issues.
Childcare Nurse
Description
A childcare nurse takes care of children's health and well-being in a daycare. They provide basic medical care, give medication, and address any health concerns.
Responsibilities
Provide necessary medical care for children.
Administer medication based on parents' and doctor's instructions.
Maintain comprehensive health records for each child and communicate any concerns to parents.
Why are these positions important?
Childcare nurses play a crucial role in daycare settings by taking care of young children. They provide parents with peace of mind, knowing that their child is getting the necessary medical attention while they're at work.
Requirements/Qualification/Certifications
Bachelor's degree in nursing or related field.
Current nursing license.
CPR and First Aid certification.
Tips for Daycare Job Applicants
Hey there! In the Tips for Daycare Job Applicants section, I'll share awesome advice to help you stand out in your daycare job applications.
Remember, working in daycare is all about nurturing and caring for kids. Let your passion shine through in your applications and interviews. So, get ready and read on for the inside scoop on landing your dream daycare job!
Job Search
Begin by searching online job sites like Indeed, Glassdoor, and LinkedIn for childcare job openings.
Visit local daycare center websites to find available positions.
Attend career fairs and networking events for childcare professionals to connect with daycare owners and managers who may be hiring.
Reach out to your network for insider info or introductions. Good luck with your search!
Networking
Join local daycare associations, attend conferences, and workshops to connect and learn from other professionals.
Volunteer at a daycare center or join community events focused on children for connections and hands-on experience.
Connect with daycare professionals for leads and recommendations. Networking is key in this field!
Paragraph: Start your journey toward confidently landing a daycare job by exploring "Tips for Daycare Job Applicants". This comprehensive guide offers job search strategies, networking tips, and insights into daycare positions.
Frequently Asked Questions
When Should I Apply for These Daycare Positions?
When is the best time to apply for daycare positions? It depends on a few factors. Consider the local job market and the daycare's hiring cycle. Start your job search a few months before you want to start working. This gives you time to find the perfect fit.
Keep an eye on job listings, daycare websites, and community boards for openings. Applying in advance lets you research employers, customize your resume and cover letter, and prepare for interviews. Check regularly, as some daycares may have ongoing openings for different roles. Good luck with your search!
Discover the impact of daycare hours on children's well-being by exploring "How Many Hours a Day Can a Child Stay in Daycare?". This informative article is essential for daycare professionals and parents alike.
Which Daycare Positions Are Paid the Most?
Absolutely, let's talk finances in the daycare world! Here's the deal: the more education, experience, and special skills you bring to the table, the better the paycheck.
Take daycare directors and administrators, for example. They earn a bit more because they're the masterminds behind the scenes. They're like the superheroes of daycare, shaping policies and curriculum, which is a big deal, and that's why they get the higher pay.
Now, let's talk about the rockstars of daycare – the early childhood education specialists and lead teachers with fancy degrees and certifications. These pros design and run educational programs, watch over children's development, and provide super personalized support. Their expertise is gold, and that's why they get those higher salaries.
So, there you have it! The more you bring to the table, the more you can expect in your paycheck. Time to shine bright and level up! ✨😊
Can I Apply for Daycare positions Without Experience?
Absolutely! Here's the lowdown: you can totally apply for daycare positions even if you haven't had previous experience, especially for beginner roles like daycare assistants or aides.
Many daycares are super welcoming to newcomers and often have training programs and on-the-job learning opportunities. So, even if you're starting fresh, there's room to grow and learn the ropes.
Now, the key? Show off your passion! Let your enthusiasm for working with kids shine. Plus, think about all those skills you've picked up in different parts of your life – things like good communication, patience, and teamwork. They're like gold in the daycare world!
When you're chatting with potential employers, make sure they know you're not just looking for a job; you're excited to be a part of their daycare family.
That positive attitude? It's like magic! It can make employers really keen to invest in your training and help you grow. So, go ahead and showcase your enthusiasm – it's your secret weapon! 😊
What Do You Call Someone Who Works at a Daycare?
Working at a daycare involves various roles like daycare worker, teacher, provider, or assistant. These professionals supervise children, ensuring their safety, organizing activities, and sometimes assisting with education.
Specialized roles include directors or administrators who manage staff and curriculum. Regardless of the title, the goal remains the same: creating a safe, caring, and fun environment for the kids.
Gain clarity on daycare job titles and roles within the industry by reading "What Do You Call Someone Who Works at a Daycare?". This valuable resource is perfect for newcomers and those explaining daycare positions.
How Do You Put Daycare Workers on a Resume?
When adding daycare work experience to your resume, create a section titled "Professional Experience" or "Work History." List job titles, daycare facility names, locations, and duration of employment.
Highlight responsibilities and achievements showcasing relevant skills like child supervision, activity planning, and creating a safe environment. Include certifications (e.g., CPR, first aid) and showcase soft skills like communication, patience, and teamwork.
If lacking formal experience, focus on transferable skills from areas like volunteer work with children to demonstrate suitability for the daycare role.
Conclusion
Congrats on taking the first step towards your dream daycare job! Show your passion for working with kids, highlight your relevant skills, and stand out during the application process.
Network and reach out to others in the field for guidance and opportunities. With determination and a positive attitude, you'll find the perfect daycare position to make a real impact on children's lives.
Good luck! Keep an open mind, be ready to learn and grow in your new job. The rewards will be worth it. Cheers to the unsung heroes of early education! 🌟! See you soon at a daycare near you! 🙂