Daycare Newsletter: Quick and Easy Guide
Are you struggling with creating engaging and informative newsletters? Don't worry, I'm here to help! I'll turn this overwhelming task into a breeze for you.
Now, let's dive into the solution. A well-balanced Daycare Newsletter should include some key elements including; daily, weekly, or monthly updates, safety protocols, child-parent engagement, regular feedback, and professional development resources.
By adding these elements to your newsletters, you're not just sharing valuable info – you're also building fantastic connections with parents and your team. How cool is that? 😊.
Guess what? Dive into this blog post, and you're on your way to becoming a newsletter superstar for your daycare!
You'll feel super confident and save heaps of time. Plus, as you get the hang of it, you'll see all that chaos and stress fade away. Let's make this newsletter journey fun and stress-free together! 🌟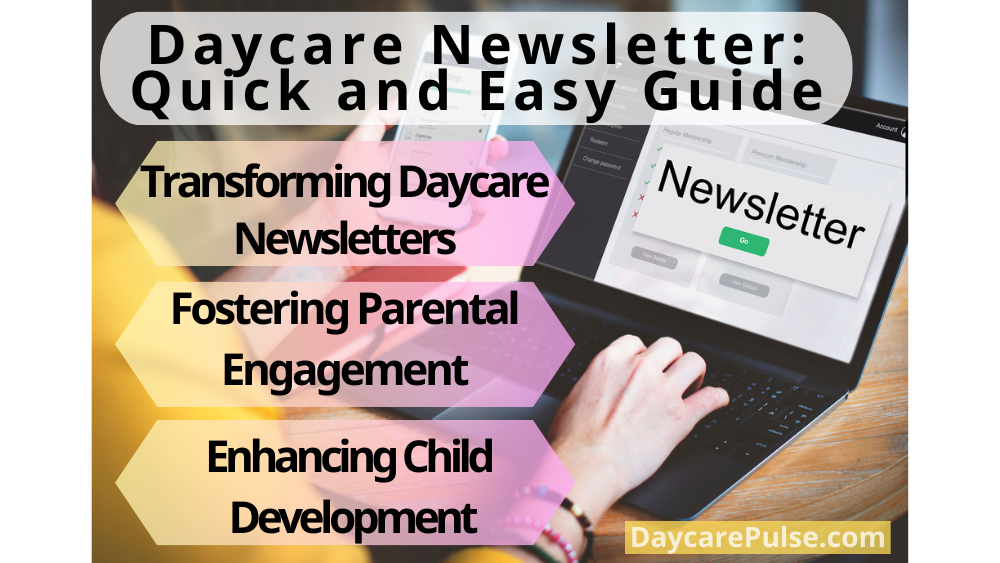 Significance of Daycare Newsletters
Let's get down to the nitty-gritty of what a daycare newsletter is all about. Think of it as a friendly chat between you, the daycare provider, and the parents of the kids you care for.
It's your platform to communicate upcoming events, share fun stories about the kids' activities, highlight any changes in policy, and much more.
It's also a fantastic way to show appreciation to your parents for entrusting their little ones in your care.
Parental Engagement Importance
Engaging parents in their child's daycare experience is critical, and a daycare newsletter is an excellent tool to accomplish this. Regularly sharing daycare updates keeps parents informed and engaged in the happenings.
The newsletter provides parents with insights into their child's daily activities, including their experiences, progress, and any challenges they may encounter.
When parents are engaged, they're more likely to be satisfied with our services, creating a thriving daycare environment!
Trust Building
Running a daycare is all about trust. Parents trust you with their most precious possession, and a daycare newsletter can help build that trust further.
Regularly communicating with parents through newsletters has a dual purpose: keeping them in the loop and showing our dedication to providing top-notch care for their children. 😊
Staff-Parent Relationships
A daycare newsletter is also an excellent way to strengthen relationships between staff and parents. It gives staff the opportunity to showcase their dedication to children, creating a stronger bond between parents and the incredible daycare team.
Moreover, it's an awesome platform for parents to get to know the staff better and build trust in their amazing abilities as caregivers.
What Should the Daycare Newsletter Include?
Now that we've talked about how important a daycare newsletter is, let's dive into what you can include in it! Here are a few insights to help you get started:
Child Updates and Achievements
Milestones and progress we've made.
Artwork and creations we've worked on.
Special moments and memories we've experienced.
Insights from our learning and development.
Observations and thoughts on behavior.
Recognizing the "Star of the Week".
Educational Insights
Curriculum Highlights.
Tips for Parents.
Book of the Month.
Activity Suggestions.
Teacher's Corner.
Learning through Play.
Safety Protocols
Cleaning and Sanitizing Updates.
Pick-Up and Drop-Off Procedure Changes.
Social Distancing Measures in the Daycare.
Health Screening for Children and Staff.
Emergency Response Plan.
Personal Protective Equipment (PPE) Updates.
Hand Hygiene Reminders.
Parental Engagement Ideas
Share entertaining and educational activities for parents and children to enjoy at home.
Encourage parents to contribute content like book reviews, family recipes, or parenting tips to the newsletter.
Announce upcoming opportunities for parents to volunteer at the daycare, such as reading storybooks or assisting with art projects.
Include quick surveys or polls to gather parents' opinions on daycare-related topics.
Pose questions for parents to discuss with their kids, enhancing their understanding of what their child is learning.
Feature testimonials from parents about their experiences with the daycare.
Announce family-oriented events at the daycare school, such as family enjoyment days or parent-teacher meetings.
Complete Checklist of Items to Include in the Daycare Newsletter
Schedule: Monthly/weekly activity timelines
Events: Special occasions and celebrations
Menu: Weekly/monthly meal plans
Health & Safety: Updates on health protocols, tips
Testimonials: Positive feedback from parents
Staff: New staff introductions, profiles, links
Photos: Snapshots from recent events
Curriculum: Academic and non-academic learning
Parental Tips: Advice for parents on child care
Holiday Notices: Dates for center closure or special events
Art & Craft: Showcasing children's creative work
Birthdays: Celebrating children's birthdays
Enrollment: Information for new admissions
Workshops: Special sessions for kids & parents
Fun Facts: Trivia related to child growth
Featured Child: Spotlight on a child's achievement
Outdoor Activities: Field trips and outdoor play
DIY Activities: At-home activities for children
Parent Meetings: Scheduled dates for parent-teacher meets
Updates: Any changes in daycare policies
Payment: Fee updates and reminders
Toy/Book of the Month: Highlighting a new toy or book
Volunteer Opportunities: Ways parents can get involved
Reminders: Important things to remember
Behavior Tips: Strategies to manage child behavior
Emergency Contacts: Updated list for emergencies
Themes: Monthly or weekly themes at daycare
Reading Corner: Book recommendations for kids
Thank You Notes: Gratitude notes from staff
Child Milestones: Highlighting developmental milestones
Sleep Schedule: Nap times and duration
Seasonal Activities: Activities related to current season
Potty Training: Tips and updates on training
Dress Code: Reminders about clothing
Weather Updates: Precautions for upcoming weather changes
Community Events: Events in the local community
Parenting Articles: Insights on modern parenting
Sickness Policy: What to do when a child is ill
Lost & Found: Items that need to be claimed
Featured Teacher: Spotlight on a staff member
Cleanliness: Updates on cleaning procedures
Room Highlights: Showcase of a specific room or area
Communication Channels: Ways parents can communicate with staff
Parent Workshops: Sessions for parental development
Safety Drills: Updates on evacuation and safety drills
Awards: Recognitions received by the daycare
Child's Voice: Anecdotes or quotes from children
Equipment Updates: New toys or facilities added
Feedback: Request for parent feedback
Visiting Days: Days when parents can visit
Resource Recommendations: Apps, books for parents
Gift Ideas: For birthdays or special events
Nutrition Tips: Tips for healthy child feeding.
How to Craft an Effective Daycare Newsletter?
A daycare newsletter is like a lifeline that connects the school, preschool, and parents together. It's not just about sharing updates; it's a way to keep parents in the loop about their child's experiences, important dates, and other important info.
By carefully crafting each section – like events, curriculum, health & safety updates, staff introductions, and child milestones – the newsletter builds a connection and fosters trust.
It becomes a valuable resource for parents to get involved and stay connected with what's happening at the daycare.
So, let's dive into the key factors that can help create an engaging and effective daycare newsletter.
Design and Format
To create an effective daycare newsletter that attracts parents, the design and format should be appealing and convenient.
A clean and organized layout with readable fonts and colors is crucial! Parents can easily find the information they need without any confusion.
For design, consider using high-quality images that showcase daycare activities. This adds visual interest and makes parents feel included in their child's daily life. Pretty cool, right?
Save time and effort by using tools like Google Docs to design the newsletter. Collaborate and distribute it among daycare staff effortlessly.
Save the newsletter as a PDF or image file for easy sharing. Include clickable links or buttons for parents to access more information or sign up for events.
Content Creation
When you're creating content, it's super important to strike that perfect balance between being informative and engaging. You want parents to be able to understand everything without getting overwhelmed by jargon or technical language.
So, instead of going all fancy with the words, try using simple everyday language that feels like you're just having a chat with the parents. It's all about making them feel comfortable and making the content easy to understand. Trust me, they'll appreciate it!
Make sure to include only relevant updates in your newsletter. This could be anything important that parents need to know. It's also essential to ensure that the updates are timely, meaning they are current and up-to-date.
Consistent Communication
When it comes to newsletters, consistency is key! Plan a regular schedule for publishing newsletters, whether it's weekly, bi-weekly, or monthly. This way, parents will know when to expect updates and it will keep them engaged with the daycare on a regular basis.
Feedback Mechanisms
Feedback is essential for any successful communication. Provide channels for parents to give their feedback and suggestions, whether it's through email or a survey form. This will not only help improve the newsletter but also demonstrate that their opinions are valued.
Daily/Weekly/Monthly Daycare Newsletter
Daily Daycare Newsletter
A Daily Daycare Newsletter provides immediate updates on daycare activities. It includes a summary of the day's curriculum, reminders for important dates or events, and other news.
The primary purpose is to maintain constant communication with parents, keeping them informed about their child's activities. This fosters a stronger connection between parents, daycare, and their child's routine.
Weekly Daycare Newsletter
A Weekly Daycare Newsletter provides a detailed overview of the past week. It includes highlights from the curriculum, child milestones, staff profiles, health and safety tips, and a preview of the upcoming week's schedule. These newsletters are great for parents who prefer a consolidated weekly update.
Monthly Daycare Newsletter
The Monthly Newsletters is a more comprehensive document. It provides a broad overview of the past month's activities, important dates for the upcoming month, and a deeper dive into specific topics like curriculum changes, child development tips, or staff bios.
The monthly newsletters can also feature a 'Parent's Corner' with feedback, suggestions, or experiences shared by parents.
The purpose of these monthly newsletters is not just to inform, but also to engage parents in a more in-depth manner, fostering a stronger sense of community within the daycare.
Can the Daycare Newsletter Impact Child Development?
Absolutely! A well-crafted daycare newsletter can have a positive impact on child development. By regularly sharing updates and achievements, you're not only keeping parents informed but also promoting a sense of pride and motivation in the children.
Positive Influence
A daycare newsletter that really shows off the awesome achievements, fun learning experiences, and happy moments of the children can make a huge impact on their self-esteem and confidence. Plus, it's a great way to celebrate diversity and create an inclusive daycare community.
Parental Involvement Impact
Regularly communicating through a daycare newsletter can engage parents, strengthening the connection between home and daycare. This involvement supports children's learning and development, benefiting their well-being.
Cognitive Development Benefits
Let's talk about a biggie – cognitive development. You see, a daycare newsletter can play a surprisingly crucial role in this area too!
When we share updates on what we've been doing in our daycare — like solving puzzles, reading books, or conducting science experiments — parents can extend those lessons at home. This reinforces and supplements the kids' learning experiences, boosting their cognitive development.
And here's a little secret – kids love being the experts! When they get to teach their parents about what they learned, it not only reinforces their new knowledge but also helps them to apply it in new contexts. That's like supercharging their cognitive abilities!
And of course, when we share those brain-boosting activities or educational insights in our daycare newsletters, parents can use them as a guide to foster their kiddo's cognitive development outside daycare hours.
It's like we're teaming up together – parents and daycare – to surround the child with enriching experiences that ignite curiosity, stimulate brain growth, and cultivate a lifelong love of learning. How cool is that?
Frequently Asked Questions
What should be included in a daycare newsletter?
A Daycare newsletter should typically include updates on upcoming events, entertaining stories about the children's activities, changes in policy, and any other relevant information for parents.
They can also include child updates and achievements, educational insights, safety protocols, parental engagement ideas, and a complete checklist of items.
You can also add a season-related themed touch to your daycare newsletter, as an illustration check the blogpost on "Daycare Newsletter for Winter Season" https://www.daycarepulse.com/daycare-newsletter-for-winter-season/
What is a newsletter in childcare?
It is a regular communication tool between the daycare provider and parents. It contains updates, important information, and highlights of the children's activities within the daycare setting.
It also serves as a way to engage parents in their child's daycare experience and build trust with them. So, it's more than just a simple newsletter; it's a means of fostering relationships and creating a sense of community within the daycare.
So, don't underestimate the power of a well-crafted daycare newsletter – it could make all the difference in your daycare's success!
How do you write a newsletter for a toddler?
Writing a newsletter for toddlers can be a fun and creative experience. Here are a few tips to keep in mind when crafting your newsletter:
Use engaging language that parents can easily understand and relate to.
Include colorful pictures or videos of children's activities for visual appeal.
Keep content concise, as the attention spans of parents with toddlers may be limited.
Incorporate interactive elements, like a fun at-home activity for kids and parents.
Show your personality and have enjoyment- you're communicating with parents of young children!
Let your creativity shine in the newsletter, making it enjoyable for both parents and children.
A well-crafted newsletter helps build positive relationships with parents. Keep these tips in mind and have fun creating your next daycare newsletter! Happy writing!
How do I start a daycare newsletter?
Starting a daycare newsletter can seem daunting, but it's not as complicated as it may seem. Here are some simple steps to get you started:
Determine the frequency of your newsletter: Choose to send weekly, bi-weekly, or monthly newsletters.
Choose a format and design: Consider using Mailchimp or Canva for visually appealing newsletters.
Gather content: Write the information you want to include, such as updates, achievements, safety protocols, etc.
Put it all together: Use a mix of text, images, and videos to create an engaging and informative newsletter.
Proofread and edit: Before sending, ensure there are no spelling or grammar errors.
Send it out: Once you're satisfied, hit send and enjoy your parents' reactions!
Don't underestimate the power of a well-crafted daycare newsletter – it could make all the difference in your daycare's success!
For step-by-step guide check out the blog on "How to write a daycare newsletter" https://www.daycarepulse.com/how-to-write-a-daycare-newsletter/
Conclusion
The daycare newsletter plays a crucial role in connecting educators, parents, and students in early childhood education. It serves as a vital link that keeps everyone in the loop!
With thoughtfully designed templates, teachers can save valuable teaching hours while ensuring clear and professional communication. Parents can easily stay informed about their child's activities, promoting convenience and fostering greater involvement.
The distribution of the newsletter strengthens bonds and enriches shared experiences in the educational community. The synergy between these digital resources and the final print materializes into a valuable tool that brings together educators, parents, and young learners in a meaningful way.
So, when you're crafting your next daycare newsletter, remember, that it's not just about sharing updates. It's about partnering with parents to provide the best possible environment for children to grow, learn, and thrive.
And that, my friends, is the incredible power of a well-crafted daycare newsletter!