Daycare Newsletter for Winter Season: Tips and Creative Secrets
Hey there! Winter brings joy with snowflakes and celebrations. But let's face it, creating the perfect daycare newsletter for this magical season isn't always easy. We understand the struggle – brainstorming creative ideas while racing against the clock? Been there, done that!
But hey, no need to worry! I am here to transform your winter concerns into delightful experiences. Picture a world where you have an abundance of winter-themed crafts, thrilling activities, and handy parent tips just a click away.
After reading, you'll have more than a newsletter – a winter masterpiece! We've got you covered with creative ideas to beat writer's block and practical solutions to bring order to chaos. Our goal? Less stress, more smiles! By the end, you'll not only have fantastic winter newsletter ideas but also the confidence to tackle any creative challenge. Let's make this winter season joyful and stress-free! 🌟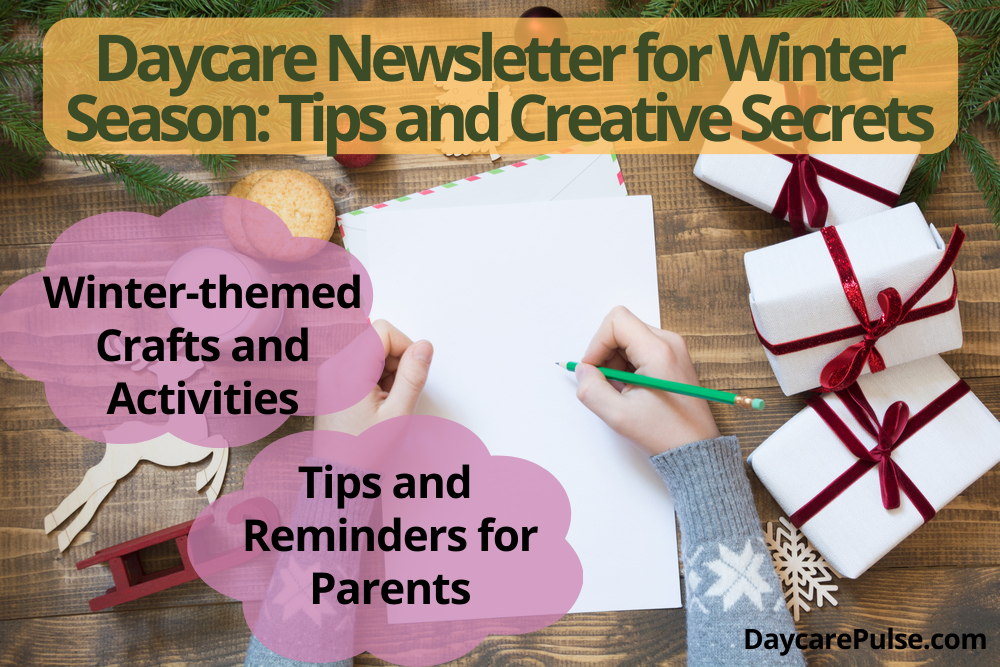 Daycare Newsletter: Highlights of Past Winter Season Activities
When adding the "Highlights of Past Winter Season Activities" to your newsletter, create a fun narrative that takes parents and caregivers on a journey through our winter wonderland daycare.
Start with an overview of the transition from autumnal to winter activities, then introduce the key winter theme. Here's a suggested list of highlights and activities from our past winter season for your newsletter:
Frosty Art Projects: We brought the winter wonderland indoors with cold-weather art projects. Children created frosty landscapes and icicle-inspired crafts.
Holiday Celebrations: We celebrated various holidays, learning about traditions and making themed crafts. The children enjoyed our New Year's Eve celebration!
Winter Clothing Drive: Our successful winter clothing drive taught children about giving and helping those in need stay warm during the cold months.
Potty Training Progress: Our preschoolers made significant strides in their potty training journey this winter. We're proud of their progress and encourage parents to continue at home.
Tasty Winter Treats: Each week, we introduced children to different winter-themed foods. Hot chocolate and homemade snowflake cookies were favorites.
Storytime: Winter-themed storytime sessions were a hit, featuring popular books like "The Snowy Day" and "There Was a Cold Lady Who Swallowed Some Snow!"
Cold Weather Science Experiments: Children enjoyed winter-themed science experiments, watching water freeze and learning why salt melts ice.
Daycare Newsletter: Upcoming Winter Season Activities
Hey! Get ready to peek into the future with our exciting Daycare Newsletter: Upcoming Winter Season Activities. We've got you a bunch of engaging activities lined up for the colder weeks ahead, including potty training tips and exploring new tastes during our food focus week.
So, let's bundle up and get ready for a season filled with fun, learning, and lots of laughter. Stay tuned and get excited!
Winter Themed Activities
Indoor Snowball Fight: Yes, you heard right! Let's have an indoor snowball fight using soft, plush snowballs.
Winter Story Time: Gather around for delightful winter-themed children's book readings.
Snowman Building Contest: Who can build the best snowman? Let's find out in our exciting contest.
Winter Scavenger Hunt: Children will explore and find winter-themed objects around the daycare.
Taste of Winter: Introduce kids to winter-themed foods like hot chocolate and gingerbread cookies, making every bite fun.
Holiday Celebrations: Celebrate winter holidays and learn about different traditions from around the world.
Pajama Day: Make cold, gray days more fun with a cozy pajama day at the daycare!
Winter Crafts & Projects
Snowflake Crafts: Bring the magic of snowflakes indoors! Kids can create unique snowflakes using paper, scissors, and a sprinkle of glitter for extra sparkle.
Pine Cone Bird Feeders: Children can make bird feeders with pine cones, peanut butter, and birdseed.
Handprint Winter Trees: A fun craft that uses children's handprints to create a beautiful winter tree scene.
Ice Ornaments: Kids can decorate outdoor trees with homemade ice ornaments.
Sensory Snowman: Children can create a sensory snowman using cotton balls and materials to stimulate their senses.
Penguin Bowling: Turn recycled bottles into adorable penguin bowling pins for indoor fun.
Mitten Art: Kids can decorate paper mittens with various art supplies.
Paper Plate Snowflakes: Make unique snowflake designs using paper plates and materials.
New Year's Resolutions: Talk to kids about setting goals and making resolutions for the upcoming year.
Tips for Parents
As we dive into the winter season, you would love to share some helpful tips with amazing parents to ensure that the little ones stay cozy, comfortable, and cheerful during these chilly months. Here is a list that you could include:
Warm Clothing: Bundle up your kiddos with layers! Make sure they have their hats, mittens, and scarves. Extra socks wouldn't hurt either.
Healthy Eating: Holidays mean fun and food! But let's ensure our children get a balanced diet too. Don't forget to pack some fruits and veggies in their lunchbox.
Hydration: Cold weather can be dehydrating. Encourage your child to drink plenty of fluids, especially water.
Good Sleep: The early sundown in winter can mess with their sleep schedule. Try to keep bedtime consistent.
Communication: Keep the lines open. If there's anything we should know, like your child feeling under the weather or needing extra care, please let us know.
Potty Training: If your child is in the potty training stage, the additional layers of clothing can sometimes make this a challenge. Pack some extra clothes just in case, and remember, patience is key during this stage.
Holiday Celebrations: Talk with your child about the different holidays celebrated during this time of year to cultivate an understanding and appreciation of diverse cultures and traditions.
Introducing New Foods: With the holiday season, new foods and flavors come into play. It's a great opportunity to introduce your child to different tastes and textures.
Stay Active: It might be cold outside, but that doesn't mean we stop moving! Encourage your child to participate in indoor physical activities to keep them active and engaged.
Focus on Everyday Learning: Use everyday moments to reinforce what they learn at school. This could be while reading a book, during a grocery shopping trip or even while talking about the snow outside!
Creative Play: Use this time to stoke the creative fires in your children. Whether it's building a snowman, crafting holiday decorations, or making a winter-themed drawing, every moment can be a fun learning experience.
Positive Dialogue: Always encourage positive talk. It helps children build confidence and reinforces good behavior.
Parental Involvement and Engagement
At our preschool, we value family involvement. We believe in partnering with parents to create a positive learning environment for our children. Join us this winter for:
Winter Clothing Drive: Donate gently used winter clothing to those in need.
Holiday Food Donation: Help us collect non-perishable food items for families in our community.
Winter Book Club: Join our winter-themed book club with your child and other families.
Volunteer Opportunities: Parents are welcome to volunteer for holiday celebrations, classroom activities, or share their talents with our children.
Health & Safety During Winter
During winter, we prioritize the health and safety of our children at our daycare. Here are the measures we take:
Handwashing: Our staff and children frequently wash their hands to prevent germ spread.
Sanitizing Surfaces: We regularly sanitize and disinfect surfaces, toys, and equipment for a clean environment.
Outdoor Play: We ensure children get fresh air and physical activity, dressed appropriately for the weather.
Sick Policy: If your child feels unwell, please keep them home until fully recovered to prevent spreading illnesses.
Weather Closures: In extreme weather, we follow local school district guidelines for closures. Stay updated through our communication channels.
Celebrating the Season
We have some exciting activities planned for our little ones to celebrate the winter season:
New Year, New Friends: Help our children make new friends and build social skills by introducing them to a new friend every week!
Taste of Winter: Explore different foods enjoyed during this time of year. A great opportunity for children to expand their taste buds and try new things.
Winter Clothing Fashion Show: Have fun dressing up in winter gear and showing it off to friends!
Holiday Storytelling: Read holiday-themed books throughout the week to foster a love for reading and spark imagination.
Indoor Snowball Fight: Have a snowball fight indoors using soft, indoor-friendly "snowballs" for this fun and energetic activity.
Winter Wonderland Art Show: Children showcase their creative masterpieces in our winter-themed art show. Celebrate their imagination and artistic expressions!
Reminders for Parents
As you embrace the chill of the winter season, you would like to remind your wonderful parents about a few important points to ensure our little ones stay safe, warm, and continue to have fun! Please take note of the following:
Outdoor Adventures: Prepare for thrilling winter adventures in a snowy wonderland, with nature exploration and snowman building for endless fun!
Cozy Story Time: Snuggle up with a cozy blanket for magical winter storytelling sessions.
Creative Crafts: Let's get creative with winter-themed arts and crafts! Make snowflakes, snow globes, and more!
Hot Chocolate Treat: Indulge in a delicious cup of hot chocolate during our cozy winter break. It's the perfect way to warm up and enjoy some sweet treats together.
Winter Science Experiments: Explore the wonders of winter through exciting science experiments. From snow melting to ice experiments, we'll uncover the science behind the season.
Winter Olympics: Join us for our Winter Olympics! We'll have friendly competitions and games inspired by winter sports.
Winter Wildlife: Discover captivating winter wildlife, from polar bears to penguins, as we delve into the wonders of these amazing animals.
Winter Music and Dance: Prepare to groove to winter-themed music and dance as we explore fun movements and songs inspired by the season.
Winter Photography: Discover your inner photographer! Join us for winter photography sessions and capture its breathtaking beauty. Don't forget your camera or smartphone!
Gratitude Project: Spread warmth and kindness this winter! Join our gratitude project, where children express appreciation for life's little joys.
Winter Gardening: Despite the cold, we can still cultivate a green thumb! Let's explore winter gardening with planting and caring for winter-friendly plants.
Winter Sports Day: Join us for a day of winter sports activities. From ice skating to snowball fights, it'll be a day of active fun!
Winter Fashion Show: Show off your chic winter outfits in our fashion show. Get ready to strut and celebrate your unique winter style.
Frequently Asked Questions
How do I write a daycare newsletter?
Writing a daycare newsletter can be a breeze with a bit of planning! Start by deciding the main topics you want to cover – this could be fun activities the kids have done, upcoming events, or important reminders for parents.
Keep it friendly and conversational, just like we're having a chat over a cup of coffee. Include photos or drawings to make it visually appealing. And don't forget to keep it short and sweet – we're all busy people after all! Happy writing!
For more information read this blog https://www.daycarepulse.com/how-to-write-a-daycare-newsletter/ 😊
What do you write in a winter newsletter?
When it comes to writing a winter newsletter for our daycare, it's all about highlighting the fun, learning, and joy of the season. Start with a recap of the past week, maybe talk about how we celebrated the New Year, or introduce the theme for the next week.
You might focus on the potty training progress of our little ones or the everyday achievements of our preschool students.
We all know how the cold can bring about some fun activities – so share how we've been enjoying the winter weather safely, perhaps through crafting projects or cozy story times.
And let's not forget about the important reminders for parents. With the winter season, it's crucial to talk about health and safety tips – from keeping warm outdoors to preventing the spread of germs.
You might also want to include some holiday-themed activities or ideas for parents to celebrate with their children at home.
How do you describe winter season in writing?
Describing the winter season in your newsletter can really add to the cozy, festive atmosphere we all love! Think about the unique sensations that winter brings, and try to convey them in a way that's relatable to both the kids and their parents.
You might start off by talking about the crisp, cool air that greets us every morning, or the excitement of waking up to a world blanketed in fresh, white snow. Don't forget to mention fun winter activities like building snowmen, sipping hot cocoa, or making snow angels!
Of course, winter is also a time for warm clothes – so you might want to add a little note about the mittens, scarves, and puffy jackets we all bundle up in to keep the cold at bay. And remember, always keep your writing light and engaging to maintain that friendly, conversational tone.
Conclusion
So there you have it, folks! I hope this blog has inspired you to celebrate all the wonderful things that make the winter season so special in your daycare newsletter.
From fun activities and creative crafts to important reminders and festive celebrations – we'll continue to create a warm, welcoming environment for our children. Thank you for reading, until next time! Happy Winter!