How to write a daycare newsletter: Definitive Manual
Hello, fellow daycare owners! Creating engaging newsletters for parents and guardians can be quite a task, right? The challenge is finding the right balance between sharing important information and making it interesting.
We understand your struggle and we've got you covered. This blog post will guide you in creating engaging newsletters. We provide handy tips, step-by-step instructions, and help you find valuable contributors for your content.
After reading this blog post, you'll feel a weight lifted. Say goodbye to stress and hello to saved time and reduced effort. You'll experience a boost in satisfaction, confidence, and the quality of your newsletters will soar. It's time to level up your newsletter writing skills and reap the benefits!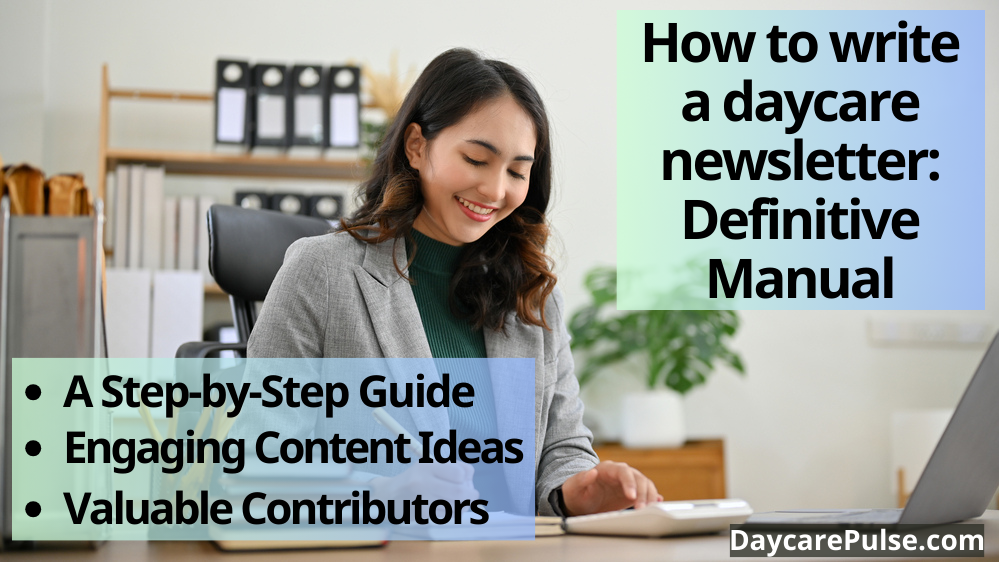 Writing An Engaging Daycare Newsletter: A Step-by-Step Guide
Hey there! Welcome to our step-by-step guide on creating an awesome daycare newsletter for your child care center. We totally get how important it is for parents to stay involved and in the loop about their child's child care experience.
And guess what? A well-crafted newsletter can be a total game-changer. It's not just about sharing information; it's about building a tight-knit community and sparking conversations among parents.
So, let's dive right in and discover how you can write an amazing daycare newsletter that's both vibrant and informative! 📝
Step 1: Define Purpose
Before you dive in, it's super important to define the purpose of your awesome newsletter.
Are you aiming to keep parents in the loop on all the exciting daycare activities? Or maybe you want to share some super helpful educational tips and resources with them?
Once you've got a clear objective in mind, it's gonna be way easier to structure your content and make it totally relevant to your amazing audience. Trust me, they're gonna love it!
Step 2: Choose Design
Now, let's talk about the design. It's important to make it visually appealing and easy to navigate. Don't be afraid to get creative! Use colorful images, infographics, and headings to break up the text and make it more interesting. Designing your newsletter can be a daunting task, but it's all part of the exciting creation process!
Step 3: Decide on Sections
Hey there! To make your newsletter super organized and a breeze to read, it's crucial to break it down into different sections. Check out these awesome sections you can include in your daycare newsletter:
Important Dates: Stay in the loop with upcoming events and key dates.
Must-Have Content: Get the scoop on the latest and greatest info you don't want to miss.
Important Events: Find out about exciting happenings and special occasions.
Daily Schedule: Get a glimpse into the daily routine at the daycare.
Social Media: Connect with us online and see what's happening on our social platforms.
Share Reminders: Don't forget to share any important reminders or announcements with parents.
Ideas: We love hearing from you. Share your brilliant ideas for activities or improvements in this section.
New Programs: Catch up on the latest programs and initiatives we've introduced at the daycare.
Previous Month: A quick recap of the past month's highlights and key takeaways.
Quick Tips: Savvy advice and strategies to help parents manage child care more effectively.
Important Information: Essential updates and information that parents need to know.
Step 4: Gather Content
Alright, now that you've got the purpose, format, design, and sections of your newsletter all set, let's gather some awesome content!
Get everyone involved – teachers, staff members, and even parents – to contribute articles, photos, and updates. It's a great way to lighten your workload and make the newsletter more inclusive.
By involving everyone, you'll keep families informed and create a newsletter that truly reflects the community.
And hey, if you will add this detail in your child care newsletter templates! It can be a real game-changer. Let's make this newsletter shine!
Step 5: Write Content
When you write the content for our childcare center, it's important to keep it concise, informative, and engaging. We want to use a friendly tone that reflects our values and encourages parent involvement.
Remember, there's no right or wrong way to do it, but we can always make it better!
Don't forget to add quotes from our staff or parents to make it more authentic and personalized. Let's create a warm and welcoming environment for every child's classroom!
Step 6: Review & Proofread
Before you wrap up your entire newsletter, it's super important to give it a once-over and make sure everything is on point. Take a moment to check for any spelling or grammar mistakes and make sure all the info is accurate and up-to-date.
If you want to save time and get a fresh perspective, consider having someone else take a look at it too!
Step 7: Add Call-to-Action
Remember to include a call-to-action (CTA) in your preschool newsletter to inform parents.
A CTA is a friendly nudge asking parents to get involved. Encourage them to attend the next parent-teacher meeting, share ideas for the next preschool event, or remind them to pack an extra snack for their little ones next week.
Our goal is to create an engaged community where everyone's voice is heard and valued. So, don't shy away from the CTA! Ask and you shall receive. 😉
Step 8: Finalize Design
Now that we've proofread the content, let's add the finishing touches to the design. Ensure proper alignment of elements and high-quality images.
We can also include a border or a fun graphic to make it more appealing. Remember, we're designing for a child care center, so let's keep it friendly and inviting!
Step 9: Distribute
Once the preschool newsletter is all set, it's time to get it out to all the parents, including the new families.
You have a couple of options: you can either send it via email, or if you prefer, you can print out a few copies and hand them out in person.
Oh, and don't forget to save a digital copy for future reference. This way, you'll have all the daycare newsletters organized and easily accessible.
Step 10: Seek Feedback
Hey, by the way, make sure you get some feedback from parents about your newsletter. It's an awesome way to improve future newsletters and show families that their opinions really matter to you.
Plus, it can save you time and make your newsletter stand out from the rest of the paper newsletters. Just a quick chat with a few parents can make a huge difference and it only takes a few hours.
Craft Engaging Content for Daycare Newsletter
Now that you have the steps for creating an engaging daycare newsletter, let's dive deeper into how to craft content that will captivate your audience.
Know Your Audience
Know your audience's interests, preferences, and pain points.
Create content that connects with their needs and desires.
Tell a Story
Use storytelling techniques to evoke emotions and connect with your audience.
Share personal anecdotes or real-life examples to make your content relatable.
Use Clear and Conversational Language
Write like you're chatting with a friend.
Avoid using technical terms or complex language that might confuse your readers.
Create Valuable and Informative Content
Share helpful information, tips, or solutions to your audience's problems.
Provide practical advice that readers can apply in their lives.
Incorporate Visuals
Utilize high-quality visuals like images, infographics, videos, and a few photos to enhance your content.
Visuals help break up text and increase engagement and shareability.
Utilize Headlines and Subheadings
Create catchy and descriptive headlines that spark curiosity.
Utilize subheadings to break content into easily scannable sections.
Interact and Engage
Encourage audience comments, questions, and discussions.
Respond promptly and engage with your readers to foster a sense of community.
Incorporate Interactive Elements
Use polls, surveys, quizzes, or interactive infographics to actively engage readers.
Interactive content keeps readers involved and invested.
Optimize for Readability
Use short paragraphs and bullet points for easy reading.
Choose a readable font and appropriate font size.
Be Authentic and Transparent
Be genuine in your writing. Authenticity establishes trust and credibility.
Acknowledge and be open about your mistakes and experiences.
Enriching Your Newsletter: Valuable Contributors to Consider
In the section "Enriching Your Newsletter: Valuable Contributors", let's dive into the amazing people who can make your daycare newsletter even better!
Teachers: Teachers can provide updates on classroom activities, share anecdotes, and offer insights into children's progress.
Daycare Staff: Non-teaching staff members, including kitchen staff, janitors, and administrators, can provide different perspectives on daycare operations, contributing to a more comprehensive newsletter.
Parents: Involving parents in creating the newsletter can make the content more relatable. They can share their experiences, feedback, or tips for other parents.
Children: Including contributions from the children themselves, such as drawings or quotes, adds charm and authenticity to the newsletter.
Frequently Asked Questions
What is the format for writing a newsletter?
A newsletter usually has a specific structure: a catchy title or header, a friendly introduction, main content divided into sections or articles, visuals like images or infographics, a call-to-action, and a concluding note.
The content should be interesting and valuable to your readers, and written in a conversational tone. Feel free to use headlines, subheadings, bullet points, and interactive elements where suitable to make it easy to read and engage with.
What should be included in the daycare newsletter?
The daycare newsletter should include important updates about what's happening at the daycare, like upcoming events and what the children have been up to.
It's also a great place to hear from everyone involved – teachers, staff, parents, and even the kids themselves! We can share funny stories, helpful tips, drawings, or quotes.
And let's not forget about useful resources and tips for parents, plus a section for any questions or feedback they might have. Making the newsletter more conversational will make it even more valuable for everyone!
For complete checklist of item read https://www.daycarepulse.com/daycare-newsletter/
What should I include in the daycare newsletter for the winter season?
Hey there! For the winter season, we could include a section in the daycare newsletter with some helpful winter safety tips for the kiddos. We can talk about the importance of dressing them up in warm winter clothes and playing it safe in snowy or icy conditions.
And you know what? We can also have another section that's all about fun winter-themed activities and craft projects! That way, parents can have some awesome ideas to keep their little ones entertained at home during the season.
Oh, and don't forget to share updates about any special winter events or holiday celebrations happening at the daycare. Parents would love to know what exciting activities are planned for their kiddos!
Last but not least, let's include a section with some healthy and yummy winter recipes that kids will absolutely enjoy. We can encourage nutritious eating habits while making mealtime super enjoyable. Sound good?
To add more fun in your Winter Daycare Newsletter give a read to https://www.daycarepulse.com/daycare-newsletter-for-winter-season/ 🌟
Conclusion
Crafting an engaging daycare newsletter requires creativity, understanding your audience, and heartfelt dedication.
The goal is to foster a close-knit and informed community, ensuring parents feel connected and involved in their child's daily activities.
Each edition should offer a vibrant glimpse into daycare life, sharing updates on events, valuable child care insights, and delightful snippets.
Let's keep communication open, creating a nurturing environment that goes beyond care and education – a warm, welcoming community for every child and parent!