Start Your Home Daycare in South Dakota|Step-by-Step Guide
Disclaimer: This article is for information purposes. All the information mentioned here is taken from the official site of The Department of Social Services (DSS) in South Dakota.
Introduction
Starting a home daycare is a hectic task. It takes so much planning and preparation that many people put it off.
The biggest question is, what are the steps to start a home daycare?
Let's answer that. You'll need to register with the state if you want. Yes, it's optional. You can operate a home daycare in South Dakota without registering with the state. Then, register your business legally, get liability insurance, set up your daycare, and market it.
Let's check out the details. And don't be too excited; registration has its benefits, so let's see if that's a good option for you.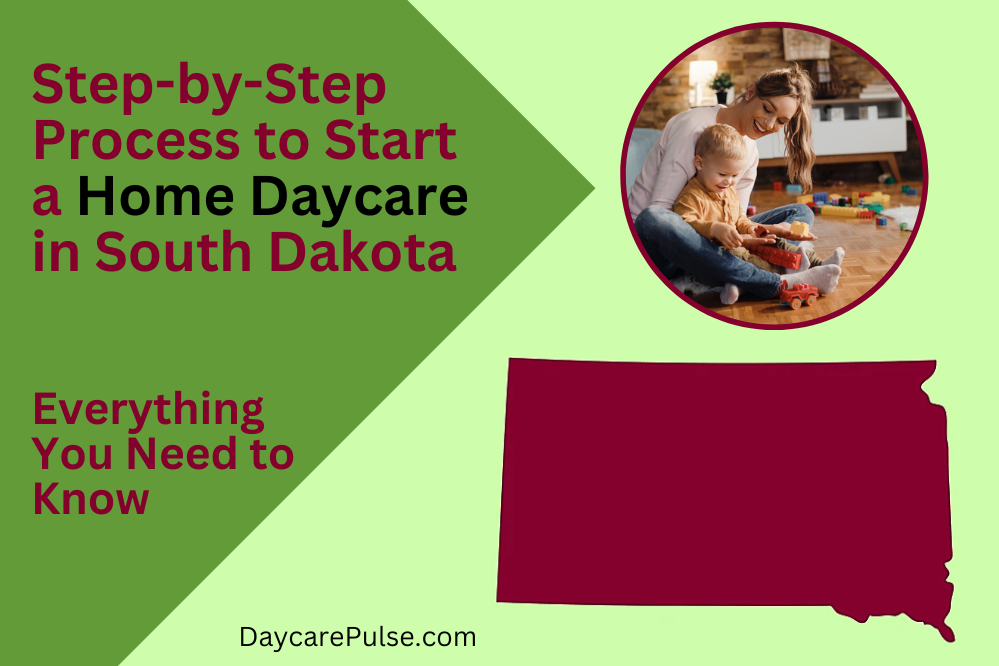 Startup Cost
A home daycare can cost you anywhere from $1700 to $2700. Note that this is an average range; your particular expense can be more or less than this.
Your major expenses will be
Registration with the state
Training
Insurance
Toys, furniture and setup
South Dakota State Requirements
All the registration information mentioned here is taken from the DSS's official registration page.
The Department of Social Services (DSS) is the regulatory body for all childcare-related matters in South Dakota.
DSS doesn't license home daycares but registers them. And as a provider, you can choose whether to get registered or not.
Should you get Registered with DSS as a Home Daycare Provider?
Why go through the hassle of registration when you can run your daycare business without it?
You'll need to register if you plan to enroll children who pay with assistance programs. If that's not the case, it's totally up to you.
However, registration helps build trust. Parents prefer registered daycares to ensure they are aligned with all the health and safety requirements. And this may or may not help you charge a little high.
Orientation
DSS offers a free 6-hour long online and in-person orientation to new providers.
You can access it from their training portal. We'll share details and links in the training section.
Eligibility Criteria
The provider must be at least 18 years old.
They should clear background screening and complete their training requirements.
The family daycare home must be according to DSS standards.
How many kids can a home daycare have in South Dakota?
You can have a total of 12 children with the following ratios. Also, count your own kids who are under 12.
If only you care for the kids, you can have a maximum of 4 children under 2. And a maximum of 3 of them can be under 1 year. The rest can be of any age.
If you have an assistant with you, you're allowed to have 8 kids under 2 years. There's no restriction for the rest.
Background Checks
You'll need screening results for your application.
But who needs background checks? The operator, assistant and all the adult household members (18 or above) will need to clear the screenings.

You'll be checked for the following In-state records:
SD criminal registry: Completed through fingerprints
National criminal record check (FBI): Completed through fingerprints
SD sex offender registry check: The department will complete this check when you submit your screening application
National Crime Information Center (NCIC): The department will conduct this check when you submit your screening application
SD child registry for abuse and neglect: the department completes the screening but requires you to submit a form on Permission to Screen for Abuse And Neglect.

If you have lived outside of South Dakota in the previous 5 years, you'll need the following out-of-state checks for each state.
State criminal background check
State sex offender registry check
State Central Registry of Child Abuse and Neglect check
Please consult your licensing specialist for more information on out-of-state records checks.
You can find links to each state's forms here.
Background Screening Process for Registered Home Daycares
Here's a step-by-step process to apply for background checks.
Complete the Permission to Screen for Abuse And Neglect form.
Get your fingerprinting cards from your local licensing specialist.
If your agency has the option of electronic fingerprints, opt for it. They're faster and more accurate than ink-prints.
Complete the Childcare Conviction of Prior Criminal Declaration form.
If you got electronic fingerprints, email all the forms to

[email protected]

. Otherwise, submit the documents and fingerprint cards to the following address.
Office of Licensing and Accreditation
910 E Sioux Ave.
Pierre, SD 57501
You'll get the results back indicating whether you're eligible to be a provider.
And the best part is this whole process is free.
Note: The DSS website also mentions the Background Screening Cover Sheet to be completed. This instruction is for childcare centers. For home daycares, your licensing specialist will complete the cover sheet.
For more information, visit the DSS's official page for background checks.
Training Requirements
For registration, you'll have to complete the following training.
Pediatric first aid
Pediatric CPR (you'll need an on-site practice certificate for this)
Within 90 days of registration, you'll complete orientation training, which covers 13 different topics related to child care.
Annual training
Annually, you'll have to complete 6 hours of training in different areas. In the first year, your required registration training will be counted as annual training.
Here's a training verification form you'll have to maintain.
Training Portal – Early Childhood Enrichment Program (EEC)
All these trainings will be through the Early Childhood Enrichment Program (EEC). They offer on-site, online and on-demand training, mostly free or at minimal cost.
Action Item: To get training information or to register, visit your local ECE site.
For more information, visit the DSS's official page for training and education or contact a licensing specialist.
Daycare Licensing Application Information for South Dakota
DSS has mentioned their licensing process neither on their website nor in any video or documentation.
All we know about the process is that you'll contact the licensing specialist, and they'll email you a package with complete A to Z instructions for application.
Once you have applied, you'll get a response within 60 days. If your application is denied, you'll get a list of reasons that you can fix and reapply.
Action Item: Contact your local licensing specialist.
Register the Business With the State of South Dakota
There are multiple business structures with their pros and cons. We recommend consulting an attorney or agent to determine the most suitable business type for your home daycare.
Once daycare registration is out of the way, it's time to register your business for tax purposes. South Dakota Secretary of State handles this domain of work.
There's a $15 registration fee.
Action Item: Access the form to register your home daycare business in South Dakota.
For more information, visit the South Dakota Secretary of State.
Liability Insurance
Even as a small business owner, you'll need liability insurance to cover any damage or reputational harm. It can cost you anywhere around $ 1,500 to $ 2,000, depending on the coverage amount and the number of kids.
Inspections
You'll have a pre-registration visit within 60 days of application from DSS to check for compliance. If they see any violation, they'll assist you in fixing it and make a follow-up visit to check.
After that, you'll receive 1 unannounced visit annually from the department.
Check out this sample inspection form to prepare for the exact things you'll be checked for.
You will get inspected if any parent complains to the department. If they find any issue, they'll ask you to rectify it and make a follow-up visit. All the inspection information will be posted online for parents to see on Child Care Provider Search.
For more information, visit DSS's official page for Inspection.
The Subsidy Provided to Daycare Businesses
We couldn't find any subsidies for providers offered by the state of South Dakota.
Daycare Setup
All the following information is taken from the registration handbook provided by the DSS. It mentions important guidelines for providers. Hence, we encourage you to read it carefully.
Indoor
Keep all the equipment, ceilings, walls and floors clean. Countertops and tables should be free of cracks.
Maintain the temperature between 65 to 75 Fahrenheit.
Install a smoke detector, carbon monoxide detector, and a fire extinguisher of 2A rating.
Any stove, heater or fireplace should be away and inaccessible to kids.
Cover all the exposed electrical outlets.
You should have 2 emergency exits. One must be a door, and the other one can be a door or a window. The window should have a minimum of 5 square feet of openable space.
Hot water in sinks for children's use shouldn't be more than 120°F.
Used diapers must be disposed of in a container with a lid.
Pets with aggressive behavior should be kept away from children.
The following must be inaccessible to children.
Firearms
Matches and lighters
Tobacco products
Choking and strangulation hazards
Items capable of being pulled or tipped onto a child
A platform more than 30 inches above ground level, unless surrounded by a railing that is at least 36 inches tall with no more than five inches between openings
Outdoor
Keep the outdoor play area clean from any debris, dirt, weeds and hazardous materials.
You may need a 42-inch high fence if there's any traffic, a pool or anything dangerous to kids.
You can use playgrounds and parks for outdoor play.
If there's a pool near the kid's play area, install a five-foot fence with proper gates to ensure the kid's safety.
Marketing
Once the setup is done, you can start enrolling kids. But to do that, you'll have to attract parents. This is where marketing comes in. Here are a few marketing options you can consider.
List your business in Google My Business.
Add your daycare to the department's provider search portal.
Have a presence on social media.
Take reviews from parents and leverage them to attract more clients.
To know more about daycare-specific marketing and networking ideas, see how you can promote your daycare business.
Staff and Training Requirements
If you're hiring any assistant, they'll have to complete their background checks and the training requirements. Here are some more things to consider.
Your assistant must be at least 14 years old.
But if they're under 18, they can't provide unsupervised care.
Conclusion
This was a step-by-step process of starting a home daycare in South Dakota. It's your choice whether to get registered or not. But registration has its own benefits, plus it's not a difficult process.
We highly recommend contacting a licensing specialist in your region to clear any queries and get first-hand information regarding registration.