How Many Hours a Day Can a Child Stay in Daycare?
Are you wondering how long a child can stay in daycare?
Most daycares will not allow children to stay for more than 10 hours per day.
We have discussed the rules & regulations related to hours a child can stay in daycare without harming their development.
Keep on reading for 3 Helpful Tips for Parents Managing Daycare Hours, along with 7 Important Factors on how daycare affects your child's development and health.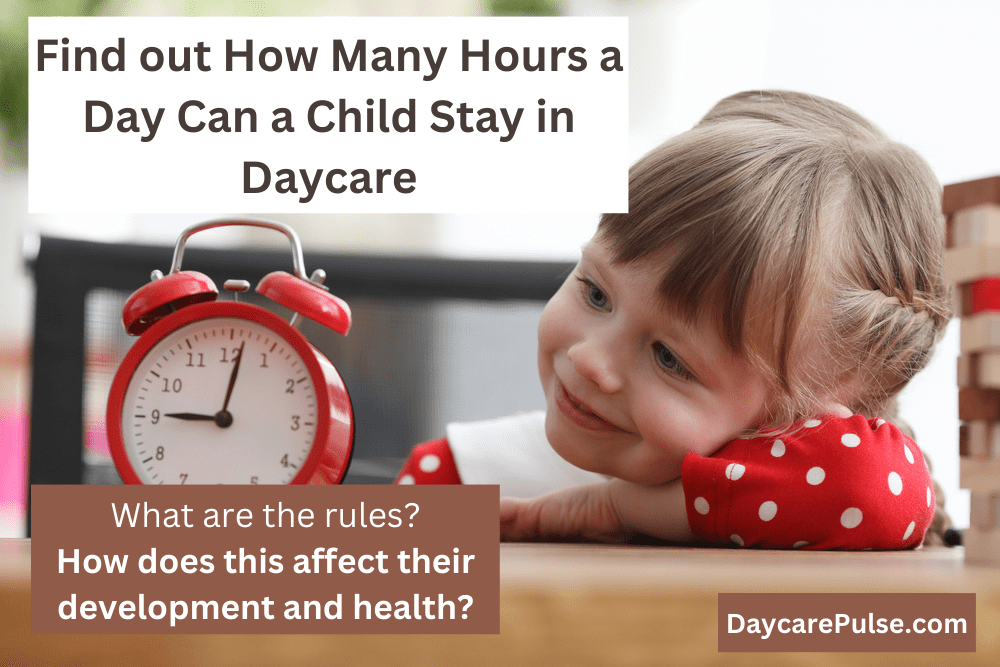 Maximum Hours a Day Child Can Be in Daycare
The maximum time a child usually spends at daycare is 12 hours a day. Still, children should not spend more than 10 hours a day away from their parents because this can cause developmental problems.
This includes lunchtime, nap time and playtime with other children or staff members at the center.
It is important to confirm with your local daycare provider about the maximum hours of care they can provide so you're aware and prepared.
How many hours a child may spend in daycare depends on that particular facility's staffing capabilities, ensuring proper supervision for all kids under their charge at any given time.
3 Helpful Tips for Parents Managing Daycare Hours
Exhausted yet determined, parents strive to give their children the best life possible. Here are some handy tips related to daycare center hours for any parent whose little one is attending daycare:
Daycare Contracts – Before sending your children to daycare, be sure to inquire about their policies for the maximum number of hours a youngster can spend there. Additionally, request that they provide you with a contract outlining the timing and maximum hours allowed. Finally, explore any extra hourly fees beyond full-time childcare, so you are prepared in advance!
Nap Time – If your child spends over ten hours a day in daycare, it is essential to ask the staff about their naptime schedule and how much time they will have for leisure activities. Ensure that your little one gets adequate rest as well as playtime while attending daycare; this contributes to their well-being!
Extended Care Program – If you are looking for a daycare that can accommodate your busy schedule, some offer an extended care program that permits kids to stay until 6 or 7 PM- the perfect solution for working parents! For other options, you can read The 11 Unique Daycare Options
How Many Hours Should a Child Be in Daycare
A variety of factors can influence the amount of time a child can spend in daycare, including:
Child's Behavior – If your child spends more than 9 hours a day at daycare, it is essential to keep an eye on how well they're adapting. Otherwise, there runs the risk of developing behavioral issues.
Stress – Are they showing any signs of stress? Child care can be stressful and children should not be left in a daycare setting for too long if they start to become overwhelmed.
Physical Health – Are you noticing any unexpected spikes or drops in your child's weight since enrolling them in a daycare program? Read more on How May a Daycare Affect Your Toddlers' Eating Routine
Parents work hard to make sure their children are getting the best care and attention when in a daycare setting. But, depending on the individual child, it is important to keep track of how many hours they spend in a daycare facility.
Spend time with your child, talk to them and observe their behaviors carefully. If you notice any signs of distress or changes in their physical health, it is important to reassess the situation and potentially consider changing daycares or reducing the number of hours your child spends at a daycare facility.
Why Do Daycares Maintain Time Limits
There are a number of reasons why daycares enforce time limits. Some of them are:
Child Care Providers to Children Ratio – Ensuring that there are sufficient staff members present to meet the required provider-to-child ratio. You can read more about it here: What Is the Ratio of Child to Staff in Daycare?
Kids Wellbeing – Childcare provider needs to be mindful of the length of time a child is in their care and make sure it's not too long for their age.

Ensuring staff has enough supervised breaks throughout the day. Having a maximum number of hours allows daycare workers to stay well rested so they are able to provide high-quality care.
Making sure the children are not overstimulated. Longer hours can lead to burnout for the staff and children alike, so it's important to set limits on how long a child will be in daycare each day.

Staff Working Hours Limit – Across the country, numerous states have enacted regulations concerning the permissible amount of hours employees can work.
Licensing Requirements – Daycare center may be bound to maximum operating hours by the city or county licensing requirements.
Insurance Coverage – Some daycare insurance policies may have a limit on the number of hours per day that they will cover.
7 Warning Signs to Notice on How Daycare May Affect Child's Development and Health
Keeping your child's well-being in mind, consider the following factors that can negatively influence their development and health.
Developing ADHD, Depression or Anxiety – Extensive time spent in daycare is associated with a heightened possibility of developing ADHD, depression or anxiety among children. Those who spend more than 10 hours daily under such care show the most risk for these issues.
Signs of Stress – If your little one is spending more than ten hours in daycare, be sure to watch out for signs of stress and check in with the staff about how they are managing it.
Separation Anxiety – Research has shown that youngsters who experience limited daycare tend to be more obedient and do not suffer from separation anxiety as often. You may also read our topic on How to Help a Child With Separation Anxiety at Daycare
Exhaustion – Daycare centers that offer an extended care program often notice the children who stay until late in the evening appear to be more exhausted and find it harder to adjust when returning home. Therefore, they might require additional help with their school assignments and tasks around the house or simply some necessary me-time before bed so as not to get too overwhelmed from being away from their parents for such a long period during the day.
Kid's Physical Health & Diet – Going beyond the 10-hour mark of daycare can have a detrimental effect on your child's dietary habits. More time spent in care translates to less opportunity for nourishing meals, resulting in increased consumption of unhealthy snacks. Read more on How May a Daycare Affect Your Toddlers' Eating Routine
Behavioral Issues – Children who spend less time in daycare experience fewer behavioral issues and are typically more comfortable with separation from their parents.
Relationships – The American Academy of Pediatrics recommends that children under the age of two should not be left unattended for more than two hours during any given day (Source: AAP). Daycare centers and other child-minding services may not always have the best staff- to-child ratios. This could lead to a lack of attention for individual children, making it hard for them to establish relationships with caregivers or peers.
If you are looking for information regarding enrolling your child in a local daycare center, contact them to find out more. Ask the center about their policies and how long children can stay each day. Additionally, inquire if there is an extended care program available as well.
Childcare provider should be knowledgeable about the development and needs of children. Be sure to ask questions and feel free to voice your concerns, too!
Frequently Asked Questions
Signs Your Child Is Unhappy at Daycare
If your child is unhappy at daycare center, they may show signs of frustration or anxiety. These can include clinginess when leaving, temper tantrums and refusal to attend daycare. It is important to talk to the staff and try to understand what might be causing the problem so that it can be addressed. A helpful article here: How Much Daycare Is Too Much?
How Many Hours Is Full-Time Daycare?
Most daycare center offer full-time care that can range from 6 AM to 6 PM, with a break for lunch and nap time.
Can You Leave Your Child In Daycare Overnight?
No, most daycare centers do not offer overnight care and will require parents to pick up their child by closing time, which is usually around 6 PM. If you need extended care after this time, you should look into daycare centers that offer an extended care program. You may also want to read The 11 Unique Daycare Options
What Are Average Daycare Hours?
Most daycare centers are open for 12 hours, from 6:00 a.m. to 6:00 p.m., so that parents can come before or after work.
Parents work different hours, so some centers may offer extended care options until 8:00 p.m. or later.
Conclusion
Daycare can certainly prove beneficial for employed parents, but it is crucial to recognize the potential hazards involved with entrusting your child to another person's care.
As a parent or guardian, it is your responsibility to determine if the potential risks of daycare are worth the benefits while you're away from home. Some children flourish in these environments, and others prefer being surrounded by their parents throughout the day.
To ensure your child has an excellent experience at any center you choose, take some time to research and ask for recommendations; after that make sure to visit several centers before making a solid determination.
Feel free to leave feedback in the comments section below. We would love to hear from you!