How Much Daycare Is Too Much?
Are you wondering how much daycare is too much? A lot of full-time working parents have to send their kids to daycare 8 to 9 hours a day, 5 days a week.
However, 4 to 5 hours of daycare a day is a sweet spot for toddlers.
Do you know long daycare hours can negatively affect your child?
But what should you do if you're a full-time working parent and have no other option? Don't stress. We're discussing the negative effects of too much daycare and how you can avoid them.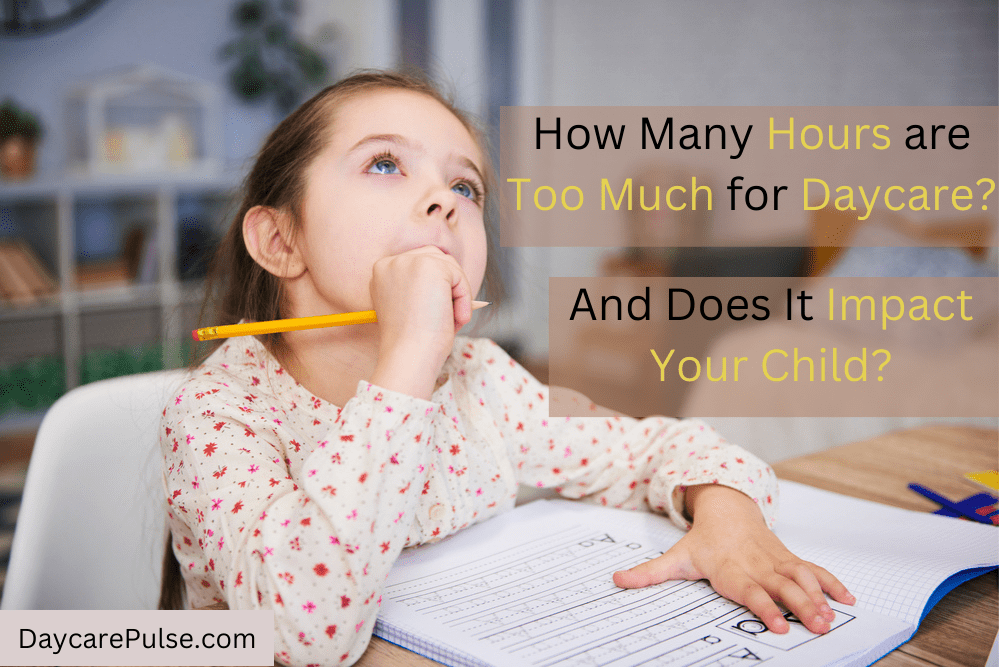 How Much Daycare Is Too Much for Your Child?
What we mentioned above is an average range. But how can you know how much daycare is too much for your child? Let's discuss it now.
Every kid is different. Some kids might be happy with long hours of social gatherings, while some get tired real quick. Since we don't know your kid, we can't exactly answer this question.
You'll have to figure this out yourself. Consider your child's personality. Do they easily mingle with people and other kids, or are they reserved?
There can be signs in your child's behavior as well. If you find the following signs in your kid's behavior, it means their daycare hours are too much for them.
They are asking you to stay with them
Changes in their eating habits
Crying or unhappy when going to daycare
Change in behavior like anger issues and crying more than usual
You're the first one to drop your kid off or the last one to pick them up
A straightforward approach is to directly ask your kid. This is the easiest method to know what your child's thinking. Ask them,
How do they feel about their daycare hours?
Do they enjoy it?
Or do they want to stay at home with their parents?
Do Long Hours of Daycare Negatively Affect Children?
Yes, long daycare hours can have a negative effect on kids' personalities. They might not adjust to the routine of spending almost half of their day in daycare. Plus, they might feel their parents aren't giving them enough time and attention.
All these things harm a child's personality, which reflects when they grow up. Let's see in detail the consequences of long daycare hours.
Consequences of Prolonged Daycare Hours
1. Causes Attachment Issues
The reason for attachment issues isn't the daycare. It's the lack of parents' love and attention that results in kids getting distant from them. When parents increase a kid's daycare timings, they're usually super busy. They don't have time for their kid.
So indirectly, prolonged daycare hours can cause attachment issues. But if the parents give proper love and attention to the kid, it doesn't affect them at all.
2. Your Kid Can Be Disturbed and Uncomfortable
The new routine, including too much daycare, can disturb your kid.
They might not be able to adjust and want to stay at home. Or they might not like spending so much time in a social place. This can lead to anxiety which will damage your kid's personality in the long run.
On the contrary, your kid can get so much into daycare that they don't want to be at home. This is a rare case. It usually happens when a kid isn't receiving love and attention from their parents and sees daycare teachers as a replacement.
3. Your Child Might Crave Attention
Some kids want the one-on-one attention of their parents and caregivers. Your kid will crave love and attention if you're busy with your work. Though daycare teachers take good care of kids but it's a group setting, and they've to look after other kids as well.
Moreover, a caregiver can't replace parents. Your kid can have a really good time in daycare, but they still crave your affection.
4. Increasing Cost
A disadvantage for parents is the cost. Childcare is expensive, and as you increase the hours, it gets more expensive.
Many double-income households claim that one parent's whole income goes to their kid's daycare. Mostly in such cases, one parent stays at home to look after the kids and one works.
Their point is when the complete salary is going to childcare; it's better to look after their kids themselves.
Infants Need Special Care
Infants need special attention from their parents (specifically from their mom). Consider working part-time so you can care for your newborn. They need your attention the most.
It's not a good idea to leave your newborn full-time in daycare.
Frequently Asked Questions
1. How Many Days of Daycare Is Best?
2 to 3 days a week is a sweet spot for sending your kid to daycare. Plus, the duration should not be more than 5 to 6 hours. But for parents who work 5 days a week, it's normal to leave their kids for 5 days at daycare. Though it's not ideal, it's normal.
2. Is Daycare Harmful to Children's Development?
Daycare isn't harmful to kids' development. In fact, it offers a good learning environment. But as we discussed, long daycare hours can have a negative effect on your child's personality and development.
3. Are 9 Hours at Daycare Too Long?
Ideally, 9 hours it's too long for a child to be in a daycare center. But for working parents, it's normal. Many kids stay at daycare centers full-time as their parents are off to work.
4. Is Daycare Psychologically Damaging?
No, daycare isn't psychologically damaging. It's a good place for kids to learn and grow.
Conclusion
This was our take on how much daycare is too much.
Don't feel guilty about sending your kid to daycare for 6 to 9 hours and 5 days a week. A lot of working parents opt for full-time daycare as they have no other option. But make sure to give your child the proper care and attention they need, at least on weekends.
Thank you so much for reading till the end. We hope all your questions are answered and your worries regarding your child are ended.