How to Get Cheap Daycare? 14 Affordable Options
Do you need help with daycare costs? No worries!
Consider affordable daycare choices to reduce your budget and save more as a dedicated daycare parent.
Did you know you can have a tax break for your daycare expenses?
I have also researched and written 14 budget-friendly daycare options, like bartering, online sharing, and community cooperatives.
You want to know more options, right?
Keep reading and learning about the 14 Ways to Get Cheap Daycare, Affordable Daycare Childcare Government Programs, and 2 Alternatives for Daycare.
So that you can save your time, effort and money in finding the perfect daycare that suits your needs.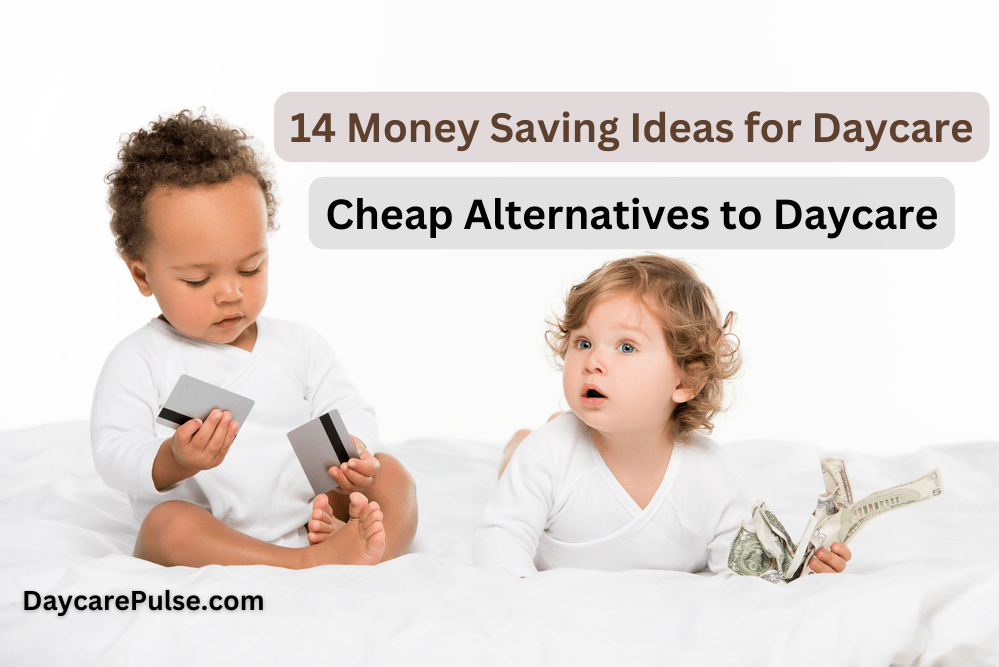 14 Ways to Get Cheap Daycare
Here is all the hype to get cheap daycare.
1. Barter with Parents
One fantastic way to cut down on daycare expenses is to team up with other parents in your community.
You can take turns watching each other's kids. It's like creating your little support network.
By trading childcare services, you're not only saving money but also building strong bonds with other parents.
Pro Tip: Consider informal arrangements through friends and neighbors or explore online platforms like "Caretotrade" for more structured childcare exchanges.
2. Online Care Sharing
The digital age has brought us excellent platforms that connect parents who want to share childcare responsibilities. You can find like-minded families in your area through these apps and websites.
It's a convenient way to both save money and provide your child with the opportunity to socialize and make new friends.
Pro Tip: Platforms like "Sittercity" and "UrbanSitter" connect parents looking to share childcare responsibilities.
3. Community Cooperative
Have you ever considered starting a local childcare cooperative with other parents in your neighborhood?
In a cooperative, you rotate childcare duties, like hosting playdates or taking turns looking after the kids.
This approach lightens the financial load and fosters a real sense of community.
Pro Tip: Look for or create a local childcare cooperative within your neighborhood, which often operates informally without specific online platforms.
4. Local College Programs
If you're near a college or university, check if they offer daycare services as part of their early childhood education programs.
These programs are often more budget-friendly compared to private daycare centers.
Plus, they provide a nurturing and educational environment for your child.
Pro Tip: Local colleges and universities may have dedicated childcare centers that offer cost-effective services, such as the "Bright Horizons" programs.
5. Local Libraries and Community Centers
Your local library or community center could be a hidden gem regarding affordable childcare.
Many offer free or low-cost programs like storytime, playgroups, and other activities for kids.
It's an excellent way for your child to socialize and learn, all while staying within your budget.
Pro Tip: Local libraries and community centers are well-known for hosting free or low-cost childcare programs, often advertised on their official websites.
6. Nonprofit Childcare Organizations
Nonprofit childcare organizations prioritize the well-being of children over profit. They often provide affordable daycare options.
Choosing a nonprofit means your child gets quality care while you're not burdened with high costs.
Pro Tip: Organizations like the "YMCA" and "Boys & Girls Clubs of America" often provide affordable childcare services focusing on children's well-being.
7. Nanny Share
If you prefer more individualized care for your child, consider sharing a nanny with another family.
You'll both share the cost, and your child gets dedicated attention. It's like having a personal caregiver without the hefty price tag.
Pro Tip: Platforms like "Care.com" can help you find a nanny to share with another family.
Related: Nanny vs. Daycare
8. Cooperative Home Daycare
Creating or joining a cooperative home daycare with other parents is another excellent option.
In this setup, you take turns hosting the kids at your homes. It not only saves money but builds a strong community where parents support each other.
Pro Tip: Local parenting networks or community groups may assist you in setting up a cooperative home daycare.
9. Sibling Swap
If you have friends or neighbors with children of similar ages, consider a sibling swap.
You can take turns watching each other's kids, allowing everyone to enjoy some free time without the expense of daycare.
It's a great way to build trust and support within your community.
Pro Tip: A sibling swap is an informal arrangement among friends or neighbors. You can coordinate such swaps within your social network.
10. Flexible Work Arrangements
Look into flexible work options with your employer. Some companies offer telecommuting or flexible hours, which can reduce your childcare needs and expenses.
This way, you can spend more time with your child while fulfilling your work responsibilities.
Pro Tip: Many employers offer flexible work options, such as remote work or flexible hours—companies like "FlexJobs" help professionals find flexible employment opportunities.
Related: Can You Do Daycare One Day a Week?
11. Work- and School-Related Programs
Many workplaces and schools offer on-site or nearby programs for children. These can include after-school programs or daycare services.
These options are often convenient and can be more cost-effective than private daycare centers.
Pro Tip: Check with your workplace or your child's school for on-site programs or explore after-school programs in your local area.
12. Local Clubs and Organizations
Check if there are local clubs or organizations in your area that offer childcare services or group activities for children.
Some may provide affordable options and allow your child to engage in social and educational activities.
Pro Tip: Local clubs and organizations may offer childcare services or activities. For example, the "Boys & Girls Clubs of America" provides youth programs.
13. Local Teen Mentoring
Consider reaching out to responsible teenagers or older kids in your neighborhood who can provide babysitting services or mentoring for your child.
This can be a cost-effective way to ensure your child is well-cared for and supervised.
Pro Tip: Consider reaching out to responsible teenagers in your community. You can find potential caregivers through community bulletin boards or recommendations from local groups.
14. Parental Support Groups
Joining a parental support group can be an excellent resource for finding cost-effective childcare solutions.
Fellow parents may have valuable recommendations and can provide insights into local options and what has worked for them.
Pro Tip: Search for local parental support groups on social media or through websites like "Meetup.com," where parents often share their experiences and childcare solutions.
Related: How Do People Afford Daycare
Child Care Assistance Government Programs For Affordable Daycare: On-Site Child Care
Here is a brief information about each of these government programs for affordable daycare, along with details on how to claim them, essential resources, and approximate financial assistance amounts:
1. State-Funded Pre- kindergarten
Program Overview: State-funded prekindergarten programs offer early education and care for young children. These programs vary by state and often have income-based eligibility.
How to Claim: Contact your state's Department of Education or Early Learning to determine eligibility and enrollment procedures.
Resources: Check your state's official website, local school districts, childcare resources and referral agencies.
Financial Assistance: Eligible families may receive free or heavily subsidized prekindergarten services, saving thousands of dollars annually.
2. Child Care Financial Assistance
Program Overview: Childcare financial assistance programs aid lower-income families, making quality childcare more affordable.
How to Claim: Contact your state's Department of Social Services or equivalent agency for information on eligibility and application procedures.
Resources: Visit your state's official website and explore resources offered by local childcare agencies.
Financial Assistance: The amount varies depending on your income, family size, and the cost of childcare in your area. It can cover a significant portion of your childcare expenses.
3. Head Start and Early Head Start
Program Overview: Head Start and Early Head Start programs offer comprehensive childcare, education, health, and family support services for low-income families.
How to Claim: Contact your local Head Start or Early Head Start program for eligibility requirements and enrollment information.
Resources: Visit the Head Start Program Locator on the official Head Start website for program details.
Financial Assistance: These programs provide free childcare services and additional support, potentially saving families thousands of dollars annually.
4. Military Child Care Financial Assistance Programs
Program Overview: These programs are designed to help military families cover the cost of childcare when stationed away from home.
How to Claim: Contact the Military and Family Support Center on your military installation or visit the official Military Child Care website for eligibility and application details.
Resources: The official Military Child Care website provides resources, information on eligibility, and program details.
Financial Assistance: The amount varies based on military status, income, and location. Military families can potentially save thousands of dollars annually.
5. Tax Credits and Support
Program Overview: Tax credits and deductions, like the Child and Dependent Care Credit, can reduce your tax liability based on childcare expenses.
How to Claim: Claim these credits when filing your federal income tax return. Consult a tax professional for guidance on eligibility and how to claim these credits.
Resources: IRS resources, including Publication 503, provide in-depth information on eligibility and how to claim tax credits.
Financial Assistance: The Child and Dependent Care Credit can provide up to $3,000 in childcare expenses for one child and up to $6,000 for two or more children, significantly reducing your tax liability.
2 Alternative Cheap Daycare Ideas
Setting up an alternating cheap daycare system for families on a tight budget can be a great way to save money.
Depending on the number of people available to help with your childcare needs, you could alternate between having someone come over and care for your little one at home or having them stay with a relative for free.
1. Check Out Nonprofit Organizations
Taking advantage of nonprofit organizations is an excellent way to obtain reasonably priced daycare. With options that vary from church-affiliated centers to faith-based programs, you can be assured your child will experience quality care for a fraction of the cost – thanks to donations and grants that fund them!
2. Room and Board Exchange
If your home is spacious enough, why not consider a room-and-board exchange? It will provide double the benefit – you'll be able to reduce daycare costs and welcome someone who can stay for free.
On top of that, if this person assists with childcare duties, you get more quality family time without extra expenses.
What is the Childcare Voucher?
A childcare voucher is a form of financial assistance that helps families pay for daycare expenses.
Depending on your circumstances and local policies, there may be various limits to the amount of money you can receive through a voucher.
Ask your local government to determine your area's maximum childcare voucher limit.
FAQs
What is the Cheapest Option For Childcare or Dependent care?
You can discover budget-friendly childcare arrangements at churches, the YMCA, community centers or other nonprofit organizations.
These establishments often have offers tailored explicitly to employed parents looking for cost-effective solutions.
Through federal, state and private grants, these nonprofit childcare providers can keep their fees low while providing quality services.
How Should You Make a Childcare Budget? : Child Care Costs
Constructing a childcare budget should encompass every expenditure, from transportation costs for getting your child to and from daycare or any other activities they may be enrolled in. Moreover, it is prudent to set aside funds for unforeseen occurrences that can arise without warning.
What Age Is the Least Expensive for the Child?
Generally speaking, childcare costs decrease with age as children need less supervision when they get older.
Thus, you will likely find the most affordable daycare services for children over 3.
Related: Worst Age to Start Daycare
What is the After Care Program?
After-school programs are ideal for parents who must ensure their kids have a safe environment while they finish the work day.
Typically, these programs provide well-rounded activities such as study help, sports clinics and drama clubs that keep children occupied until a guardian can pick them up.
Schools often offer aftercare services, allowing students additional time within the educational setting to grow and further develop during those post-school hours.
Conclusion
The expense of daycare can seem daunting for a great many families. Still, there are plenty of approaches to offset the cost from employing military, financial aid or joining a room-and-board exchange to looking into nonprofit organizations.
In short, with some investigation and ingenuity in constructing an ideal childcare budget that fits your family's needs, you should be able to find an answer without depleting your wallet.
So don't wait any longer start exploring these alternatives today and commit to ensuring your family's needs are adequately met with minimal effort.