How to Help a Child With Separation Anxiety at Daycare?
As soon as you leave your toddler at daycare, do they start to cry?
Separation anxiety can hit at any age during development, as it is linked with the psychology of emotions. Sadness triggers separation anxiety; toddlers express themselves more with the help of emotions rather than words.
A child crying at the doorsteps of daycare feels insecure and left alone. Watching their parents go from daycare brings sadness more aggressively in behavior. Teachers, as well as parents, can control separation anxiety.
Teachers can be helpful in a way that provides them with
Comfortable and a friendly environment all day
Teacher should talk with empathy
Giving space to the child whenever they get irritated
Parents can be helpful by
Supporting their child fears
Keeping the promises
Visiting the child in daycare
Separation anxiety is also a disorder; on the contrary; it is said to be a short phase that passes by with time. Learn how to help your child feel comfortable and confident when you're not there. Providing 11 useful tips for parents to help reduce stress. We are sure you want to know more, so keep reading.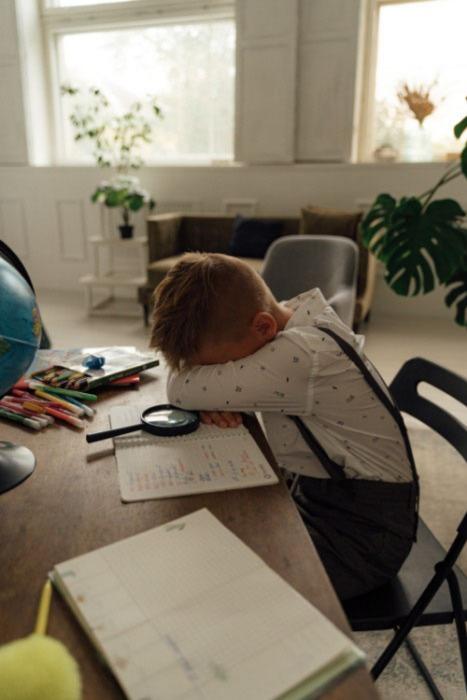 How to Ease Child Anxiety?
For children with normal separation anxiety, these steps can help drop tension in them.
For Parents
Keep your promise when you tell your child that you will come to pick them.
Always check your child on short visits to daycare.
Acknowledge their fears and anxiety; your support will bring good change.
Have a quick goodbye in the morning.
Normalize the separation between you and your child; this idea will help them stabilize themselves in the crowd.
Avoid sneaking out. Let your watch you leave. Otherwise, the child will start a search and cry more.
If there are any familiar faces at a daycare center, tell your child that be friends with them, and it's alright to make new friends.
Minimize any scary TV shows; a developing mind can preserve information and make scenarios in their head.
Ask the teacher at daycare to keep the child engaged in fun activities.
Creating a soothing bedtime routine with calming music and stories will help reduce their anxiety.
Plan a happy reunion with your child at the end of the day. It will provide them with the comfort and love they have been missing from you all day.
Most importantly, when dealing with a child portraying anxiety, first and foremost, keep your calm, as only patience and calm will help you and your child pass the phase.
For Teachers
A simple strategy can help overcome the growth of anxiety in a child.
Anxious students need to develop trust among their fellow students and teachers. As a teacher, ensure that you greet them with joy and warmth.
If on any day child is feeling anxious again, give them space. Ensure you have a safe zone for children in the classroom or counselor's office.
The teacher must talk to the child with empathy, being attentive toward their feelings.
Encourage small games/activities among students so they can interact with each other.
Children with anxiety are unprepared for the change. Give them time to transition from one class to another.
Is Separation Anxiety a Disorder?
Separation anxiety is expected in early stages, usually starting before the child is at least 1 year old, and may reoccur till age 4. Both anxiety situations have the same symptoms, are hard to diagnose at the start, and you must give time to understand the condition more accurately.
However, some children experience separation anxiety longer than usual, which is NOT normal, and it can turn into a disorder. Separation anxiety disorder is treatable. Separation anxiety leading to a disorder impacts the mind with any changes in the surroundings.
Here are some reasons that may trigger separation anxiety in children,
Maybe the family is moving a lot or just traveling.
Stressful situations can play a part in developing the disorder.
Rapidly switching schools can source this disorder to linger longer.
An insecure attachment to a caregiver can give a push to this disorder, overprotective parents, and, in some cases, it is genetic.
Does a Daycare Cause Separation Anxiety?
Daycare can be a big adjustment for toddlers. They are suddenly in a new environment with new people and may feel overwhelmed. It can lead to separation anxiety.
Kids are emotionally untrained; they tend to draw themselves toward a person or object at home. Many experience anxiety for the first time at daycare.
There could be factors contributing to the causes;
If the daycare is overcrowded, it will put the kid in an uneasy feeling, causing anxiety.
Long moments of waiting to see their parents build tension, allowing them to show sadness and anger.
9 Signs of Separation Anxiety
The main difference between normal separation anxiety and separation anxiety disorder is the intensity of fear in the child. It can also cause health problems at an early age.
Children with the disorder get agitated quickly, like, even at the thought of going away from the primary caregiver or missing normal daily activities.
The child may complain of sickness when they have to go to school or play with other children.
The child is staying in a constant state of fear that something wrong will happen to a family member.
Having trouble sleeping at night
Separation anxiety is seen in various forms; children make up stories in their heads of being abducted by someone.
A child having anxiety will follow the caregiver everywhere.
Staying alone at home or a daycare center scares them the most.
Throwing temper tantrums can be seen as a common symptom. A child struggles to express the right emotions.
If the child is suffering from headaches, dizziness, trouble breathing, nausea, and stomachaches, these are also the signs.
If parents or teachers of the daycare do not notice these symptoms, the situation will worsen. There are some ways to stop anxiety at its early stages. Keep reading for more exciting details.
Conclusion
Leaving your child when they shout out for you may be heart-wrenching. However, don't avoid the experience. Indeed, it's tough to do, but at the same time, it's great for both of you.
Figuring out how to adapt to detachment and trust that you'll return is an imperative piece of your child's turn of events — and you want time all alone, whether for work, tasks, tomfoolery or unwinding.
Furthermore, when you rejoin, you show them that they can continuously depend on you, which makes your bond all the more grounded.