How Do Daycare Workers Take Care of a Child Crying for Their Parents?
Children at toddler age are overly sensitive. When parents drop their children off at daycare, they hope childcare providers will take care in the best way possible. They may worry about how the workers will respond if their child starts crying for them.
Fortunately, daycare workers have several strategies to help comfort these little ones. Parents might ask themselves, how do daycare workers care for a child crying for their parents?
First and foremost, they will try to comfort the child as best as they can. If that does not work, they might give the child some space to calm down on their own or try a different approach. If the child does not stop crying, the daycare workers call for the parents to take a visit.
Ultimately, their goal is to make sure the child feels safe and loved while in their care. This blog post will show you 9 techniques and discuss why they work. So read on to find out more!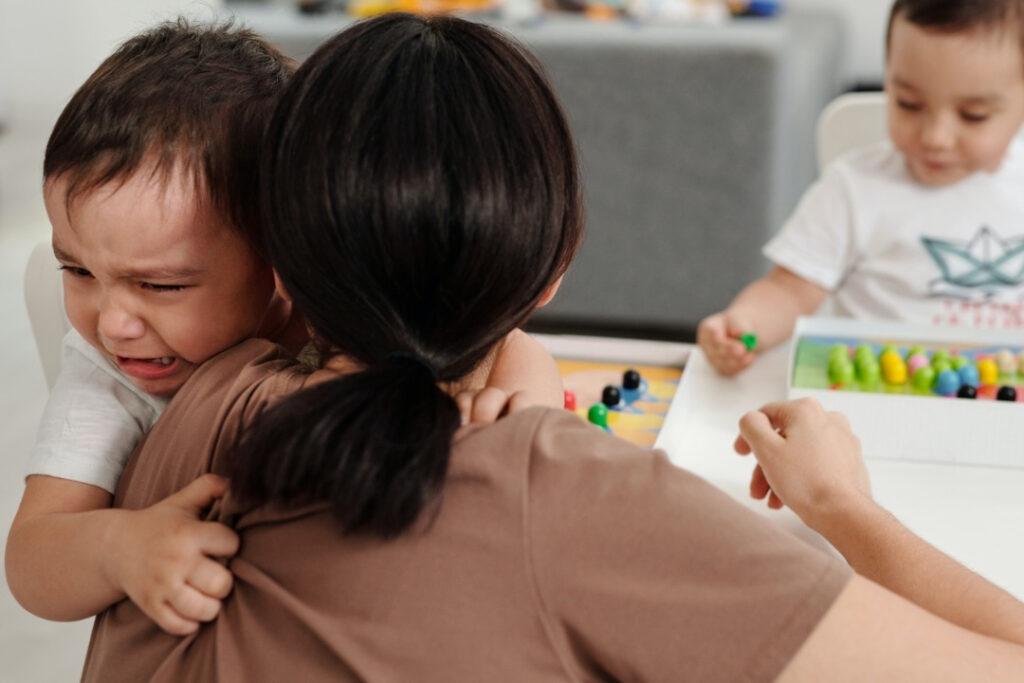 3 common reasons children cry for their parents
When a child constantly cries, it can be crucial for the caretakers to think fast about techniques to stop crying. It's exhausting for children as they fearfully try to fit in a new place.
Various factors contribute to causing unsettling behavior; consider the following possible triggers a child may be feeling.
1. Separation Anxiety
Separation anxiety is common in toddlers. When they have to stay away from home and their parents, not having familiar surroundings makes them restless.
When children are left at a daycare, they are pushed to explore and be independent for a few hours. Still, mentally and emotionally, toddlers aren't ready for this significant change as they are unaware of it.
2. Family Stress
Kids are sensitive and very closely attached to family. They can sense distress quickly now, and a child can feel uneasy if a lot of moving is happening. Toddlers do not like traveling; they get super cranky.
A child may get affected if the relationship between parents is unstable and no attention comes from them. A new addition to the family can bring interruption in the care and love the child was experiencing before. While they adjust to recent changes, the anger is transferred to daycare, resulting in more crying.
3. Over stimulation
Daycare centers can overwhelm a child with all the bright lights and colors used to make a happy and comfortable place for kids.
In addition, loud noises and other kids playing around can annoy them. Children are more sensitive as compared to adults.
Try these if you are looking for pointers to help soothe a child.
9 ways to soothe a crying toddler
The ultimate challenge at the daycare is to soothe a crying child. Although not an easy task to accomplish, here are a few tips:
Make sure to check the child is in clean diapers.
Toddlers feel relaxed when swayed back and forth. You can do this by sitting in a rocking chair.
Take the child for a walk or ride. Stroller rides in fresh air usually work.
If the toddler is uncomfortable, try patting the back to ensure they feel secure.
Softly singing to them helps in calming the nerves down.
Talk to parents about it, and look for activities they do to calm down the child at home.
In cases when a child is not hungry, they might just need a pacifier. Ask the parents first if they agree to it.
Play a CD with some gentle poems on it. It will help lighten up the mood.
Check the tummy. Sometimes formula milk can cause tummy aches. If you are feeding the child, try giving smaller bites and letting them finish first, then provide another bite. Give the child gap in between to burp.
Parents can be a great help in calming the child and check some valuable strategies.
5 Tips for Parents
A fussy child is never easy to tackle. If nothing works and the frustration level reaches higher than the roof, it's time to call in the parents to action.
Parents know well what needs to be done at that moment and get time to talk with the child's supervisor regarding the behavior. There are a few strategic steps that, if brought to routine, can help to soothe them and gives them a boost of confidence to go about the day with other kids.
1. Visiting the daycare
Parents should visit the child at the daycare center to witness their performance and behavior. The short visits will give the child a sense of security, which will help them not cry.
It is also essential for the parents to keep a check at daycare to see if the child is provided with a safe and nurturing environment.
2. Pep-talk with your toddler
Entering a daycare center for the first is nerve-wracking for a toddler. The presence of new faces around creates anxiety in them. Parents, you can have a small talk with your little one before sending it to the place.
In a fun way, tell them where they are going, mentally walk them through the day and get them excited. Comfort them by promising that you will come to pick them up; talks like this bring change in a child's behavior.
3. Pack a favorite toy
Children are the most attached to one of their favorite toys. Having a familiar toy from home will keep their calm intact to them. Something from home also helps the child to nap more peacefully, and waking up in a better mood will lighten up the place more.
4. Stay calm
It happens almost every time that goodbyes at a daycare center are tearful, so when your child insists on staying with them, make sure you are not in a hurry and hear them out. Keep your calm and peace together if a child is becoming hyperactive at the doorstep.
5. Child and teacher bonding
Your child will only enjoy time at the daycare center when the bonding with the educators is excellent. As a parent, you can act as a bridge between them.
Taking short visits to the daycare center will help the child build trust with the teacher. Tell them about the teacher, classroom, and other children at home.
Conclusion
After some time, your child won't cry as you drop them off at daycare. Few children take more time to adjust than usual but letting them feel these emotions is normal as it will help them grow and become more aware of friends and teachers.
Just keep reminding yourself it will stay for a short time and focus on the positive side daycares are beneficial in mental and emotional development.