Starting a Daycare at 2 Years Old | Expert Advice
Your 2 year old is ready to discover more, but you need to know if it's a daycare turn or not?
Toddlers' brains are wired for attachment, but daycare at 2 years old can be a safe and enriching experience. Its the perfect age for creating your toddler's daily schedule of nap time, meals, and development activities like toilet training.
Daycare can also help your toddler develop the social and emotional skills they need later to thrive in pre-school.

However, it's important to choose the right daycare for your toddler's needs. In this blog post, we'll discuss what to look for in a daycare for 2-year-olds, and how to make sure your toddler is ready for the experience.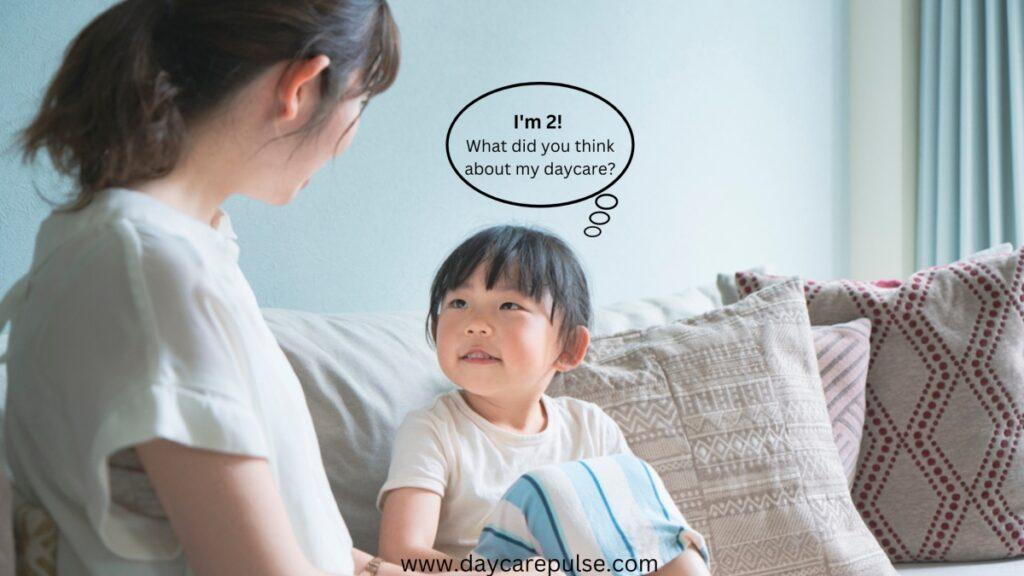 Starting a Daycare At Two Years Old
Starting daycare at 2 years old can help your child develop their personality and social skills. However, not all daycares are right for 2-year-olds, and not all toddlers are ready for daycare at this age
Firstly, you must keep your daycare options open until your child is ready to go to school.
Don't just settle with one option if you find that the provider is not helping your child adjust comfortably in daycare setting. You can also ask for the opportunity to watch your child during the day.
In the beginning, ensure that your toddler is getting the right kind of help. Keep an eye on their newly developed habits.
Here's a tip: numerous websites, such as "HealthLine.com," can assist you in obtaining personalized care that is most suited for your child, try giving it a shot.
What To Do Before Entering The Daycare Center?
Here's the sorted list to begin your hunt that I have learned through experience and lots and lots of research, So:
Make sure the daycare has a good reputation among parents.
Tour the facility and meet the staff, so you feel comfortable leaving your child there.
Confirm if they have a low teacher turnover rate.
Ask about the curriculum and activities they'll be doing each day.
Find out what the ratio of adults to children will be.
Make sure you're comfortable with the drop-off and pick-up procedures.
You might also want to read: First Day of Daycare| All you need to know
Daycare Vs. Homecare, Which One is Best For Your Child?
Although I have already walked you through the daycare starting process, there is still one more choice you might want to consider.
There are many factors to consider when deciding whether to place your child in daycare or to have them stay home with a caregiver. One of the most important factors is what is best for your child's individual needs. Each child is different and will thrive in different environments.
If your child is very social, then daycare may be the best option as they will be around other children their age and can interact and learn from them. If your child is more introverted, homecare may be a better option as they will have more one-on-one attention from the caregiver.
You might also want to read: Does Daycare Affect Sleep?
Other essential factors to consider are your budget and your work schedule. Daycare can be more expensive than home care, but it may be more convenient if you work long hours or have irregular work hours.
Ultimately, the decision of whether to put your child in daycare or have them stay at home with a caregiver is a personal one that depends on your child's individual needs and circumstances.
6 Ways To Prepare a Child For Daycare
If you're getting ready to send your 2-year-old to daycare for the first time, you might feel mixed emotions and anxiety. On the one hand, you might be excited for your child to socialize with other kids and learn new things.
Here are a few things you can do to help prepare your 2-year-old for daycare:
Explain Daycare: Talk to your child about what to expect. Explain that they will spend time with other kids and adults who will help care for them.

Random Drop-offs: Help your child practice being away from you. If possible, have someone else watch your child for a few hours at a time so they can get used to being away from you.

You might also want to read: How to make daycare drop-off easier?

Comfort Pack: Pack a comfort item for your child to take to daycare; it could be a favorite toy, blanket, or stuffed animal.

Toilet Training: Begin with toilet training your child to make their transition smoother; Trust me on this one.

You might also want to read: Does Daycare Potty Train?

Sleep Schedule: Try to get your child into a good sleep schedule before starting daycare, as this will help them to settle in and get the most out of their time there.

You might also like to read: How to Get Toddlers to Nap at Daycare

Socializing: Start encouraging your kid to befriend and play with other kids their age. Pre-practice socializing would help your child adjust to other kids in daycare later.
These steps can help your 2-year-old feel more comfortable and confident about starting daycare.
You might also want to read: How to prepare for First Day of Daycare
Final Thoughts
In all honesty, there is no rule that works for everyone in the childcare process. Still, the experiences of others may be of tremendous assistance in avoiding maximal mayhem and making the process as pleasant and easy as possible.
Reach out to other parents in your area who have sent their children to daycare at an early age to get more unfiltered insights about how their toddlers reacted to different daycares in your vicinity.