Does Daycare Affect Sleep?
As a parent, you know that sleep is essential for your child's health and development. But what about daycare?
Does sending your child to daycare impact their sleep?
The answer is: it depends. Daycares can improve or disturb child's sleep depending on Child's personality, sleeping environment and daily schedule.
This article will help you adjust your child's routine to ensure healthy sleep. You'll also learn about factors that can disturb your child's sleep at daycare and practical methods to avoid them.
With all that said, let's dive right into it!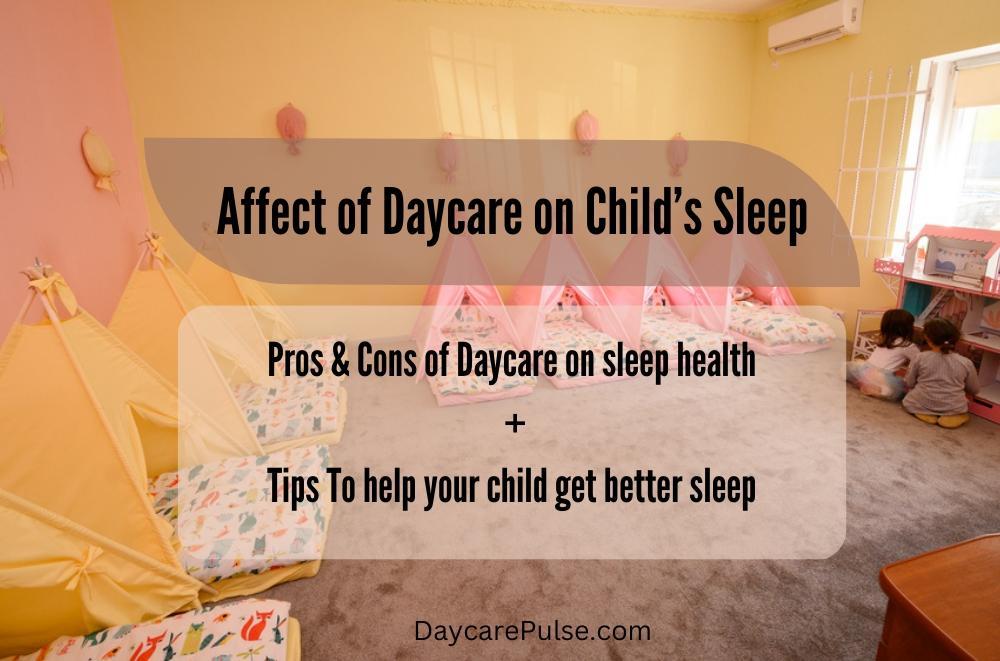 Effect of Daycare on Sleep Schedule
Negative Impact of Daycare on Sleep
Undoubtedly, attending daycare can affect a child's sleep habits.
It is no wonder why; after all, the environment at most centers tends to be stimulating and full of fun activities that make it difficult for children to wind down afterward.

Additionally, many commercial daycare centers are loud and chaotic, which may cause increased stress levels in your little one, resulting in difficulty falling asleep or even restlessness during slumbering hours.

Some daycares also offer late-day programs, which could further disrupt established bedtime routines due to extended wake times for kids who participate!

In addition, a child can experience sleep regression in their earlier days of childcare due to the unfamiliarity and distress from separation anxiety or homesickness.
You might also want to read: How to Get Toddlers to Nap at Daycare?
Positive Impact of Daycare on Sleep
On the flip side, daycare can also positively change a child's sleep pattern. It is not uncommon for children in daycare to become accustomed to structured daily routines that often involve napping.
You might also want to read: Best Nap Mat for Daycare
How to Prepare Your Child for Daycare
The best way to prepare your child for daycare is by following a few helpful tips.
First, set a consistent bedtime routine that can be followed across multiple locations, such as home and daycare.
Help them practice independence and separation.
Make them learn socialization so they can adjust comfortably.
Pay attention to your child's dietary habits, for nutrition plays a vital role in fostering or sabotaging their sleep patterns.
For more such tips, read this article: How to Make the First Day of Daycare Easier
Long-term Effects of Poor Sleep Habits in Daycare
Daycare can hurt a child's sleep schedule.
But what's most unfortunate is its long-term consequences, such as behavioral and developmental issues due to a lack of restorative shut-eye.
In addition, too little or poor quality sleep can result in increased irritability, fatigue, and stress for your child, damaging your family dynamic.
You might also want to read: Will Daycare Take Colic Baby?
3 Tips to Help Your Baby Nap at Daycare
Adjusting a child's nap schedule at daycare is difficult, but it can be done.
Here are some tips to help your little one get the rest they need in this environment:
1. Share Sleep Schedule
Share your child's sleep chart with the daycare staff.
Talk with the caregivers about your baby's sleep habits and ask them to follow a consistent napping routine.
Consider bringing a favorite blanket or comfy item to help them feel more secure while they nap in an unfamiliar setting.
You might also want to read: Home Daycare Schedules
2. Daycare Sleep Policy
Check your daycare's sleep policy to ensure it meets your child's needs.
Inquire when the staff allows children to rest and if they have a routine for winding down before naptime.
You might also want to read: When to Keep Baby Home From Daycare?
3. Consistent Bedtime Habits
Finally, could you ensure you still implement consistent bedtime habits at home? This can help bridge gaps between home and daycare and ensure your little one gets the rest they need to grow and develop.
You might also want to read: Daycare Nap Room Ideas
Frequently Asked Questions
How Do Daycares Get Babies to Sleep?
Daycares typically get babies to sleep by following a consistent and calming bedtime routine. This could include dimming the lights, playing soft music, reading stories, or giving them a comforting item like a blankie.
How Long Is Naptime at Daycare?
Naptime at daycare typically lasts from 1.5 to 2 hours, depending on the child's age and individual sleep needs.
How Do Babies Sleep Adjust for Daycare?
Babies adjust to daycare sleep schedules by following a consistent routine and becoming comfortable in their environment. Additionally, it helps if parents provide a comforting item from home and share an accurate sleep chart with the childcare staff.
Conclusion
Although there is some debate on the matter, evidence suggests that daycare can have both positive and negative effects on sleep.
The most important thing for parents to keep in mind is that poor sleep habits can have long-term effects, so it's important to do what you can to ensure your child is getting enough rest.
With a little preparation and effort, you can help your baby get the quality sleep they need at daycare – and avoid any potential negative consequences down the road.