How to Make First Day of Daycare Easier: Daycare Dynamics
The first introduction of your child to daycare can be an intimidating and daunting experience for both parents and daycare providers, as well as your little one.
This blog post is here to help! I've put together a stack of super friendly and easy-to-understand tips to make that first day of daycare less of a mountain and more of a molehill.
But here's the best part – I am not only providing tips for parents, but also a handy list of 10 simple tips for daycare providers! Whether you're a parent or a daycare provider, I've got you covered.
Uncover a treasure map to a seamless first day at daycare. Learn from experience to save time and ensure quality. Gain insight, satisfaction, and reduce anxiety with these helpful tips for a smooth transition and a secure environment.
Keep reading to lighten the load of that first day.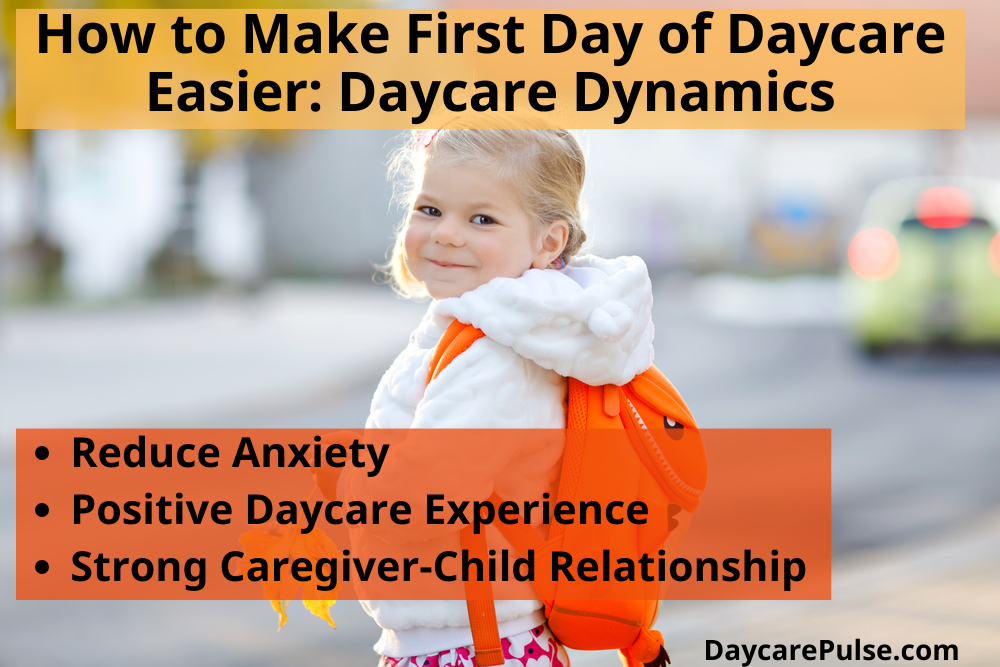 How to Make First Day of Daycare Easier
Are you dreading your child's first day of daycare center? It's completely normal to feel anxious about leaving your little one in someone else's care.
But don't worry, we've got some tips to help make that first day a little easier for both you and your child.
Understanding the Child's Perspective
First, it's important to understand why your child might be feeling anxious about their first day at daycare.
This may be the first time they are away from you for an extended period of time, and it can be scary for them to adjust to a new environment with unfamiliar faces.
They might also feel like they're being abandoned by you.
Fears and Anxieties: Talk to your child about their fears and anxieties. Reassure them that you will be back to pick them up and that they are safe and loved.
Empathize with Child's Feelings: – Acknowledge their feelings and empathize. Let them know it's normal to feel scared or nervous about something new, but also remind them of the fun activities at daycare.
Preparing in Advance
Now that you understand your child's perspective, let's talk about how you can prepare in advance to make their first day at daycare a little easier.
Thoroughly Research & Trust Your Judgment: Do thorough research to find a daycare that you trust. Visit the facility, talk to the staff and other parents, and make sure it's a place where your child will be happy and well-cared for.
Make Visits to Daycare Before First Day: If possible, try to make a few visits to the daycare before their first day. This will give your child a chance to become familiar with the routine and get to know the staff and other children.
Practice Separation & Drop-off: To help your child adjust to daycare, practice separation beforehand. Ask a trusted family member or friend to watch them for a few hours while you run errands or enjoy some alone time.
Establish Morning Routine: Talk to your child about the morning routine before their first day. This will help them feel more in control and give them a sense of familiarity on their first day.
Adjust Your Child's Sleep Schedule: If your child is used to sleeping in, start adjusting their sleep schedule a week before their first day. This will help them be well-rested and ready for the new routine at daycare.
Building a Positive Relationship with Caregivers
One of the best ways to make your child's first day at daycare easier is to build a positive relationship with their caregivers.
This will give you peace of mind knowing that your child is in good hands and will also help your child feel more comfortable in their new environment.
Talk to Daycare Providers Beforehand: Introduce yourself to daycare providers and share your child's preferences, concerns, and other important information. This will help caregivers better understand your child.
Help your Child become familiar with Daycare Providers: If possible, arrange for your child to meet their caregivers before their first day. This will help them become more comfortable with the staff.
Saying Goodbye
Saying goodbye can be tough for both you and your child, but it's important to keep it short and sweet. Here are a few tips:
Encourage Independence: As you say goodbye, remember to let your child know that you believe in them and that they can do this on their own. It's important to boost their confidence.
Significance of Being Calm and Reassuring: Stay calm and reassuring when saying goodbye. This will help your child feel more at ease and will reduce separation anxiety.
Following Up
After the first day, make sure to check in with your child's caregivers. Ask how their day went and if there were any challenges or successes.
This will help you understand how your child is adjusting and give you peace of mind.
Inquire about the Child's Well-being and Adjustment: Make sure to ask about your child's well-being and how they are adjusting. This will help you address any potential issues early on.
Praising Achievements and Addressing Concerns: If your child had a good day or achieved something, praise them. If there were any concerns, discuss them with the caregivers and create a plan to assist your child's adjustment.
For more detail Read:
Tips for Daycare Providers
In this section of our post, I'll provide some valuable advice directly aimed at daycare providers.
The goal is to offer practical tips that help caregivers make children's transition to daycare smoother and less stressful.
Ease into the Daycare Transition: Start with short, part-time sessions to help the kids ease into the new routine. This will help reduce any anxiety or fear about the change.
Create a Welcoming Child Care Center: Ensure your daycare center is warm and inviting. Utilize vibrant decorations, children's artwork, and interactive learning materials to create an engaging atmosphere for kids.
Be an Empathetic Daycare Provider: It's normal for kids to feel anxious on their first day. Show empathy and reassure them of their safety and love.
Establish a Predictable Daycare Routine: A structured daily routine can help kids feel secure. Communicate the day's schedule clearly to ensure they know what to expect.
Involve Parents: Most parents are as anxious as their kids on the first day. Make them feel engaged and a part of the process. This will help reduce their anxiety.
Nap Time Transition: Make nap time easier by encouraging parents to bring a favorite teddy bear, blanket, or comfort object. This creates a sense of familiarity and comfort for the kids.
Proactive Communication: As a child care provider, regularly communicate with parents. Keep them updated on their child's first day and be open to addressing any concerns they may have.
Create a Goodbye Routine: Create a regular goodbye routine for parents and kids. It could include a special handshake, hug, or wave to ease the separation process.
Engage Older Children: Older children can mentor new ones, guiding them through the first drop-off, introducing them to the daycare routine, and offering a friendly face on the first day.
Reassure and Comfort: Lastly, reassure the child that feeling nervous or scared is totally normal. Comfort them by showing empathy and patience, and make them feel that they are in a safe and caring environment.
Frequently Asked Questions
What is the best age to start daycare?
The best age to start daycare depends on your family's individual circumstances and needs.
Generally, anywhere from six months to three years is acceptable, as this is when children can benefit greatly from the socialization and structured activities provided by daycare.
If you would like more details, refer to this article: Worst age to start daycare & Why?
How long does it take to adjust to a new daycare?
The adjustment period to a new daycare can vary greatly from child to child. However, on average, it can take anywhere from a few days to a couple of weeks for a child to fully settle into their new routine and environment.
During this time, it's important for parents to remain patient and supportive, and to openly communicate with daycare providers about any concerns or observations.
Rest assured, with time and the right support, your little one will soon start to feel at home in their new daycare.
Do daycare babies develop faster?
Daycare can indeed have a positive impact on a child's development. Being in a structured environment with other children can stimulate cognitive, social, and emotional growth.
It enhances their interpersonal skills through interactions with peers, fosters creativity through various activities, and can promote early literacy and numeracy skills.
Nonetheless, the rate of development still varies from child to child and other factors such as the quality of daycare and home environment also significantly influence the development.
Conclusion
Adjusting to daycare can be a bit challenging for both children and parents, but no worries! With these helpful tips, you can make the transition smoother and easier. 😊
Don't hesitate to take the first step – it's an exciting and important milestone for you and your little one!
Remember, with the right approach and support, the first day of daycare can be a positive experience for all.
Good luck!