Does a Church Daycare Have to Be Licensed? 
So, you're planning to start a church daycare. But does a church daycare have to be licensed? That's an important question, so let's answer it.
Church daycares, or generally any religious daycare, don't require a license to operate in most states. They're under the church, and the state has nothing to do with them. However, they still have to follow the basic safety and hygiene guidelines.
Let's see what states exempt church daycares from licensing requirements and how to know if your state is one of them or not.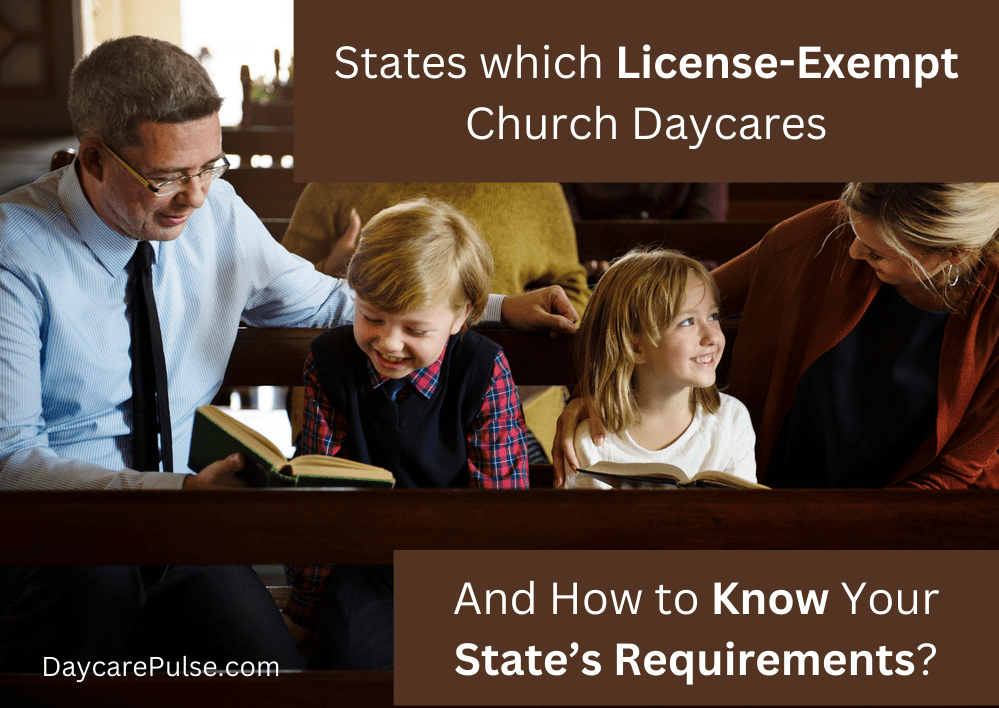 Church Daycares and Licensing Exemptions
States With Daycare Licensing Exemptions
Many states exempt some specific categories of child care providers and programs from licensing requirements. They might include church daycares as well.
Or if a church daycare fulfills its exemption criteria, it's exempted. For example, Texas has clearly defined its criteria for exemption. You can check your state's site to see their exemption criteria.
Here is a list of states where churches or any other religious daycare can operate without a license.
Disclaimer: States often change their rules and requirements. Thus, to get the most updated information, visit your state's official site.
Indiana
Alabama
Virginia
Florida
Missouri
North Carolina
What are General Licensing Requirements for Daycares
In case your state wants you to get a license to start a church daycare, you should be ready for documentation. You'll have to follow the guidelines and fulfill their requirements.
Here's a quick list of some basic licensing requirements for daycare.
Trained staff
Background check
CPR Training
Provider/child ratio
Physical Space and location
Fire safety
Hygiene check
Insurance
If you want to know more about this in detail, check out this article on what you need to open a daycare center.
Child Care and Development Fund Reauthorization
In 2014 the child care and development fund reauthorization act was passed by the US government. This law aims to ensure minimum safety in all types of daycares, including church daycares.
According to this act, all child care centers and programs, religious or independent, must follow the basic health and safety guidelines. They'll be checked for hygiene, security and for fire safety by the authorities.
This small check is a massive step towards maintaining a safe and secure environment for child care.
Are Church Child Care Centers Safe?
Since church daycares are not licensed, many parents have safety concerns.
Let's first put this out there. A non-licensed daycare doesn't always mean risk. And after the child care and development fund reauthorization act, the risk is reduced, though not totally eliminated.
90% of the time, church daycare centers take good care of kids and follow basic hygiene and safety protocols. However, you should talk to the management to inquire about their services. Ask about the teacher's training.
Visit the center and do your complete research. Ensure your total satisfaction before leaving your child at any daycare center.
Then Why Take The Risk?
Technically there's no risk if you do a little inspection. Often church daycares are pretty good at handling and taking care of kids. But if you are still wondering why people choose church daycares, here are the reasons and benefits.
Their charges are less than a normal daycare, and sometimes it's free.
They offer more flexibility in terms of care duration and hours.
They work as drop-in daycares as well.
Parents might be more comfortable leaving their kids with church members whom they know and trust.
These are the 4 main reasons. Other than this, parents also want their kids to be in a daycare having similar beliefs as them. Plus, they might want to engrain the moral and religious elements in their kids right from the start.
Frequently Asked Questions
1. Do I Need a License to Babysit in My Home?
If you're occasionally babysitting a kid from your family and friends, then you don't need a license. However, if you're babysitting multiple kids, it's not an occasional thing anymore. It's more like a home daycare, and you'll need a license for it.
Want to know what you need to start a home daycare? Read our detailed guide to get started.
2. Why Do Churches Have Daycare?
Church daycares are a notable initiative for society. They provide a sense of community and support.
Churches offer daycare services to help their community. They often provide low-cost or even free child care. It also helps them in building a connection with the people.
3. What Are the Operational Hours of Church Daycares?
The timing can vary from church to church. But generally, church daycares are open during the week during working hours. Some might also offer services on weekends.
4. Do Church Daycares Offer Part-Time Care?
Church daycares are usually more flexible with their timings than commercial daycares. They offer both part-time and full-time care. Plus, some might even let you drop your child off without any booking. So they also work as drop-in daycare.
Conclusion
This article answered an important question, does a church daycare have to be licensed?
In most states, a church or any other religious daycare doesn't have to be licensed. But they have to follow the standard health, hygiene and fire safety measures. Visit its official site to get the most accurate and updated information about your state's requirements.
Church daycares are a convenience for the community. And it fully reflects in the flexibility, ease and services they offer. They're more affordable than a commercial daycare center and are sometimes free.
Thank you so much for reading, and we hope you have got the answer to your question.