What Do I Need to Open a Daycare Center
The amount of planning and paperwork that goes into setting up a daycare business makes it difficult to know where to start. Luckily, we have created this step-by-step guide to help you navigate the process of opening a daycare center.
Starting a daycare center begins with planning, followed by acquiring the required clearances and supplies. You will need to meet 5 essential requirements in this order:
Requirements According to State
License, Certificates and Permits
Daycare Staff
Daycare Action Plan
Clients/ Parents
It may look difficult, but in only 5 steps, you'll be ready to cut the ribbon without wasting your time, money, and efforts on things that aren't required or least important in the start.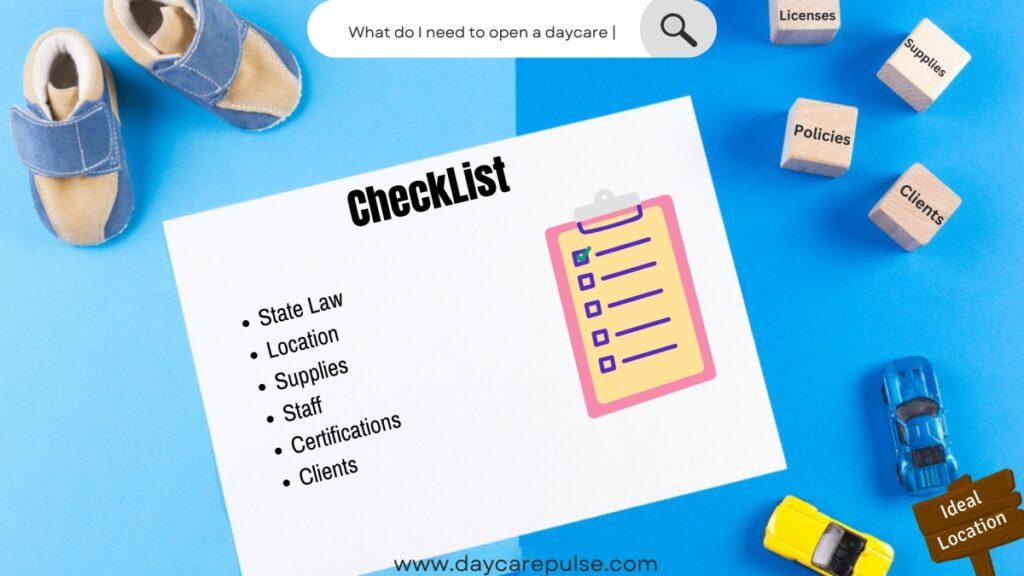 Do Your Research
The first step in setting up a daycare center is doing thorough research on the local market. What types of daycare centers already exist? What services do they offer? Are there any gaps in the market that your daycare could fill?

Answering these questions will help you decide what type of services your daycare should offer and how it your daycare business would be structured. Which will eventually help you with your financial and legal requirements.
Let's take a look at 5 things you'll need for your daycare's grand opening.
1. Requirements According to State
Before you can open your daycare center, there are several legal requirements that must be met first. Each state has its own laws and regulations regarding daycares, so it is important that you understand these requirements in order to run a safe and successful business.
Finances
Likewise all businesses, your daycare business would need you begin sorting your finances first. "On average, the cost of opening a daycare center can total over $50,000." However, the entire cost of starting a childcare service would vary depending on state and economic rates.
Some states may allow you to operate a modest home daycare without the need for licensing, saving you money on permits and certificates.
Other states may even need you to obtain a permit for the proper site, training certificates, staff training, a commercial license, and other paper work, raising your net cost.
Other costs to consider include the typical daycare staff wage in your state, building rent, energy expenses, furnishings, and setup costs. Food and other childcare necessities, marketing budget etc.
Daycare Location & Set up
Next most important step before opening a daycare is to hunt down an appropriate location. You need to consider many factors while opting for your childcare location.
Evaluate your neighborhood to see whether they require daycare services in your area. What do your nearby daycares currently offer and how your facility would compete with them in terms of space, security, and facilities?
Building Rent
A good location works wonders for attracting clients, but you also don't want to go broke paying building rent at the outset of your childcare career.

So pick prudently, weigh the pros and cons, consult a local realtor, and tour many daycares in the area to get a good idea of suitable space and investment cost.

Tip: Always evaluate daycare space according to your near-future enrollment plans for children.
2. License, Certificates and Permits
In most states, you will need special licensing and certifications from both state and local agencies in order to open a daycare center. Different states have different requirements so make sure you check with your local government offices first before taking any steps forward.
Normally this involves registering with your state as a licensed daycare provider, receiving enough insurance coverage, and ensuring that you have all necessary permits or licenses required by your local government.

Furthermore, most states require childcare centers to satisfy specific health and safety requirements. Before launching your business, it is critical to examine all applicable legislation. You may also need additional certifications if you plan on providing particular services such as music or art classes at your daycare center.
3. Daycare Staff
Another critical consideration when establishing a childcare center is deciding the amount of staff members required to give quality care to the children in your program.
When determining how many staff members are required for proper supervision and attention, consider the number of children participating in your program.
Also consider ages since child to staff ratio is legally different for different age groups. It is also important that each staff member have appropriate qualifications in order to provide quality care; this includes CPR certification, First Aid training, experience working with young children, etc.
Tip: Make sure that each staff member undergoes background checks prior to being hired, since parents prefer daycares with lower staff turnover/ transition rate.
4. Creating Daycare Action Plan
Once all your legal work and essential steps are in order, it's time to create an action plan.
This should include things like setting up policies and procedures, creating safety protocols, gathering supplies and equipment (think books, toys, outdoor equipment), devising everyday curriculum and schedule for kids daily healthy routine.
5. Finding Clients
It's time to find clients! There are a few different ways of going about this. One option is advertising through traditional methods such as radio ads or newspaper ads; another option is word-of-mouth marketing by talking with people in your community who could benefit from your services.
Don't forget about online marketing – creating a website or social media page for your business will help potential customers find you more easily. No matter which approach you decide on, remember that it takes time to build up a client base – be patient!
Conclusion
Having a chronological action plan makes it easier for anybody to start a new business without running into roadblocks every now and then.
Having enough resources on hand helps to create a fun environment that promotes learning while keeping everyone safe throughout the day!
With all of the aforementioned elements considered, parents can be certain that their children are receiving great care in a setting full of love and joy! and would definitely recommend your service to their peers.