How Much Does It Cost to Open a Daycare? Startup Guide
Are you thinking of starting your daycare? Whether you're just planning or already set on this childcare adventure, knowing how much it'll cost is essential.
Initial expenses for a home daycare business might range from $2,000 to $10,000, covering licensing fees, safety equipment, childproofing supplies, and initial marketing efforts. 
I have researched costs for opening a daycare, including initial fees, Licensing and Permits, recurring expenses, operational costs and many more for new business.
Keep reading to know more about the costs of opening a daycare so you can budget accordingly and have a stress-free journey.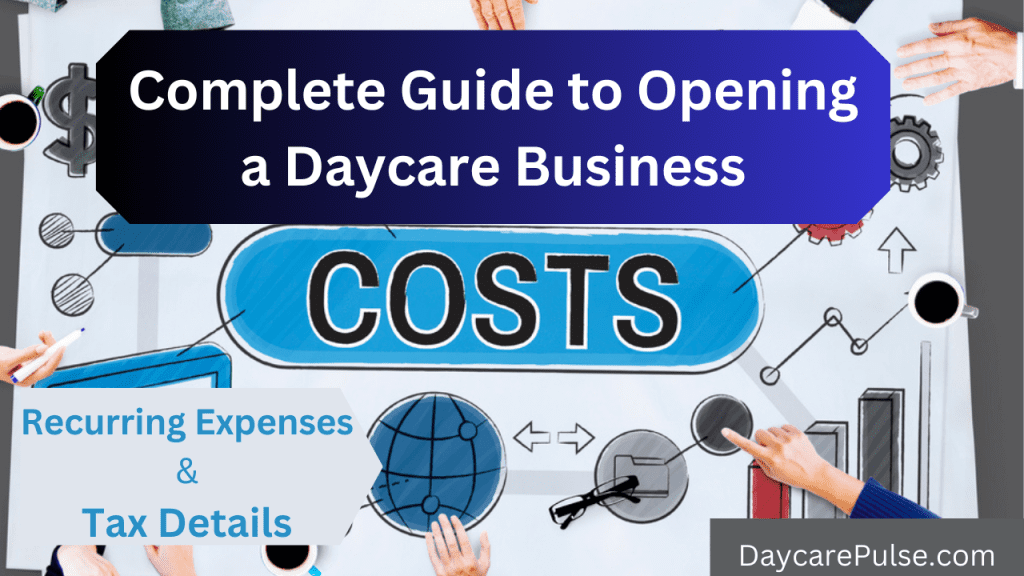 Comprehensive List of Costs And Expenses For Opening a Daycare Center
Starting a daycare center is challenging, and the financial commitment can be overwhelming. Researching and planning for all expenses you will incur before starting your daycare is crucial to ensure its long-term success.
Here are the significant costs and expenses involved in opening a daycare center:
1. Initial Costs For Daycare Centers
Opening a daycare can be as thrilling as it is challenging. The first hurdle to cross is finding the right location and facility.
You might have to lease or purchase a space, and that's where a significant portion of your budget will go. The costs can vary widely based on the area, but it's a vital step to set the tone for your daycare's success.
Next up, renovation and setup expenses. You'll want to create a welcoming, safe, and stimulating environment for the little ones.
Think about child-friendly decor, childproofing, and educational equipment. These costs can pile up quickly, so it's essential to budget accordingly.
Estimated Cost: Depending on the size and condition of your facility, you might allocate $5,000 to $20,000 or more.
Licensing and Permits: Every daycare center must be licensed and comply with local regulations. There are application fees and compliance costs that come with this process. It's all about ensuring the safety and well-being of the children under your care, and that's priceless.
Estimated Cost: Application fees could range from $100 to $500, while compliance costs may vary, but it's wise to set aside at least a few thousand dollars.
Equipment and Supplies: You can only run a daycare with the right gear. Furniture, toys, educational materials, and safety equipment are the heart and soul of your center. Providing a stimulating and safe environment is not only crucial but incredibly rewarding.
Estimated Cost: Depending on the size of your daycare and the equipment quality, this can range from $5,000 to $20,000 or more.
Staffing: Hiring a fantastic team is vital to your daycare's success. This involves salaries, hiring and training costs, background checks, and certifications. Building a team of compassionate and qualified caregivers is a priceless investment.
Estimated Cost: Staffing costs will depend on your location, number of staff, and qualifications, but it's a substantial ongoing expense.
Marketing and Advertising: You may not think of marketing as a traditional expense for a daycare, but it's essential to stand out in this competitive world. Getting the word out is a must, from branding and promotional materials to marketing campaigns.
Estimated Cost: Budget at least a few thousand dollars for your marketing efforts.
Insurance: Lastly, remember insurance. Liability insurance protects you and your staff from unforeseen accidents, while property insurance covers damage to your facility. It's a safeguard you can't put a price on regarding peace of mind.
Estimated Cost: Liability insurance may cost a few thousand dollars per year, while property insurance costs can vary widely based on your location and facility.
Related: How To Start a Home Daycare?
2. Recurring Monthly Expenses for Your Own Daycare Business
Here are the recurring monthly expenses for a daycare center.
Teacher Salaries: The heart of your daycare is the caregivers who nurture and educate the children. The cost of teacher salaries can vary depending on qualifications, experience, and location. 

Research local wage rates and budget accordingly. For daycare teachers in the United States, the average salary range typically falls between $34,500 and $43,700 per year.

Related: How Much Does a Daycare Teacher Make Per Hour?

Rent or Mortgage: Your facility's location and size will impact monthly rent or mortgage payments. 

When purchasing a daycare building and financing it through a mortgage, you'll be responsible for both the monthly mortgage cost and insurance premiums. 

For a small center-based daycare with a capacity of 10+ children, allocating a minimum of $15,000 per month to cover leasing expenses, encompassing your mortgage payments and insurance costs is prudent. 

This financial planning ensures the sustainability and safety of your daycare business.

Licensing and Regulatory Fees: Ongoing licensing and regulatory fees are part of the package for running a daycare center.

Ensure you allocate funds for these essential expenses. A large family childcare home's annual licensing fee is $140. A childcare center's yearly licensing fee equals one-half of the application fee. Check: Source

Related: What Certifications Do I Need to Open a Daycare?

Marketing and Advertising: Continuously invest in marketing and advertising efforts to maintain a steady stream of clients. The monthly budget for these activities can vary based on your marketing strategy.

Ads can range from as low as $200 to as much as $1,250 per ad for most local newspapers. It just depends on the size, page placement, and color.
Related: 15 Daycare Advertising Examples
Maintenance and Repairs: No facility is maintenance-free. Set aside a portion of your monthly budget for general maintenance and unforeseen repairs. It's a wise practice to avoid unexpected financial stress.

Supplies (Food and Snacks, Hygiene Products): Monthly expenses for supplies, such as food, snacks, and hygiene products, will depend on the number of children in your care. Plan your budget accordingly.

Insurance Premiums: Ensure your daycare is adequately protected with liability and property insurance. The monthly premiums for insurance can vary, so get quotes from insurance providers.

For in-home daycare providers, a general liability policy typically ranges from approximately $495 to $1,480 per year. 

This cost can be influenced by factors such as the number of children in your care, your location, and the coverage options you select.

If you're running a larger center-based daycare, the cost of general liability insurance tends to be higher, often starting at around $1,100 per year.

Related: How Many Infants Can You Have In a Home Daycare?

Utilities (Electricity, Water, Gas): To keep your daycare comfortable and operational, you must cover utility costs. You can estimate these expenses by reviewing previous bills or obtaining quotes from service providers.
According to recent statistical information, the average utility cost for a daycare center in the United States is around $1476 monthly.
Pro Tip: Remember that these expenses are just estimates and can vary significantly based on your location, the size of your facility, and the number of children in your care.
3. Operational Costs for Your Daycare Business
Office Supplies: To keep your administrative tasks running smoothly, you might allocate around $50 to $100 monthly for office supplies like paper, pens, and other essentials.

Staffing: The cost of staffing will largely depend on the number of employees you have and their salaries. For a small daycare, monthly salaries might start at $2,000 to $4,000, but this can vary widely.

Staff-to-Child Ratio: Adhering to recommended staff-to-child ratios is essential for quality care but can affect staffing costs. This may add a few hundred to a couple thousand dollars to your monthly expenses.

Ongoing Training and Development: Investing in ongoing training for your staff is essential for maintaining quality care. Plan for around $100 to $300 per staff member annually.

Monitoring and Optimizing Energy Usage: To reduce utility costs, invest in energy-efficient equipment and practices. This can lead to substantial savings over time.

Software and Technology: Childcare management software and technology for administrative tasks may cost around $50 to $100 monthly.

Cleaning and Sanitization: Budget for cleaning supplies and, if needed, cleaning services. Costs can vary, but $100 to $200 monthly for supplies is a reasonable estimate.

Health and Safety Measures: Costs associated with implementing health and safety measures may include personal protective equipment (PPE) and additional supplies. These costs can fluctuate, but setting aside a monthly budget of $50 to $100 can be a good starting point.
Related: Daycare Expense Spreadsheet
4. Taxes For Daycare Centers
Before you welcome the first child into your daycare, you'll have to navigate the intricate world of taxes.
Property and payroll taxes are two primary categories you need to be prepared for.
Related: Home Daycare Taxes
Property Taxes: These can vary significantly depending on your location and the size of your daycare center.
For instance, property taxes might be much higher in a bustling city than in a quieter suburban area.
On average, you should budget around $3,000 to $6,000 annually for property taxes. But remember, these numbers can be higher in some regions.
Payroll Taxes: This one's a bit tricky because it depends on the size of your staff.
Expect to allocate a good chunk of your budget here, with payroll taxes for a team of five or so employees ranging from $5,000 to $10,000 annually.
It's essential to consider these as non-negotiable expenses; taxes wait for no one!
Check: How does the tax system subsidize childcare expenses?
5. Financial Projections For Daycare Centers
As a new daycare owner, you need to grasp financial projections. It's like gazing into a crystal ball but with more math involved.
Projected Monthly and Annual Expenses: Your monthly expenses could vary from $2,000 to $5,000, including utilities, insurance, and supplies.
You might look at $24,000 to $60,000 on an annual scale. But remember, these numbers can differ depending on the size and location of your daycare center.
Revenue Projections: The big question is, how much can you earn?
Well, it can be challenging to predict accurately. Still, it's reasonable to expect an income ranging from $30,000 to $80,000 annually, depending on the number of children you can accommodate and your pricing structure for business.
Break-even Analysis: This is where you figure out how many children you need to enroll to cover your expenses for business. You might need 10 to 20 kids attending regularly before you can even think about breaking even.
Cash Flow Projections: Cash flow can be a rollercoaster for new daycare owners. Plan for monthly income fluctuations, and ensure you have a buffer to manage when expenses pop up unexpectedly.
Related: What Do I Need to Open a Daycare Center
Frequently Asked Questions
How Much Does It Cost to Run a Daycare Monthly?
The monthly operational costs of running a daycare business vary significantly based on location, size, and the number of children in your care.
On average, you should budget for expenses ranging from $2,000 to $5,000 per month. This includes overhead expenses like rent or mortgage, utilities, insurance, staff salaries, supplies, and food costs.
What Are Home Daycare Business Startup Costs?
Starting a home daycare can be more budget-friendly than a commercial daycare center.
Initial expenses for a home daycare business might range from $2,000 to $10,000, covering licensing fees, safety equipment, childproofing supplies, and initial marketing efforts.
Remember that these costs can vary based on your location and specific requirements.
Related: How to Promote Your Daycare Business
Can You Open a Daycare With No Money?
Opening a daycare business with no money can be challenging but not impossible.
Some ways to reduce initial costs include starting a home daycare, utilizing your existing space and resources, and gradually expanding as your business grows.
 However, even in these cases, some initial expenses, such as licensing fees, childproofing, and background checks, are unavoidable. Planning and budgeting wisely is essential to make it work with limited funds.
Related: How to Start a Daycare With No Money
Conclusion
Opening and running a daycare business involves careful financial planning and a deep commitment to providing quality childcare services.
While the costs can be substantial, you can turn your daycare dream into a flourishing reality with proper budgeting and a clear understanding of your expenses and revenue. 
Remember, the journey may be challenging, but the rewards of nurturing and caring for children while providing a valuable service to your community can make it all worthwhile.
So, take that first step, plan wisely, and watch your daycare business thrive.