Daycare Expense Spreadsheet: 6 Simple Steps For Effective Management
Are you a daycare owner struggling with managing daycare finances? And looking for a system to manage daycare finance effectively. Do not worry; I have gotten a practical and straightforward approach to managing daycare expense spreadsheets.
Daycare expense spreadsheet is an all-in-one tool that helps you record, track, and analyze all your daycare-related expenses. It's divided into different sections, each tailored to a specific type of expense. For instance, I have curated 6 simple steps to set up an expense spreadsheet.
Step-1 Setup Expense Columns
Step-2 Setup Expense Rows (Categories)
Step-3 Calculating Totals
Step-4 Tracking Payments
Step-5 Regular Updates
Step-6 Formatting
The key to a successful daycare business is providing top-notch care for the children and effectively managing your finances. I have curated 6 simple steps to set up an expense spreadsheet, including monthly, weekly and yearly spreadsheets, 4 tips for managing expense spreadsheets and 5 benefits of using an expense spreadsheet.
Establish a solid foundation for financial organization; imagine having a clear structure that allows you to categorize expenses effortlessly, ensuring you never lose track of crucial transactions.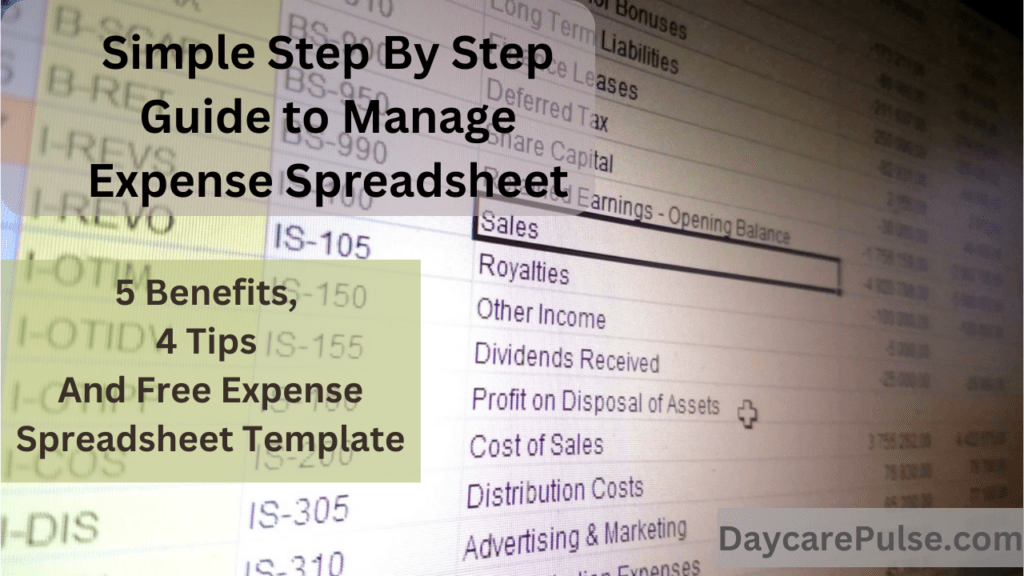 6 Simple Steps to Set Up Expense Spreadsheet: A Detailed Guide
Managing your daycare expenses is a fundamental aspect of running a successful operation. By creating a well-structured expense spreadsheet, you can gain insights into your financial health and make informed decisions for your business. Let's detail each step to help you set up your daycare expense spreadsheet effectively.
Step-1: Set Up Expense Columns
Columns are the building blocks of your spreadsheet. Each column captures specific information about your expenses. Here's how to set up these columns:
Date: Create a column labeled "Date" to record the date of each expense transaction. This information helps you track when each expense occurred.
Description: The "Description" column should contain a brief yet informative note about the nature of the expense. This makes it easier to identify the purpose of each expenditure.
Amount: In the "Amount" column, input the cost of each expense. This column is crucial for understanding the financial impact of your expenditures.
Payment Method: To keep track of how you paid for each expense, establish a "Payment Method" column. Record whether you used cash, credit card, check, or other payment methods.
Notes: The "Notes" column provides space for additional details or context related to the expense. This can be particularly helpful for future reference or when reviewing your expenses.
Step-2: Set Up Expense Rows (Categories)
Categories help you organize your expenses into meaningful groups. Follow these instructions to set up expense categories:
Daycare Fixed Expenses: Create sub-categories for federal, state, and local taxes, as well as Social Security contributions.
Daycare Variable Expenses: Establish sub-categories for groceries, toys, cleaning supplies, utility bills (electricity, water, sewage), internet charges, staff payments, daily supplies, meals, transportation costs, various taxes, and miscellaneous items.
Daycare Renting: Set up sub-categories for maintenance or repairs and supplies for your daycare space.
Daycare Insurance: Create a sub-category for insurance costs and, if applicable, another for rent or mortgage expenses.
Daycare Furnishing: Designate a sub-category to track the overall cost of furnishing your daycare.
Step:3- Calculating Totals
Utilize formulas to calculate expenses accurately:
Use Formulas: Leverage spreadsheet formulas to automate calculations, reducing the chances of errors in your totals.
SUM in Each Category: Apply the SUM function to calculate the total expenses within each sub-category. This allows you to understand spending patterns within specific areas quickly.
"Total" Row for Overall Expenses: At the end of each category, create a row labeled "Total" to sum up the expenses for that category. This provides an overview of your costs at a glance.
Step-4: Tracking Payments
Consistency in tracking payments is vital for accuracy:
Include Payment Methods: In the payment method column, input the payment method for each expense, such as cash, credit card, check, etc.
Use Drop-Down Lists for Consistency: Create drop-down lists for payment methods to ensure consistent data entry. This minimizes errors and streamlines data input.
Step-5: Regular Updates
Consistent and accurate updates are the cornerstone of effective expense tracking. Following these guidelines ensures that your daycare expense spreadsheet remains reliable for managing your finances.
Weekly Daycare Expense Spreadsheet Checklist
Every week, meticulously update your spreadsheet to maintain real-time accuracy.
Input tuition payments, groceries, supplies, transportation costs, and miscellaneous expenses incurred during the week.
This frequent updating helps you stay current and minimizes the chances of forgetting smaller transactions.
Monthly Daycare Expense Spreadsheet Checklist
At the end of each month, dedicate time to update your spreadsheet comprehensively.
Enter your utility bills, rent/mortgage payments, insurance premiums, cleaning/repairs, and advertising expenses for the month.
This monthly review offers a broader perspective on your spending and ensures that regular costs are accurately documented.
Regularly schedule a review of your expenses to gain insights into your spending patterns.
Analyze your expenses to identify trends, potential cost-cutting areas, and budget adjustment opportunities.
This analysis helps you make informed decisions that align with your financial goals and optimize your daycare's financial health.
Yearly Daycare Expense Spreadsheet Checklist
On an annual basis, perform a comprehensive update of your spreadsheet to capture your daycare's evolving financial landscape.
Update expenses related to professional development, tax preparation, and any other significant costs unique to that year.
This annual review lets you track your daycare's financial progress, make long-term plans, and refine your financial strategy.
Step-6: Formatting
The visual appeal of your spreadsheet enhances its readability:
Fonts: Choose clear, legible fonts that are easy to read.
Colors: Use colors to differentiate columns, categories, and headers. This makes it visually appealing and helps essential information stand out.
4 Tips for Effective Spreadsheet Program Management
Effectively managing your daycare expense spreadsheet goes beyond its initial setup. To ensure accuracy, relevance, and actionable insights, follow these four essential tips:
1. Use Digital Tools
Embrace the power of technology to streamline your spreadsheet management.
Utilize spreadsheet software like Microsoft Excel or Google Sheets for efficient data organization and calculations.
Explore online tools and templates designed specifically for expense tracking to simplify your process.
Leverage cloud storage solutions to ensure your spreadsheet is accessible from various devices and locations, enhancing collaboration and flexibility.
2. Schedule Regular Updates
Consistency is vital when it comes to maintaining accurate expense records.
Set specific dates for updating your spreadsheet, whether it's on a weekly, bi-weekly, or monthly basis.
Allocate dedicated time to input new expenses, review existing entries, and ensure all data is current.
Create calendar reminders or alerts to prompt you to update your spreadsheet on schedule, helping you stay on top of your financial tracking.
3. Review and Analyze Total Expenses
Regularly reviewing and analyzing your expenses brings clarity to your financial picture
Schedule periodic reviews, such as monthly or quarterly, to assess your expenses against your budget and financial goals.
Look for trends, patterns, and anomalies in your spending behavior. Identify areas where you might be overspending or where you can make adjustments.
Consider generating visual graphs or charts to visualize your expense trends, making it easier to spot patterns and fluctuations.
4. Encourage Periodic Reviews to Identify Operating Expenses
Long-term success hinges on recognizing recurring trends and patterns.
Conduct periodic comprehensive reviews, perhaps annually or semi-annually, to analyze your financial performance and identify significant trends.
Look beyond individual expenses and explore broader financial patterns that emerge over time.
Use these reviews to inform strategic decisions for your daycare business, such as adjusting your budget, reallocating funds, or identifying opportunities for cost savings.
5 Benefits of Using a Daycare Expense Spreadsheet
A well-maintained daycare expense spreadsheet is more than just a record-keeping tool. It offers a range of benefits that can significantly enhance your financial management and decision-making processes. Here are five key advantages:
1. Financial Clarity
A daycare expense spreadsheet provides unparalleled clarity into your financial landscape:
Visibility: Instantly see where your money is going, helping you gain insights into your spending habits and identify areas of improvement.
Accurate Tracking: Record every expense accurately, ensuring no transaction goes unnoticed or unaccounted for.
Real-time Updates: Regularly updating your spreadsheet informs you about your financial situation.
2. Budgeting Made Easier
Effective budgeting is the foundation of financial success, and a spreadsheet makes this process seamless:
Precise Budget Creation: Use historical expense data to create realistic budgets based on your past spending patterns.
Controlled Spending: Monitor your expenses against your budget, helping you stay on track and avoid overspending.
Immediate Adjustments: Spot budget deviations early and adjust your spending accordingly to avoid financial pitfalls.
3. Tax Planning
Organized expense tracking can significantly simplify your tax planning process:
Deductible Expenses: Easily identify tax-deductible expenses, saving time for tax preparation.
Accurate Reporting: Present accurate and comprehensive financial records to your tax professional, ensuring an efficient tax filing process.
Minimized Stress: Reduce the stress of tax season by having all the necessary information readily available.
4. Future Planning
A well-structured expense spreadsheet empowers you to plan for the future with confidence:
Financial Goals: Utilize historical expense data to set achievable financial goals for your daycare business.
Savings Planning: Identify opportunities to save and invest by strategically analyzing your spending patterns and allocating funds.
Informed Decisions: Base your business decisions on solid financial data, mitigating risks and maximizing opportunities.
5. Plan for Future Expenses
The historical data stored in your expense spreadsheet serves as a treasure trove of insights for future planning:
Predictive Analysis: Analyzing past expenses allows you to predict future spending trends, helping you allocate resources more effectively.
Seasonal Patterns: Recognize seasonal fluctuations in expenses and prepare accordingly, avoiding financial strains during peak periods.
Smart Investments: By reviewing historical data, you can identify where your investments have yielded positive results and replicate those strategies.
Daycare Expense Sheet Template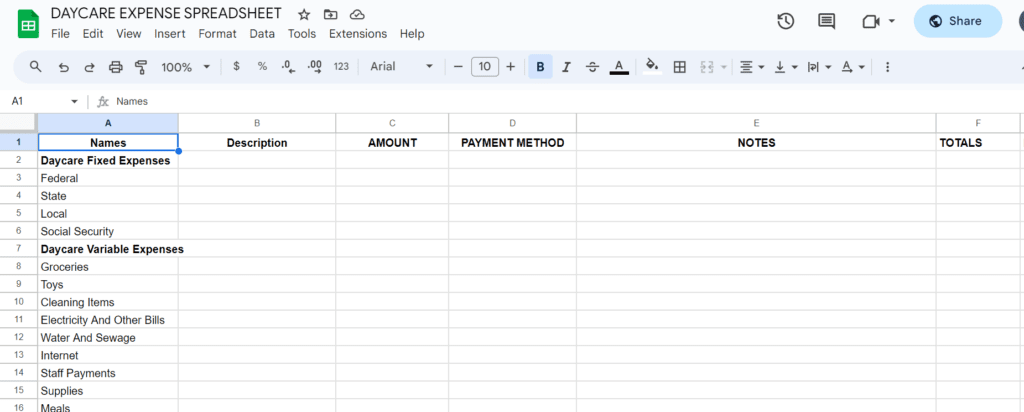 Frequently Asked Questions
1. How Do I Make a Daycare Budget?
Creating a daycare budget involves thoughtful planning and consideration of your expenses and revenue. Follow these steps to make an adequate daycare budget:
Identify all potential income sources, including tuition fees, grants, and subsidies.
List all expenses, from fixed costs like rent and utilities to variable expenses like supplies and staff salaries.
Set realistic financial goals and allocate funds accordingly.
Regularly review and adjust your budget based on income and expenses to ensure accuracy and effectiveness.
2. How Do I Make a Spreadsheet for Monthly Expenses?
Designing a spreadsheet for monthly expenses is a practical way to keep track of your financial commitments. Follow these steps:
Open a spreadsheet software like Excel or Google Sheets.
Label columns for categories like "Date," "Expense Description," "Amount," and "Payment Method."
Input your monthly expenses, ensuring each cost has a date, description, amount, and payment method.
Use formulas to calculate totals for each category and a capacity for the month.
3. How Do I Create an Expense Budget in Excel?
Excel is a powerful tool for creating an expense budget. Here's how to get started:
Open a new Excel spreadsheet.
Label rows and columns for different expense categories and months.
Input your projected expenses and income for each category and month.
Utilize Excel's formulas to calculate totals and variances automatically.
Regularly update your budget with actual costs and revenue for accurate tracking.
4. How Do I Make a Home Expense Spreadsheet?
Managing home expenses becomes more efficient with a dedicated spreadsheet. Follow these steps:
Create a new spreadsheet in your preferred software.
Set up columns for "Date," "Expense Description," "Amount," "Category," and "Payment Method."
Categorize your home expenses, such as utilities, groceries, mortgage/rent, maintenance, etc.
Regularly input your expenses, ensuring accurate details for each transaction.
Use formulas to calculate totals for each category and the overall expenditure.
Conclusion
In the realm of daycare management, mastering expense tracking and budgeting is a vital skill that can make or break the success of your business. A well-organized daycare expense spreadsheet offers transparency, control, and the ability to make informed financial decisions.
By understanding how to create budgets, manage spreadsheets, and utilize tools like Excel, you'll be better equipped to navigate the economic landscape of your daycare operation. Remember, accurate financial management empowers you to provide quality care, growth plan and secure a stable future for your daycare business.