Equipment Needed for a Daycare Center – Money Saving Ideas
About to set up your first center? Amazing! Do you know what equipment is needed for a daycare center? 
If you're worried you might spend on irrelevant stuff or end up leaving essential equipment, this article is all you need.
We have put together a list of 43 supplies you need to start a daycare center. This list includes all the essential equipment for classroom, safety, kitchen and hygiene. So no more confusion after this ultimate checklist and save money by buying only the things you need.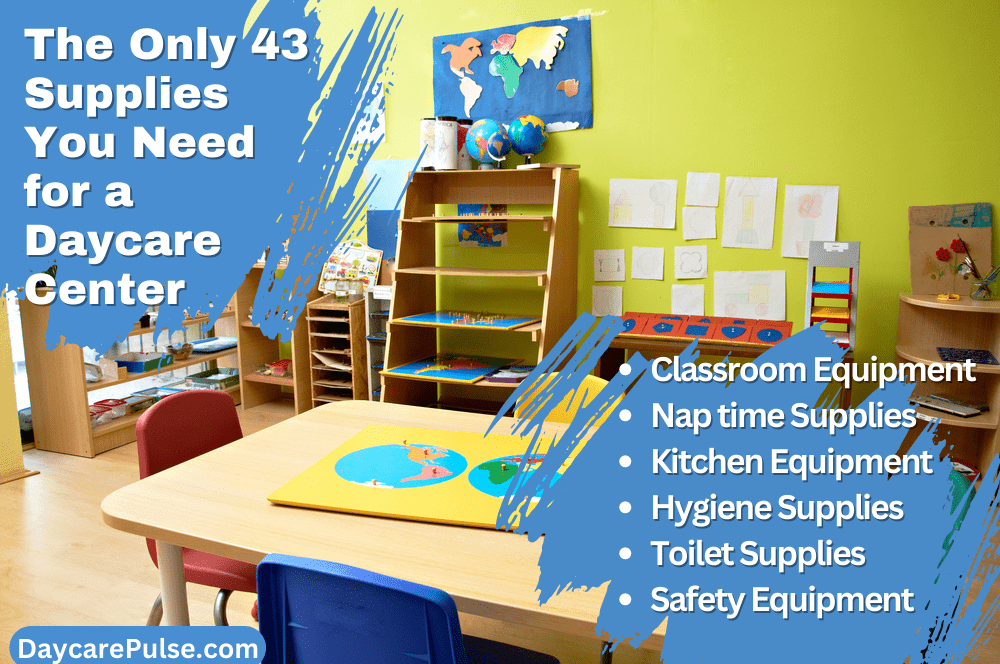 4 Classroom Equipment for Daycare
Your daycare classroom will be your center's most essential area. It's where kids will be spending all of their time. So ensure to set it up nicely and make it colorful and kids-appropriate. 
What Are the Most Important Classroom Supplies? 
Kids Furniture: Before you do any decorations, add the furniture. The colorful kid's table and chairs will immediately make a boring room look more fun. Do you know where you can get affordable kid's table chairs? Here are 7 places you can get cheap daycare furniture
Storage Shelves: You'll need these to store toys, activity materials and kids' supplies. A quick hack is to use transparent cupboards for toys. Make them visible, and they serve as a decoration and attraction for kids. 
Bulletin Board: Add at least 1 board to every classroom. They're affordable, easy to decorate and give a plain boring wall a hint of color. 
Toys and Activity Material: Your daycare classroom isn't complete without these. Add age-appropriate toys and activity material. The important thing is there should be enough material to give to every kid in the room. 
7 Nap Time Supplies for Daycare
One of the many concerns of parents is where and how their kids will sleep. You need proper arrangements to ensure the little ones get a peaceful sleep.   
What Are the Most Important Nap Time Supplies?
Cots: You'll need multiple cots. So go for simple, cost-effective ones. No need for fancy stuff here.
Cot Sheets: Some daycares ask parents to send sheets with their kids, and some don't. Whether you provide it or parents send it, it's an essential supply you need.
 
Sleeping Mats: For toddlers and preschoolers. We have this buying guide to help you select the best yet affordable nap mats. Do check it out.
Light Fixtures: If there are windows in the room, you'll need thick curtains. You might also need dimmer lights or night lights. 
Rocking Chairs: These are for infants.  
Storage space: To store all this stuff
Pillows
9 Kitchen/Meal Equipment for Daycare
You'll have to prepare meals for the kids. And if you have decided to ask parents to send it, you'll still need some supplies to heat it and serve it.  
What Are the Most Important Kitchen Supplies?
Baby bottles +Formula: Some daycares ask parents to send bottles. 
Fridge: This is essential. You'll have to store the food and milk.
Paper Towels and Napkins: For cleaning purposes. 
Stove: You might not need it if you're not providing the food.
Microwave
Kids dining set
Feeding chairs
Storage Bowls 
Dishwashing Liquid
7 Daycare Hygiene and Cleaning Equipment
Hygiene is crucial for the health and well-being of kids. Licensing authorities can even cancel your license if you don't follow the SOPs. 
So, in short, you can't, and you shouldn't compromise on the health and safety of kids. 
What Are the Most Important Cleaning Supplies?
Hand Sanitizer 
Soap 
Towels 
Paper Towels 
Cleaning Cloths and Sponges
Disinfectant 
Mop and Bucket 
When Will You Use Cleaning Supplies?
You'll use some of these daily and some weekly. For example, you'll have to clean and disinfect the toilet, floor, utensils, tables, toys, and feeding chairs daily. In contrast, shelves and other stuff that kids don't interact with should be cleaned weekly.
Here's a detailed guide on daycare cleaning that'll sort out your daily, weekly and monthly cleaning schedule.
4 Toilet Supplies for Daycare
You can't miss this part of the care. You'll need decent arrangements for changing diapers and toilet training the toddlers.  
What Are the Most Important Toilet Supplies?
Diapers: Have a stock of them in different sizes. Or kids can bring it with them. 
Baby Potty: For toddlers who're starting toilet training. 
Step Stools: For toddlers.
Diaper changing Counters: For infants.
8 Daycare Safety And Protection Supplies 
You should be prepared for any emergency situation. And since you have kids under you, you need to be extra careful. Plus, safety supplies are one of the licensing requirements. 
What Are the Most Important Safety Supplies? 
Check your state's requirements; they might recommend more things. 
Childproof Locks for Doors and Cabinets: You don't want kids to open up the cabinets and create a mess. Neither you want them to sneak out of the room.
Corner Guards: Kids are clumsy, and they often hurt themselves. Sharp corners are dangerous. Put corner guards on any sharp edges or corners you have in the classroom. 
Safety Gates: If needed anywhere. 
Electric Socket Covers: If there are any low-level sockets, cover them instantly. In a room full of kids, they are too dangerous to remain open. 
First Aid: Your first aid box should include: bandages, antiseptic, scissors, tweezers, thermometer, burn cream, anti-inflammatory cream, and fever medication.
Smoke Detector
Fire Extinguishers 
Carbon Monoxide Detector 
4 Management Equipment for Daycare
Your daycare is set up now. But you'll need to manage all of it. And that'll surely require some material.
What Are the Most Important Management Supplies?
These 4 are the most important ones. You can add to the list according to your requirements. 
Teacher's desk
Computer 
Printer 
Storage cabinets 
Frequently Asked Questions
1. What Are Some Key Equipment Items Needed for Toddlers' Caregiving Purposes?
For toddler care, you need 
High chairs
Storage cabinets 
Step stools
Cots 
Pillows and sheets
Kids' utensils
Toys 
Storybooks
Playpen or a safe space for kids to play
2. What Are the Basic Materials Needed for Early Childhood Environments?
Early childhood environment includes a lot of toys and activity material that helps children explore and learn. 
This includes 
Linguistic material 
Sensory play 
Games
Art supplies 
Workbooks
3. What Are Essential Elements in an Infant Daycare Facility?
An infant daycare facility should be safe and hygienic. It should have all the supplies needed for infant care with an appropriate child-to-teacher ratio.
Conclusion
There you have it, your ultimate list of daycare equipment. Now you don't have to worry about your center's setup. Just buy these 43 items, and your daycare will be ready for business. From safety and toilet to toys, you got all done with just this 1 list. 
Go and organize your center and make it a fun place for the little ones.