Prepare an Infant for Daycare | 7 Essential Checklist Items
Are you struggling to remember all the items your child needs for daycare? Is it causing you unnecessary stress and anxiety? It's time to put an end to the chaos and get organized!
The solution to your problems lies in following:
Simple checklist
Daily and weekly schedule
By staying on top of things and being prepared for any situation, you can ensure a smooth and stress-free daycare experience for both you and your little one.
In this blogpost, I've included everything you need to get started – from checklists to schedules, as well as helpful tips and answers to frequently asked questions. Say goodbye to the panic and hello to peace of mind knowing that your child is well taken care of.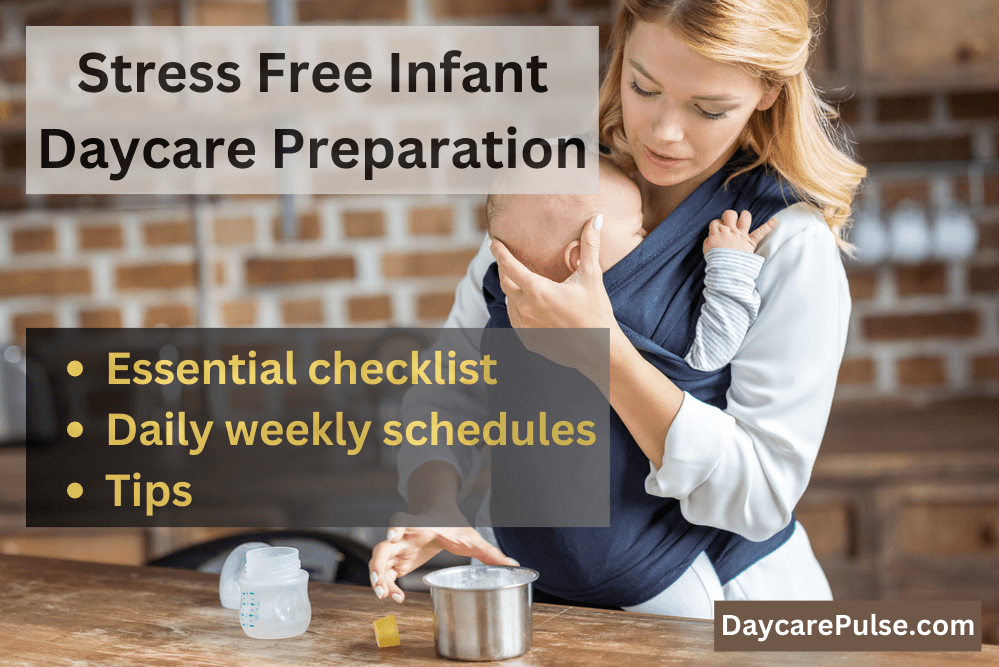 7 Essential Items Needed to Prepare Infants for Daycare
Packing one bag with essentials like stuffed animals, extra clothes, baby wipes, and bottle-feeding supplies is crucial.
There are certain essential items that you will need to bring for your child's daycare transition to be successful. Here is a list of must-have items:
Baby's Health Records: The essential item to bring when enrolling your child in daycare is their health records. Make sure you have copies of any immunization cards and if applicable, the results of any recent tests.
Extra Clothing: It's crucial to send extra clothing to your child in emergencies. Diapers, onesies, pajamas and other pieces of clothing should be labeled with your child's name so they don't get lost or mixed up with other children's belongings.
Formula or Baby Food: When starting daycare, it's essential to establish a consistent feeding schedule and introduce a new routine for your baby.
If your child is still on formula, pack enough for their stay at daycare. If your child is eating solid foods, please make sure you have healthy snacks and meals ready for them to bring in.
Diapers and Wipes: Pack plenty of diapers and wipes for your child in case they need to be changed during their stay at daycare.
A Comfort Item: If your child has a favorite blanket, toy or stuffed animal, send it to help make the transition easier.
Additionally, bringing a cuddly toy or sleep sack from home can help comfort your baby during nap time and minimize separation anxiety, leading to happy, content children in the daycare center.
Pacifier: The sucking reflex is very soothing for babies so don't forget to pack a pacifier if your child uses one.
Car Seat or Stroller: If you bring your child in a car seat or stroller, ensure it is in good condition and age-appropriate for your baby.
Your Schedule to Prepare an Infant for Daycare
Daily Checklist – Preparing an Infant for Daycare
Here's a quick daily checklist that can help you ensure you've got everything covered for your little one's days at daycare:
Feed the Baby: Ensure your infant has had their breakfast before leaving home. A well-fed baby will be happier and more comfortable.
Pack The Diaper Bag: Don't forget to pack essential supplies like diapers, wipes and diaper cream to ensure your child's comfort.
Baby's Meals: Pack enough formula or baby food for the day. If your child eats solids, include a variety of healthy snacks.
Health Check: Look out for signs of illness like fever or unusual fussiness. If the baby is not well, it's better to keep them home.
Car Seat/Stroller Check: Make sure the car seat or stroller is clean and secure.
Communication with Daycare: Include any special instructions for the daycare provider and keep the communication line open.
Goodbye Kiss: Always say a warm goodbye to your baby before you leave. This sets a positive tone for the day ahead.
Remember, preparation is key to making the transition to daycare as smooth as possible.
Weekly Checklist – Preparing an Infant for Daycare
Here's a weekly checklist to help you plan your week effectively when preparing your child for daycare:
Cleaning: Over the weekend, do a thorough clean of all daycare essentials:
Clothes
Pacifiers
Comfort Items
And the car seat or stroller
Washing your child's clothes and packing them for the week can save you precious time on busy mornings.
Meal Planning: Plan your child's meals for the week. If your child is on solid foods, consider preparing and freezing portions in advance to easily grab them in the mornings.
Stock Check: Check your stock of diapers, wipes, and formula or baby food every Sunday to ensure you have enough to last the entire week. Make a shopping list for anything that's running low.
Health Records Update: If there are any new health records or updates, make a note to share these with the daycare provider at the start of the week.
Daycare Communications: Keep a note of any important communications or announcements from the daycare. This could be about upcoming events, changes in policies, or feedback about your child.
Backup Plan: Have a backup plan for emergencies. This might include identifying a trusted family member or friend who can pick up your child from daycare if you're unable to.
Relaxation Time: Don't forget to schedule some downtime for yourself and your baby. This transition can be stressful for both of you, so ensure you have some relaxing activities planned for the weekends.
Remember, your preparation does not have to be perfect. The most important thing is that your child feels loved and secure during this transition.
Importance and Benefits of Preparing an Infant for Daycare
Comfort and Confidence: Preparing for your child's daycare transition is essential in helping them adjust smoothly. Preparation of everything will help make the process much less stressful and ensure your little one feels comfortable in their new environment.
Routine Establishment: It's also important to establish routines and rules early on so your child knows what is expected of them when they start daycare. Having consistency in their schedule will help them adjust more quickly.
Positive Association: Finally, it's crucial to create a positive association with the daycare center. Be sure to talk to your child about the exciting activities and new friends they will make at daycare.
By preparing your child for their transition into daycare, you can ensure that they have an enjoyable experience and that you can provide them with the best care possible.
Important Items to Consider When Parents Transition to Daycare
All parents should understand that the transition to daycare can be challenging, and taking time and going at your child's pace is essential.
It may take some time for them to become comfortable in their new environment, but with patience and understanding, they will adjust. Try not to rush the process and give your child the time and space to adjust.
Additionally, stay in touch with your daycare provider so that you always know how your child is doing. With proper preparation and communication, you can make sure your child successfully transitions into daycare.
It's also important to remember to show patience with yourself during this transition. It's natural to feel worried and anxious about sending your child off to daycare, but know that it will be a positive experience for them in the long run.
So take time for yourself and trust your instincts as you make this critical decision for your family. Above all else, remember to enjoy this new chapter of life with your little one. Good luck!
4 Tips for Parents to Make Sure the Daycare Has Everything the Baby Needs
Ensuring your child has all the necessary supplies for daycare is vital to their comfort and well-being. Here are a few tips to help you get organized:
Create a checklist of items to bring. This will be especially helpful when packing up the night before or in the morning rush, so you don't forget anything.
Label everything. Please put your child's name on all of their supplies, clothing and toys so that they don't get mixed up with other children's items.
Have a backup plan in case items need to be remembered or recovered. Pack extra supplies for unexpected needs. Be sure to keep an extra set of clothing, diapers and other essentials at the daycare facility in case of an emergency.
Ask your daycare provider for a list of supplies they require you to bring. This will help ensure you have everything your child needs for their first day.
By following these simple tips, you can feel confident that your child has all the necessary supplies for a successful transition into daycare. Good luck!
Frequently Asked Questions
Tiny Human. What Is Considered an Infant?
An infant is a young child aged 0-12 months old.
During the first year of life, infants experience rapid physical and cognitive development as they gain skills like crawling, walking, talking and more.
During this first year, infants rely heavily on their parents for emotional support and physical care. This is why it is essential that parents be prepared for the transition into daycare. With proper preparation, both parent and child can successfully transition into daycare with minimal stress.
What Are Some Things Parents Should Talk to Their Daycare Provider About Before the First Day?
Many parents often feel a mix of emotions as they transition from maternity leave to a daycare setting, but open communication with daycare providers can ease this process.
Discussing any specific needs or concerns with the providers of daycare centers is essential for a smooth transition and a positive daycare experience for your little one.
Parents should talk to their daycare provider about essential topics before the first day. They should ask about each child's :
Daily schedule
Nap times
Meals and Snacks
Discipline Policies
Safety Procedures
Activities that are offered and
Whether or not there is an emergency plan in case of accidents or injury.
Finally, be sure to discuss any special needs or accommodations that your child may require while at the daycare center. By taking the time to talk with your daycare provider in advance, you can rest assured that your child is in good hands. Good luck!
Why Do Babies Cry When Going to Daycare? (Separation Anxiety)
Babies can become overwhelmed when navigating a new environment, especially one with unfamiliar faces. This is why it is not uncommon for babies to cry when being dropped off at daycare.
Managing Separation Anxiety: Separation anxiety is a normal part of development and typically peaks between 8-10 months old. There are several things parents can do to help their baby adjust to the transition into daycare.
Steps to make daycare transitioning easier:
First, it is important to create a positive association with the daycare center by talking about all of the exciting activities and friends they will make there.
Secondly, it's helpful to introduce your child to their caregivers in advance so they are more comfortable when you drop them off for the first time.
Finally, give your child plenty of time and space to adjust. Take things slow and provide lots of hugs and reassurance that you will be back soon. With patience, understanding, and a little luck, your baby will overcome their separation anxiety in time. Good luck!
Conclusion
Sending your baby to daycare can be intimidating, but with the right preparation and communication, it doesn't have to be. Take some time to get familiar with the daycare facility and its policies, talk to their caregivers in advance, and follow these helpful tips.
Your child will benefit from a smooth transition into daycare and you can rest assured that they are safe and in good hands. Good luck! Have a great first day! 🙂