21 Daycare Rules for Parents for Smooth Daycare Operation
Am I making enough rules? Am I overdoing it? I don't know what are the basic daycare rules for parents. 
If this is what's going on in your mind, this article is for you. We're listing down 21 daycare guidelines for parents that almost all daycares have. We have categorized them into finance, pick-up and drop-off, admission, child care, and administration. 
By the end of this article, you'll have a clear idea of what to include in your daycare parental guidelines.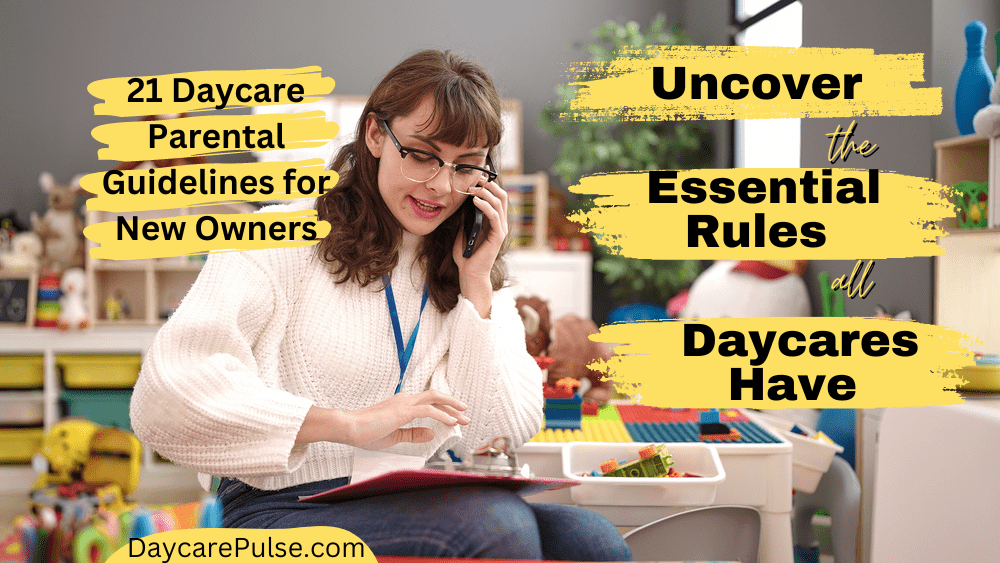 5 Daycare Rules for Parents Related to Finance
Money is a major aspect of your business, and you must ensure a smooth cash flow. Fee collection messes with this smooth flow the most. So you must make clear and straightforward rules for your fee policy. 
Don't worry if you don't know what rules to make. Here are 4 daycare finance rules for parents that all daycares have. 
1. Fee Policies
Quote your prices for part-time, full-time daycare, and other operating modes that you have. 
Consider the following questions and cover them in your rule book
What's your fee schedule? 
Do you charge monthly or weekly? 
Do you charge at the beginning of the care (in advance) or at the end of the month/week? 
What's the due date for submission 
You don't want parents to pay you late. You have your own expenses to take care of. Many daycares handle this by charging late fees. 
And if anyone is regularly late, give them a warning on 2 or 3 consecutive lates. And terminate the admission on the next delay. 
2. Payment Methods
Mention all your fee collection modes. Do you accept bank transfers, or do you only collect fees in hard cash at your center? 
If you take online payments, mention its procedure and requirements. You don't want any mishaps. And you need to maintain records, so ask for relevant documents or proof of money transfer—for example, a transcript or any receipt. 
3. Discounts And Vouchers
If you offer any discounts, mention them and their guidelines as well.  Some common daycare discounts are sibling discounts and lumpsum fee discounts.
Be very transparent with your rules here. Clearly mention the eligibility criteria for your discounts. 
If you accept any vouchers, mention their rules and collection process as well. 
4. Extra Charges 
Don't forget to mention your rules about any activity or service that you charge extra for.
Here are a few things daycares usually charge additional fees for. 
Field trips 
Extra care 
Enrollment fee
Special meal requirements 
Special activity and learning programs
5. Absent Days
Another important rule. If a child is absent, do you charge for that day as well? 
Some centers don't. They often charge per day. But they offer drop-in care as well, and that helps them cover up for that child. 
But small daycares can't do that. They have a fixed rate and charge for the day even if the kid is absent. 
So whether you decide to count absent days or not, make that a proper rule.
2 Rules for Parents Related to Pick Up and Drop Off
1. Child Pick-Up Policy
Mention the pick-up timings for part-time and full-time care. And after that, add this rule – late pick-up fee.
You're a business, and you can't be available 24/7. If you're lenient here, you'll always be closing late. Because there will always be someone to pick up their little one late. 
You definitely want to avoid that. State a deadline time to pick up the kid (it can be 15 to 20 minutes after the care ends), and after that, start charging a small late fee for every 5 to 10 minutes. 
And don't forget to mention when and how parents have to pay this fee.
If this isn't enough, here's another rule to regulate child pick-up timings. Many daycares accept 3 to 4 consecutive lates with late fees. And if it happens again, they cancel the admission. 
Another important guideline is that you will only allow the child to go with authorized persons. At the time of admission, take the names of parents or any other person that may pick up the child. Clearly state that you won't release a child to anyone who's not registered and not above the legal age. 
2. Child Drop-Off Policy
The same rules go for child drop-off. If a parent drops a child early, put a small fee on it. And mention its submission process. 
Ask parents to respect the staff's timing and pick up and drop off the child on time. But if they're running late, inform the daycare as soon as possible. 
Have a record-keeping process and make it a rule for parents to follow it. You should have a proper record of every child's pick-up and drop-off time. You can do it digitally through swipe or thumb impressions or manually maintain a record. 
3 Daycare Rules for Parents Related to Admission 
1. Admission Policy and Requirements
Here are the must-have admission rules for daycare
Mention the age groups you enroll in and what mode of care you offer for them. (part-time or full-time). Your admission policy should include your admission process and document requirement. Don't forget the enrollment fee. 
There's another rule that big centers follow. It's to have a trial period. If parents wish to get long-term care, they first put the kid in a 2 or 3-week trial period. If the kid adjusts to the environment, they finalize the admission or else it's terminated. 
2. Admission Cancellation Process
If a parent wants to cancel the admission, what are your rules for it? 
Ask the parents to give a 1 or 2-week notice if the cancellation is planned. Make rules for finances here. If the care is terminated in the middle, will the remaining fee be returned? 
Address your refund policy if you decide to have one. The majority of the centers have a no-refund policy. 
Consider making rules for cancellation during the termination period as well. And what if someone wants to cancel the admission before the care is even started? 
Do you refund the admission fee? It's usually non-refundable, but if you have taken care fee in advance, it's your choice whether to refund it or not. 
If you cancel a kid's admission due to any reason, give parents warning notices before termination. Your notices should clearly state the reason and further actions leading to termination. 
3. Waitlist
If you plan to have a waitlist, you need proper rules and regulations for it. Most daycares have a first come first get admission policy for the waitlist. As soon as any spot is free, they contact the parents on the waitlist. 
6 Rules for Parents Related to Child Stuff and Care
1. Kid's Supplies   
Every daycare has a rule that parents have to send some stuff with the kid. The list isn't the same for every center. It depends on their care methods and what stuff they're providing themselves. 
Here are some common items daycares ask parents to send with their kids.   
Diapers 
Wipes 
Clothes
Shoes 
Blanket
Pacifier
Bottle
Milk for infants 
Snacks or meal 
You can make your own list depending on your care method. 
2. Not Allowed Stuff
The 2 main things daycares often don't allow kids to bring in are their own snacks (if they're offering a meal) and their toys. Why? 

Because there's no one kid in a classroom. If all the kids are eating cereal and one kid is enjoying a donut or biscuits, other kids would want that. The same is for toys. If a kid brings a unique toy other than a stuffed animal, it will start a fight. 
You might allow a stuffed toy to help kids feel at home in daycare. Don't worry, you'll have plenty of them to give to other kids. But any other toy or thing is a no. 
If it's a kid's birthday and parents want to send treats for all kids, then you should allow it. It's a good way to celebrate birthdays. 
3. Nap And Meal Timings
Not all, but some daycares have a specific nap and meal time, and they don't let any kid miss that. 
Parents often request to keep their children stay up so they can go to bed early. We get it they're trying to manage their sleep schedule. But that might cause a problem for you. If one child is awake, you'll have to put them in another room as they're not going to stay quiet. 
Moreover, this won't be a one-time thing. The kid will then stay awake daily so he can go to bed early. If you have staff and resources to manage this, accept these requests. And if not, make it a rule that you don't allow it. 
4. Child Sickness Guidelines 
No daycare allows a child if they're sick. There's a high chance other kids will get sick, and you'll be responsible for it and accountable to parents. 
This is surely a hard time for parents as they have to go to work, and you're not allowing their child. But don't say yes to this request. It can cost you your reputation. And if any parent reports you to the state authorities, you'll be in a big problem. 
5. Medication Policy
If the child has to take any medicines during care hours, you can't just give them right away. Ask parents for written consent to give their kids the medication. Mention the exact dosage and timings as well. Furthermore, you can ask for the doctor's note as well.
Keep a record of all this. If anything goes wrong, your record will get you out of the situation. 
6. Special Child Policy
Do you take special children or kids with any allergies? If you're a center, it won't be a problem to manage common allergies and cater to those kids. But if you're a small home daycare, this might be difficult for you. 
So make your rule whether you enroll special needs kids or not. And if yes, 
how do you cater to them? 
any other stuff parents have to send with them? 
any extra charges for special care? 
Consider all these points and make your rules accordingly.
5 Daycare Rules for Parents Related to Administration
1. Operating Hours
Your operating hours are the start and end of your duty. Include them in your daycare parental guidelines. Do you reduce the hours on any certain holiday? If yes, then add that as well. 
2. Complaint Process
If any parent has any complaint, they should contact you directly. Your job is then to address the issue. Ask parents to cooperate with the management and answer their questions or provide any documents if they need to resolve the issue. 
You might need to maintain a record of all the complaints. You can give parents a complaint form to fill in and return. The form should include the problem, its solution and whether the parents are satisfied with it or not. 
3. Parent Coordination and Access
The parents need to cooperate with teachers for the development and discipline of the kid. 
Parents play a huge role in disciplining a child. The teachers can't do it alone. So ask parents to coordinate with the teachers for their child's healthy growth. And if any parents don't coordinate, you can cancel their kids' admission. 
You need rules for parent access as well. 
Will you provide any camera access to parents? 
Can parents walk into their kids' classrooms whenever they want? 
Any time or parts of daycare they're not allowed without permission? 
4. Drop-In Daycare Rules
If you're offering drop-in daycare as well, make rules to ensure a smooth workflow. Do you take advance bookings? What documents do parents have to bring to drop their kids on the spot? 
5. Contact 
Mention your contact details and contact hours. How many hours before and after the care can parents contact the daycare? 
Any Additional Rules
Lastly, consider any other rules you need to make for the proper functioning of your daycare. Also, check with your state's requirements. There might be some things you need to include. 
If you found this article helpful. You'll also like 6 fundamental questions to ask parents before admitting any child. 
Frequently Asked Questions
1. How Do You Deal With Rude Parents at Daycare?
Try to talk to them first. If it doesn't work, you can give them an admission cancellation warning. If they still don't change their behavior, you can cancel their kid's admission to maintain the discipline of your center. 
2. How Do You Address Bad Behavior in Daycare?
If a kid isn't following the discipline, try to give them a treat or reward if they do it. Talk to their parents and ask them to teach the same at home. Through parent's and teacher's coordination, you can fix the behavior of a kid. 
3. What Are the Examples of Inappropriate Behaviour in Childcare?
Following are some examples of children's bad behavior in daycare.
Biting 
Lying 
Hitting
Pushing
Blaming 
Fighting 
Shouting 
Calling names 
Taking other kids' stuff 
Not following instructions 
Conclusion
This was our list of 21 daycare rules for parents that you should make clear before a kid's admission. 
Think of your own daycare processes and methods and add any other rules you need. Don't think you're making too many rules. You need them for the smooth functioning of your daycare. 
And if you have to cancel an admission, no matter what the reason is, always give a warning to the parents. And make these deal-breaker scenarios crystal clear.