Are Daycares Open on Holidays? 6 Holiday Childcare Options
Are daycares open on holidays? A question that a lot of parents ask. And your concerns are totally right. A lot of parents don't get days off on minor holidays, so they are always looking for reliable daycare options.
Daycares are not open on statutory holidays, but a lot of them are operating on minor holidays. It's best to get your daycare's holiday calendar so you know exactly when they close.
But wait, it's not that simple. Different types of daycares have different closing schedules. Some take more offs than others. We're breaking down which daycare type takes the least days off. Plus, 7 childcare options you can explore for those few holidays to avoid the last-minute hassle.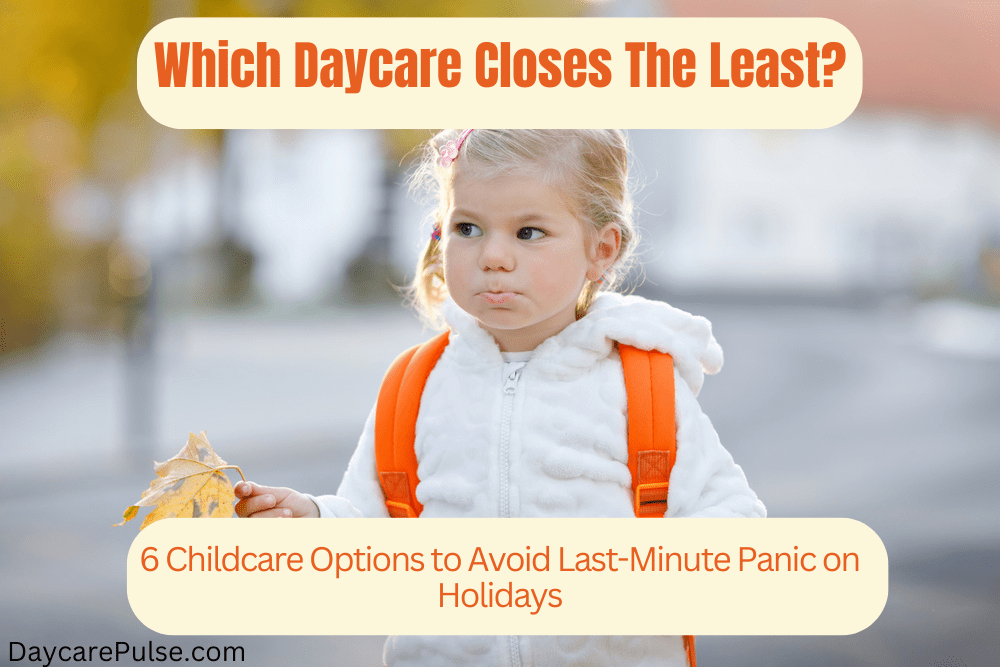 Daycares Schedule for Holidays? / Are Daycares Closed On Holidays? 
Almost all daycares are closed on major holidays in the US (The list is in the next heading). If the holiday falls on Saturday, daycares close on Friday as well. And if the holiday falls on Sunday, daycares take Monday off, too.
Some daycares also take a day or two off for maintenance, called teacher workdays. These are for cleaning the space, for teachers to organize and plan, and to maintain the center's overall quality. 
List of Major Holidays
Below are the 6 major US holidays on which daycares are closed.
4th of July (Independence Day)
Thanksgiving
Memorial Day
Labour Day
Christmas
New Year
List of Minor Holidays
Are daycares closed on minor holidays too?
This is a tricky part, so before we get to answers, here's a list of minor US holidays.
Martin Luther King Day
President's Day
Columbus Day / Native American Day
Juneteenth Day
Halloween
Veteran's Day
Easter Monday
Good Friday
Unlike statutory holidays, there's no yes-no answer about minor holidays. It totally depends on your daycare. Some daycares close on a few minor holidays, like MLK Day and Easter Monday, while others don't.
Some open but reduce their operating hours, like on Halloween, and some operate normally as any other day.
It's best to ask your daycare about their holiday calendar so you know exactly when they close.
But here's more about different daycare types and their closing schedule on minor holidays.
Religious Daycares Close on Religious Holidays
If your daycare is under any religious center, they'll close on religious holidays like Good Friday, Easter Monday and All Saints Day.
School or Government-Affiliated Centers Close With The Affiliated Body
Centers associated with schools or government bodies close more than independent centers.
School-associated centers take summer breaks just like a school. And close whenever the school is closed due to weather or government-issued holidays.
The same is for government or military-affiliated centers. They close on government holidays.
Home Daycares VS Centers: Which Closes More?
Many parents are concerned that their daycare takes too many off compared to other daycares. This might be due to the type of daycare you have. 
We already discussed how religious and school-associated daycares have different days off than independent daycare. Home and center-based daycares are also different in this regard.
Home daycares take more days off than center-based daycares. They often take a week or 2 off in a year. At times, this break is pre-scheduled. And sometimes, it's on the daycare owner whenever they take it, all at once or in parts. 
So, if you're looking for a more reliable daycare regarding their timings and day offs, go with independent daycare centers.
2 Tips on How to Find Childcare on a Holiday?
If you're reading this article, it means you also need childcare on holidays. Believe us; you're not alone. So many professionals, like healthcare staff and paramedics, don't get off on holidays.
So how do they manage? Here are 2 tips on finding childcare on holidays.
1. Know your daycare's holiday policies: First, you should have your daycare's complete holiday calendar. You should know when they close and on what days they change their operating hours. 
It's not easy to get childcare on holidays. And if you don't know your daycare's schedule, it becomes a hassle at the last moment.
2. Plan Ahead: Know you know when you need childcare; it's time to plan.
Here are 7 options you can try to manage childcare on holidays.
Take a day off
Ask a neighbor to help
Ask your employer to work from home
Book a babysitter or nanny in advance
Ask a family member or friend to babysit your kid
Look for any home daycare that's open on that holiday
Book your spot in advance in a drop-in daycare that opens on that holiday
You must plan and arrange childcare in advance as it's difficult to find open spots in drop-in or home daycares at the last moment.
Frequently Asked Questions
Are Daycares Open On Memorial Day?
Memorial Day is a major holiday in the US, and almost all daycares are closed on Memorial Day.
Is Daycare All Year Around?
Daycares are open throughout the year except for major holidays and a few other days, according to their holiday calendar.
Conclusion
Are daycares open on holidays? Well, you got the answer now.
We hope you found this article helpful. And now you also know how you can get childcare on holidays. We know it's difficult, but with proper planning, you can make it work.
Thank you for staying with us till the very end.